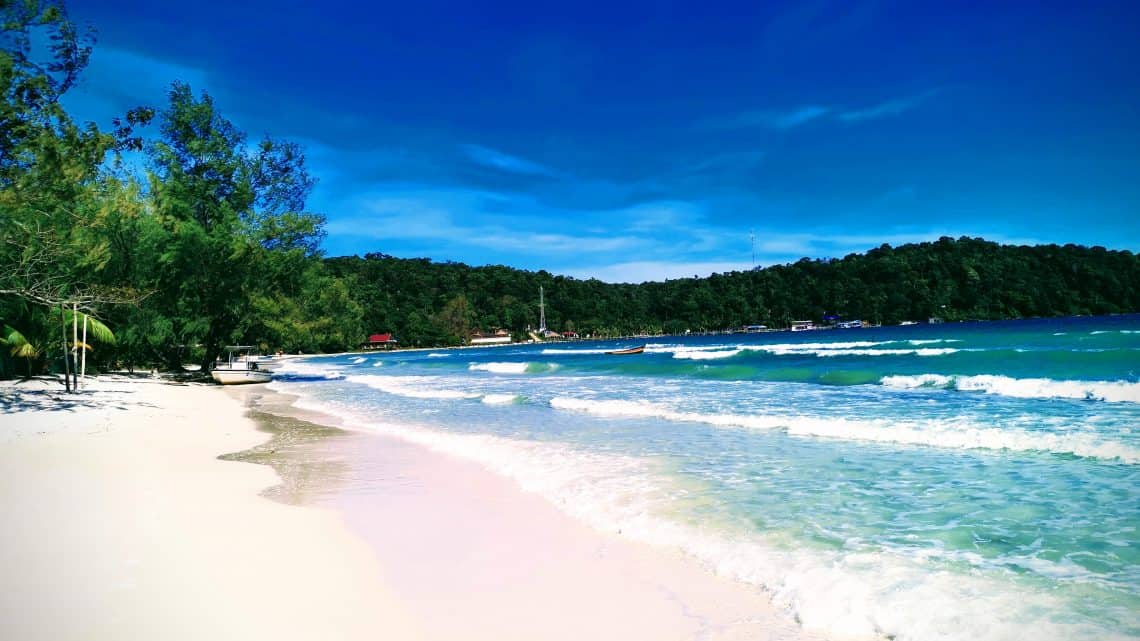 Cambodia #2 – Koh Rong Samloem Island – Sun, Wind & Food
Part #2 of our Cambodian journey was upon us.
We were off for some chilled days on the island of Koh Rong Samloem (or Koh Rong Sanloem – even Google doesn't seem to be sure!).
We had our final breakfast in Siem Reap & caught a tuk-tuk for the 30-minute journey to the airport.
An hour's flight took us to Sihanoukville.
Sihanoukville – What Have They Done?
A lot of the people heading to Sihanoukville are heading straight to the 2 Islands that are accessible from here by ferry.
In this vein, they have the whole taxi set up at the airport absolutely licked!
We picked up our luggage, and as soon as we were out of arrivals there was a big taxi kiosk.
We approached & said the word 'Ferry' & was given a ticket.
We walked outside & the ticket was taken by someone who pointed to a driver & before we knew anything we were in a car & on our way.
What was also great was the journey was a fixed price of $20.
Sihanoukville a few years ago would have been somewhere we would have stopped for a night or 2, it was a coastal 'village' & was supposed to be beautiful.
It is now fucked.
It is now in the process of becoming a Chinese Vegas.
There is a huge amount of investment into this place with massive casino's & hotels appearing everywhere, the place is an utter shithole of a mess!
Cambodia's infrastructure is not that great in terms of roads etc & trying to complete such massive construction projects has completely ruined the place.
It is such a shame.
We got to the Port where we needed to buy our ferry tickets.
There are quite a few companies that operate here & Lisa had spent time researching which were the best (journey times & regularity & reviews).
We got our return tickets (Speed Ferry Cambodia) & had about an hour to wait – they were about $21 each return.
There was a cafe/bar right by the entrance to the jetty so we settled down with a beer & wifi to wait.
Koh Rong Samloem – Full Speed Ahead Captain!
We got on the ferry & were off.
Lisa had read many horror stories about these ferries & once we were underway I can sort of see why.
The captain of the boat was about 20.
His idea of operating the ferry was to twat the engine up to max & be done with it!
We bounced about quite a bit hitting waves that made a lot of noise & spray.
We were lucky on this occasion as the sea was pretty calm; goodness knows what it would have been like if it was choppy/rough!
The trip took about 35 minutes – quicker than advertised but there was no real surprise there!
We were quite thankful that our island was the 1st stop, the remaining people had about the same to go again to the other island.
Off that ferry & into a little boat with a french couple to be taken to our accommodation – Sweet Dreams Samloem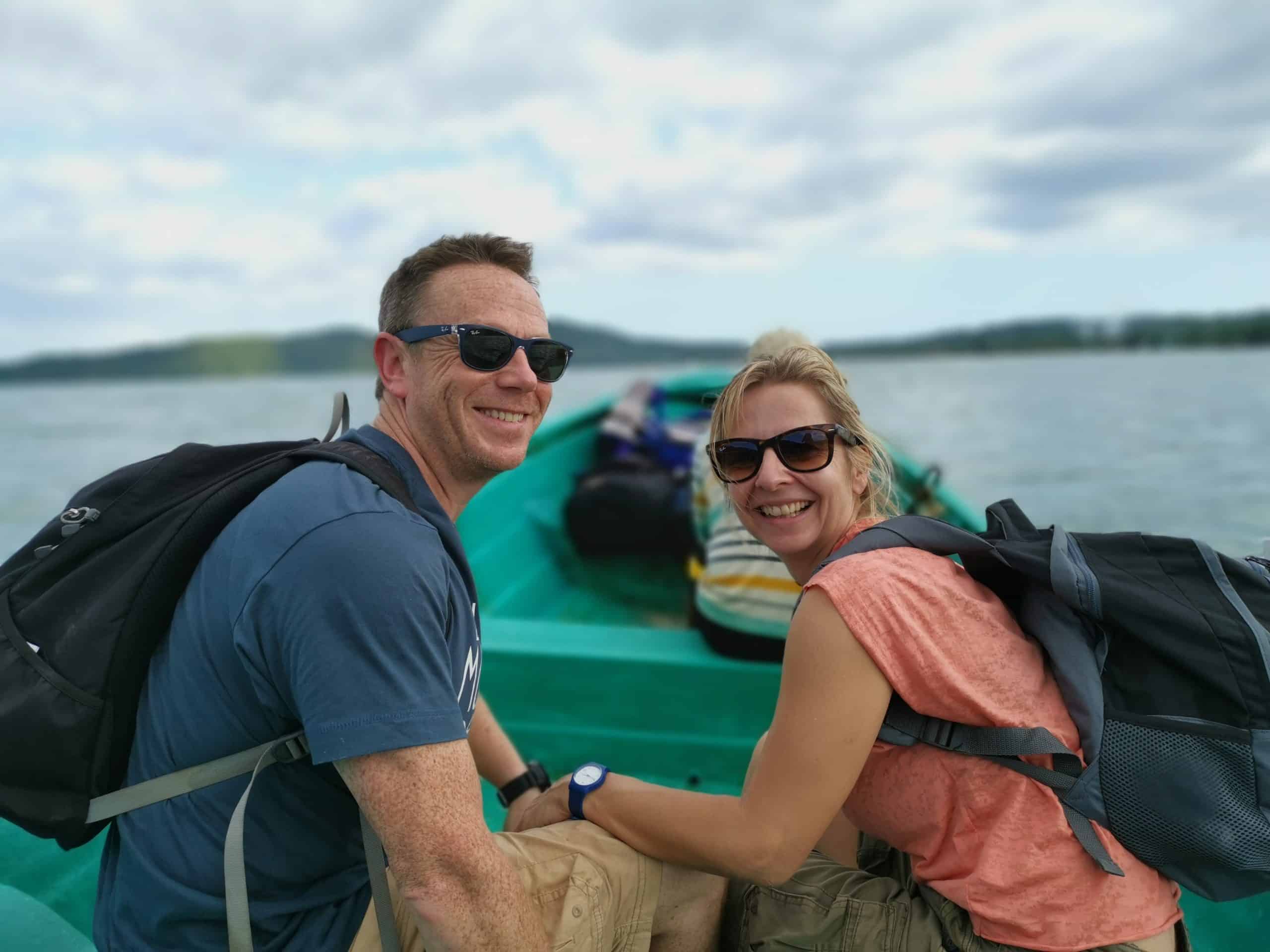 The little boat took us from the main jetty to in front of where we were staying.
We were still very much in the water when we had to get out, so it was off with the trainers/socks as we got out of the boat & waded onto the beach.
Our accommodation was pretty cool, right on the beachfront with nobody in front of us (we had paid for that, but it was still pretty reasonable at $88 per night).
It was pretty basic, but that is all you need.
The bed was round for some reason with a mosquito net.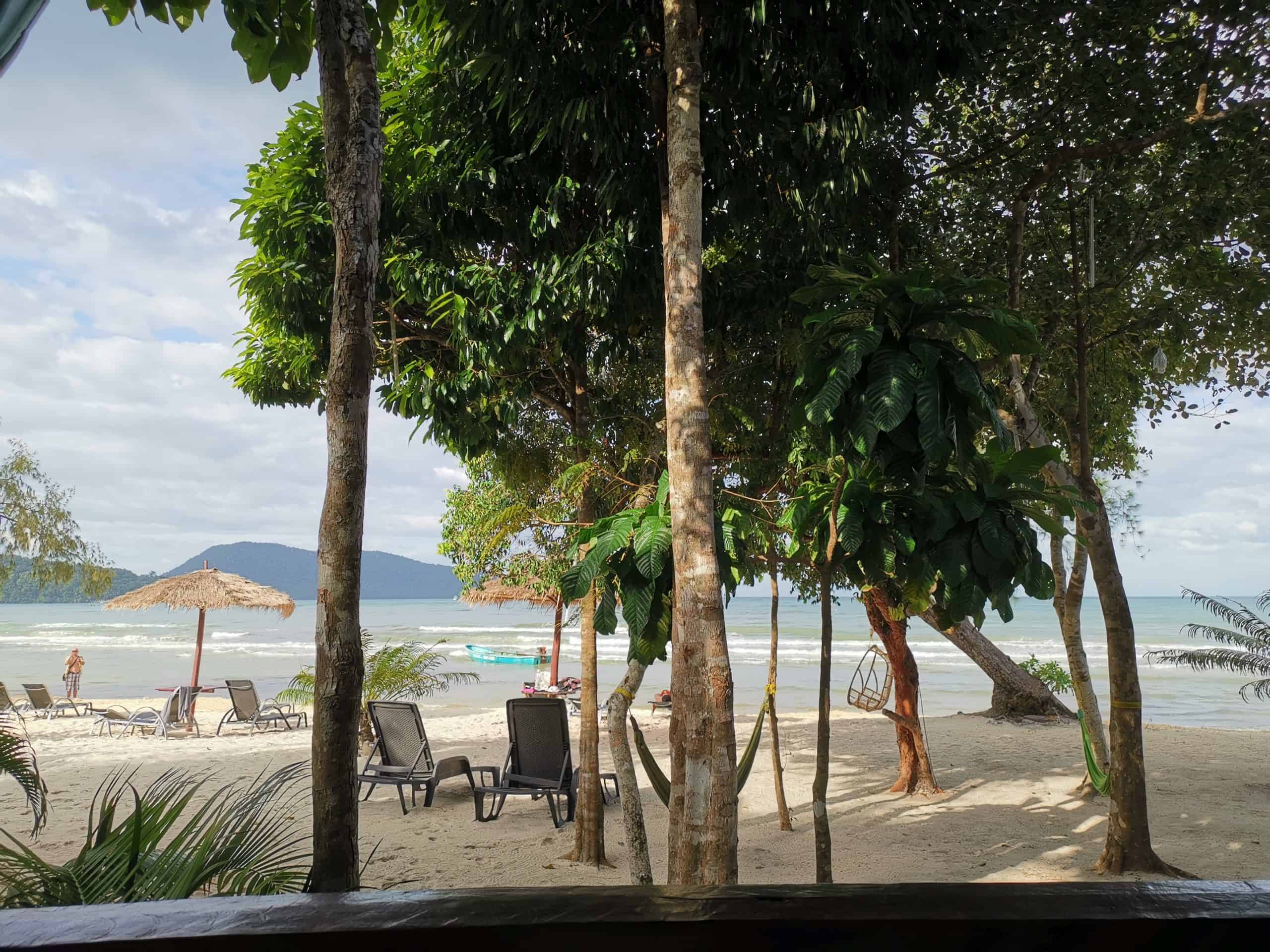 We had a wander about & then settled back at our place for a few gin & tonics followed by food which was pretty nice (& big).
Bed.
First Morning on Koh Rong –
Sunrise With Added Wind (Not Mine!)
We got up early the next day to see the sunrise (& because our jet-lag/sleeping pattern was still screwed!).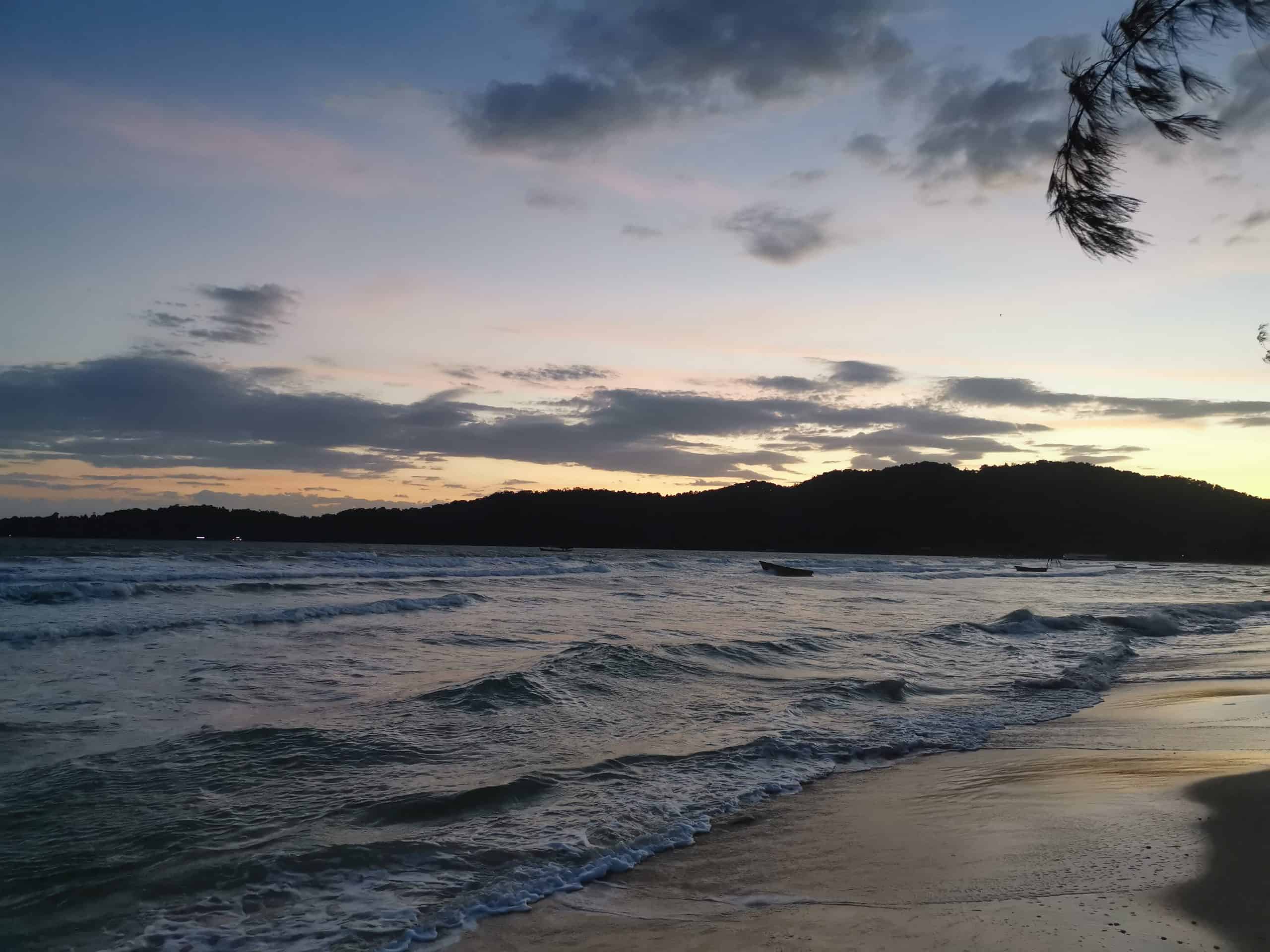 It was very nice to watch.
This was also when we realised just how fucking windy it was.
At a later stage, we asked the people at our hotel & they casually informed us it was 'windy season'.
We had never heard of this before.
Off To The Other Side Of The Island To Explore
Once we had been to breakfast, we set off to pretty much the only part of the island that wasn't right on our doorstep….but also wasn't so far away that we could be asked to visit – a beach, bar & accommodation called Lazy Beach
This was through a wood across the island to the other side. It took about 40 minutes to walk there.
Some of the walk was in the shade & lovely.
Some of it had no shade and was bastard hot.
We got to the beach fairly early so had the run of it initially.
It was much calmer (both in terms of wind & waves) than our side of the island.
One thing which they didn't have & was actually quite nice – beach furniture.
Nothing.
No sun loungers or parasols.
Just you & your towel.
So for me, it was finding a spot on the sand, which also had some shade from a tree branch/overhang.
This is great for 10 minutes but then the sun does what the pesky sun does all the time – it moves.
So I have to keep moving.
By now, there are few more people on the beach & every 10 minutes I seem to be edging closer & closer to them.
Imagine this happening across the beach as all people get closer & closer together as the sun gets hotter & hotter and the shade gets less & less!
The beach was beautiful though & I am glad we bothered our arse to go and find it (AKA Lisa!).
After a few hours, it was lunchtime – Thank Christ!
Off we went to the bar/restaurant for a couple of cold beers (Beerlao) then some food.
I had a Thai green curry which turned out to be the best all holiday, it really was good.
Lisa had her fav' a Lok Lak; this time she ordered the 'English version' where you got half rice & half chips – you can take the girl out of the north!
After lunch, we headed back to our own windy beach.
This is where I also discovered how ridiculously comfortable hammocks are to lie in & read a book.
This also means they are very easy to fall asleep in & twat yourself in the face with your Kindle whilst also snoring.
Classy.
Our beach was lovely.
The sand was very white and powdery. By the afternoon the wind & waves also calmed down every day.
The only 2 things which marred our stretch of the island was the fact that litter kept getting washed up all the time – flip flops, bottles, cans etc – the rubbish came from 'the mess' (aka – Sihanoukville) which is a real shame.
Usually, each accommodation has staff that will clean up their stretch of the beach. This would have been fine but there were actually a lot of empty/deserted 'hotels' & beach bungalow properties on the front & so nobody was cleaning them.
The result being there was always rubbish along the beach.
Choose Your Own Food Beach BBQ
That evening we wandered down the beach in search of food.
There were lots of places set up on the sand & doing BBQ's. This is what we did.
We opted for the place in front of Sweet Time Bungalows
You basically went & pointed out what you wanted (fish, meat, prawns etc) & they set it aside for them to cook.
When it was ready, along it came.
It was lovely.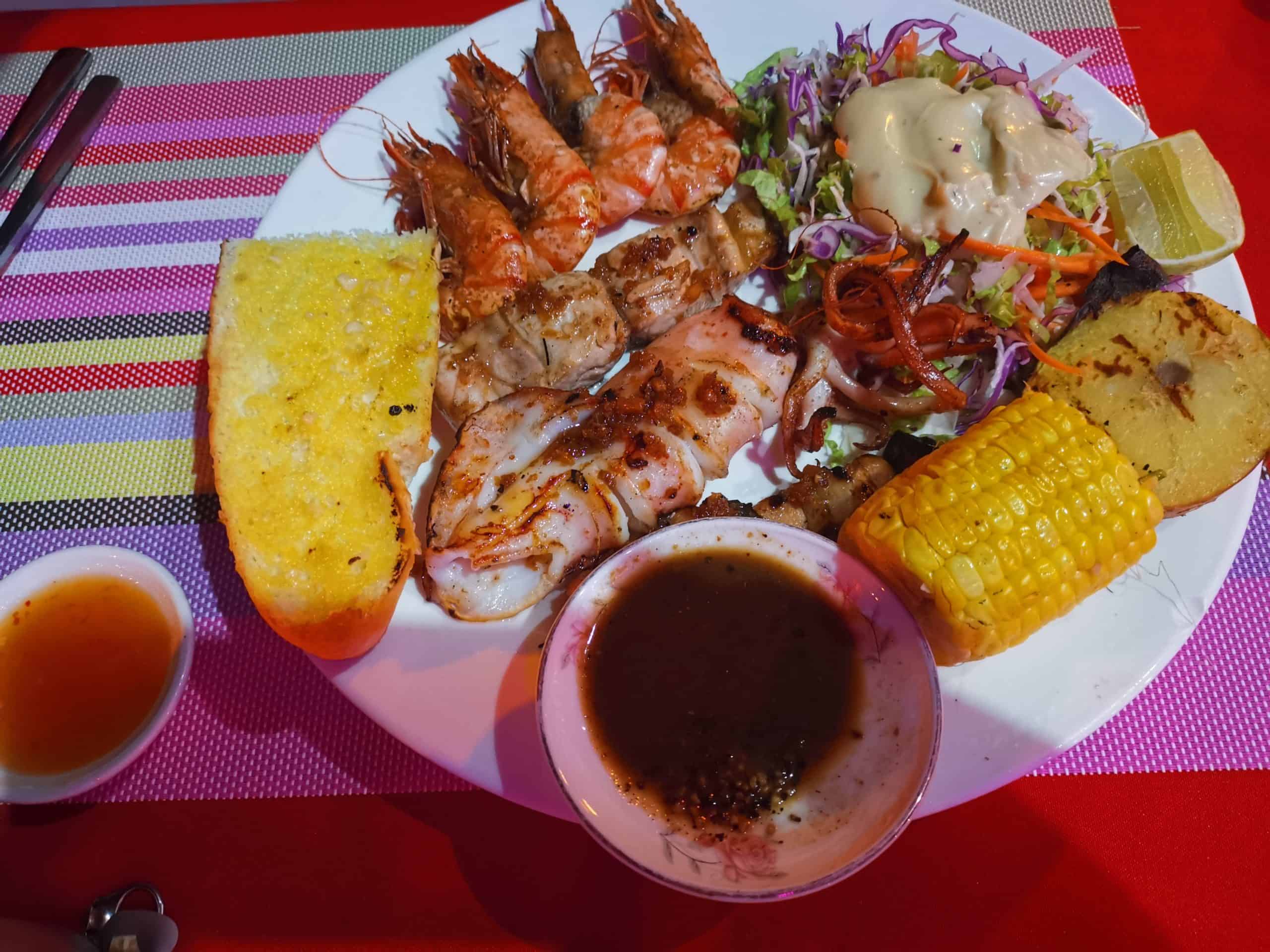 After dinner, we headed back to bed.
Lazzzzzzzy Day In The Sun
Breakfast & then a lazy morning on the sunloungers reading in the sun.
Lunchtime we walked up the beach to the Happy Place Restaurant & Pizza where we got a lunch 'special' – something like 2 beers, 2 starters & a pizza for $10, something like that.
Then back for more sunbathing & reading.
Then in the evening we strolled up the beach again & went to another tick box for Lisa's – Sara Resort
It looked good & was #2 on Trip Advisor…..but was actually pretty average.
Lisa has a seafood Pad Thai which was basically hot Pad Thai with cold seafood mixed in. Not the best.
Happy hour Margarita's for $4 went down a lot better.
A bit pissed with battery acid heartburn we went back.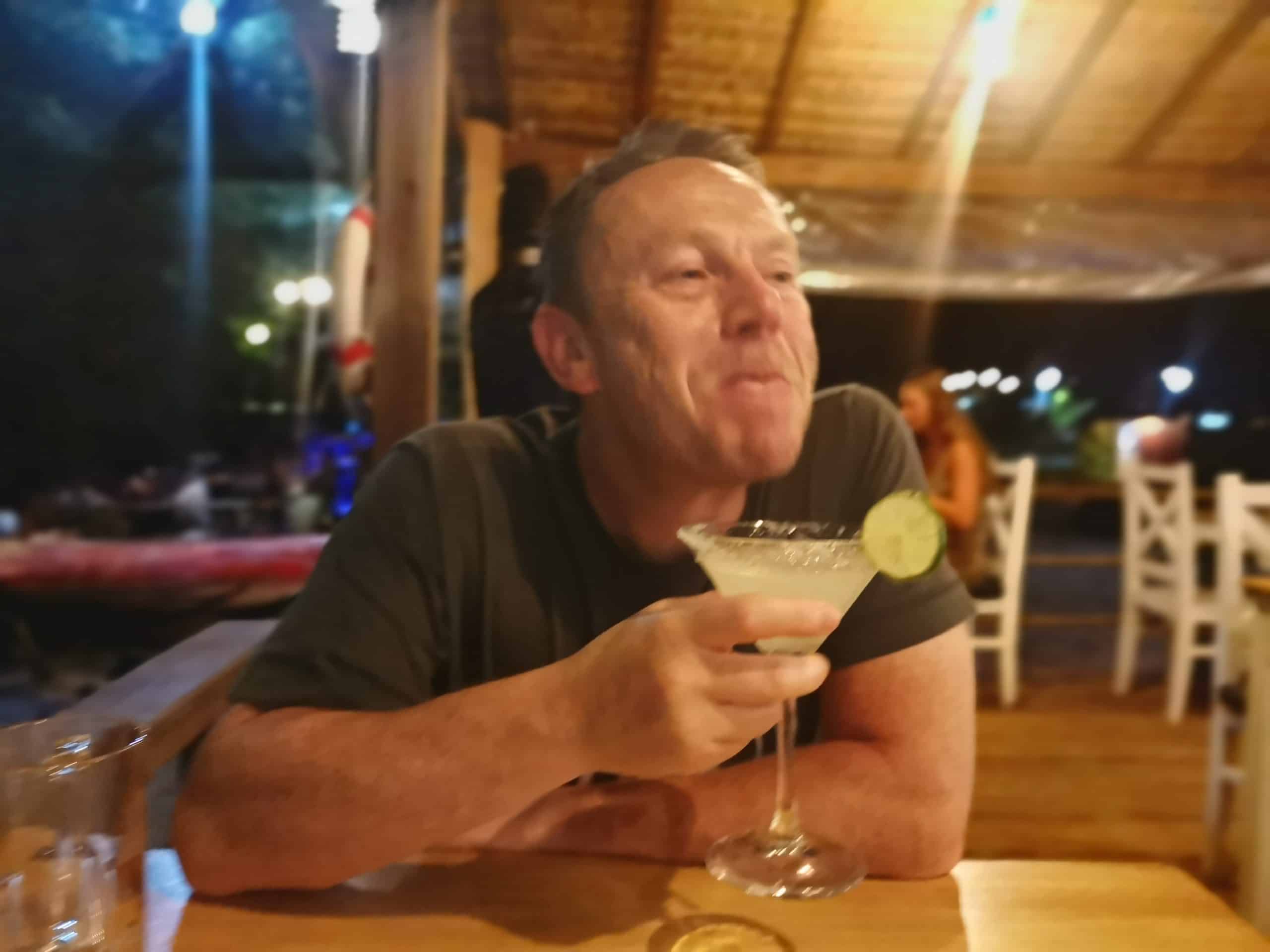 Onto our final full day on the island. We were leaving the following morning.
One thing we had to do was confirm our return ferry trip. We wandered up the beach with our ferry receipt to a little booth.
Here we showed the woman & asked to be put down for tomorrow morning Koh Rong Samloem ferry.
Sorted.
Lunchtime we wandered up the beach again to a bar/restaurant called The Big Easy
We got a lovely spot at a table on the waterfront. We ordered 2 beer & 2 Thai curries.
All was good (except for the pretty shit watery curries!).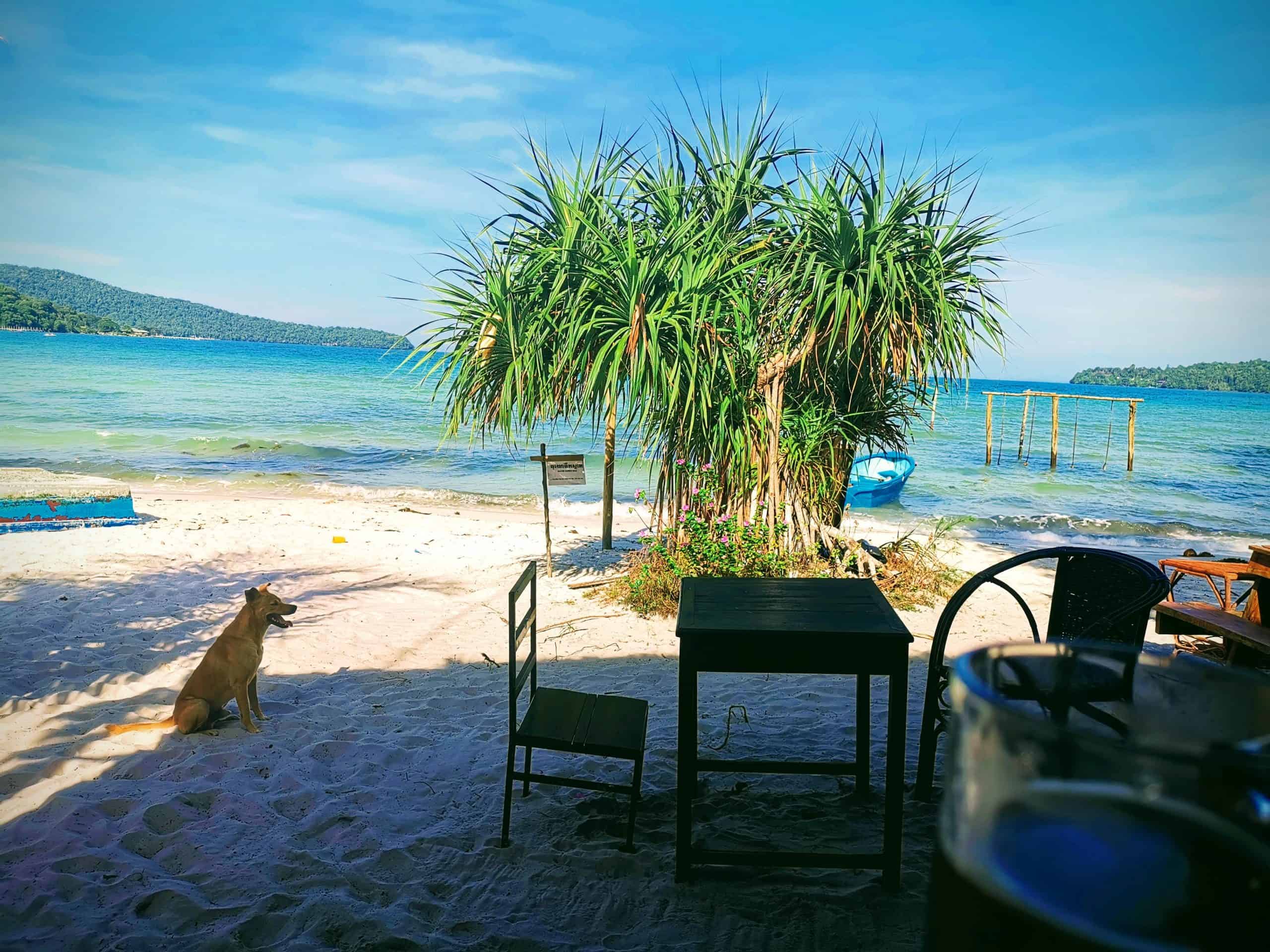 That evening we headed back to the Happy Place restaurant.
At night they also did the beach BBQ i.e. you choose the 3 things you want to eat & then they cook them & bring them over like the one we had already tried.
It wasn't as good as the 1st BBQ place by any stretch.
Then back & bed – tomorrow we were off again, back to the mainland & off to Kampot.
How Can It Be Windier? & Why Are There Even More Waves?
The next morning was quite a nervous one.
The 4 days we had been on the island it seemed to get windier & windier on Koh Rong Samloem.
This, in turn, meant the water got choppier & choppier.
The issue being was that us, the 2 French women & all our luggage had to get back into one of those little boats & be taken over to the ferry jetty.
We had watched someone the day before go & she was thrown about & pretty much soaked going. This morning was even choppier than that.
Also, at breakfast, we had witnessed our boat breakdown about 4 times whilst doing an earlier run just leaving it bobbing about whilst wave after wave hit it & moved it about.
Anyway, the time came & off we went – I was sat in what turned out to be the worst seat & got pretty soaked.
The little boat hit waves constantly & was up & down all the way.
We were all very glad when it was over to be honest.
The ferry journey was the same as when we have arrived – what appeared to be a child driving & full tilt all the way.
It was choppy & the girl who was sat in the seat in front of me was throwing up.
We got back to Sihanoukville & the next quest was to find/haggle with a taxi to take us to our next stop – Kampot.
We were with the 2 French women as they were going there also – we found one & got it for $50.
It was a Toyota 4×4 & very comfortable (I did think we were going to be taken to some shit old brown Nissan Cherry but was happy to be wrong!).
3.5 hrs later we got dropped off in Kampot.
______________________________________
Additional Information: July 2020
As required, when I have done a post about somewhere, I find that people have asked questions and enquired about things which aren't in the original post & are too awkward to try and add-in.
This has been the case for this post so am adding this section to cover the questions:
Is Koh Rong Samloem worth visiting? Yes, if it wasn't clear from above, we really enjoyed it there. In hindsight, I wish we hadn't have worried about the little boat trip to the ferry (it was in our head for at least 24 hours before we left).
Which is better Koh Rong or Koh Rong Samloem? This we cannot answer, we didn't visit the other island & were unlikely to given the timeframes we were dealing with, also Koh Rong describes itself (on Google) as "A popular tourist destination, this lively island has white sand beaches, forests and coral reefs." – The combination of 'popular' & 'lively' would have put us off when we were picking between the 2 islands.
Is there WIFI on Koh Rong Samloem? Yes is the short answer to this question, it did indeed exist but not everywhere & was only really in bars & restaurants. This wasn't the case in everyone though & also it wasn't always 'On'.
They were the few Q's that I had been asked since posting this so hopefully, that helps.