Costa Rica – Intrepid Travel Small Tour Group – My 50th Birthday
So it is now April 2022 as I am writing this.
We went to Costa Rica in March 2020 for my 50th birthday.
Over two years ago now.
Little did we know the utter shit storm that was about to take over the planet on our return.
We arrived home on the 15th of March; the 1st full lockdown kicked in on the 23rd of March.
We were very lucky bastards!
I also got to go down to the pub for my 50th in February & had a weekend in London etc.
This was in stark contrast to others I saw (on Facebook) who were 50 in 2020, stuck at home with a balloon, a cake & Netflix.
What a mad time it was.
Anyway, I am not focussing on that as thankfully life is pretty much back to normal & boy do we not take travel for granted any longer!
So I thought it about time to do my post concerning our trip to Costa Rica. There is a Costa Rica facts page here if you want to know the topline details of the Country.
Costa Rica Intrepid Small Group Tour – So It Begins!
It was a fantastic 2 weeks, very well organised & with a lovely bunch of people.
I know Lisa was concerned about doing two weeks with complete strangers as there is never any 'No Wankers' guarantee!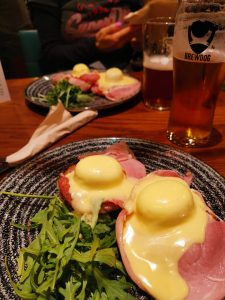 So February 28th 2020, it all started in Gatwick airport with a Spoons eggs benedict & a pint of Punk IPA.
That is officially the start of holibobs!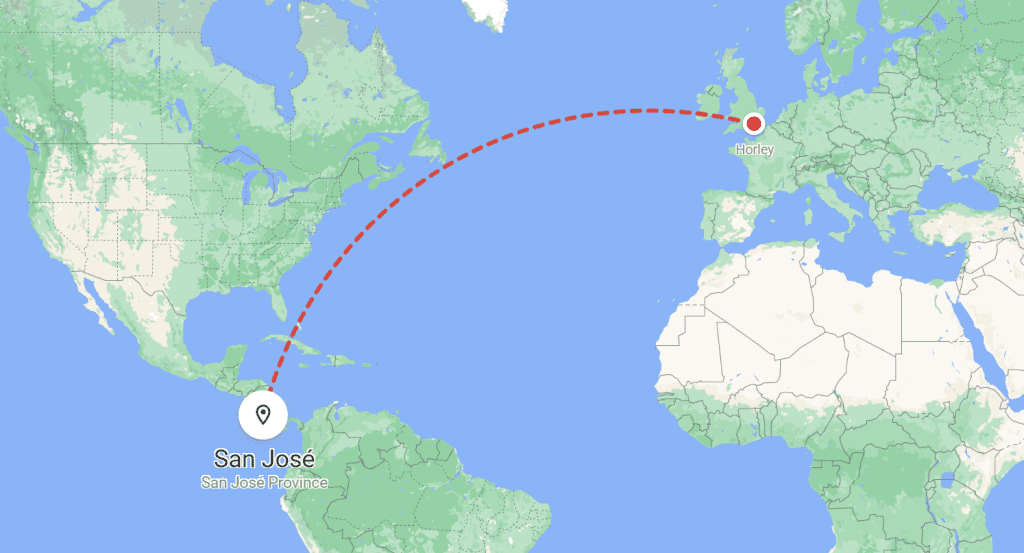 The flight is about 11.5 hours to San Jose airport.
We eventually got to the hotel, where we met our guide – Pedro and all our fellow travellers that evening.
We then go out for 1 of many meals that consist of rice, beans, some meat & plantain.
Tortuguero – Home Of The Green Turtles (but not now!)
On the first day, we travel to our first destination – Tortuguero.
We are in a minibus & then on a riverboat, a national park set in a rainforest.
It is famous for nesting green turtles, but not the time of year we were there, though.
It was a lovely little sort of village that was on the coast.
We got up early the next morning as we were right on the beach & went to watch the sunrise, which was pretty impressive.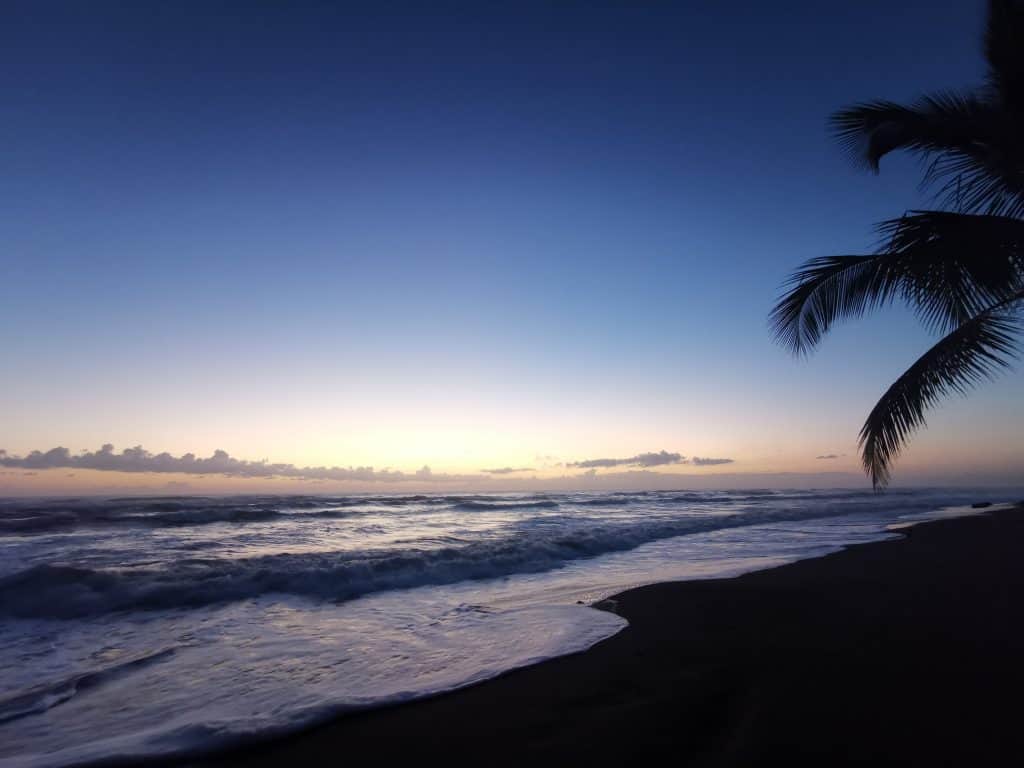 The next day, we went on a few boat trips & walks in the National Park in Tortuguero.
It was a pretty fantastic place & saw a lot of wildlife including snakes, spiders, monkeys, bats, reptiles & various birds.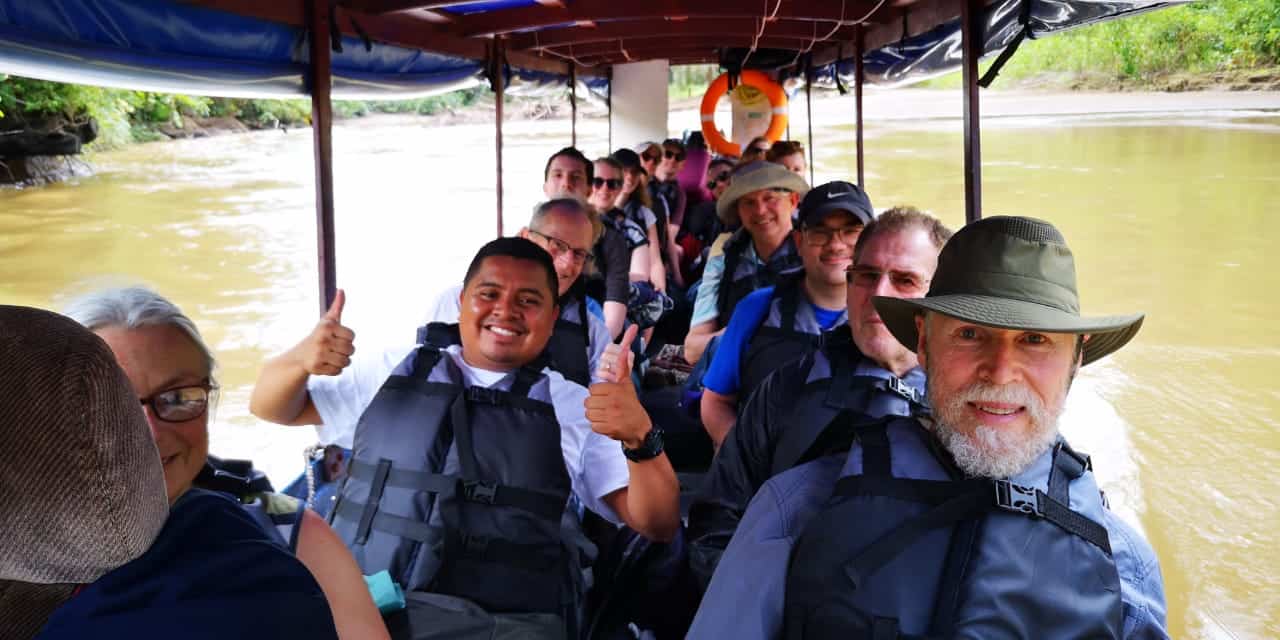 One of the various walks I remember ended relatively high up with a fantastic view of the sea and swamp/river.
That afternoon & evening, we walked along the beach near our accommodation.
The sand was volcanic & black.
At one point, lots of in-formation birds flew over like something out of Jurrasic Park.
A dog also followed us for miles that would not go home.
We then chilled in hammocks with beer until we all met for dinner that evening.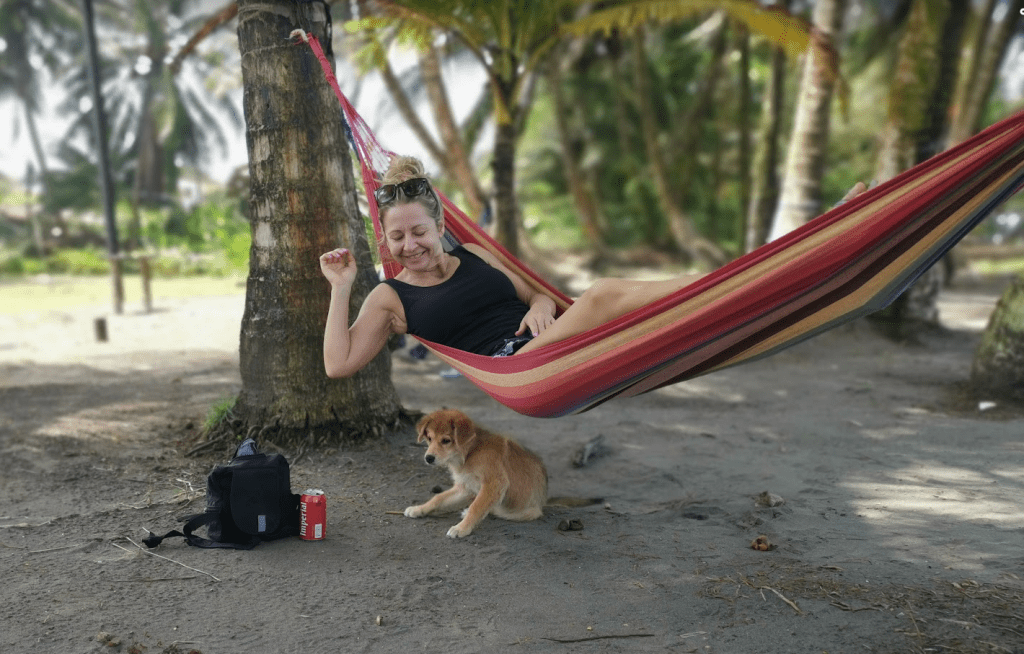 One of the next stops on our small tour was Los Chiles.
Here we went for a walk in the jungle & all ended up in a pool below a waterfall.
Waterfalls & Hot Chocolate
This was quite a laugh & I discovered that trying to use your phone (to take pics/vids) when water is cascading on it that your phone goes fucking mental!
It was opening apps, closing them & doing allsorts at 100mph! It is also the reason the video audio is pretty muffled.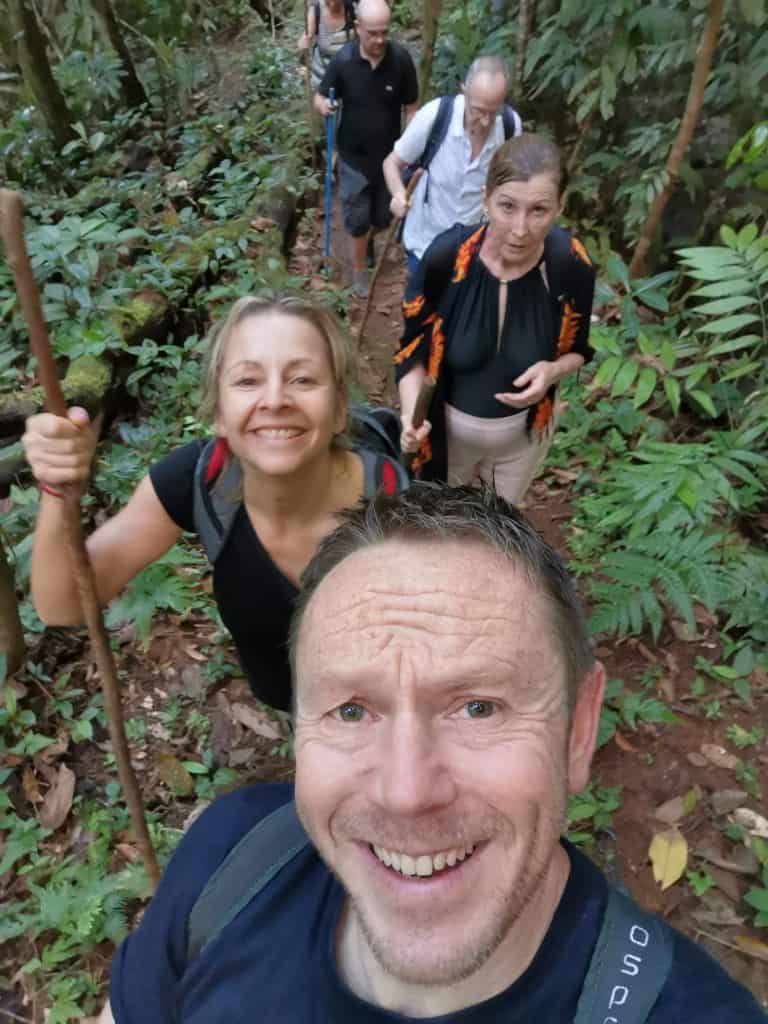 That evening we were split up and stayed with some locals in their houses, cooking food with them. This was quite a cool thing to do.
The reality was that Stephanie was fluent in Spanish, so rather than the 6 of us trying to muddle through with 'pigeon Spanish' & using lots of hand gestures, she translated everything & became our interpreter!
The further knock-on from this was that the couple we were 'talking to' just started moaning about stuff & bitching about how the village had changed!
The low down is that a few of the houses in the village get paid to host people from Intrepid & other Co's (usually 5 or 6 days a week, both during the day & overnight) whilst the others in the village get diddly squat!
So there is a big difference in income, etc., and the other residents tend to slag off the village hosts!!
Quite frankly, it became dull pretty quickly. Luckily we had bought plenty of beer!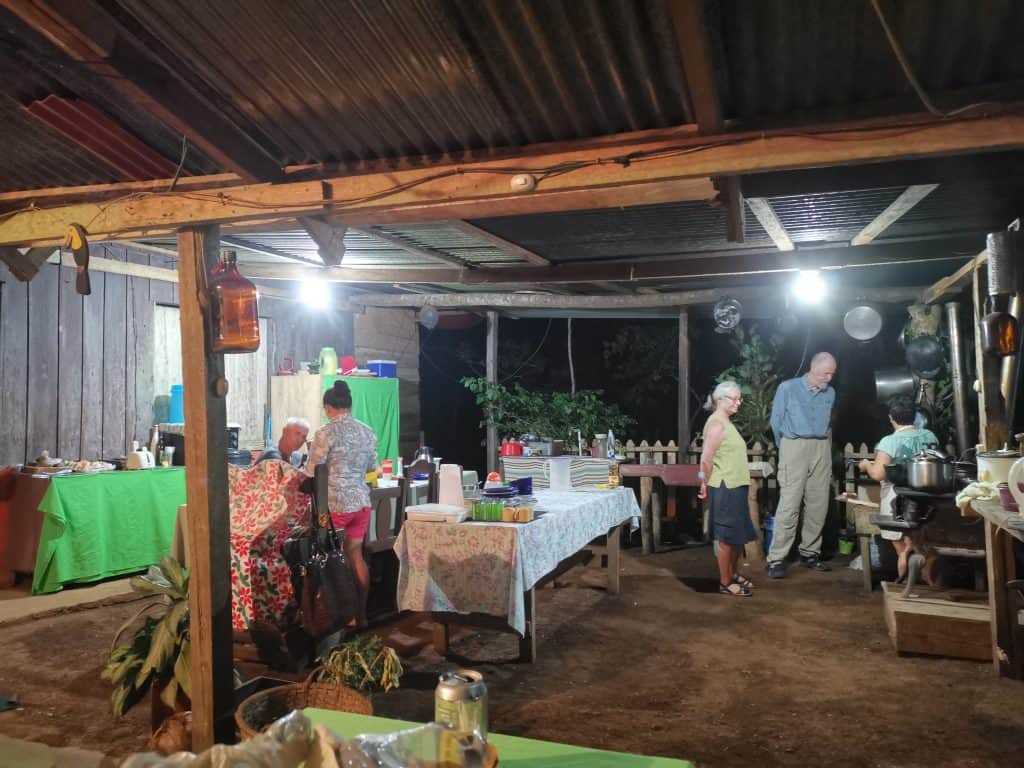 The next day we had a tour of their 'Farm' & ended up squeezing sugar cane for the juice, roasting cocoa beans & then making 'chocolate' (very bitter) to become hot chocolate.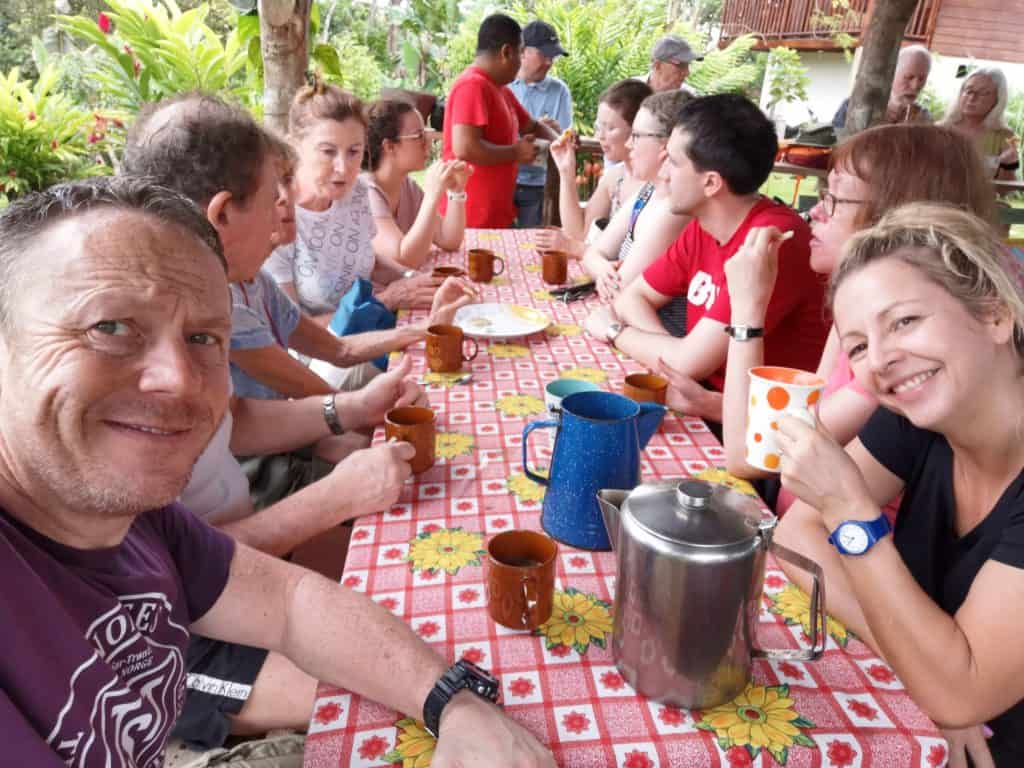 Then we were off.
The next stop is another national park. This one comes with a Volcano – Tenorio Volcano National Park.
We lucked out here in terms of accommodation.
Not everyone got the same across the groups. It had nothing to do with price/paying, etc. It was down, in theory, to luck!
We were lucky.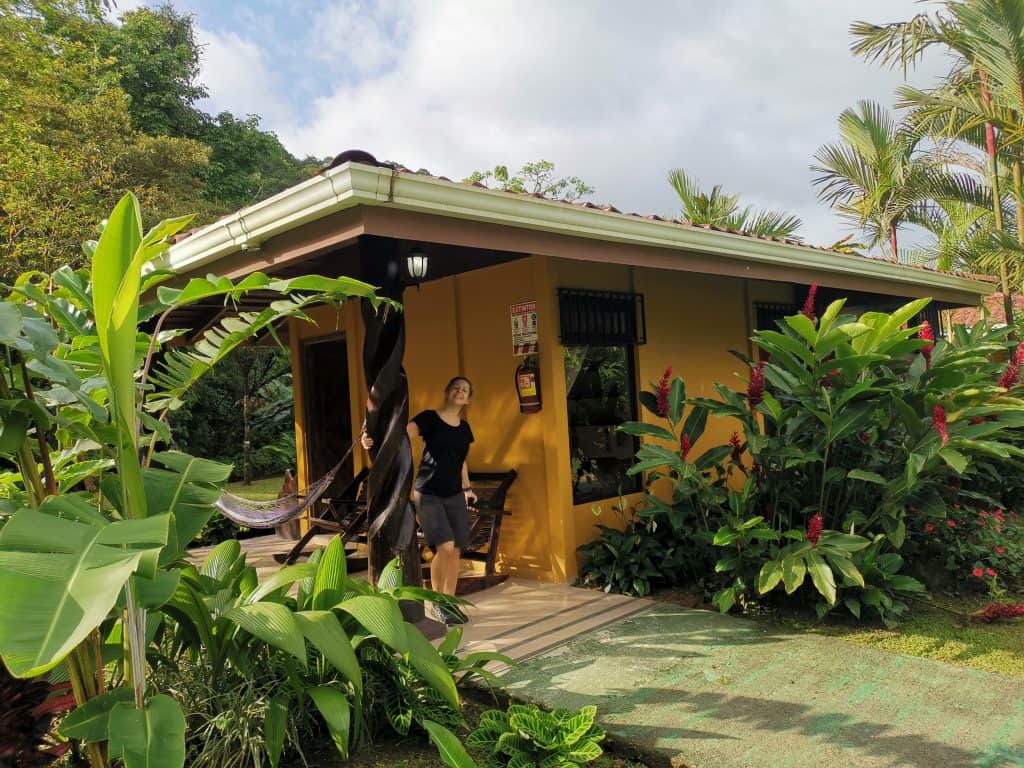 We spent a couple of days walking around the National park.
Blue River & Stink Bombs!
The highlights were the river that runs through it where there is a seam of mineral in the river bed (no, I can't remember what it was!) which when the water runs across it there is a reaction & the water turns a turquoise blue (I assume it has something to do with the volcano!?).
An underwater spring also came out into the river at a certain point. This was indeed linked with the volcano as it was sulphur gas & it fucking stank! Proper egg stink bombs.
There was also a long winding set of stairs that led to a waterfall which was the same colour.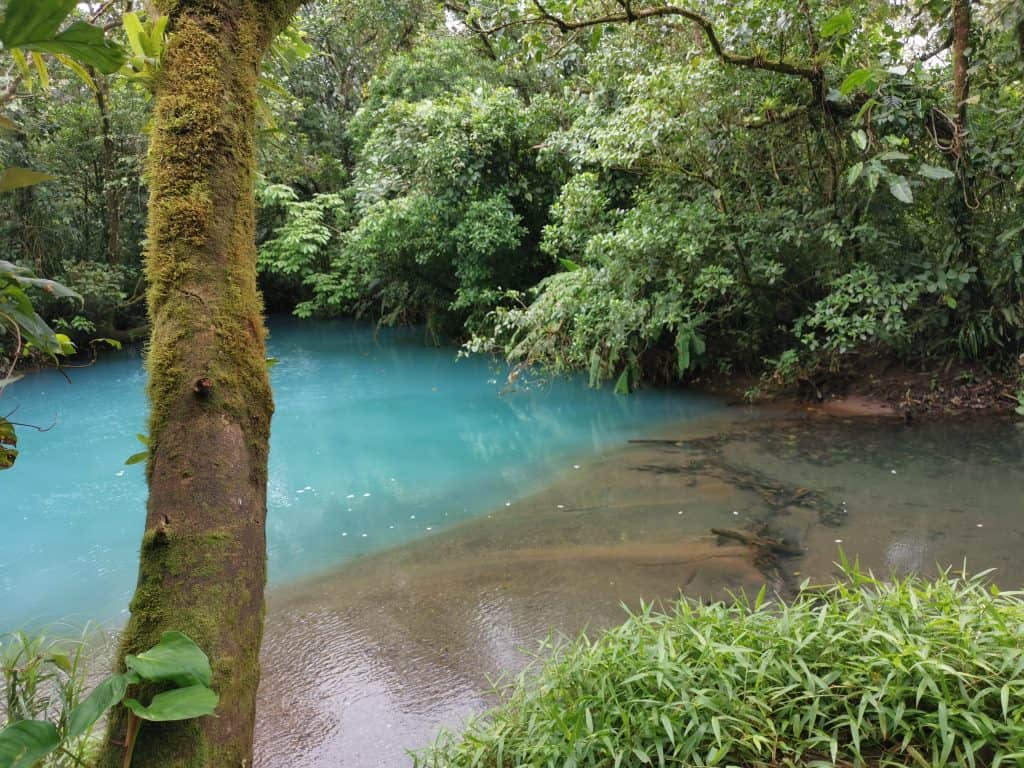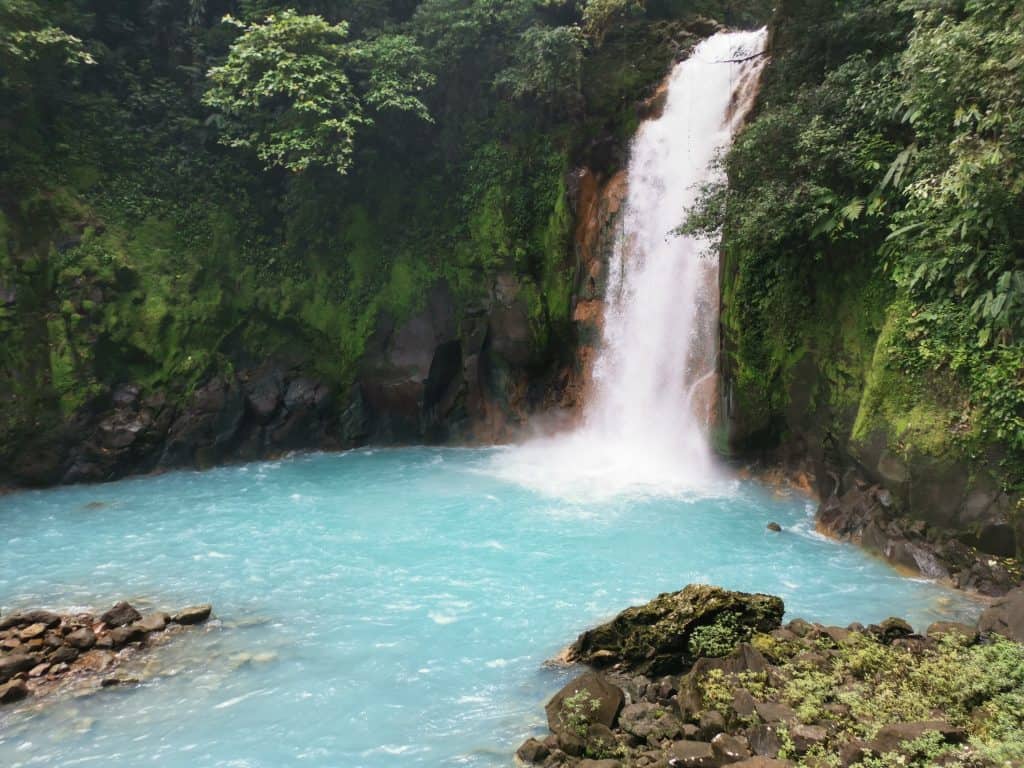 We walked back to our accommodation from the park and came across some worker ants, which I found fascinating.
There was such a long line of them, basically transporting leaves. The line went on for ages.
Later that day, after dinner, a few of us went with Pedro (our guide) around the hotel's grounds to look for various animals, bugs & more.
Our Wee Man – The Dude! – What A Star!!
This is where we spotted the Red-Eyed Tree Frog.
It is still one of my 'Holy Shit' moments in life.
It was there & it did not move, allowing us to take lots of pics very close up.
It was an absolutely stunning little creature!
I make no apology for how many pics are below!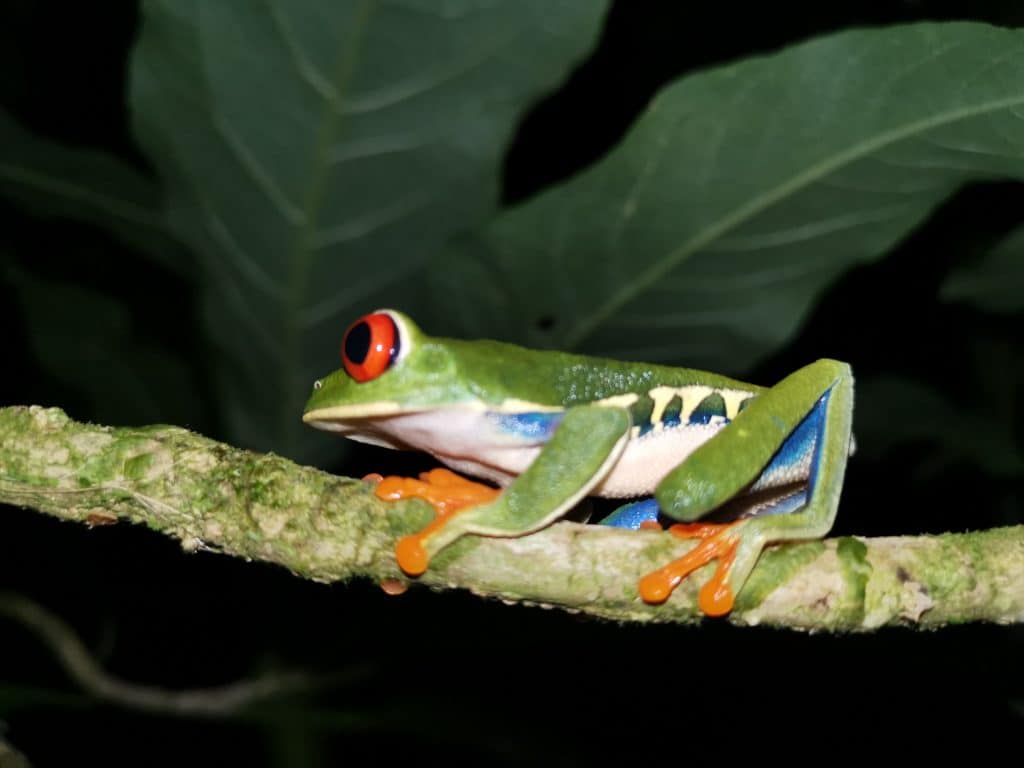 The next stop was La Fortuna, which was where Pedro was actually from.
Another part of Costa Rica with a volcano. This was also another National Park – Arenal National Park & Hanging Bridges.
I can't remember how many bridges there were. I do remember that some of them were really fucking high!
I do not like heights, so there was a lot of looking forward going on & I certainly wasn't hanging about!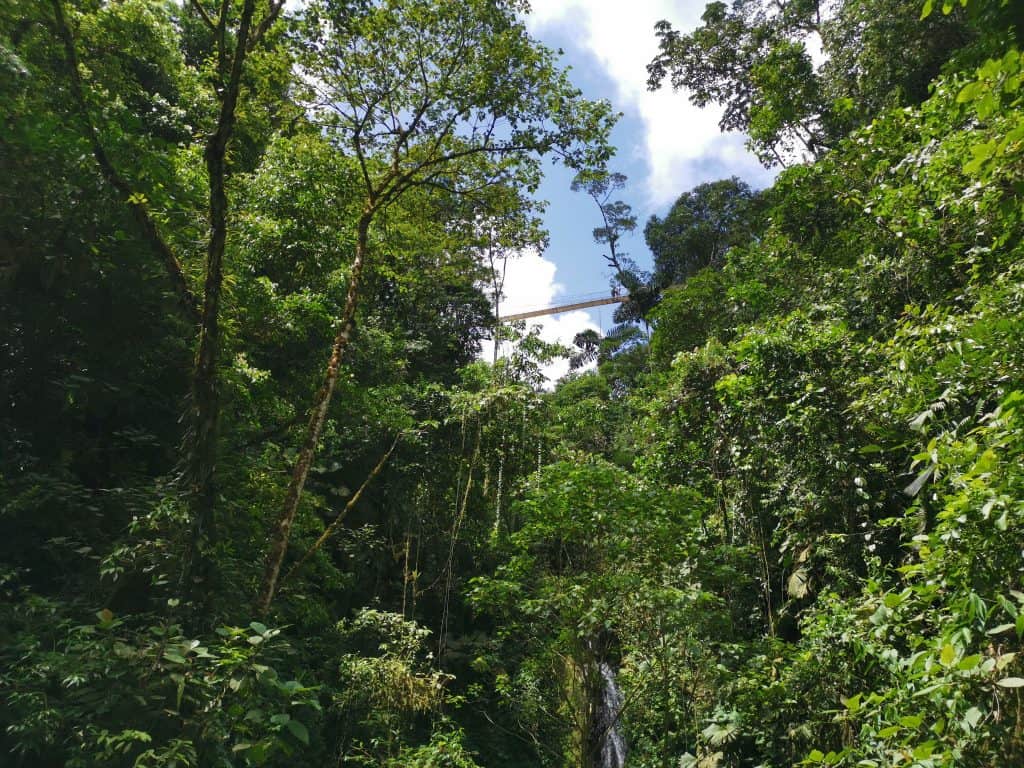 Once the bridges were done, we were off to see the Volcano. Pretty impressive, but we never quite saw the very top. There were always clouds on it.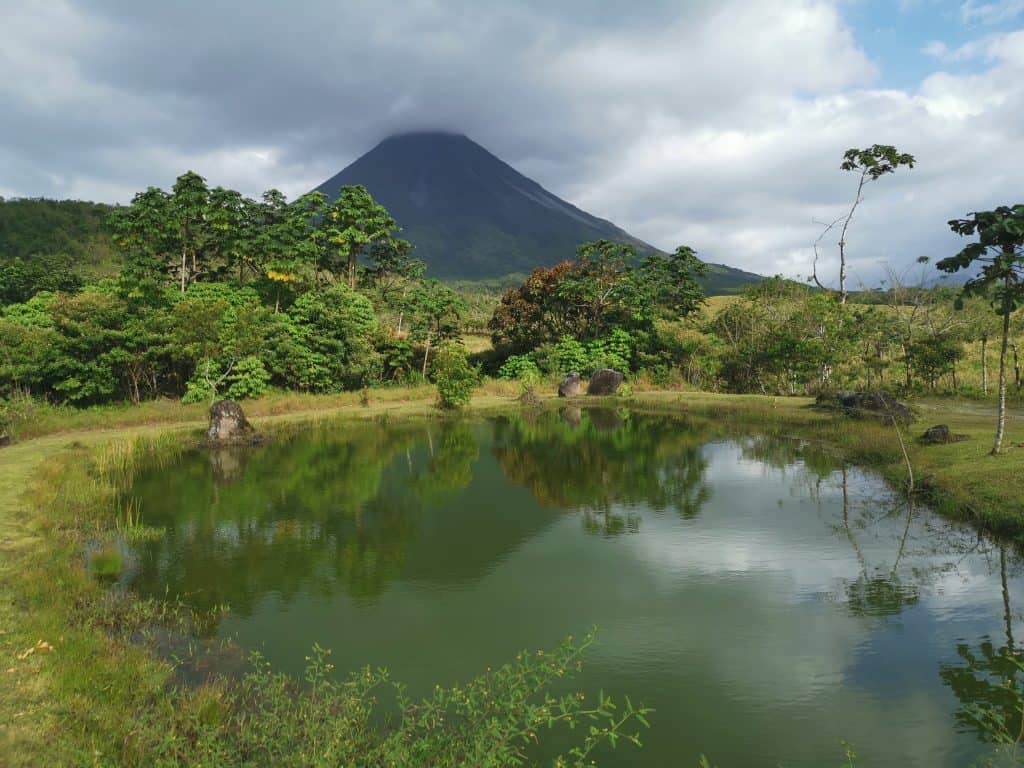 Next up location-wise was La Fortuna.
We had a little chalet type of accommodation here. Also, there was a lot of rain & a 5-star swimming pool area…
Whilst we were here, we also got to do a few things ourselves.
We went to a little wildlife park/eco-centre called Ecocentro Danaus.
Here we saw our 1st strawberry poison dart frog.
I can't begin to tell you how many pictures I took of this wee fella. We followed him around for about 30 minutes thinking this might be the only chance of seeing one.
As you may guess, we then saw these little tossers daily & with minimum effort!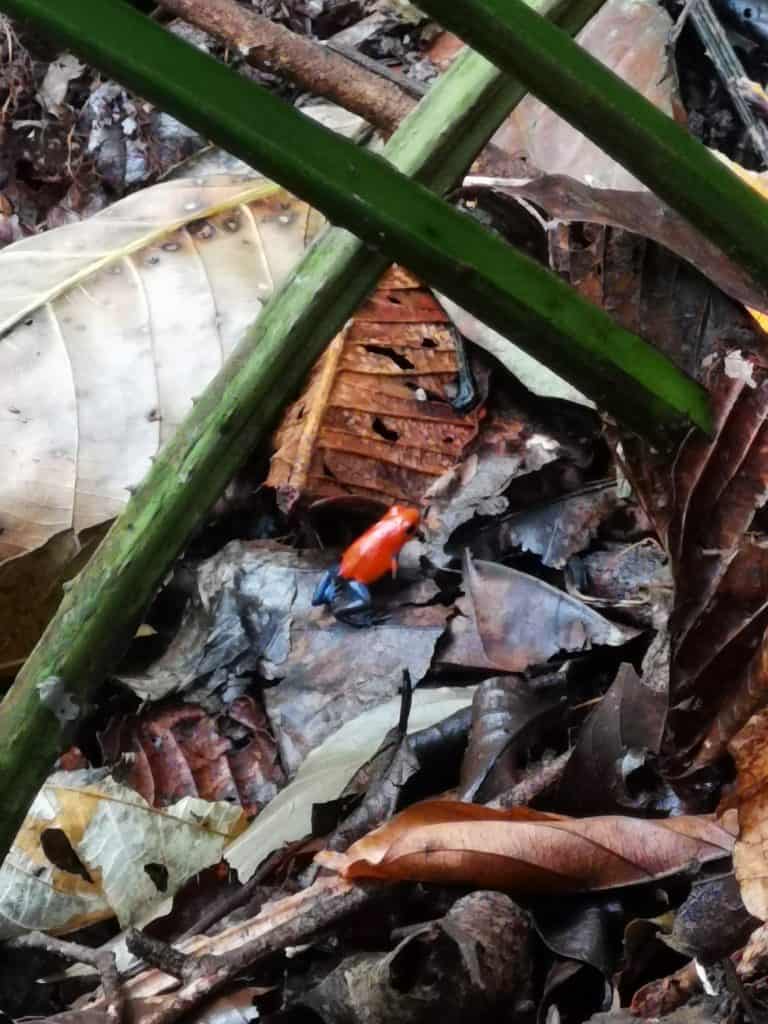 There were loads of birds at this place as well. We finally got to see our first Toucan.
Alas, not the Guinness one.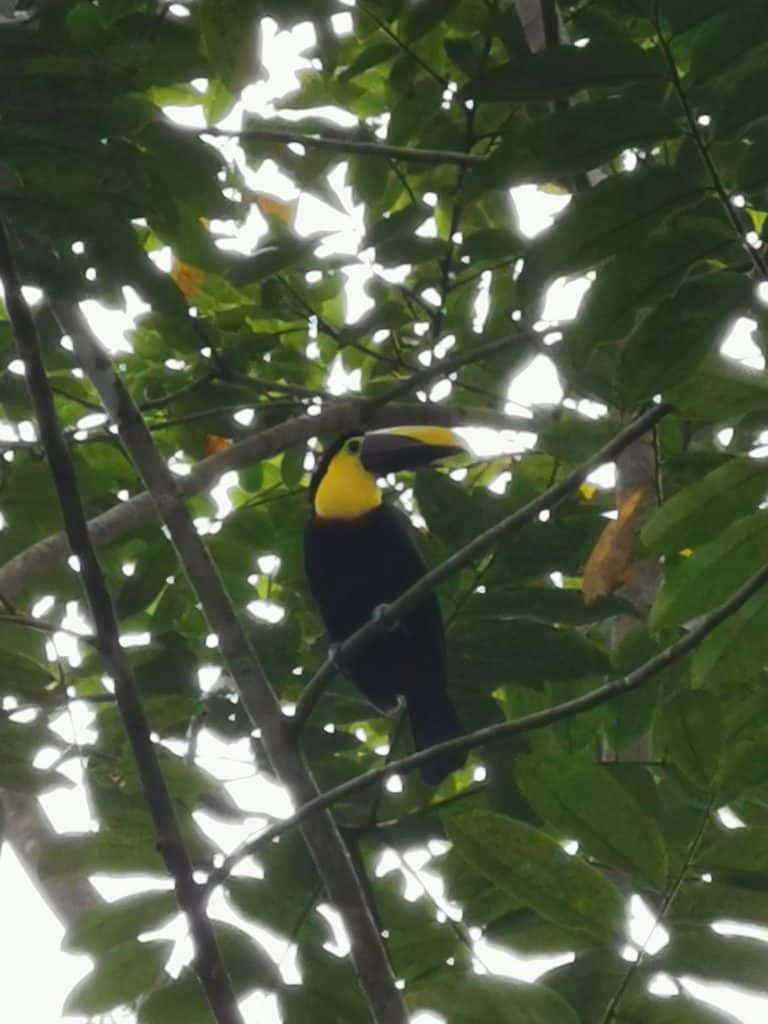 The one thing we did find in La Fortuna was a craft beer pub! – It was cleverly called La Fortuna Pub. We stayed for a few in here before getting some lunch.
The next stop was an afternoon at a local hotel with hot springs – Paradise Hot Springs.
Around this area, there are a lot of natural hot springs.
Lots have been incorporated into the grounds of hotels, and in a lot of them, you can pay money to have access to them if you're not staying at the hotel.
So we spent a few hours popping in & out of the various pools (all with varying degrees of heat) & enjoying a couple of cheeky beers (it would be rude not to!).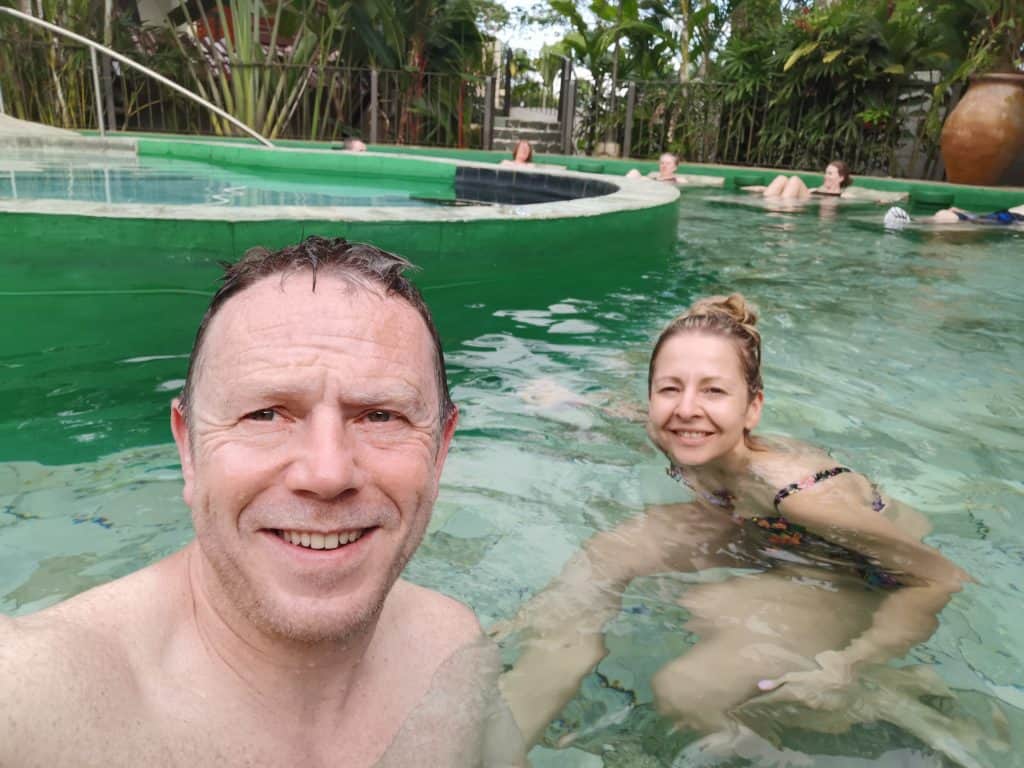 The Rodeo Is In Town! – A Guilt Inducing Spectacle
That evening the group (in drips & drabs) all made it into the centre of La Fortuna to see the spectacle in town, which was a Rodeo!
Like the rest of us in the group, I don't think anyone 'liked' the idea of what the sport was about.
It must be a bit cruel to the bulls for sure.
The reality is you watch it because you are secretly (or not) rooting for the bulls in the hope that they get revenge on the riders.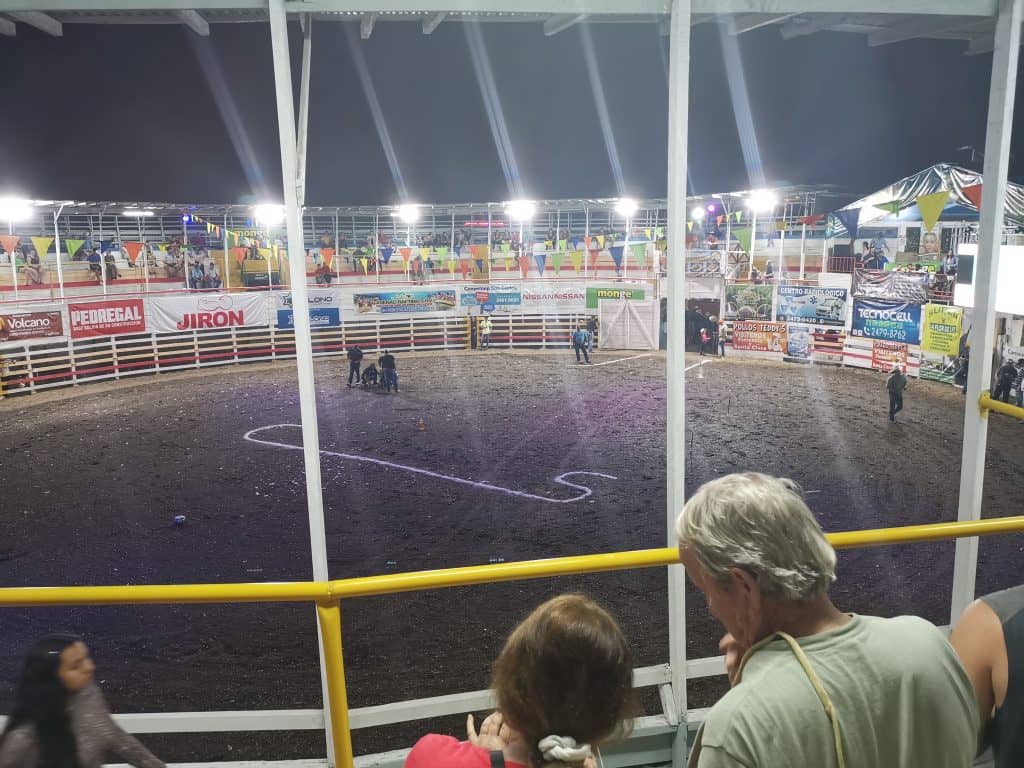 We saw quite a few rounds of it (no idea what the term is).
Most got tossed about & dismounted, but nothing to quench the bloodthirsty! It was an experience and a box ticked. I'm not sure I would go and see it again.
The next day we were off again, this time to Monteverde.
Here we did a couple of things, one of which I will never forget.
We did a forest night walk, which was very interesting, seeing fluorescent scorpions, looking at birds fast asleep on branches in trees & the fascinating sight of Sloths and their painfully slow way of moving!
We all went out for a group meal in a nice local restaurant.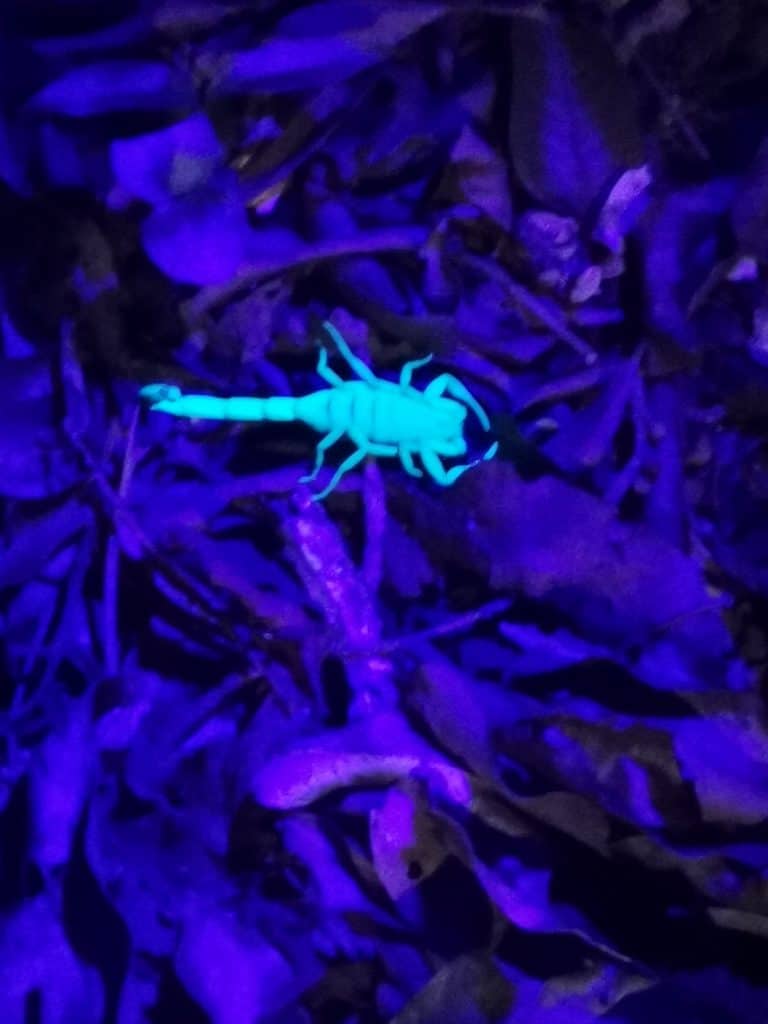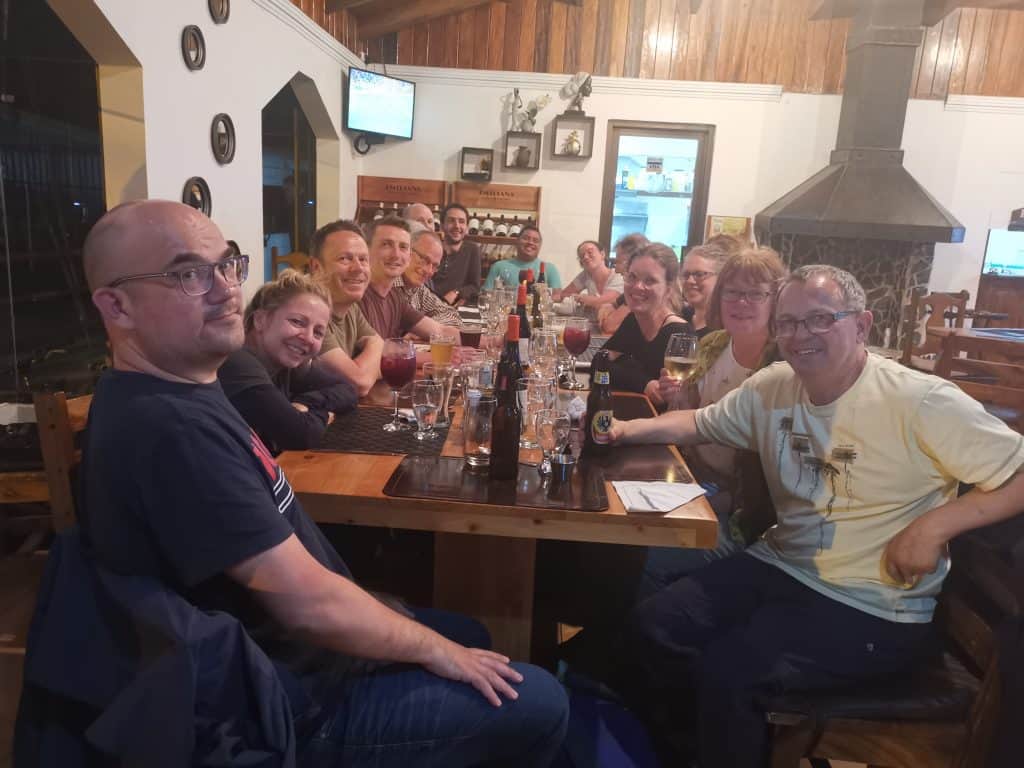 Holy Shit! – A

Highly

Remembered Experience!
The other thing was Zip Lining.
Not sure why I was up for this, given my dislike for heights!?
One reason may have been that nearly everyone was going to do it & it seemed like a laugh.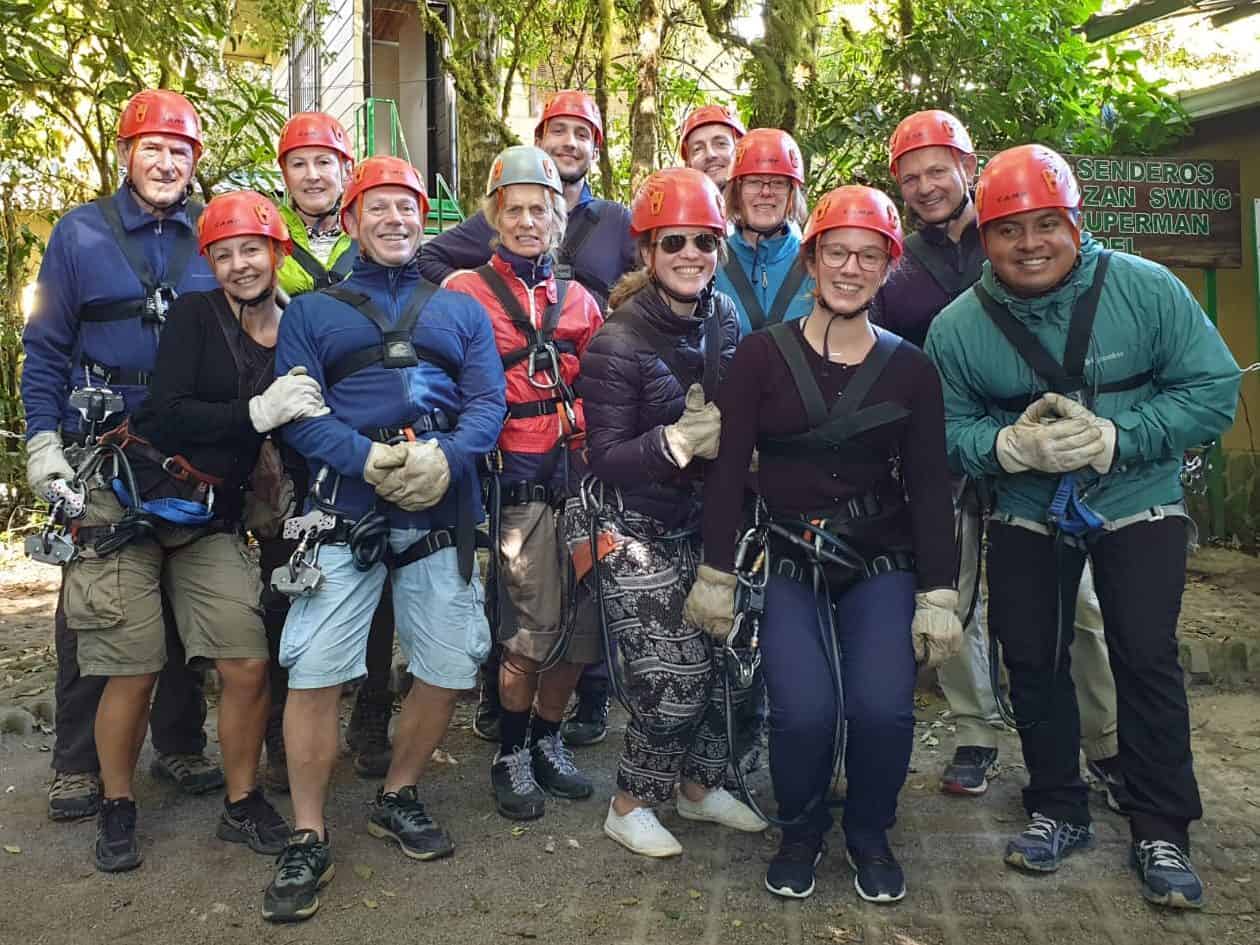 It starts pretty straightforward with a short zip line that isn't very high.
They then get progressively longer & higher.
Once you start, you don't have an option to stop as the end of each zipline is the start of the next.
Anyway, I did it all & tried not to look down!
The last but 1 zip was over 1 mile long. Let that sink in!
It was also 200 metres high!…let that bastard sink in!
Then really let the thought sink in that it was windy & apparently, I was not heavy enough to get across to the other side. So once I started at a good speed, as time went on, I began to slow down.
Until I eventually stopped. Not at the end!
I just hung there.
200 fucking metres above the treeline hanging from a wire by a wire.
I have never held onto something so fucking hard in my life!
Then one of the staff had to manhandled himself out on the wire and pull me back to terra firma.
I was a good hundred metres or so from the end so this seemed to take ages.
He came out, put his legs around me & dragged my back by hand.
I will never forget that.
The final wire was the longest & the highest, but because of the wind, Lisa & I went together, and there was enough weight. I was pretty glad, to be honest!
Then they were all done!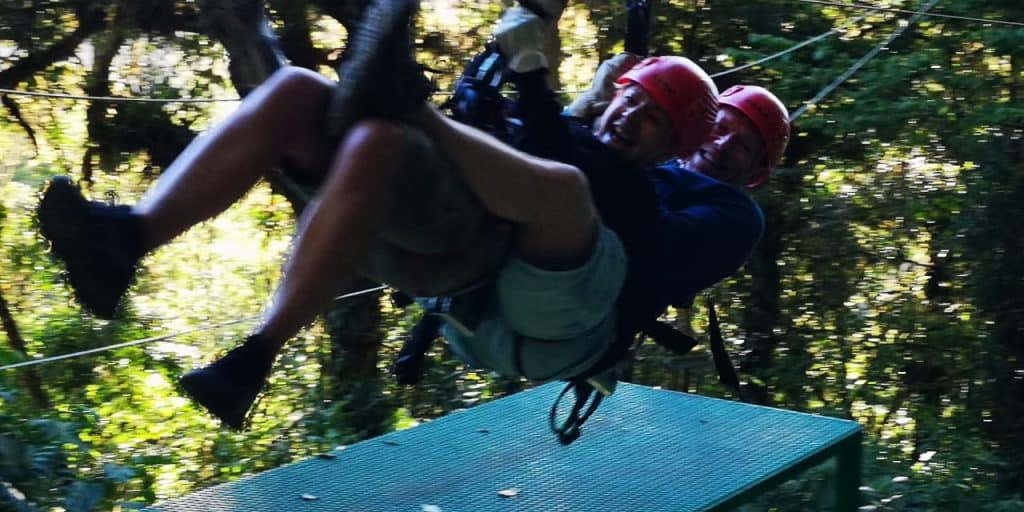 Except, we were not!
In For A Penny…
At the beginning of zipline training/intro, they said that there is a final activity at the end of all the ziplines. It was like a bungee swing.
A 50-metre drop & then you swing out.
This is something that I never thought I would do.
But bollocks to that, I might as well finish the whole thing. So I did.
It was pretty amazing & the rush forward after the drop really made you think you were going to be catapulted up & across the trees!
Done! Brilliant.
And Reeeeeeeelax…
The next and pretty much final stop was on the coast – Quepos.
Funnily enough, this place was next to a National Park! – Manuel Antonio National Park.
This was a pretty chilled-out stop & the hotel had a pool.
We did our usual jaunt around the park, looking at various wildlife & had a few beers/meals in the evening. We also had a group local meal in a local restaurant (very rustic!).
This place was also a very short distance from the sea, so the end of evenings was spent watching the sunset.
It was a lovely spot.
Quite a few sloths to be seen.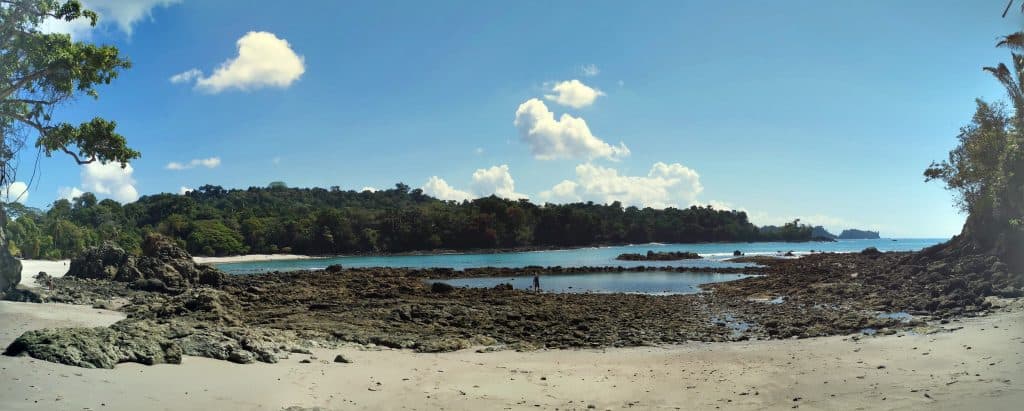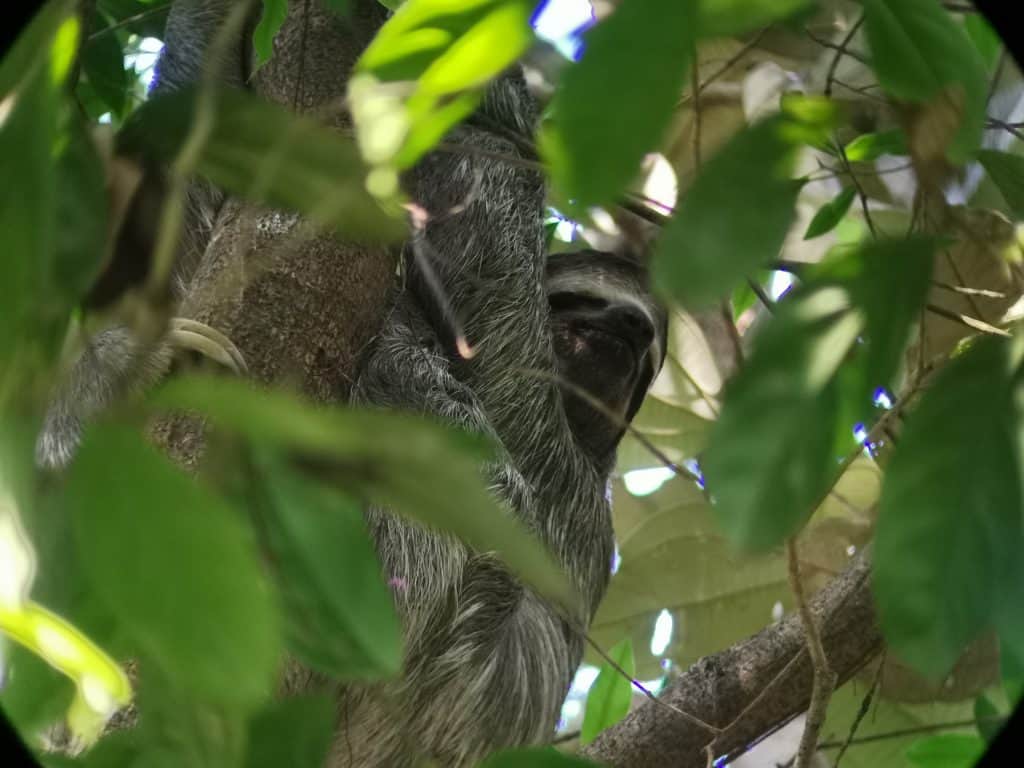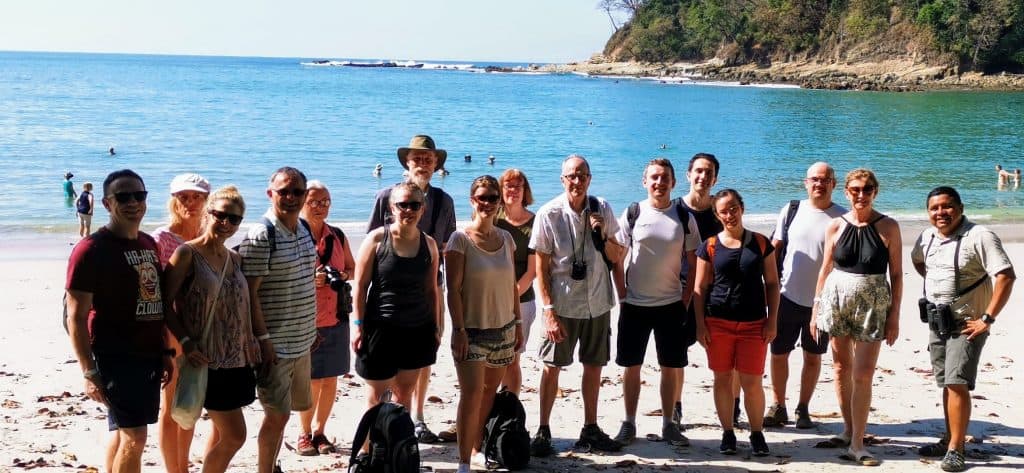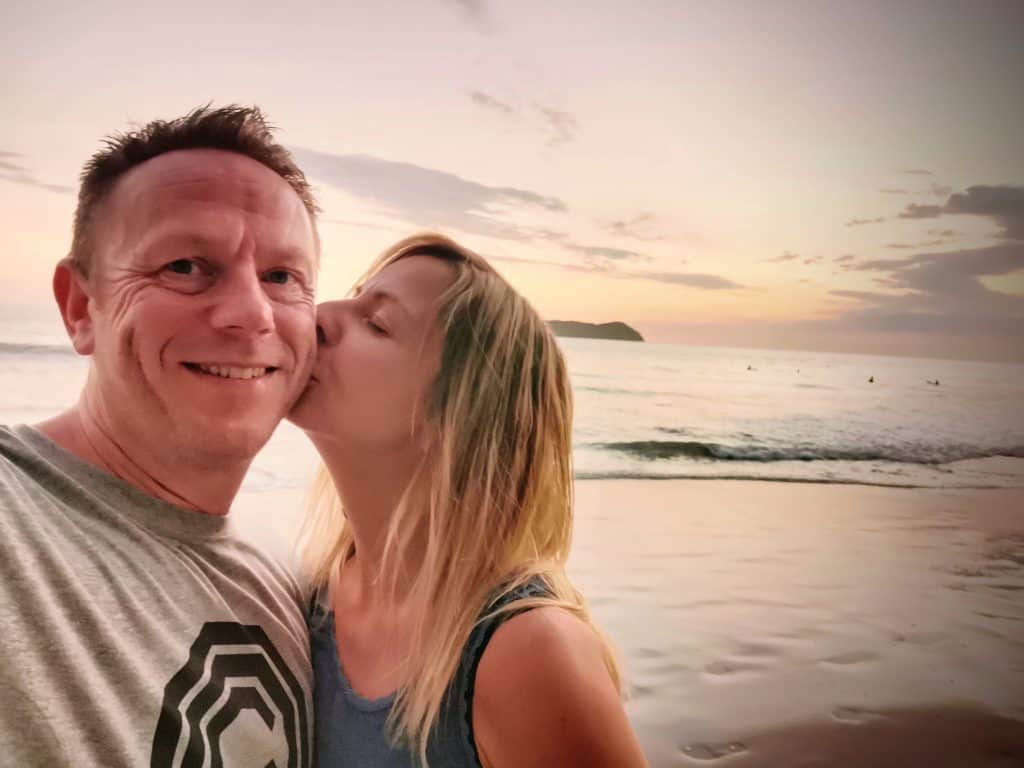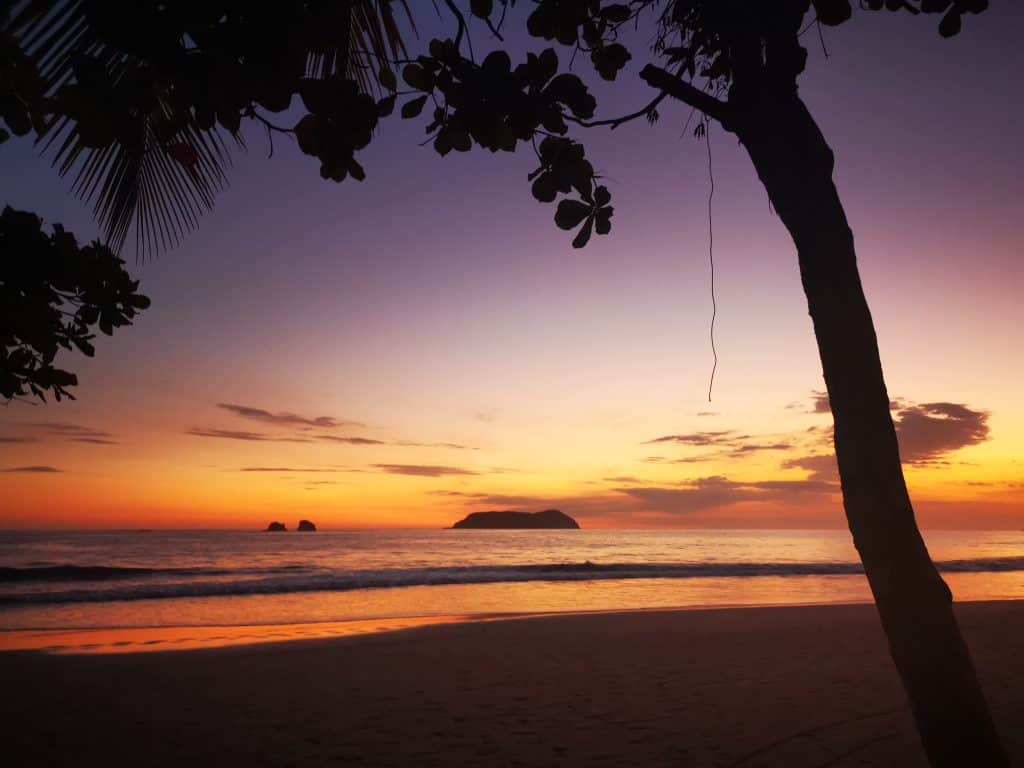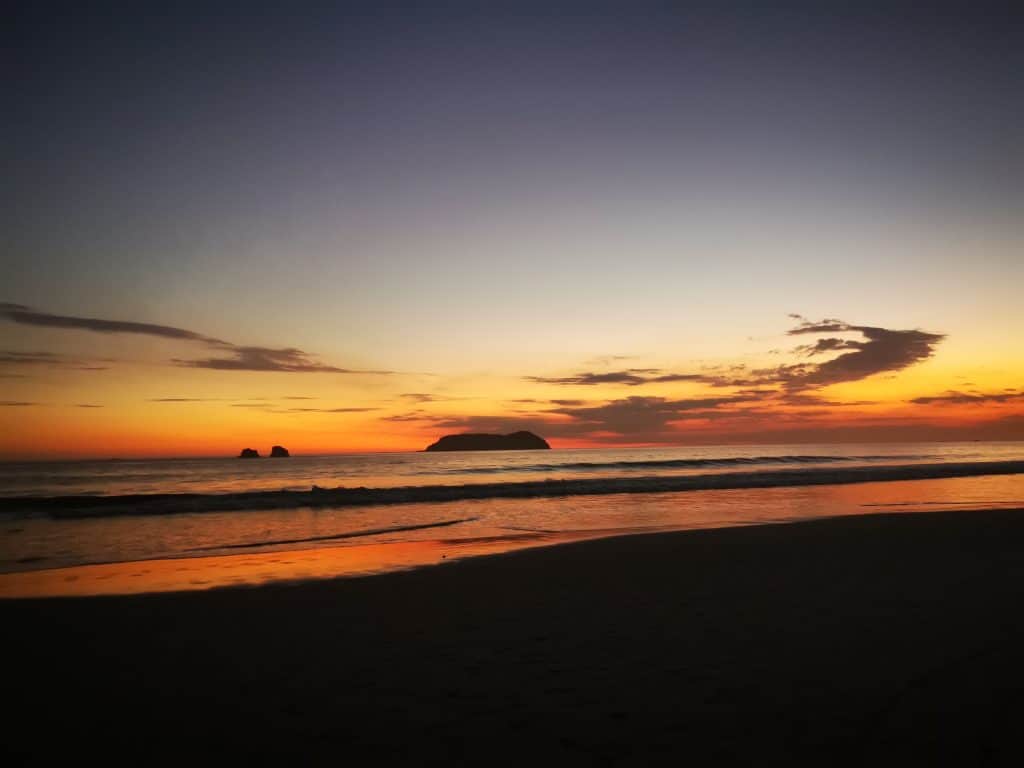 That was nearly it.
On effectively our final evening, we all went out for quite a posh meal.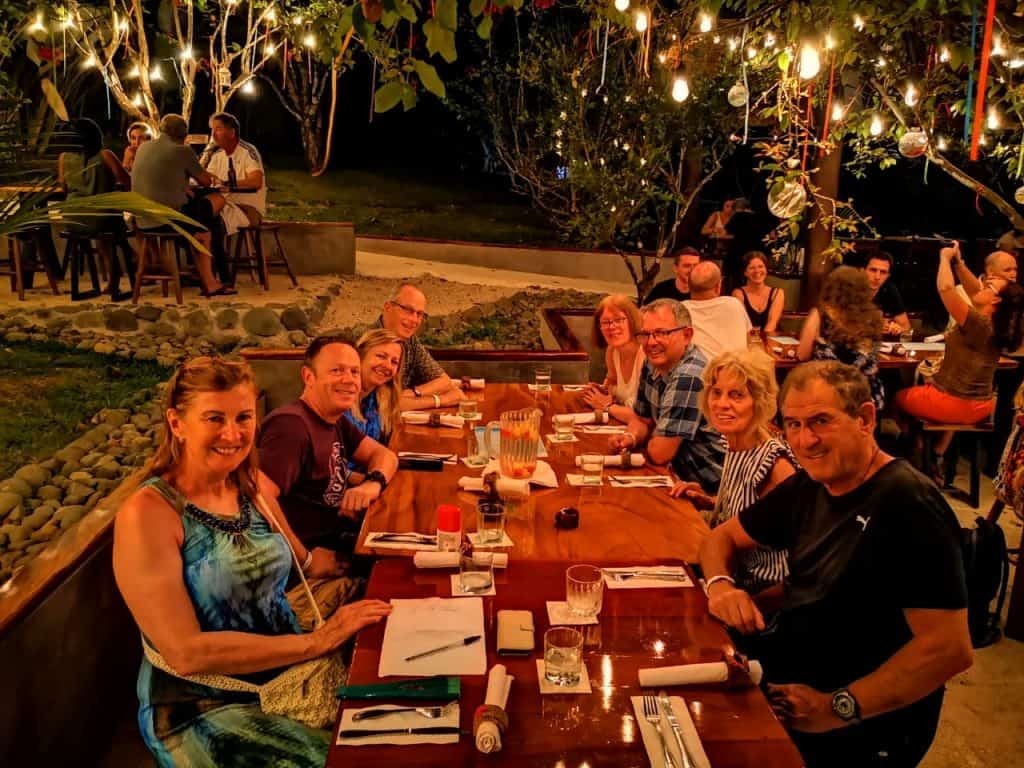 The following day in the morning, a few of us when canoeing in the mangrove forest. It was okay.
Midges were out in force so much that they gave you netting for your head.
In hindsight, this was quite funny as Lisa & I were in the same canoe & both had totally different ideas of how to navigate the mangroves, which at times were very narrow!
This led to a few heated 'discussions'!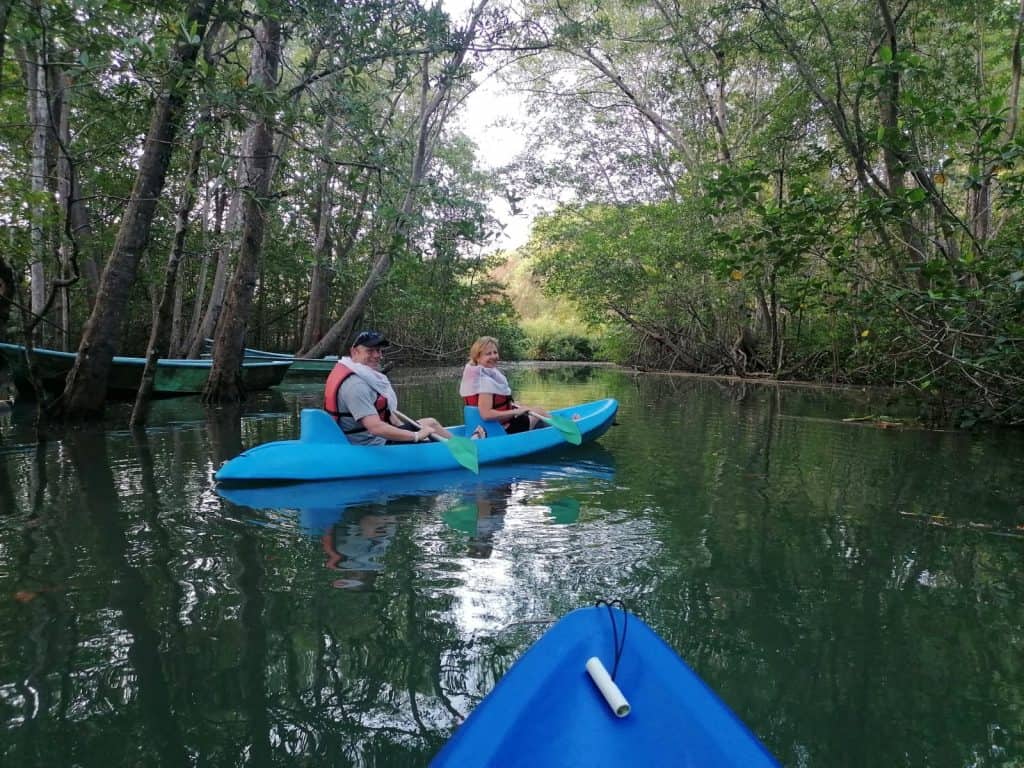 Later that day, we all headed back to San Jose to the same hotel that we started at.
That evening we all went out for our last meal.
And Back Home…To A New Planet…
The following day most people were around the pool & disappearing as they got taxis to the airport for their flights home.
This was probably the first real time we had paid attention to the news & the rapidly escalating Covid narrative.
It seemed to be getting quite intense.
We flew back that day & just 8 days later; we went into the 1st full lockdown.
Given what was about to kick off for over a year and a half, we were lucky twats! & I got my birthday!
What a superb 2 weeks!
Thanks for reading! If you want to get an email when there is a new post, please 'subscribe' below – Cheers! 😊🍺
---