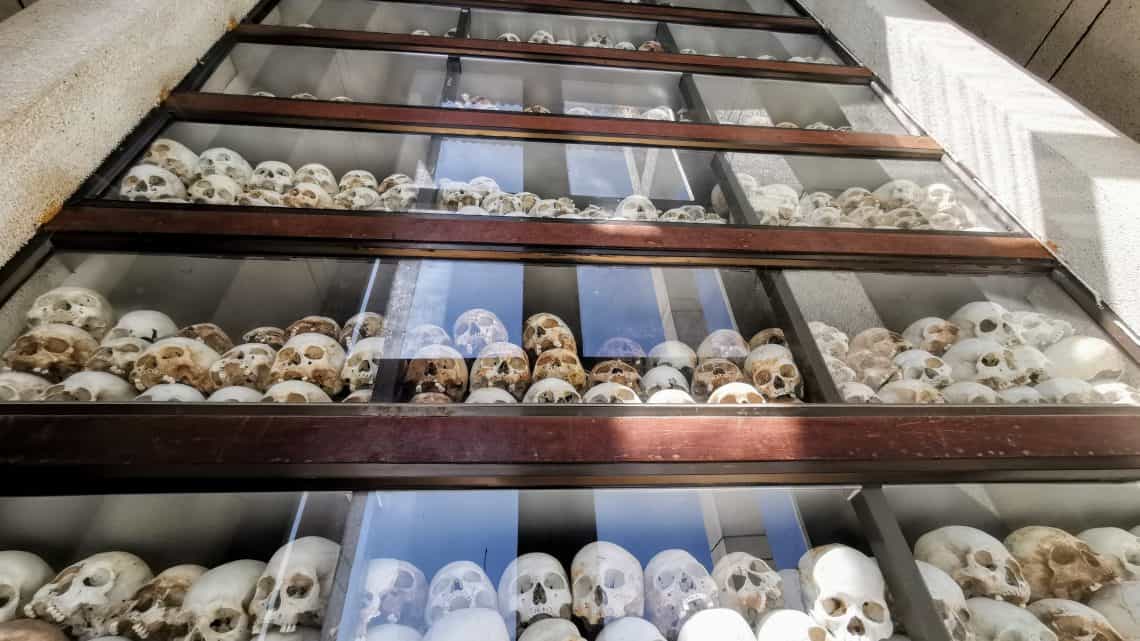 Cambodia #4 – Phnom Penh, Royal Palace, S-21 & The Killing Fields
Another long taxi ride (also with the 2 French girls) from Kampot to Phnom Penh (4 hours – $50) and we arrive…
$25 a couple – that is mental!
It is not even an easy drive. There is so much construction happening that we are weaving in & out of traffic & diversions all the time.
Phnom Penh Hotel – We Went Up A Notch
Anyway, we arrive at our hotel – very nice! – The Pavillion Hotel is the poshest (& most expensive) hotel we have stayed in on the trip.
We are too early for check-in so take a wander to get some food.
This is where we find out that it seems that it is only Siem Reap that serves Lok Lak with a fried egg!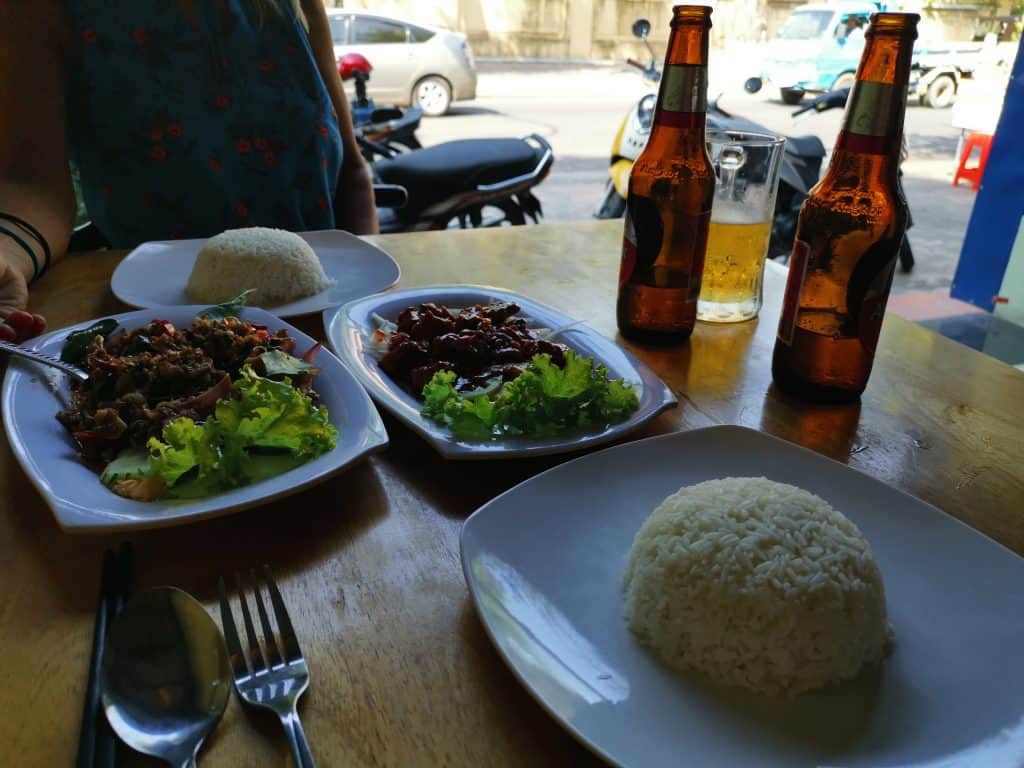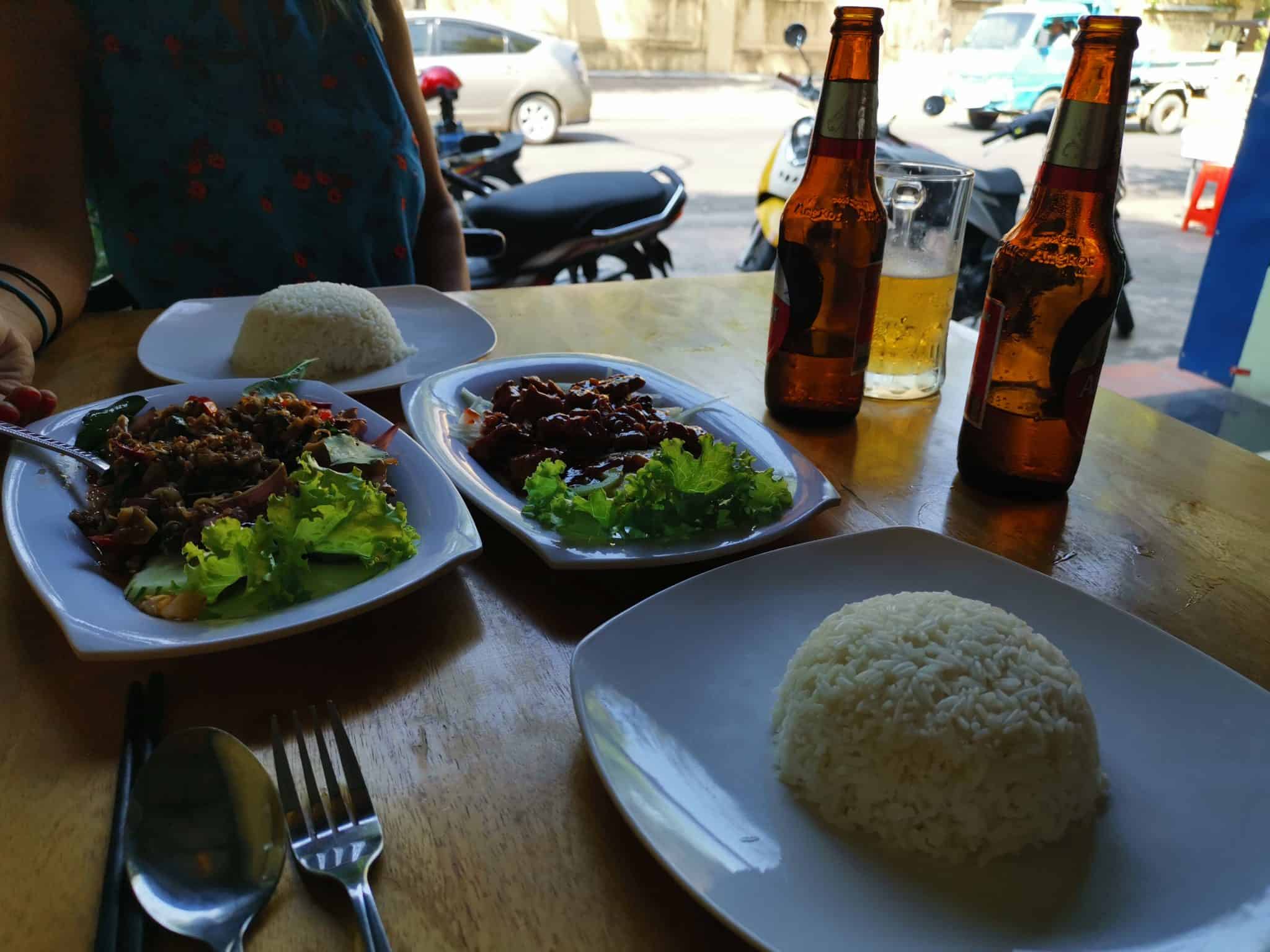 When we do get into our room it was very nice.
You know it is nice when they inform you that you have a free massage each & a free spot on a river sunset cruise.
Once we are in & bags were dumped, it was off to tick the boxes!
The Royal Palace Phnom Penh – Impressive But No-Entry!
The first stop was to the Royal Palace.
The whole place is pretty impressive to be fair. There are lots of buildings one of which seems bigger which I am reliably told is the palace.
Most of the buildings you can't go into so you just stand looking in.
We whizzed around it all which didn't take too long as you couldn't get in most of the buildings.
We left there & went for a discovery wander along the river.
Sunset Bars in Phnom Penh – Pick One & Just Go!
Next on the agenda was to get a drink in a rooftop bar for the sunset. We walked backwards & forwards up & down the river trying to look at Google for reviews and/or articles that recommended some places to go.
We eventually lost the will to live & ended up going up a building that we were in front of when we started this 'challenge'! – The Quay Boutique Hotel
The best bit about it all is that the sun went down behind us so away from the river (yes, that is sarcasm).
We saw no sunset & worked out that is why they have the sunset cruises on the river  – you are looking at the sun going down behind all the buildings in Phnom Penh.
We could rectify that wrong the next day when we were on our freebie sunset trip.
That evening we went to the Friends Restaurant – another one of those places that train up young people to give them skills to help get jobs.
That was Day 1 done – back to the hotel & bed.
S-21 & The Killing Fields – A Must Do!
You Owe It To Them & Yourself
The next day was a tuk-tuk day and was to visit 2 places – neither are places that people want to visit – they are places that you should visit (like Auschwitz when in Krakow, Poland).
These were S-21 & The Killing Fields.
S-21 was a school that was secretively used by the Khmer Rouge to torture people – Tuol Sleng Genocide Museum
That was it.
They were all basically 'intelligent people' from society – Writers, Artists, Teachers and so on. Pretty much anyone with an education was a target.
They assumed that they all were working with the CIA in America.
No surprises that none of them were – but that didn't stop them being tortured until they falsely confessed & were then sent to the Killing Fields.
A 'sick' fact that was learnt there, was that this was purely a torture facility – nobody was supposed to die there.
Needless to say with the barbaric things that were done to the prisoners that some of them did.
This then reflected very badly on the torturer & in a lot of cases, in a sick sort of twist, this lead to the torturer then being tortured himself.
The tour was an audio tour with stops all around the former school.
It was extremely well done & very informative.
When S-21 was discovered & liberated by the Vietnamese, there were 14 people chained to beds being tortured at the time – these poor bastards were butchered there & then before the torturers & other Khmer Rouge fled.
The site has left all the beds in the rooms as they were found & on each of the walls of these rooms is a very large & very graphic photo of how these butchered bodies were found.
Sick fuckers!
It is in places like this that you really realise just how fucking lucky we have been!
How lucky to have avoided this horrific shit that has gone on across the planet at different times.
So many peoples lives never really got started & so many lives got taken away in sickening ways.
So we left here and found our tuk-tuk driver.
The fun was only half complete – next stop – Choeung Ek Genocidal Center – AKA one of the Killing Fields.
This was another excellent audio tour which took you around the site.
Ironically, this place had a really peaceful feel to it. There seemed to be butterflies everywhere.
The tour explained quite a simple horrific set-up.
Like S-21, there were large fences all around the 'Field' so nobody could see what was going on.
Trucks, in the beginning, would arrive at night delivering people. As the whole thing escalated, more and more shipments of people would arrive day & night.
The people would then routinely be killed.
Simple as that.
The likes of ammunition was expensive & in short supply, so very basic methods were used – stabbing, clubbing, spearing, hitting & axing.
How utterly horrific!
The Killing Fields – Just Terrifying & Sick
In the monument that has been built here, there is basically a massive display case of skulls and bones that is from the floor to the roof & all found on this site.
There was no way to identify anyone.
On a lot of the skulls in the case are different coloured small round stickers – on the case, it matches what colour sticker show what type of death that person suffered.
The whole field (which is very large) is just made up of mass graves.
It has all grown over now & is covered in grass but there are still bodies everywhere. This is why you are on a raised walkway for most of the time so you are not walking on their graves!
Whenever it rains heavily more remains are exposed & reclaimed.
The most disturbing thing by far was what was called 'The Killing Tree'.
This was where babies & children were taken from their mother's arms & smashed against the tree to kill them – then tossed into the open grave.
When this was all found, the tree was covered with bits of skull & flesh. There were over 100 naked bodies found in the little grave pictured above.
I can't really get my head around it. It is so fucking sick.
Needless to say, the tree is now covered in bracelets that visitors leave & it really is quite beautiful to look at.
We left here & got the tuk-tuk back to town.
Places like these are never easy to visit but you just have to.
A bit later we went for something to eat & went to the place we nearly went to the day before – David's Restaurant – Homemade Noodles
Its draw is that they make their own noodles & the guy making them at the front of the restaurant puts on a bit of a show.
We were there between lunchtime & dinner time so it was not exactly 'Prime' & we saw very little. They also forgot my order so Lisa had got & eaten hers before mine eventually came…. & when it did, it was all pretty average to be honest.
Oh well. Given where we had been that day it was pretty much a '1st World Problem'.
Phnom Penh Sunset Cruise & Smuggled Beer
That evening we were booked onto our free sunset cruise.
Off we went, got a tuk-tuk & found our boat.
It was pretty small and there was only about 10 or 12 of us on there – the prices for the beer were pretty steep given that the boat was nothing special so Lisa popped off the boat to the little guy with his 'box of treats' and bought us a few – my hero!
The cruise lasted about an hour as I recall.
The sunset scene was the sun going down behind the Phnom Penh skyline.
The highlight was the fact at one stage it looked like the 'Eye of Sauron' from Lord of the Rings.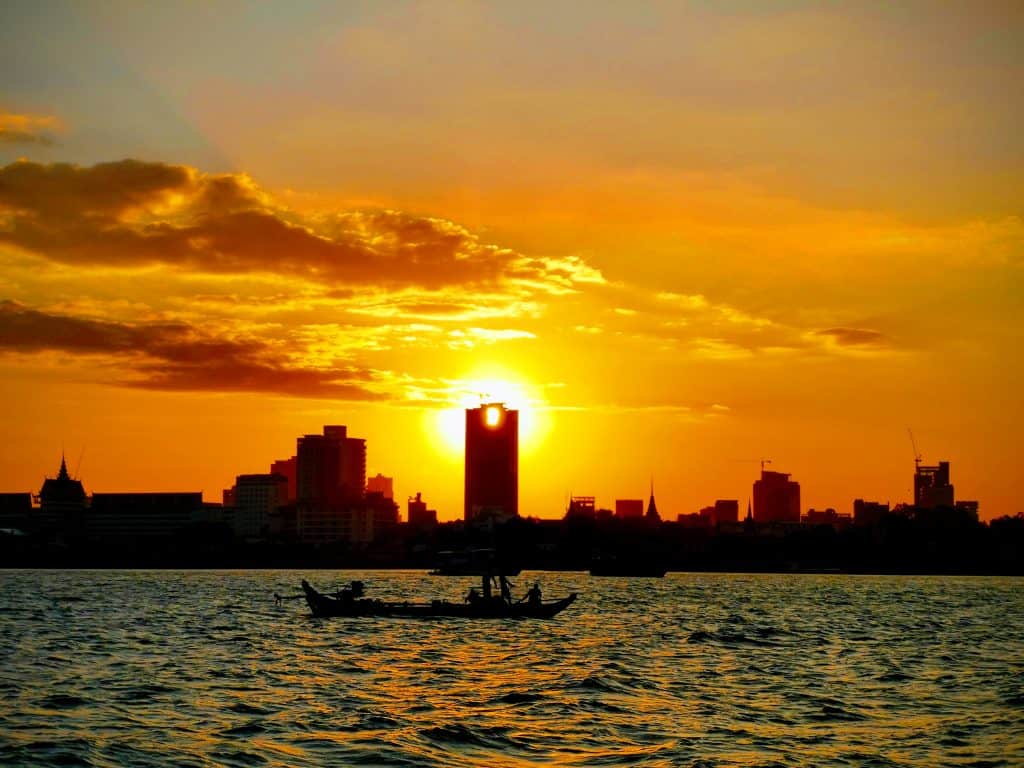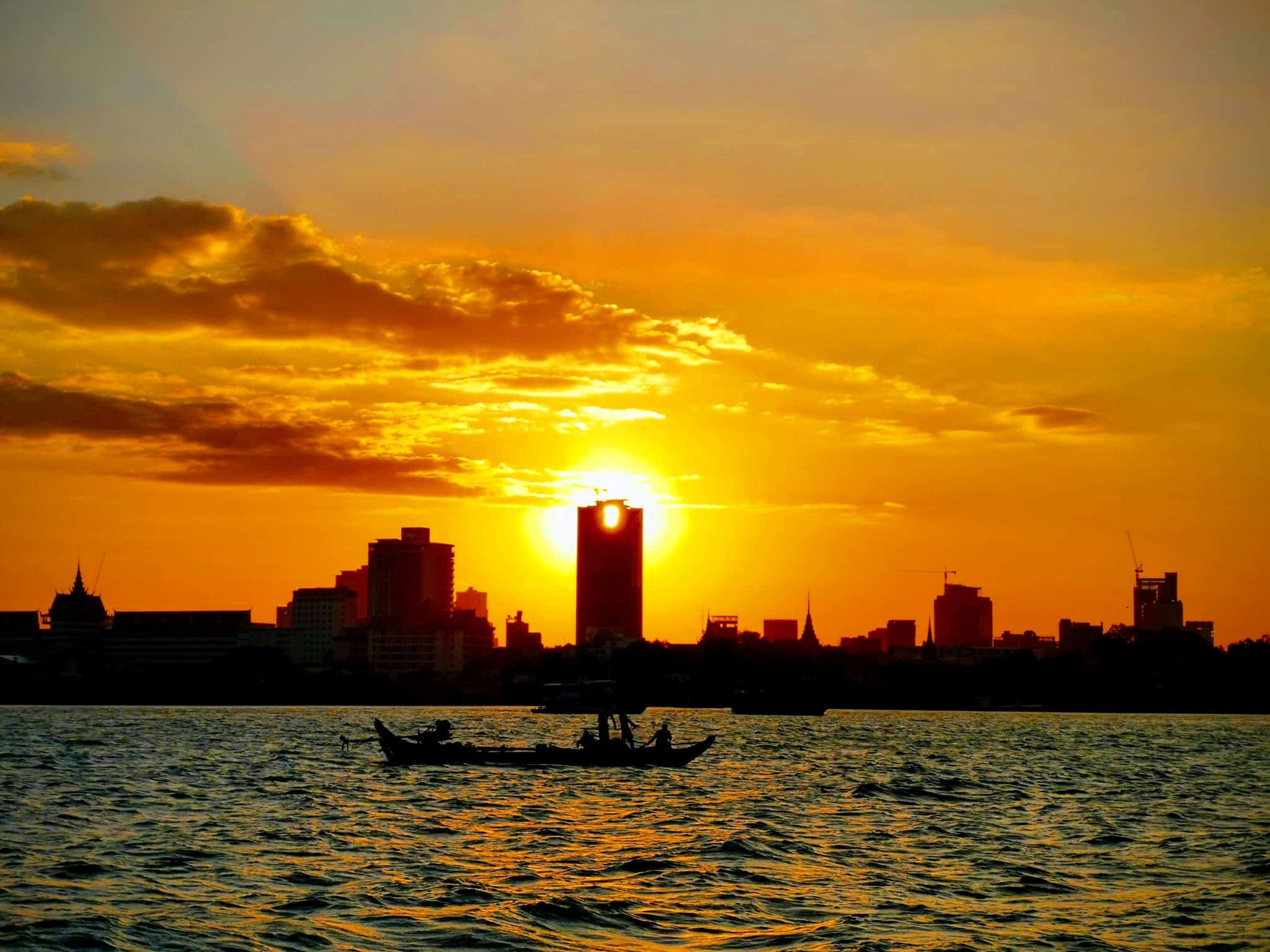 When the cruise was over we headed to the night market. This was exactly what is says – a market, at night.
It is one of the things that all the guidebooks say you must visit.
Not sure why.
It was pretty colourful & sold almost everything.
After that, we wandered about looking for food.
Phnom Penh Curry – Are You Wearing Your Readers!?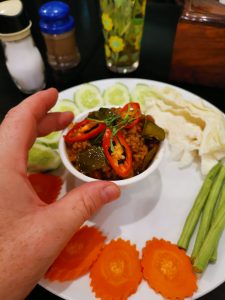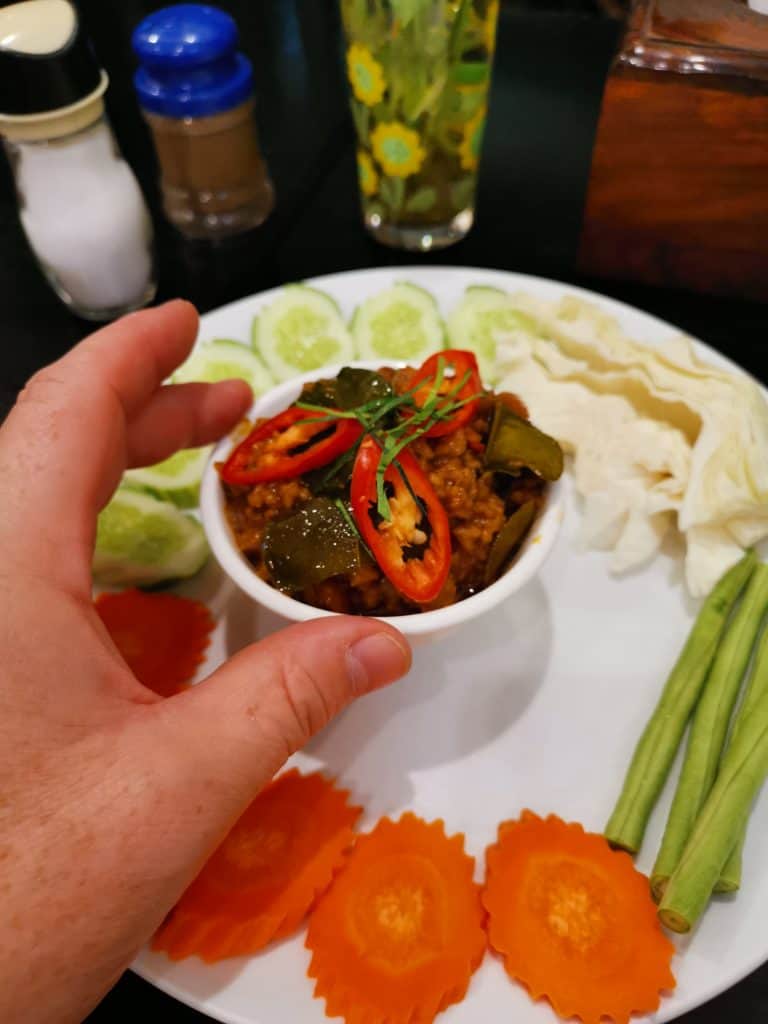 We found a place where I ordered what turned out to be the World's smallest curry!! WTF.
Once fed (although I can't say I felt stuffed!), we headed back to the hotel & had a gin & tonic sat by the pool.
Bed.
Next day, the day we were leaving, we headed to the market on a mission to get a neck pillow (never happened) & something to take home with us (a wooden carved buddha head that hangs like a picture).
We then went & had a pizza for lunch (can never be too careful the day you a flying long haul!) & headed back to the hotel.
We checked out & spent the last hour or so sat around the pool again with a bottle of white wine. Very chilled – us & the wine.
Then it was time to get a tuk-tuk & off we went to the airport to get on the travel conveyor belt homeward bound.
All went smoothly & so ended our trip to Cambodia. It had been an absolute winner & one of our favourites!
________________________________________
Missed the other Cambodia posts? Find them here: