Caribbean Cruise with TUI – Nov/Dec 2022 – The 40% Diesel Fail
Our first cruise.
A week Caribbean cruise with TUI, and we secured last-minute rooms, which were actually disabled access ones.
We did the usual thing, got the train to Gatwick, and stayed at the Premier Inn.
The check-in process was a piece of piss. You dropped off your bags; the next time you saw them was in your cabin.

The morning was the usual routine – a spoons eggs benedict breakfast with a bottle of Hazy Jane.
The flight was good. Good selection of in-flight stuff & no issue getting booze! 😊🍺

Even better, when you land, you go straight off the plane onto a minibus which then takes you straight to the boat. You then show your passport in a hanger next to the boat where you're giving your keys, etc., and on the boat you get.
It was so so easy!
We explored the ship and where the bars and restaurants were.
The whole dinner experience was pretty good. The two main restaurants seem to be on two different decks but are linked by a staircase. You got a menu that is three courses; you choose the starter and the main initially. 
The good news was that the wine was pretty good and was dished out fairly regularly!
As we ate fairly early, later on, we ended up going into one of the other places that do food and got pizza… The joy and wonder of free food and booze!
We went to see the entertainment in the evening, which was like a small show just to introduce everyone. It was pretty shit, to be honest. They kept introducing people from the boat, such as someone from the spa and someone from the shops, all of them telling you pretty obvious stuff.
Bed. Knackered.
The first day of sailing was good.
We were up early as normal. So went for a wander around to see where we could get our sunbeds.
We also found the running track, which was hilarious. It was probably about 100 meters in total and just went around one of the funnels. That didn't stop some people with all their gear on from going there and having a run, and also some people just walking around and around it. Mental!
This is where we decided to take our sunbeds. It was a bit more private, and the sunbeds were a bit nicer than elsewhere on the ship.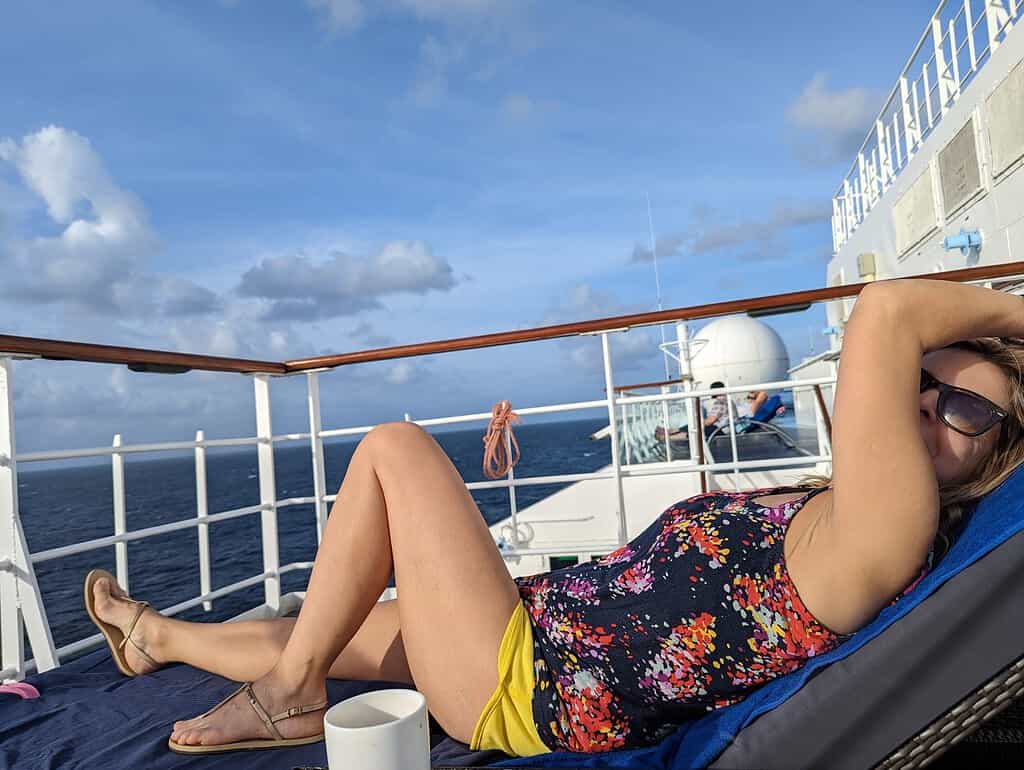 And just down the stairs around the corner was a lovely man with a big box of beers and bubbles that we kept visiting and bringing back to our sunbed.
After a few hours of this, it was obviously time for lunch. So off we went for three-course lunch, including wine! I can think of worse ways to spend a day.
Then more of the same in the afternoon.
Then dinner in the evening.
The ship had about four speciality restaurants. A couple of them you could eat in for free, but you had to book.
For a couple of them, you needed to book and then also pay a supplement.
The main issue with this is a lot of people have been on the about for a week and therefore booked most of the slots.
So the posh taster menu restaurant that we were going to try, we could only book on our first full night as that was the only time it had the wine pairing with it (& we love a wine pairing!).
The meal was really good. It was like a six-course taster menu which we paid extra and had the wine pairing.
All the courses were lovely, apart from the final dessert course, which was pretty much wank!
They obviously ran out of ideas and went with the whole reasoning that if it is massive, it must be good…which, of course, is bollocks – it was like a big bowl of ice with small bits on top & sliced fruit!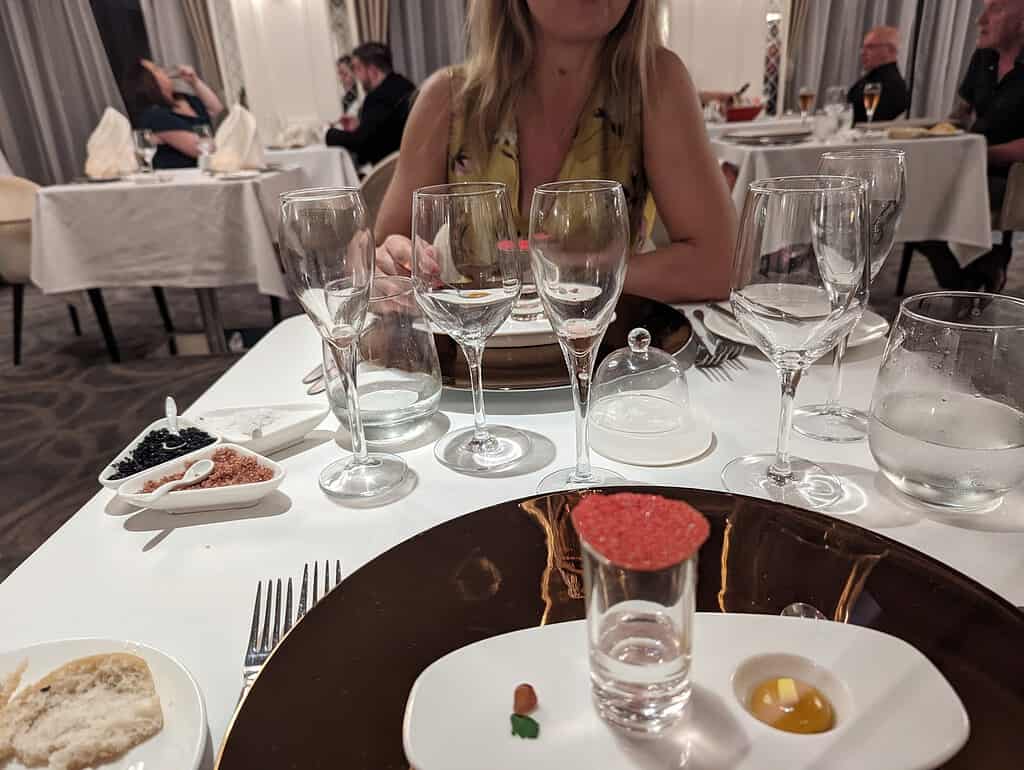 The next day was the first time off the Ship.
The island was Curacao, and we had a private all-day tour booked.
We met our guide in Starbucks, where we finally had Wi-Fi for the first time in about three days.
The one thing you quickly realise on the cruise is Wi-Fi is a luxury and an expensive one at that.
It is at times like this that you actually realise how dependent you are on the internet, not just for emails and things like Facebook…but just finding out stuff, looking at a map or searching for restaurant reviews, etc.
---
The day was great and absolutely packed with stuff.
We saw loads and flamingos in the wild.
We went to the Hato cave, which was quite hilarious (in hindsight).
We had a lovely young girl as our guide on a tour along with another 10 or 12 other people. The group was basically split up into two sets of utter wankers.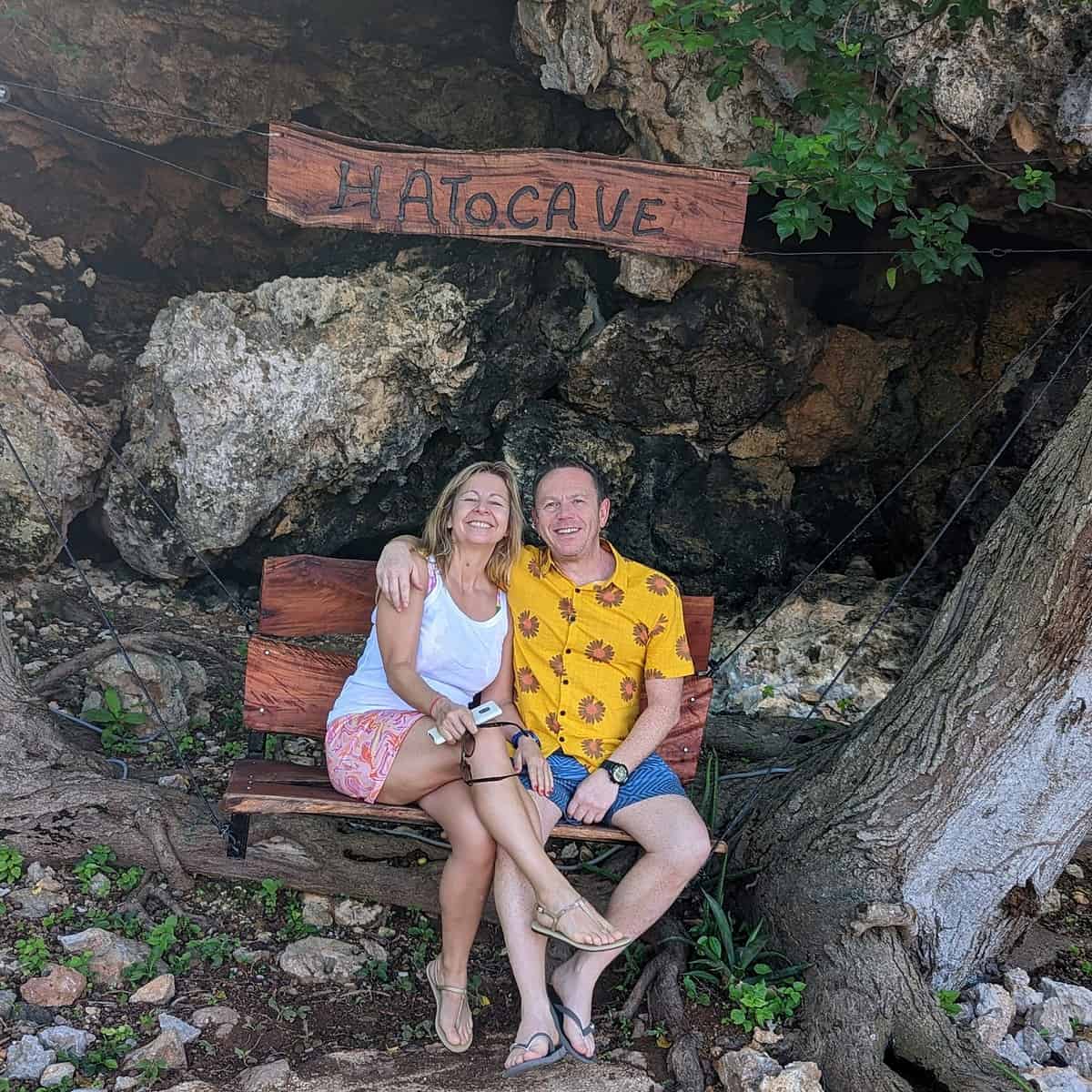 ---
Wanker Group #1 was a couple with two kids. One of the kids constantly talked to its parents, asking questions, whilst the guide was trying to talk…and neither of the parents said a word and let this little shit carry on.
Wanker Group #2 was a group of about eight Spanish people who couldn't be bothered to wait for the Spanish guide, so went with our group with an English-speaking guide, and every six words, the guide said, this woman then shouted in Spanish to the rest of the group… she couldn't even be bothered to wait for the girl to finish her fucking sentence!
The whole thing was a fucking disaster.
In the end, we just walked ahead and saw the whole cave ourselves, and then as we came back pulled the guide aside and said we were leaving…we made it very clear that it was nothing to do with her and she made it very clear she knew exactly why we were going!!
The next stop was a national park to see a blowhole.
Then on to a bay to swim with turtles.
Then onto a beach for a beer and a bit of downtime.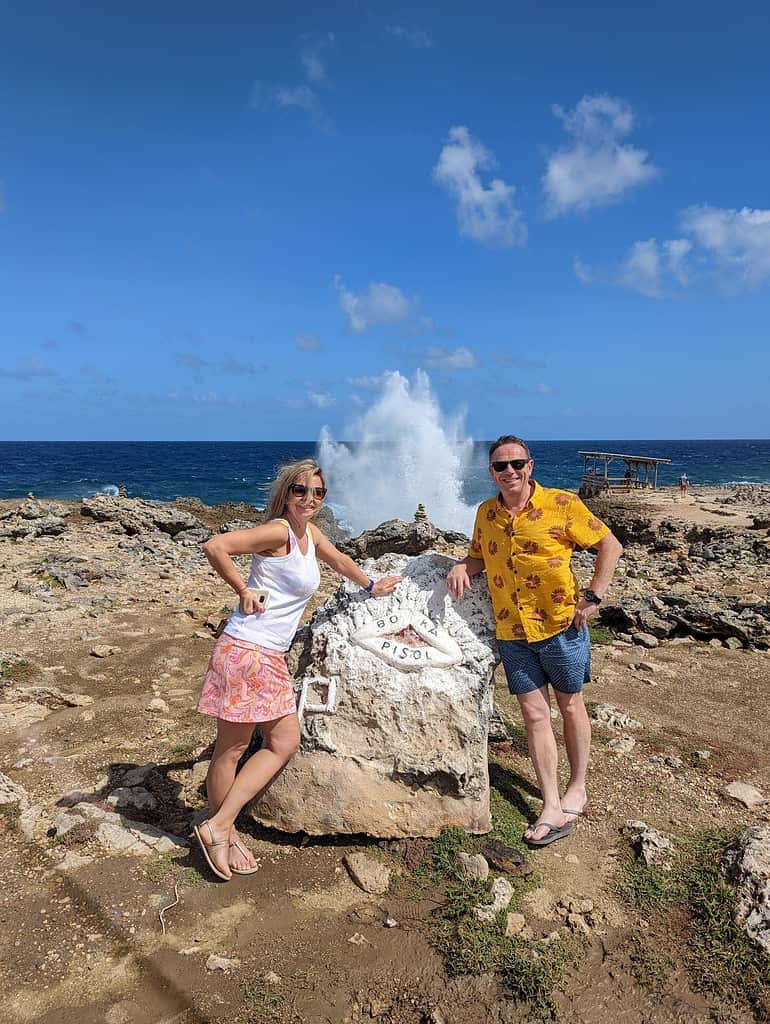 Lunch and then another beach.
Then onto the Curacao distillery for a very quick tour and a quick drink.
Then into the city for a tour and a walk around all the brightly coloured buildings.
There is a famous guy in Curacao who paints murals on buildings, and it's one of the tourist attractions. We went to see some of these and one of the famous ones we were a bit annoyed to find there was a cherry picker in front of it which obscured the view…our guide then pointed out to us that the person in the cherry picker that was in our way was the actual artist himself!! We got a wave from him!
We did indeed have a cracking day with Around Curacao Tours and our guide Shue.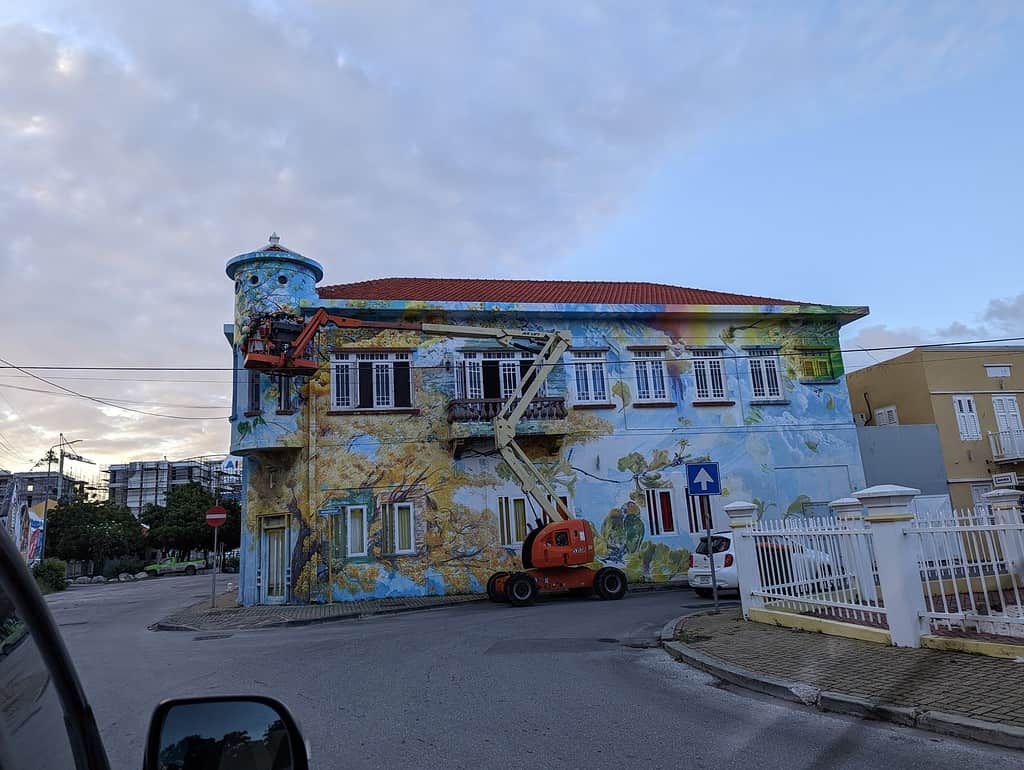 ---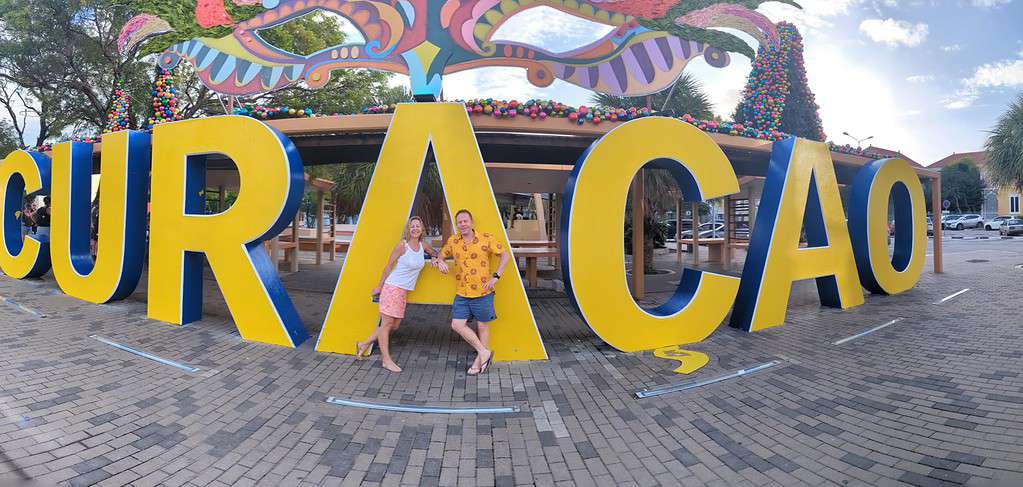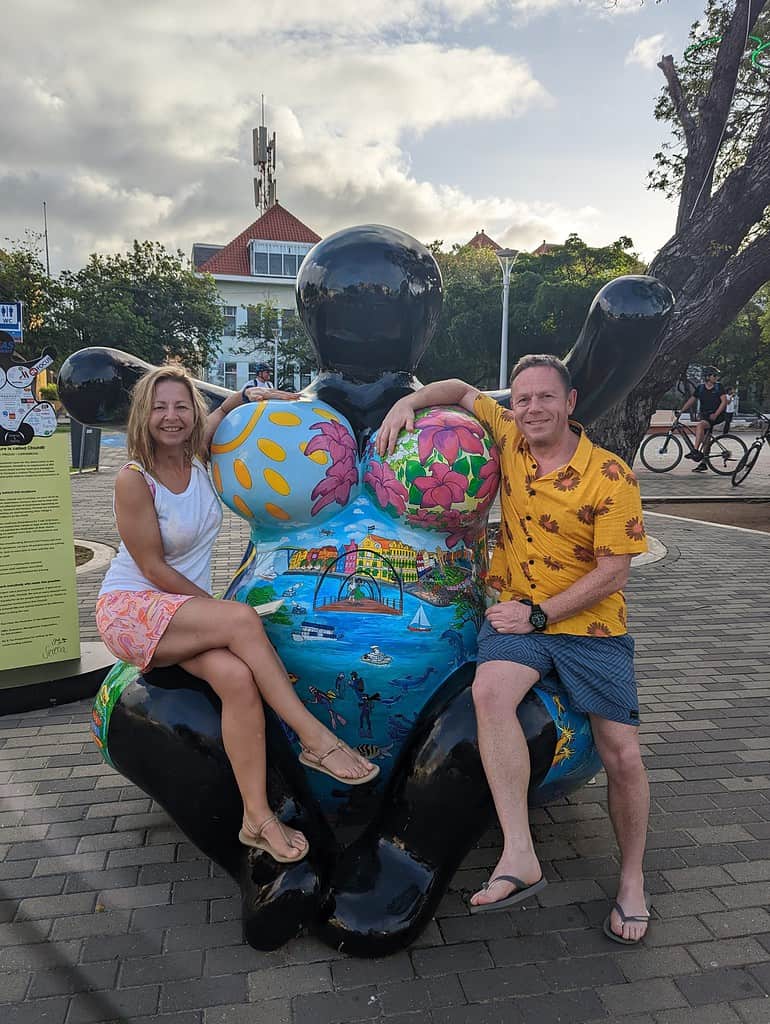 As this was the first time off the boat, we wanted to be back in plenty of time…the guide, however, wanted to give the maximum value for money, so every time we thought he was going back, he then went on to somewhere else …to the extent that we actually had to say, "Please can we go back to the boat!".
The next day we woke up in Aruba.
Lisa had booked an excursion to Flamingo Beach. We got off the ship, where it proceeded to rain, and when it rains in the Caribbean, it really goes for it!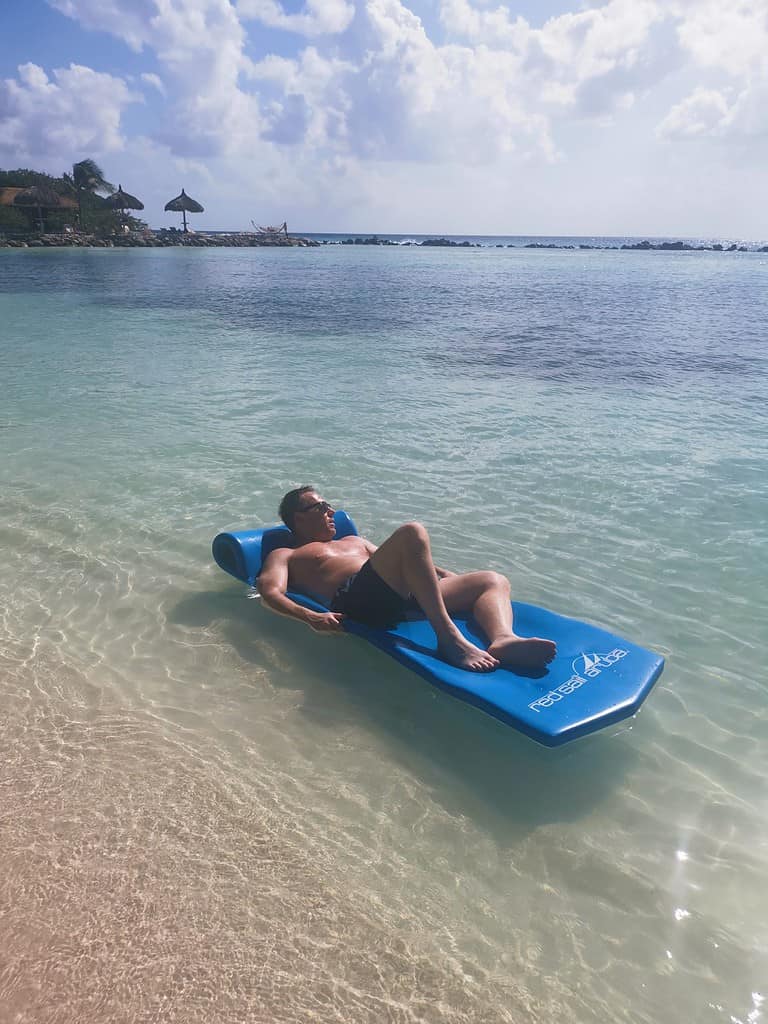 We got on a motorboat in the middle of a shopping centre, and in 10 minutes, we pulled up at the island.
This place was stunning. It is one of the places where I felt the most relaxed ever.
The Island is owned by a hotel, but you can buy a day pass to visit the island, which is what we did. We also got lunch with it.
The pull of the island is that it hosts loads of flamingos. The added draw is the fact that they're almost like domestic pets, which you can feed and in fact, they have dispensers where you get food, so you can do this.
It was such a chilled day!
---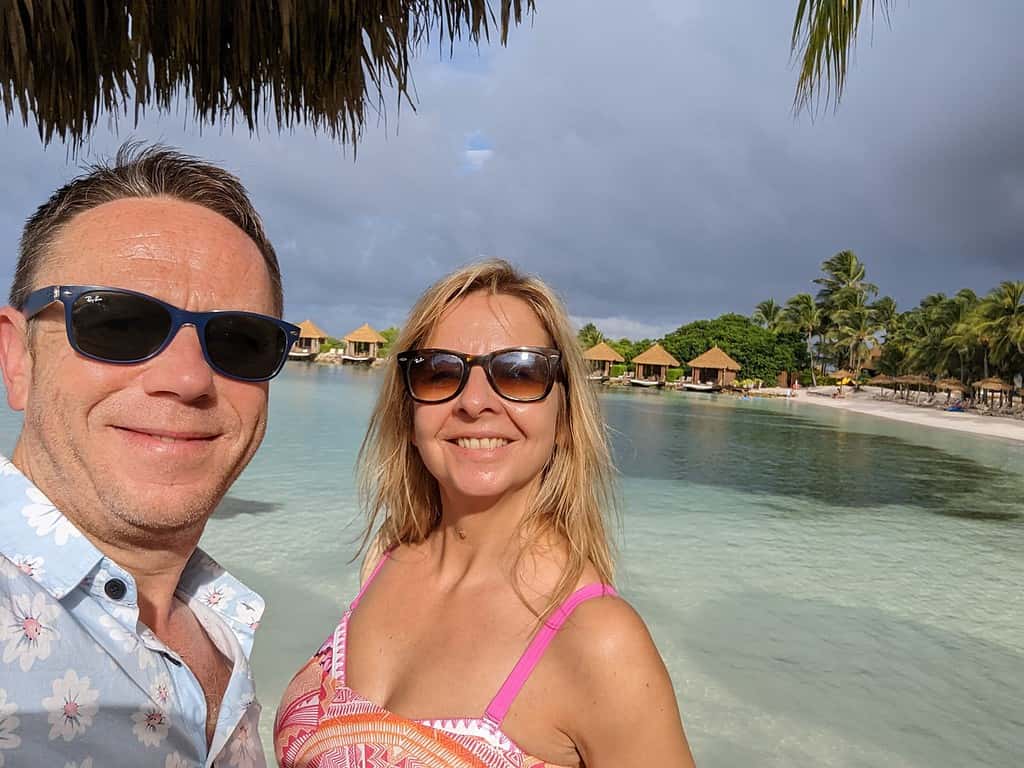 ---
---
---
At one point, we asked someone if they could take a picture of both of us with a flamingo.
It was at this point the little fucker just kept on walking, so we tried to keep up with it but walking in the sea it's not very easy, so the picture we were after never happened, apart from the evidence below, and we just pissed ourselves laughing and eventually gave up.
---
We got the motorboat back late afternoon to the Port and then, after a little wander about Aruba, back onto the boat.
This was when the issues with the boat started.
We were supposed to set sail that night to go to Bonaire
We didn't.
Something about Diesel.
Something about the port not having enough & a diesel boat having to come from Curacau to fill us up.
Yada yada yada.
We heard a lot from Captain Richard (we still have no idea if this was his 1st name or Surname).
We left Aruba the following morning, and the plan was to miss out Bonaire and go direct to Grenada.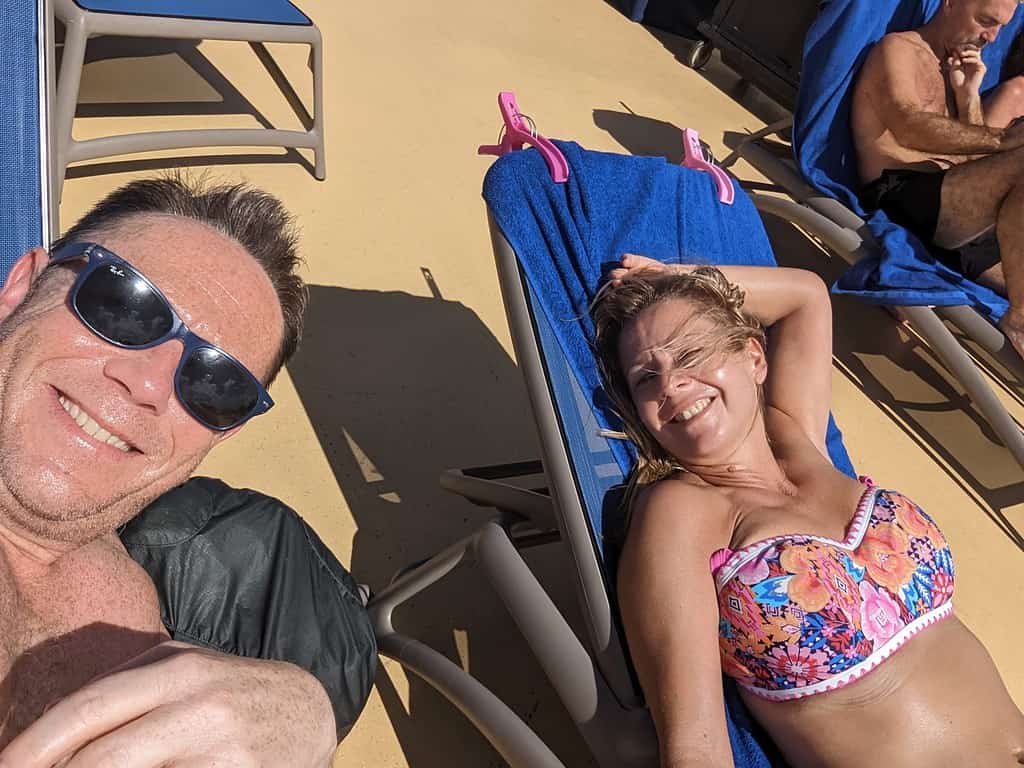 ---
Bonaire was a shame; we had booked a golf buggy to go around the island. The island is tiny.
Oh well.
We settled in for our full day at sea.
Then we heard from Captain Richard again.
Grenada was also going to get missed as we would arrive there about the same time as we were supposed to leave.
The compensation was £150 each as a voucher credit towards another TUI holiday & £100 each on-board credit.
So now we were going to sail directly to Saint Lucia, which meant that we were at sea for a full two days.
Not quite the 'hop on-hop off' experience we were hoping for!
Somewhere in amongst those two days, we were on our beds at our usual spot on the side of the ship by the running course. This was where we discovered that we had no shelter from the wind.
And by Christ, when it wants to be windy, it is fucking windy!!
It was us and another couple that tried to stick it out, but it was utterly hilarious. You literally could not move without the wind trying to take your towel or your sun lounger cushions.
Everything had to be held or sat on, or else it would just fuck off!
In the end, we all just gave up and went into the ship. We never sat there again.
So after two full days at sea, which amounted to eating, drinking and sleeping, we arrived in Saint Lucia, where we had booked a day's excursion with Cosol St. Lucia Tours.
What a cracking day this was.
It was a minibus of people, and we were taken to various places around the island with 'free' beer being delivered at most stops & a Caribbean lunch included😊🍺.
We also got a boat to spend time on a beautiful beach that overlooked the Pitons, which are 2 peaks on the island.
---
One of the stops that has to be done on the island is basically covering yourself in volcanic mud and then people painting symbols on you.
This was quite funny, and a local took great time and effort in painting us both.
When this was done, they took us to a waterfall to wash it off.
The waterfall was actually very high, and when you were underneath it, it felt like it was gonna cave your head in!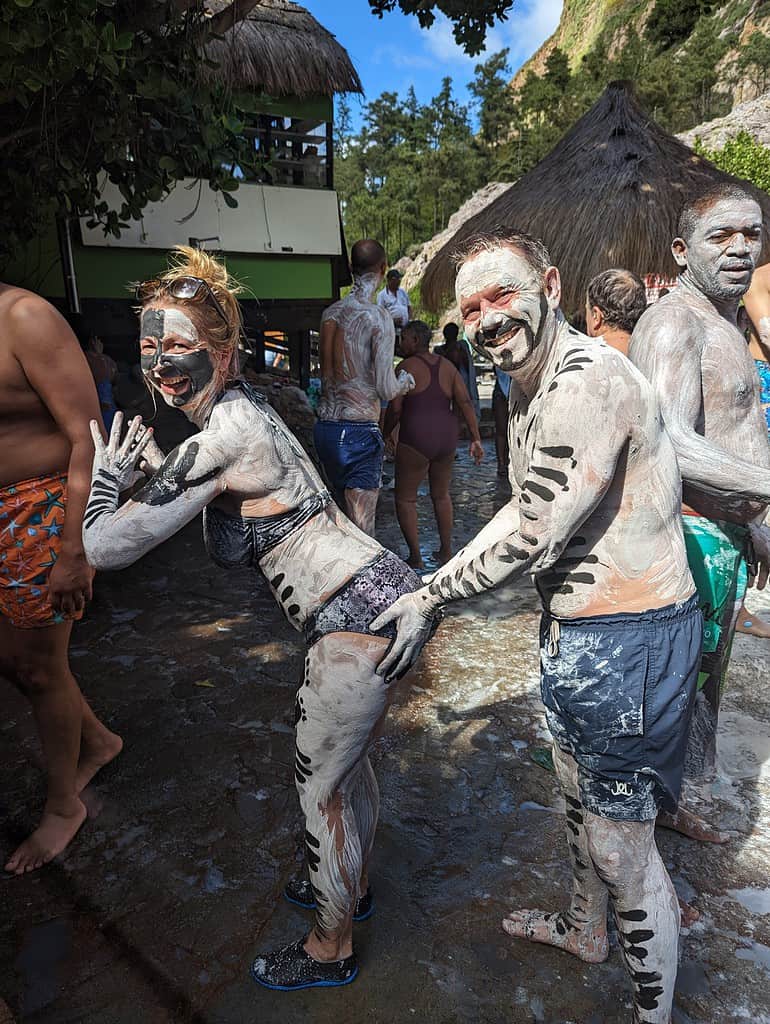 We also saw, From a distance, the beach where it is rumoured that various films have been shot – Pirates of the Caribbean & Dr Dolittle.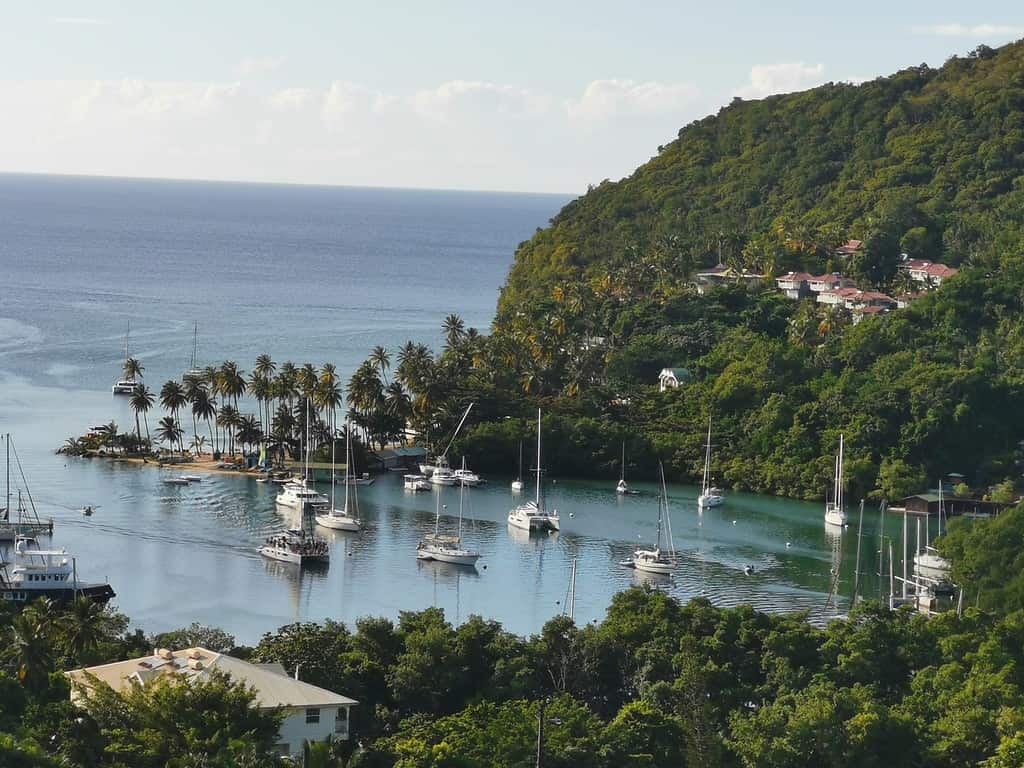 ---
…and that was about it.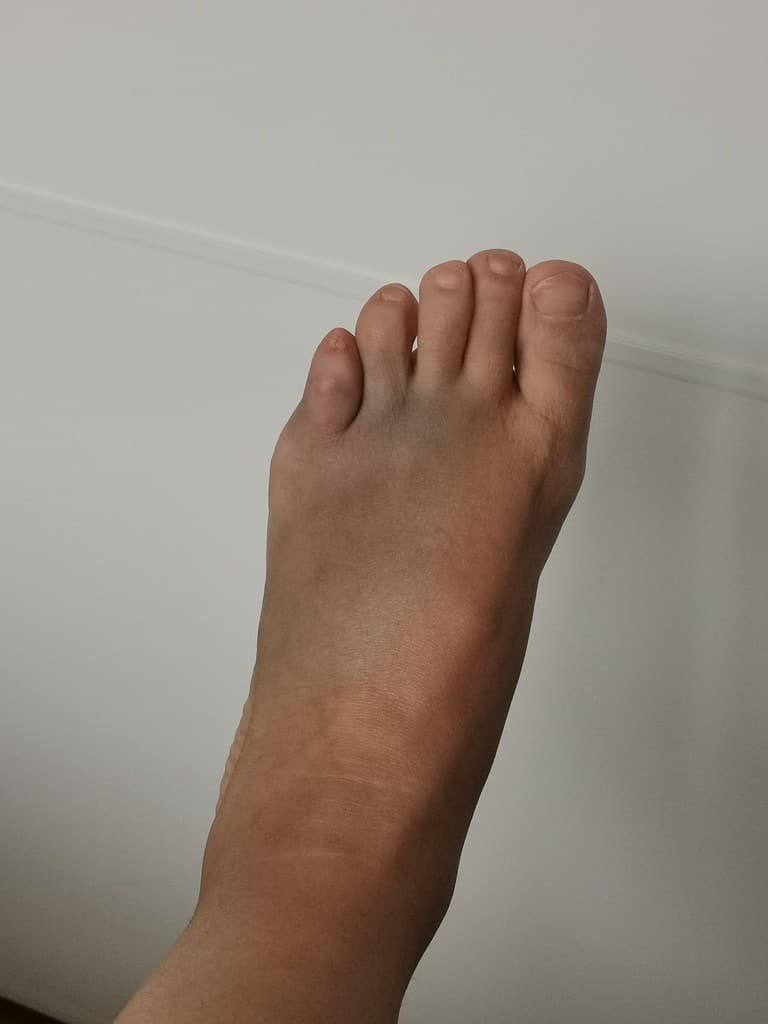 We woke up the next day in Barbados.
Lisa kicked the bedside table & broke her little toe! Not a great way to end the holiday!
We got off the boat, onto a coach and went straight to the airport.
We had a few drinks at the airport, listening to an England Euro football match at a bar.
Decent flight as I recall, and then we had 'Train Gate'.
Basically, despite it being about 5.30 AM, it is seen as peak on the trains! & the jobsworth at the station would not let us on without upgrading our ticket, which was extortionate.
So.
We sat in Gatwick airport for 3 hours until Wetherspoons opened.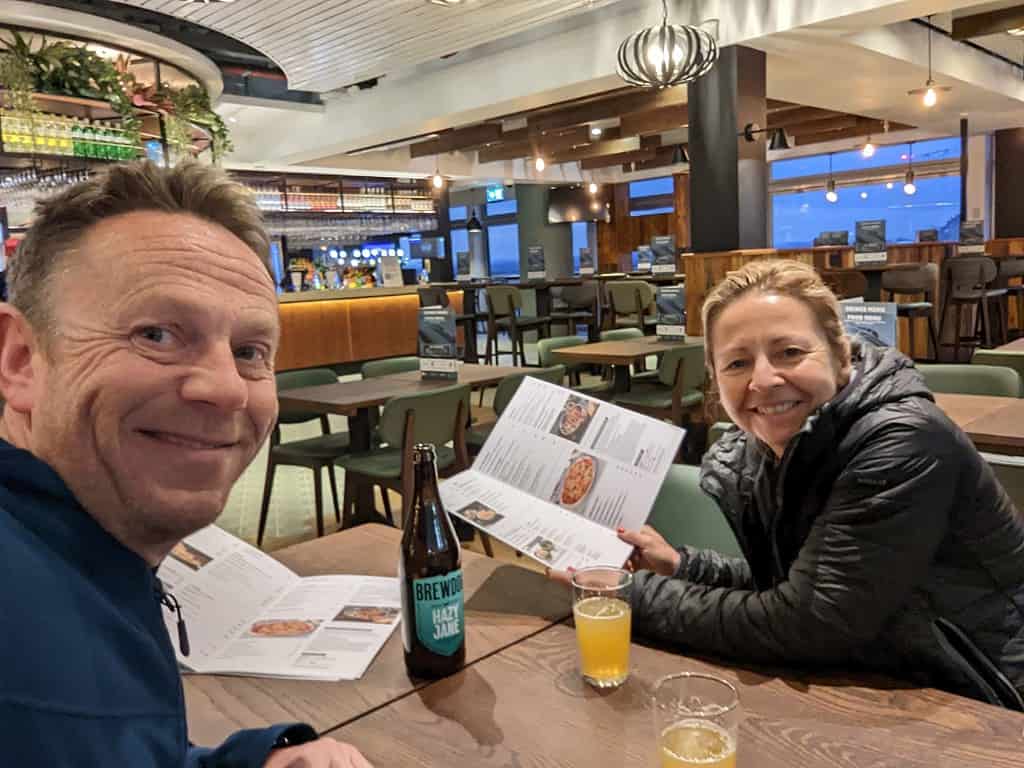 It was the first time it had opened in three years, and we were the first people through the door.
We had the usual eggs benedict breakfast, and it was shit! & it was £15 EACH!! WTF!
We eventually got on the train off-peak and went home.
A cracking week and we would definitely do a cruise again.
It was annoying that we missed two of the five stops (40%), and despite what various people said on the boat about claiming on your insurance, we tried and got fuck all!
Oh well. We've had worse weeks.