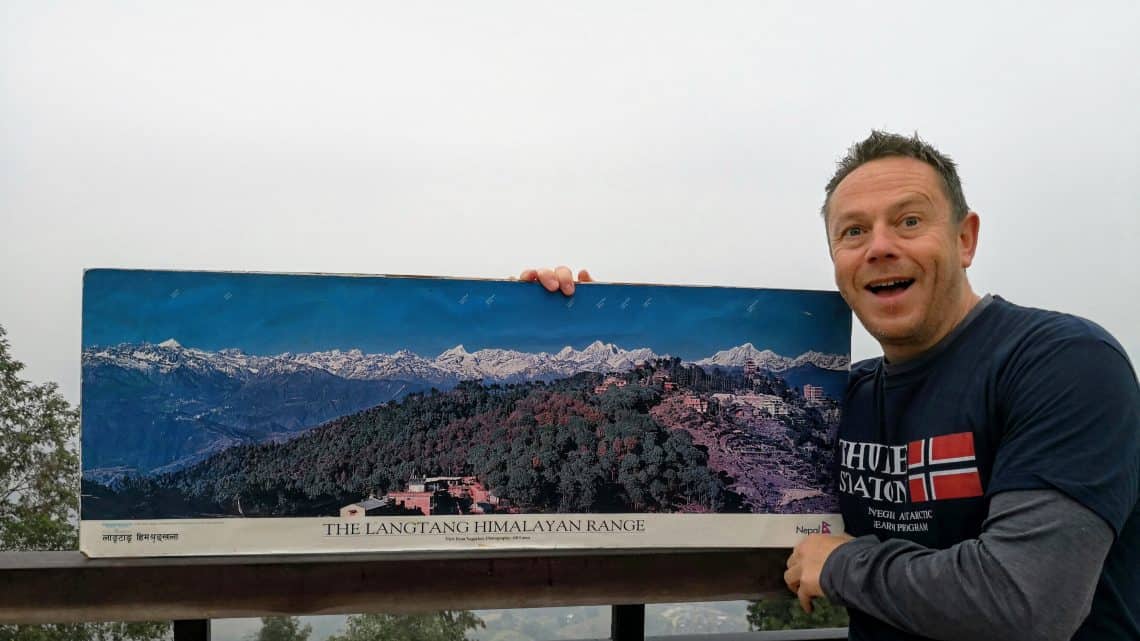 Nepal Day #11 & #12 – Nagarkot, Kathmandu & Home
The alarm went off well before 6 am.
We got up.
Opened the curtains.
We were greeted with…
….fuck all!
Just fog, smog or mist – you can never tell. It was effectively a 'white-out'.
Yep, we had added another day, night, travel and hotel onto our trip, to see sweet FA.
Himalaya's my arse!
We enjoyed quite a bit of sarcastic photo taking using various 'props' they had lying around to help people work out which peak was which.
We had told our driver to pick us up about 10 am – luckily we saw him 1st thing & changed the time to 8.30 am – there was literally fuck all reason to stay here!
Back To Kathmandu!
So back we went to Kathmandu for our last day & night before flying home.
It is always a weird one the last day – you can't 'let your hair down' & you can't fully relax.
It didn't help that we also were being taken out for dinner by the same rep as we had at the beginning of the tour who was nice but I am sure he wanted to be there as much as we wanted to go – still, it was free food & grub!
As with a lot of the last day of our trips, it is was might be called a 'Loose Ends' day – this is where we tick off all the last things we need or should do.
So first we went for lunch at a pizza place that got great reviews (not 'traditional' but remember, we were flying for 12+ hours the next day & didn't want the shits!). Wow, how nice! – Fire & Ice
We then visited 'The Garden of Dreams' which was a beautiful walled garden area that seemed a million miles away from the mad world of Kathmandu outside.
It was a lovely place.
Then it was souvenir buying – we eventually found a shop that had loads of masks – we wanted something a bit different & this had a lot – potentially too many.
Then came decision time as we couldn't decide what to get – so it became 'Beer-O-Decision-O-Clock' for some inspiration.
We went back & bought 2.
Beer loosens the decision-making process.
And that was about it.
We went for our meal with the 'Rep' – the food was nice & he paid for the lot including drinks which was a bonus but would have preferred to spend our own money & eat on our own on our last night.
He wanted feedback & we were very honest with him about the few shortcomings we felt existed. Overall though, it had been a great trip & we did do & see a lot.
We didn't hang about. We ate & retired.
The Final Leg…
Needless to say, our morning pick up to the airport was from the highest tipped cabby in Nepal! – No massive surprise there, he wasn't stupid.
The airport was a bit of a hole & had no bar or anything.
Our flight was delayed which led to a concern about the connecting flight – as it happened, we did miss our flight in Abu Dabi but caught another one very shortly after.
We don't think it was put on especially for 'us' (the later arrivers from Kathmandu) but the flight was so empty it seemed like it had been! To the extent that we both ended up having a 4 seat middle each & did a lot of lying flat & sleeping.
Landed. Uber. Home.