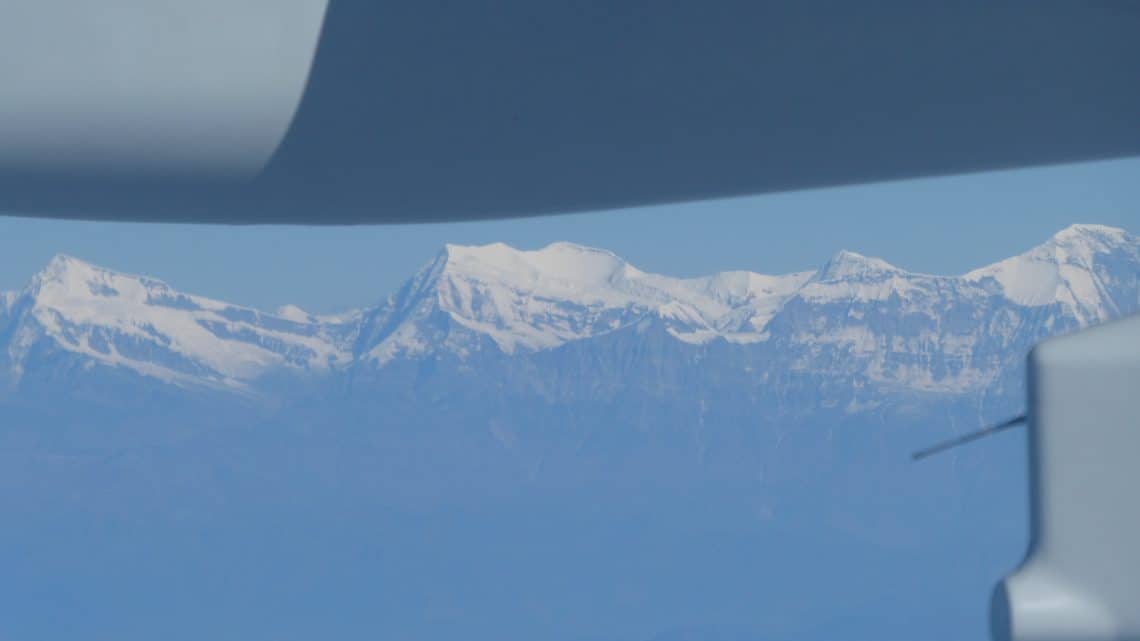 Nepal Day #1 & #2 – Travel & Kathmandu
Two days before the trip we discovered something weird with our flights – they weren't confirmed. 
Eventually we rang them to find out what was going on & they very calmy said that the flight out we booked had been cancelled!
WTF!!
Just as calmly they then said another had been put on if we wanted to go on that one! It was actually much better…..but we had heard nothing!!
So usual train to Gatwick all very smooth & straight to Wetherspoons for Punk IPA & eggs benedict (this time with a side of chips!!).
Got on the flight & it was dead – Woooohoooo!!! (4 seats for us!)
Stopover in Qatar which was a massive airport. Only had a couple of hours, so no messing about. It was 2 flights, both about 7 hours long.
Flight into Kathmandu was pretty impressive & we did see the Himalayas 
Visa on arrival was a bit of a pain in the arse. Used a machine to enter details & take a picture, then print it off, then take to another desk to hand it over + $25 each.
Were met outside & taken in a car to our hotel (Hotel Buddy) – we were slap bang in the middle of Diwali which is called Tihar in Nepal. There were lights everywhere & it was pretty lovely.
There were also flowers everywhere & the driver stopped & picked us up a garland each.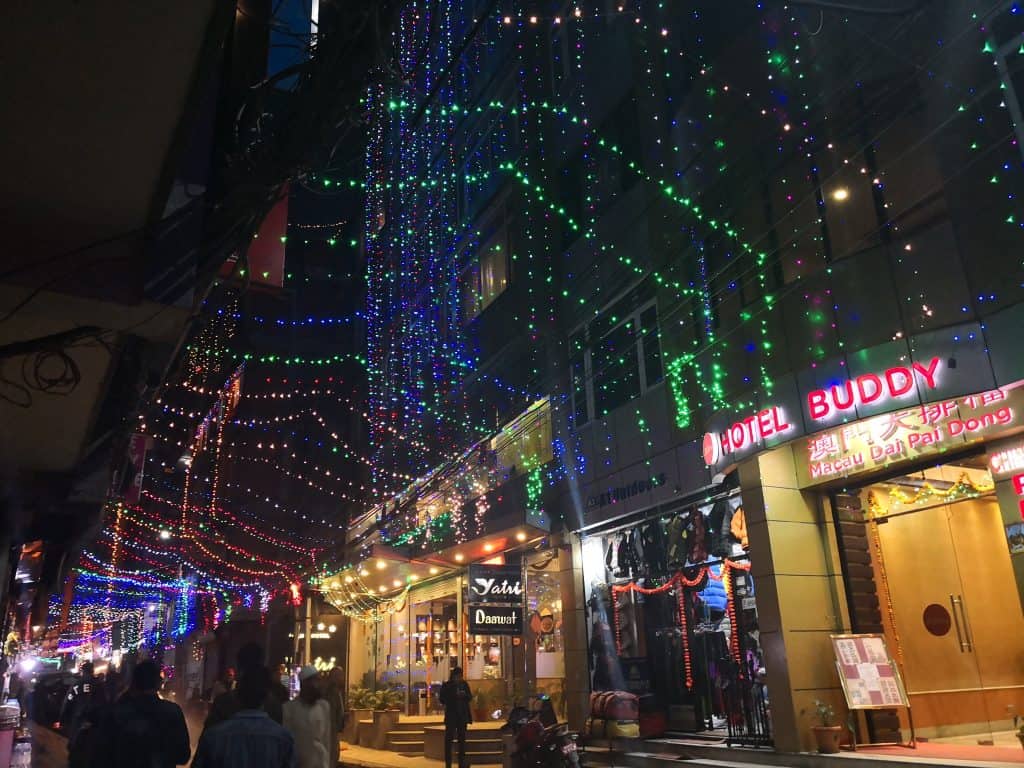 We went to bed & slept for a few hours when we arrived.
Wandered around later & went for a beer. Seems similar to Vietnam in the manic streets etc.
Back to the hotel to meet the Access Nepal rep – he was okay, there seemed to be a few gaps in the itinerary which wasn't great to hear when you 1st arrive:
e.g. "you may have to get a cab to here from the bus" & "I haven't got all your bus tickets yet" – some stuff just seemed a tad too vague for an organised tour!
A slightly unsettling start!
We went for our 'Welcome Meal' (paid for) with the rep that evening.
'Curry' (Dal Bhat) was indeed the way! We were the only ones there due to Tihar & the rep wasn't eating & just sat with is drinking hot chocolate & water.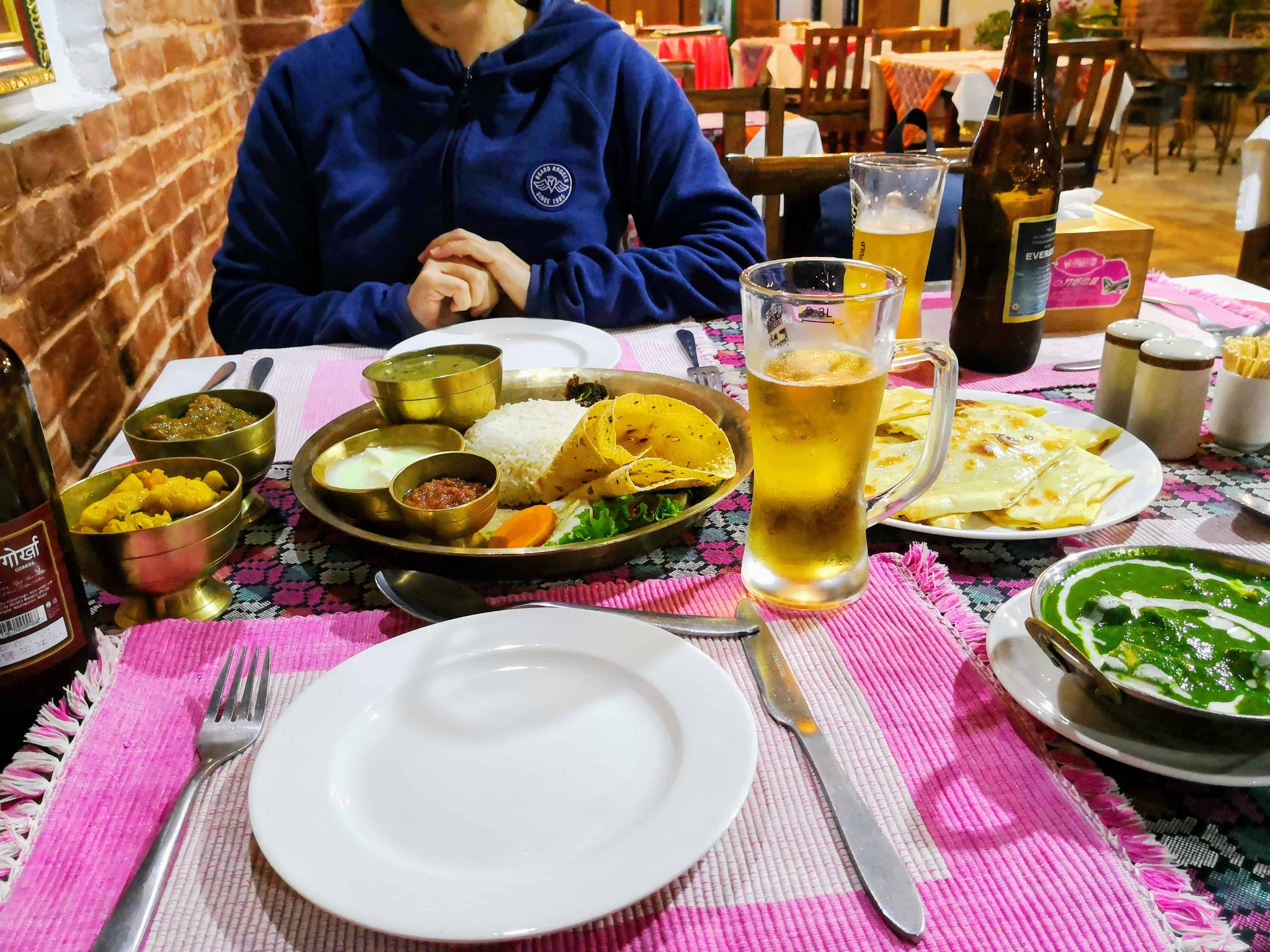 Quite a weird evening so we were happy to 'do & run'.
Bought bottle of Yellowtail Shiraz from shop 1,350 rupees.
Back to the hotel – Red in bed + chocolate + Archer.
Both asleep within 15 mins.