Parga, Greece – A Great Week Getaway! Well Worthy Of A Return.
The first thing to say is that this was a lovely location for a week's chilled getaway!
We would definitely return……not something we usually say or do but this was perfect for a simple week away.
The minor 'blip' is that it flies direct from Gatwick.
From Luton, you can fly to Corfu & get a ferry.
We booked this little break via TUI & was quite frankly a bargain – £380 each – Flights, transfer & hotel with breakfast.
The usual start – Train, Wetherspoons for Punk IPA & this time we had nachos.
When our flight was called & we went to our gate, we knew we had struck gold! 98% of the people on the plane were older than us!
Magic!
Parga – Rezi Hotel & Unexpected Upgrade
Easy flight, easy pick-up at the airport. One hour transfer to Parga & just us dropped off at the Rezi Hotel.
We had in-theory gone for the cheapest room & the reviews were okay albeit a tad small etc.
What we got was a far cry from what we expected & we are pretty sure we got better than we were supposed to.
We had a great room!
Lots of space. Fridge & kitchen area.
This was more a studio apartment rather than a pokey room.
So off we went for an explore.
The Parga 'front' was about a 10-minute walk away & was lovely.
Nice beach & various restaurants & bars.
We had a wander & ended up in a little bar upstairs for a pint & followed by a 7% craft beer.
Here we witnessed 2 people, who should have known better, necking for ages! Really quite off-putting.
The final stop before bed was for a Gyros in the #1 place to buy them – Fillippas – It was gorgeous! & at €3 each was a bargain. It made it even better than you can also order a big glass of cold white wine to have with it for €2
It was pork meat from the kebab + onion, peppers, pickles, sauce & chips….all rolled up into a pitta type of bread.
Just look how happy Lisa is! #foodporn
Bed.
Our first full day we stayed by the pool in the sun.
Greek Night In Parga – A 'Must Do' & Very Worthwhile!
That evening we went to Dokos Taverna
It was Greek night.
This was the only thing we had booked & it was a good job.
It was a very big restaurant & was pretty busy. The food & wine was pretty cheap & pretty good.
But.
We were there for entertainment!
The main 'Guitar' guy was superb! What a talent.
They did quite a few songs. Then came the famous Greek song (think 'Lock, Stock & 2 Smoking Barrels') where they got loads of people up!
It was a good laugh. Lisa got roped in.
I, as a man, did the man thing & stayed put at the table drinking wine.
Talking of wine, we drank loads! 2 litres between us & we were not pissed at all!? Watered down?
One of the funniest things of the evening were 2 women that were dancing to the music on their own. One of them had massive bangers & here friend/sister (we are sure on purpose) was making her jig up & down & they were bouncing……a lot!
The phrase 'two puppies fighting in a bag' springs to mind.
I don't think there was anybody that hadn't noticed, it was that obvious!
Anyway, a great little night.
Next day was a day on Parga beach.
We got on the front row with 2 loungers & parasol (€8). Lovely.
Later in the afternoon, to get out of the sun, we went exploring to see what was behind the restaurants.
When You Find Your Home From Home
We sought out the #1 on Trip Advisor which was a little bar called 'The Meeting Place' – what a find this was.
Beer in frosty glasses & with every round you got a little plate of 'Meze' (AKA Free Food!)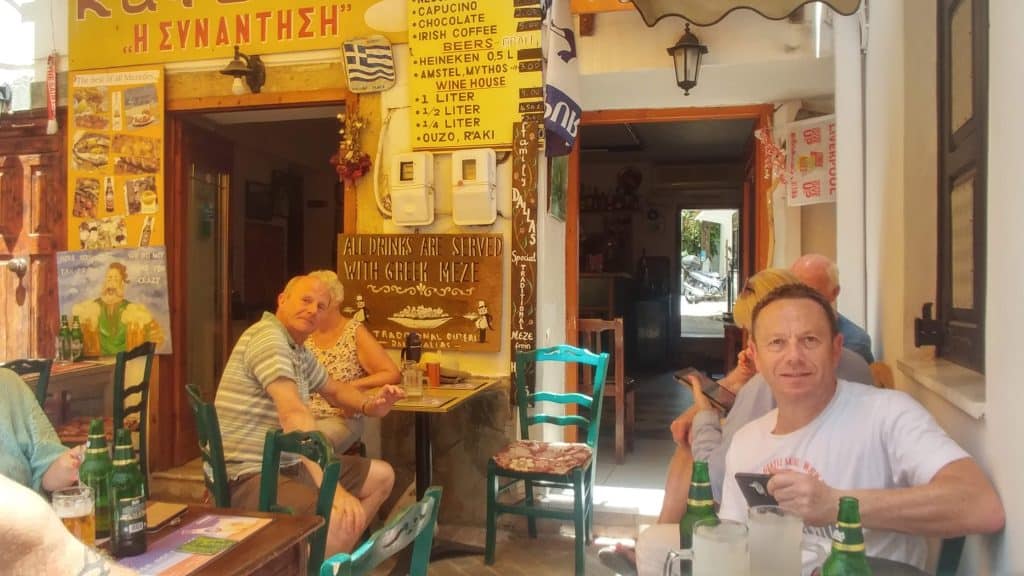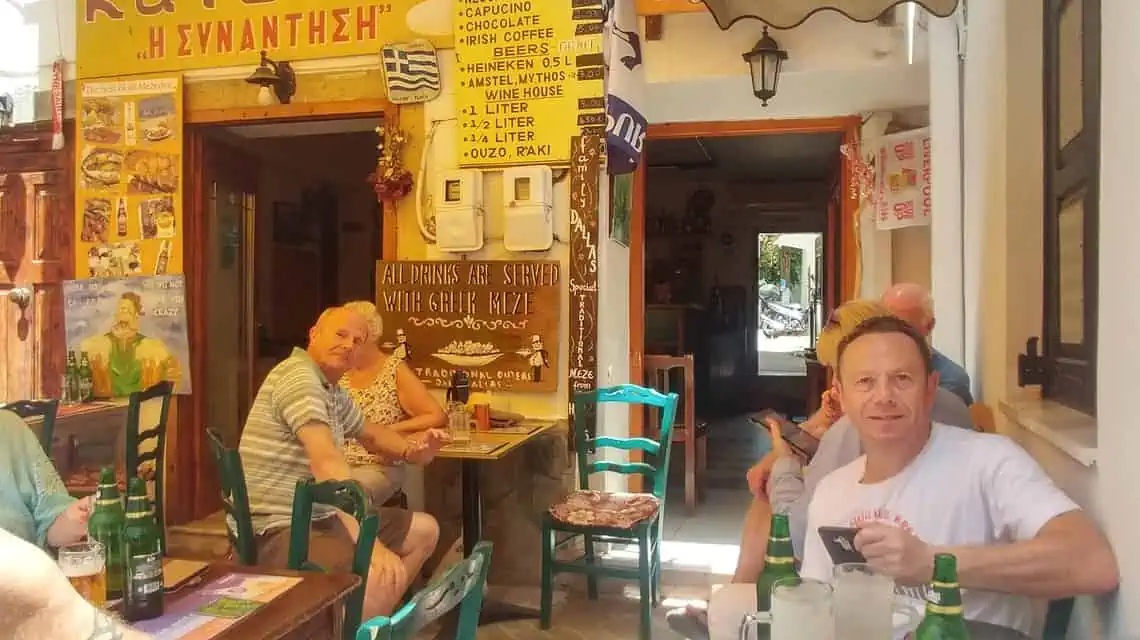 We returned here quite a few times!
We also met a couple Jim & Marilyn – they were very well-travelled and had been coming to Parga for 40yrs!
They were an excellent source of information and we saw them there quite a few times.
That afternoon we went up to the castle via a route they suggested & visited the Brazilian Green Cup for a cocktail.
It was a lovely place.
Whilst trying to find the bar (you go down) we mistakenly went up and kept going until we basically walked into someones flat/apartment…..
…..& they were sat there.
They were lovely (like all the people we met) – we apologised but they just invited us up to appreciate the view they had over Parga in their apartment (which they have been coming to for years):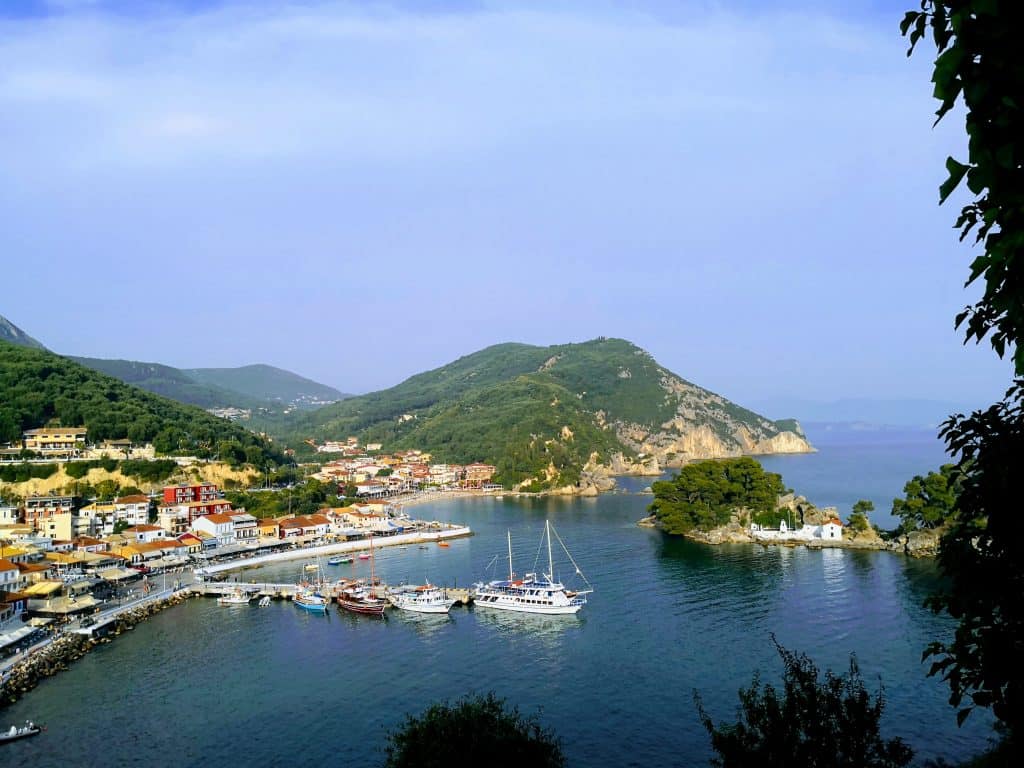 Not bad!
It was called Martha Studios
We carried up to the Castle for the obligatory look & pics.
That evening we went for what was our only 'posh' meal of the week & even that wasn't very expensive – The 5 Senses
It was really nice.
We had lots of freebies** with this meal including Ouzo, bread & tapenade & liquor at the end of the meal (**this was a Liddle addition to this post, she loves a freebie! #minerschild).
We also had real wine. It was red & it got us a bit pissed.
Another beach day. This time it was busier as it was a bank holiday. Sunbeds went up to €10.
Went for a few cocktails at the Sail In where we got a great seat on the top floor overlooking the bay.
That evening we ate at a real 'no frills' local restaurant that has been recommended – Restaurant Victoria – it was a lovely family-run restaurant – we ate on a table on the street which was nice (rather than inside), it was only when we left that we realised that it was pretty big & there was restaurant seating out the back in an outside courtyard.
I'm not sure when it happened but at some point, Ouzo became a part of the whole evening drinking process when we went out for a meal.
Ouzo with ice. Goes cloudy & is lovely.
Every Beach Week Requires A Boat Trip!
The next day was the all-day boat trip over to Paxos. We booked & paid for this the day before just to make sure we did it! It can be so easy to be really lazy on holiday.
After reading all the reviews & wandering around the few boats that did that trip we decided to go with Marco Polo.
It is funny, I never look forward to these sort of things; for some reason, I feel a bit anxious. I'm not sure why. We got to the boat about 9.30 am as instructed & it was due to sail at 10 am.
We got put on the main bit by the sail where you could, in theory, sunbathe – yep, my worst nightmare.
It was really hot already, there was no breeze & I was stood/sat in the blazing sun already feeling none too great. I ended up going to stand on the other side of the boat in the shade as more & more people kept piling on.
Most were Greek as it was their bank holiday.
It was leaving at 10 am & was due back at 5 pm – that is a long day.
Finally, we left & a breeze arrived.
About 3 minutes after we started off the stereo kicked in playing the 'Crazy Frog' song!!
Holy Fuck!! – What have we done!? My little heart sank…..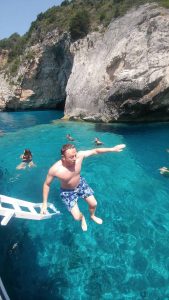 Anyway, after that, the music was pretty decent, mostly Greek but okay – then just after 10.30 am we cracked a beer & chilled.
It turned out to be an absolutely superb day!
The Captain on the boat, Billy was excellent with everyone as were a couple of crew with him.
We went to 2 swimming stops which were stunning & in caves. We ended up in Paxos for about 90 mins which were just long enough for a beer & a quick bite to eat.
Then back to Parga.
At one of the stops, the captain scaled up the side of a cliff & seemed to get pretty high.
A few people followed suit & he was encouraging them to jump/dive in. They all declined and crawled back down to safety for a massive anti-climax.
The captain, however, did the complete opposite!
It really was a cracking day which we will do again if we ever return & I will not be nervous/anxious!
We got off the boat & went for a pint at the Meeting place for a change.
Enroute we booked the highest-rated pizza place for the evening's meal & got the best table right at the front, looking out at the bay & for people watching – Delizie Pizza & Pasta
What a great day.
The next day we spent by the pool at the hotel for the sunbathing part of the day. It had been hot all week – mid 30 degrees. Am slowly working out that dipping in & out of the pool/sea is the way to do it and thus staying cool/comfortable. In the past, I generally couldn't be asked & would try & 'tough it out' – stupid!
#olddognewtricks
That evening, before we went for dinner, we tried the cocktail place just by the beach which was always offering cheap cocktails – why were they cheap? because they clearly had no booze in them whatsoever! – what a load of shit! Out of principle, they will not get named.
So for dinner, we were off to another recommendation of Jim & Marilyn (which Lisa had also picked out as one to go to on as part of her extensive research) – La Barca – it was a little restaurant just around the corner from our hotel which was run by 2 brothers.
It was a great little place that they recommended for the meatballs. Nothing fancy, just honest cheap but good grub!
After food, we went for a wander. I can't remember if it was intentional or if we stumbled upon it & it was still open……
This pastime is great anyway but becomes even greater when half-cut!
This is compounded as we went round with big glasses of Ouzo! this was after the lad running the place insisted we also have some shots before we went round.
We started at about 11.30 pm – this is usually way past our bedtime!
Now don't get me wrong, the 'course' was utter shite! It was battered & was just a few curves & bit of concrete in the way,
There wasn't a windmill or a water feature in sight! A giant lemon fell off a tree whilst we were playing but that didn't make up for it!
But…..it was great!
Just look at our pissed faces (well mine!).
Our final full day was spent back on the beach. This time at the far left-hand side.
Lisa took a video across the 'bay' which gives you a good idea of what it was like – i.e. not too big or busy.
Later in the afternoon we obviously went to 'The Meeting Place' to get out of the sun and have a beer.
Jim & Marilyn were in there (no real surprise, it is that sort of place). They were sat inside with another couple we had met but came outside for a while to say 'Hello' which was nice. It was their last day also.
More Food Than You Could Shake A Stick At!
So for our last evening meal, we went to another highly recommended/rated restaurant – Perivoli
Another winner! & Christ on a bike! – what a lot of food!! So much in fact that we actually asked for a 'doggy bag' to take the leftovers away (seeing as we had a little kitchen in our room so was ideal for lunch the next day).
Something that we had done a few times this trip & worked out really well, was to book a table via Facebook.
Pretty much all of the restaurants we went to, had a Facebook page & this is linked to Messenger so just messaged them for a table for 2 at a time & in all the cases we did this, they came back after a while & confirmed it!
This place was a prime example & we got a great table.
Well that, was pretty much it.
We were around the pool on our 'going home' day & had paid €30 for a late checkout (makes life SO much easier when needed & available).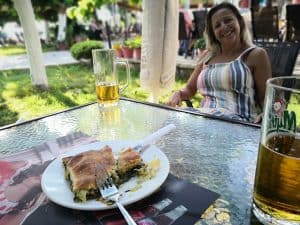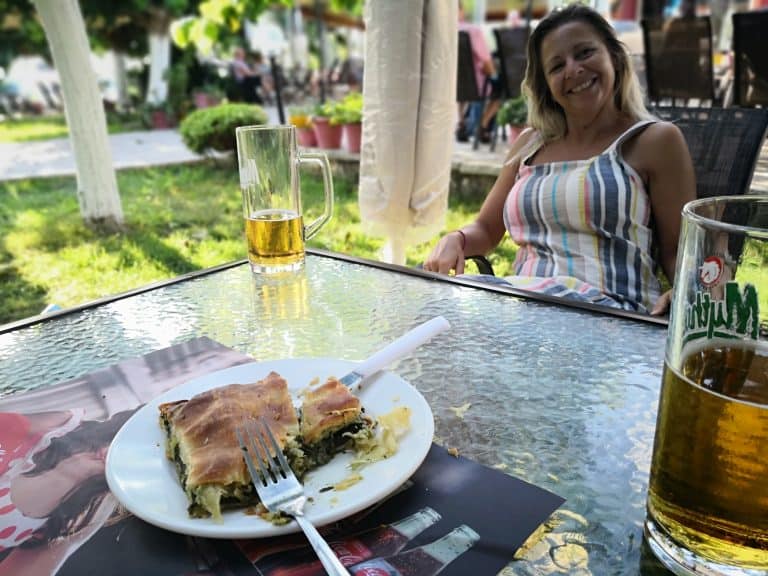 The coach picked us up fine for our 1 hour trip to the airport picking up others on the way.
Parga airport is small & not highly used – in fact there were 3 flights due in that day as I recall.
What was also great was the fact that we checked in – then we fucked off over the road from the airport to a little cafe/bar place to sit in the sun & have a beer. It was all very casual.
The flight was good & we had 20 minutes or so when we were out to get a sandwich & a beer from M&S and get on our train.
We walked into our house at about midnight.
What a great little week – I feel we may do it again sometime!