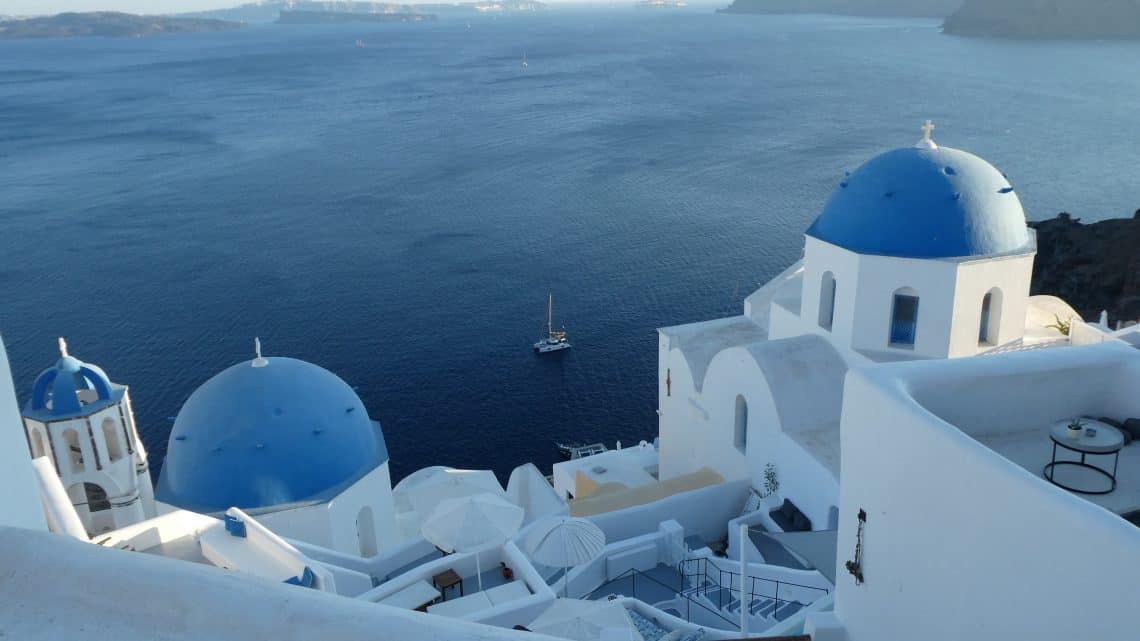 Santorini, Greece – Getting Away Between Covid Traffic Lights.
This was a trip we took in September 2021.
As I recall, this was when Covid had pretty much 'done one' in the UK, but travel restrictions remained a ballache when travelling abroad.
I remember that the bullshit traffic light system was still in operation and was updated every 2 weeks.
Some countries kept bouncing between amber & green, making booking holidays a nightmare.
Greece was one of these, and different islands had different colours.
At this time, there was extra paperwork, vaccination passports and testing hoops to jump through wherever you went!
Santorini, you were clear to fly to (with masks on) if you had your jabs, but you also needed to fill in a PLF (passenger locator form – UK & Greece) and take a test 2 days before your flight home, another test 2 days after you returned.
We booked this holiday with TUI.
We don't usually book 'packages', but the whole Covid scene was a fucking nightmare, and by doing this, if it was cancelled, you got your money back.
On a side note, we have booked a couple more trips with TUI and have been very impressed.
This holiday, for Santorini, was pretty much a steal. It was about £950 for both of us, including flights and B&B accommodation. It is a lot more now!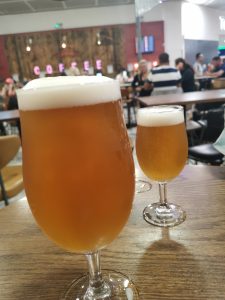 We think it was a steal because it occurred between the 2-week traffic light update. So we booked it and didn't know if Santorini was still green until the week we went.
My apologies for banging on about all the covid tests, traffic lights and so on! I am doing it because, as I type, I remember what a fucking pain it all was at the time.
Now, not even a year on, it all seems forgotten (TFFT!!).
Anyway…
Flight from Gatwick & bastard early, so the usual train down the night before & stay in our usual Premier Inn.
I reckon we were up before 4 am as my pre-flight beer picture was taken at 4.54 am.
What I do remember now is that Lisa set off the smoke alarm in our room!! 😂🤣.
So at 3.45 am, the fire alarm went off in the hotel, which is a big hotel!
She was using the last of her deodorant and was spraying and spraying it as it was nearly finished…so all that was coming out was gas!
…which triggered the alarm.
Holy Fuck, It Was Loud!
About a minute or two, there was a knock at the door, and some poor security kid was at the door to check to see if there was a fire.
He came in, totally fucked from running up the stairs, adrenaline pumping & not being the fittest.
We just carried on getting dressed. That is what you do at 3.45 am. You are not awake.
A lesson was learnt that morning.
So we finally ended up at our accommodation – The Santellini Hotel.
What a fantastic little hotel this was. Making the cost of the holiday even more of a bargain!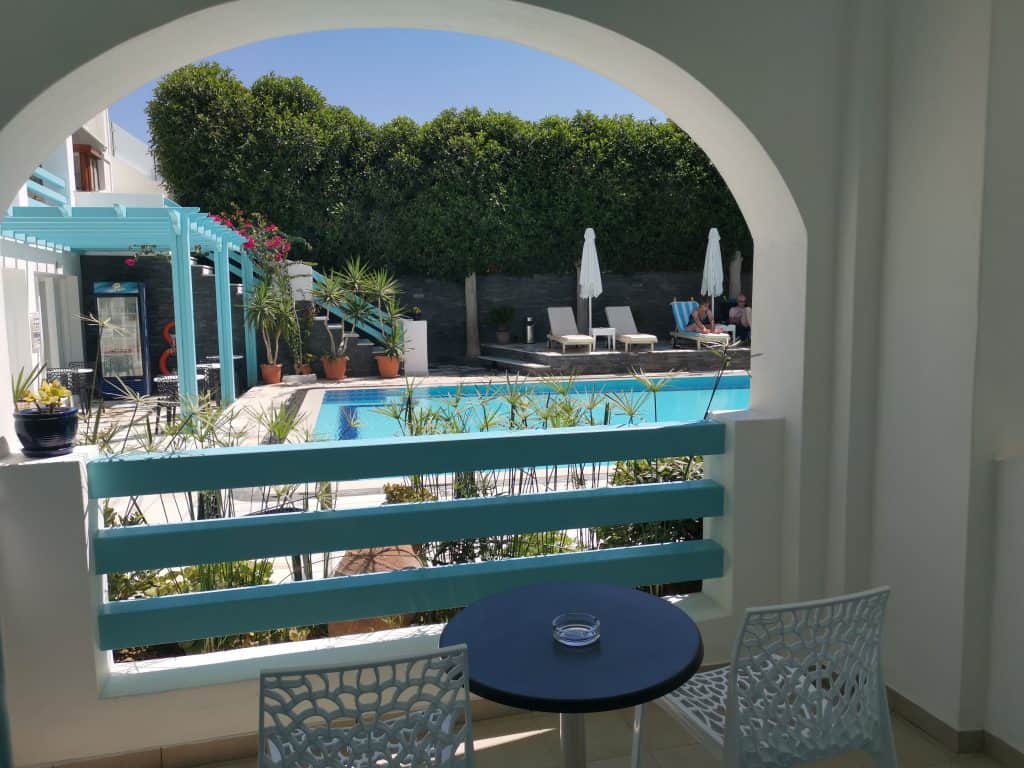 So, off for a wander. We were about 100m from the sea.
The sand was volcanic. Basically, black.
We wandered about, had a few beers & checked out a few places.
We had an early dinner & went to bed fairly early. Knackered.
Went for a run in the AM. So nice to see the sunrise when away.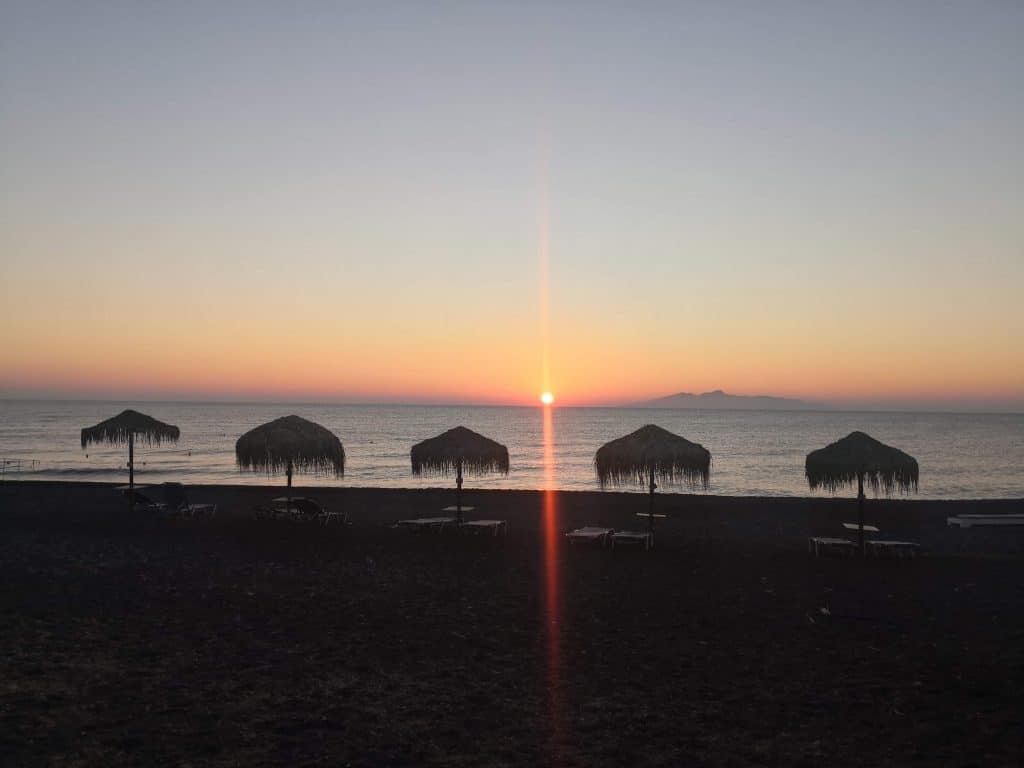 So day one was some time on the beach in the morning.
Then the afternoon, we wandered to a couple of vineyards within walking distance to do a wine tasting.
The first one was Artemis Karamolegos.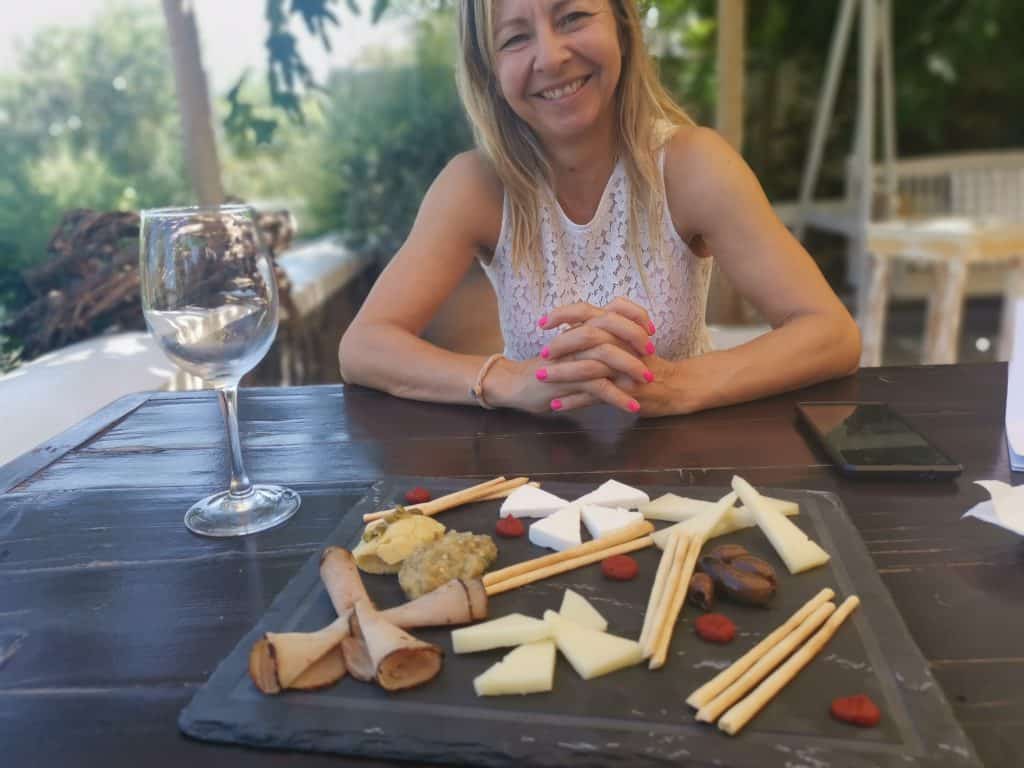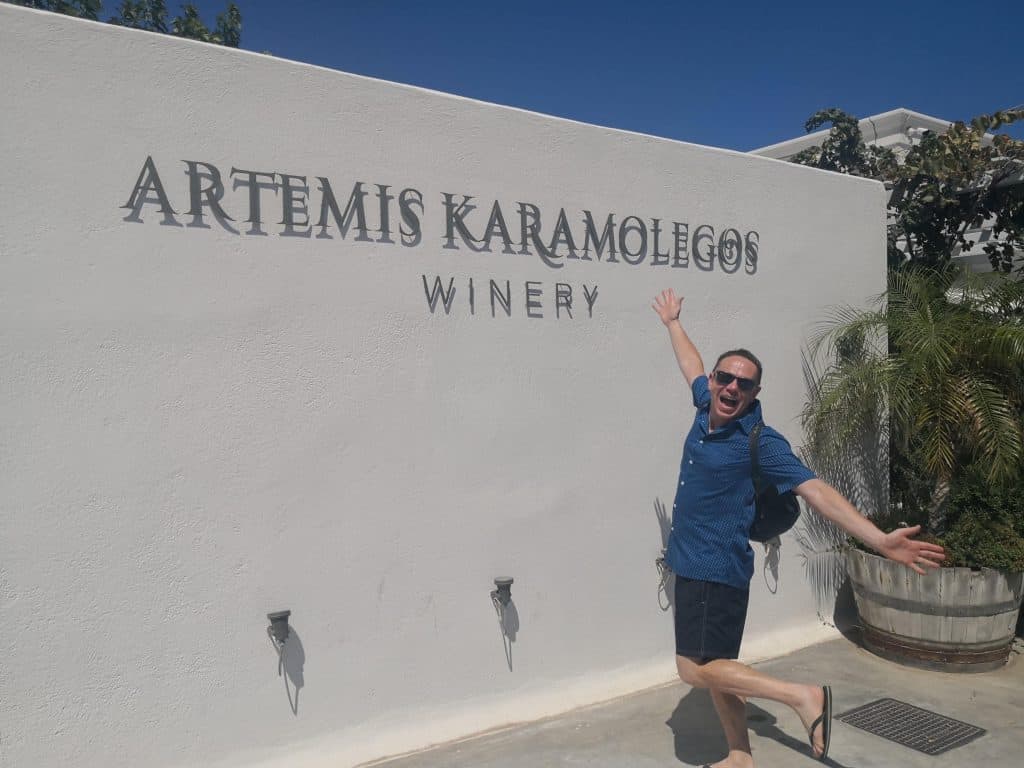 I think this one was our favourite across the week. Very chilled and in a lovely setting. An extra 10 euros gave you a food pairing.
This is where we discovered that the island makes mostly white wine & that wine is pretty strong.
They also make a dessert wine which is fucking gorgeous!
Next stop, winery #2 – Estate Argyros
Same sort of thing – taste 5 different wines with a 'food pairing'.
This place was far more 'modern' – the outside area was very white.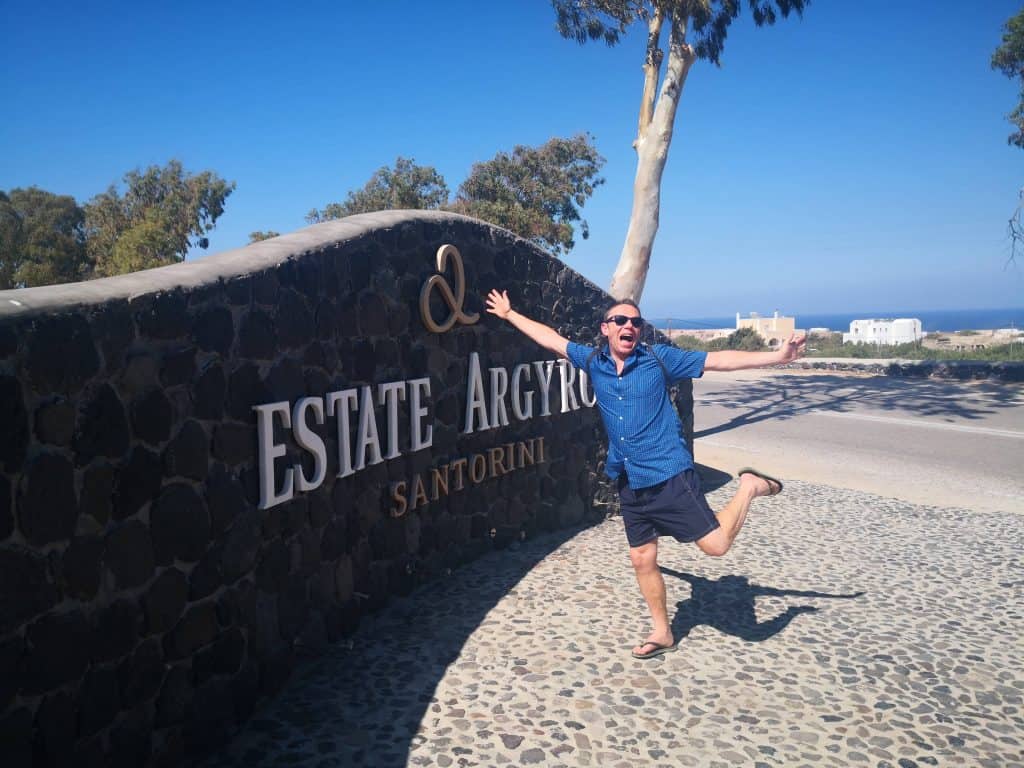 Again, the dessert wine was awesome.
That evening we discovered an awesome restaurant which ticked the boxes of big portions & cheap – it was also really nice & no wonder so highly rated! We returned here a few times which is very rare for us.
Elias Grill – Souvlaki & Gyros – what a cracking place this was.
We ate like Kings for fuck all!
It was funny watching people order starters & mains only to be stuffed after the starters and see their faces when the mains came out! The 'Meat Fear' as I have called it from my own experiences!
After this, we played a bit of pissed-up crazy golf.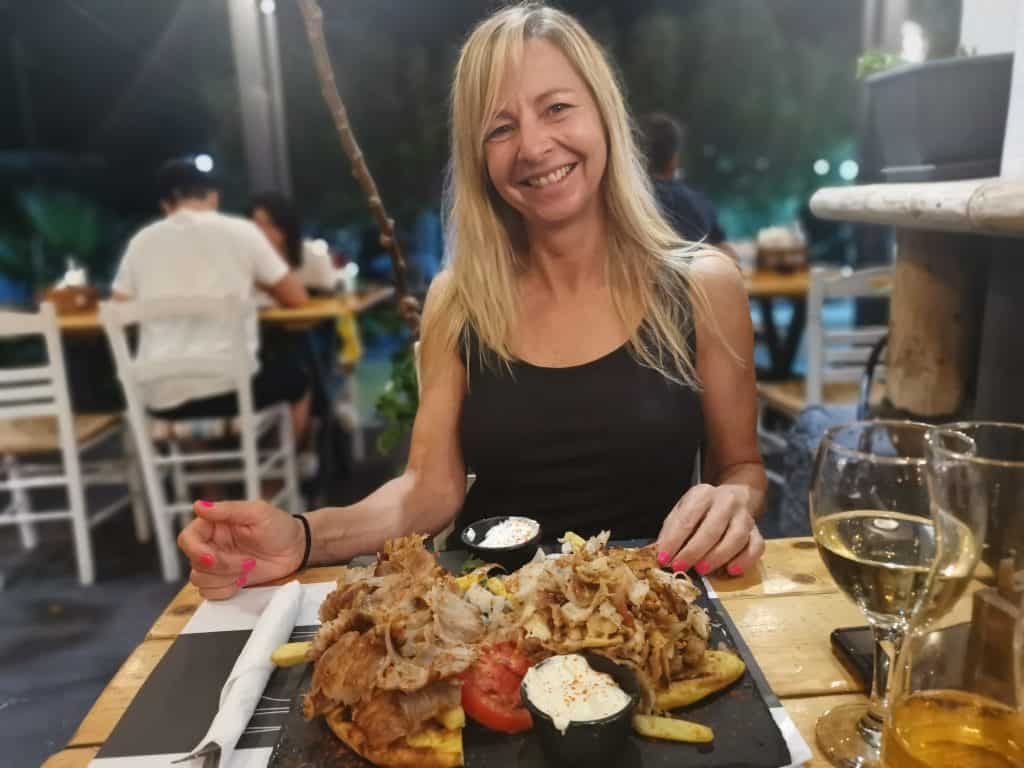 Another run the next morning – #heroes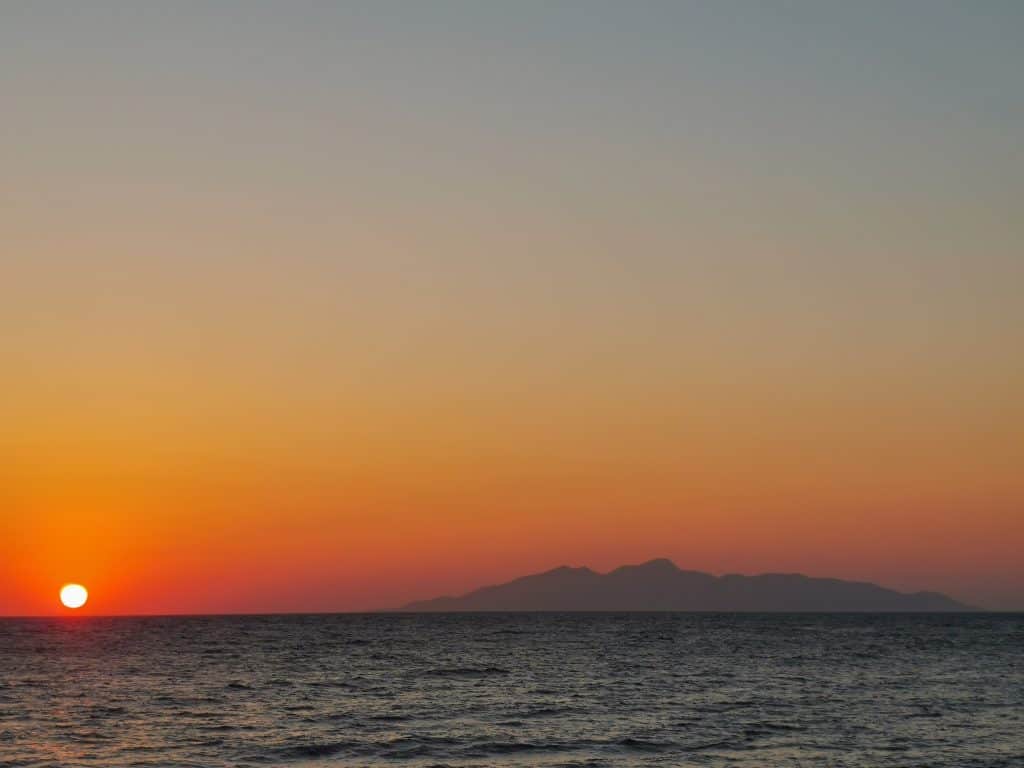 The next day was the obligatory day trip.
It was a proper full-day tour and included another wine tasting at a winery, and we finished seeing the 'money shot' of the sunset at Oia.
If you ever see a generic article about Greece, this is the place they always use the pictures from – the blue domed buildings & churches etc.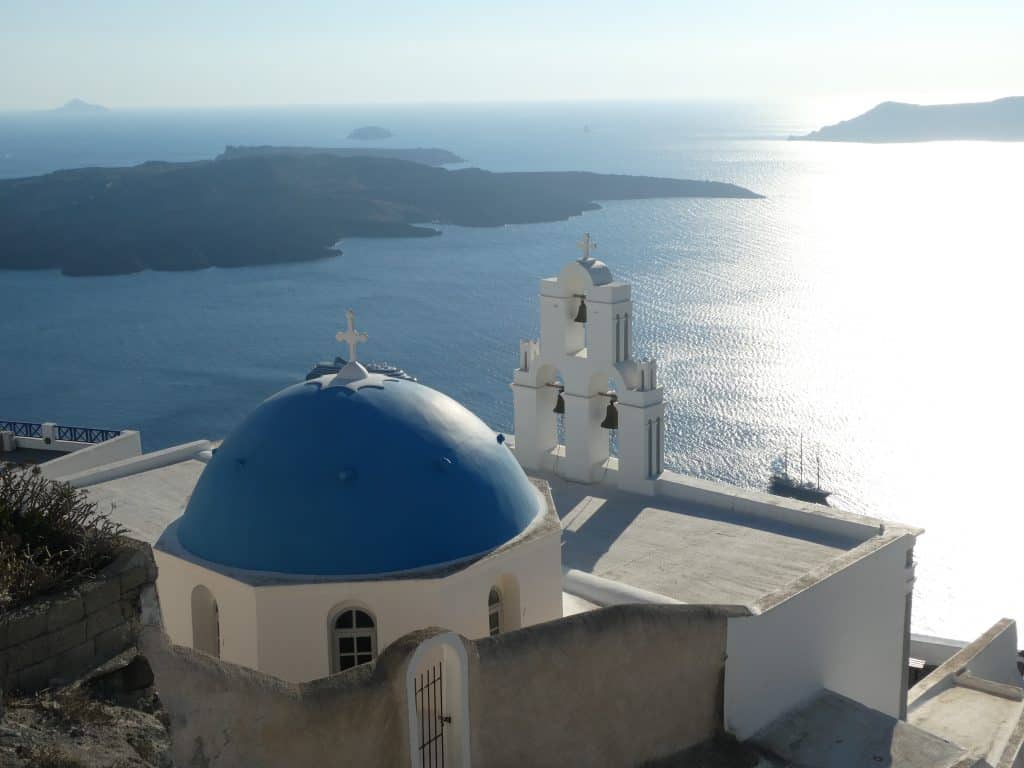 The tour was good, as was the guide. The usual stuff of facts and stories that I never fucking remember!
The winery was a good stop – Santo Wines.
It was bastard windy!! It was right on a cliff with a great view.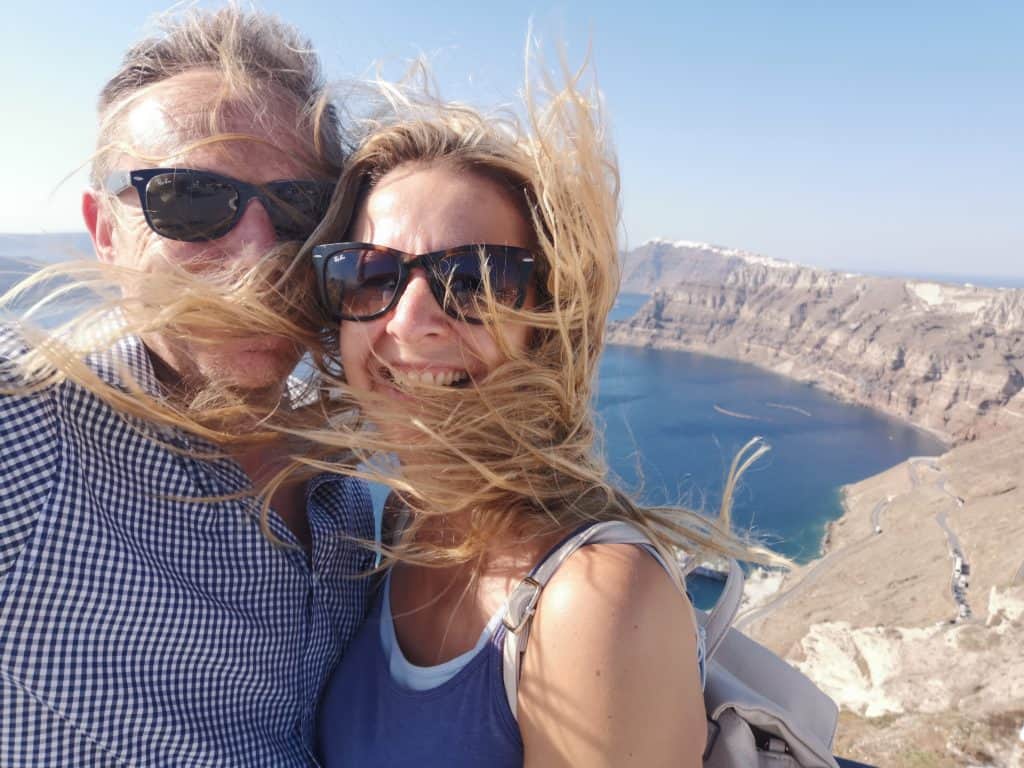 We also went to a 'Music Museum' – that is the only way I can describe it.
It was quite a laugh but went on a bit too long!
Some hippy bloke explained a lot of Greece mythology with stories that then led into some music. I found the stories pretty interesting.
We were all given instruments (drums, rattles & the like) and encouraged to play them whilst he was doing his thing.
How wank does that sound reading that back!? But it was pretty funny & sounded quite good in all honestly!
Finally, it was onto Oia to see the sunset.
For the record. Oia is lovely but I wouldn't advise staying here (IMHO) unless you have a bottomless budget.
With the Money Shot Instagram reputation comes all the people.
Every evening the centre is just packed with people there to see the sunset. It would really get on my tits!
The place is all alleyways that just get stuffed with people.
We were a pair of them.
We got a couple of beers & stood in an alley waiting with everyone else.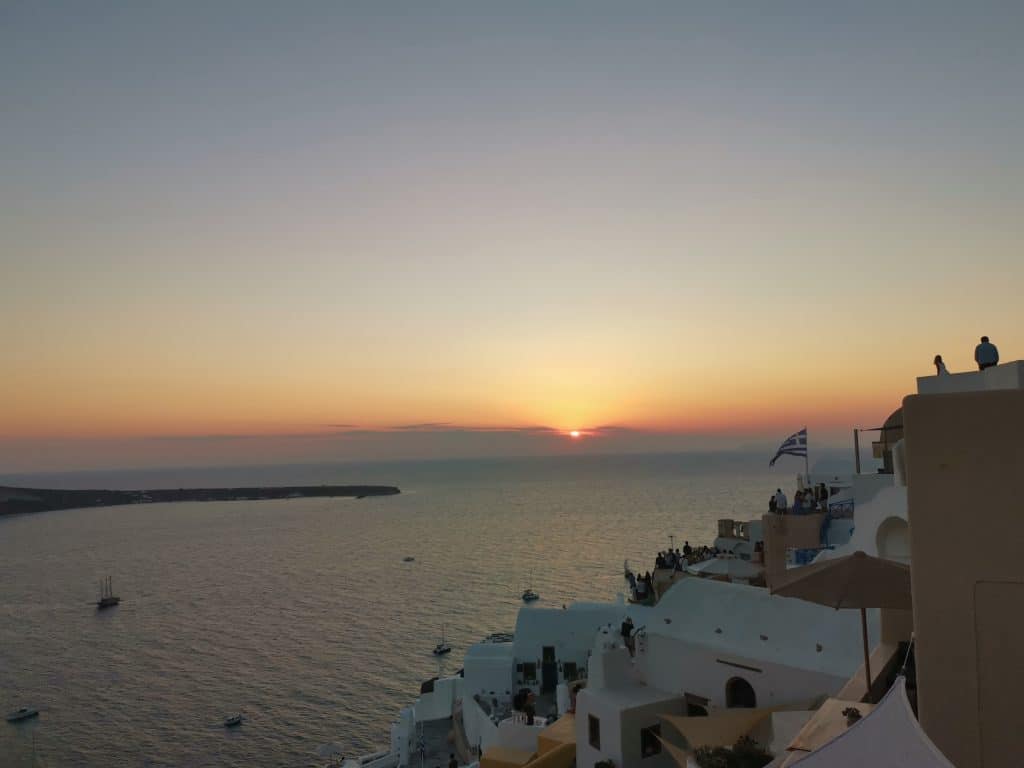 This is the funny bit.
Everyone stands their ground & everywhere is rammed as they watch the sun disappear.
Once the sun had gone, everyone seemed to fuck off.
The second it went, most people shuffled off, yet most of the sunset magic happens after the sun has gone.
We then wandered to the best spot to see it happen.
This spot is where people will have stood for hours to keep their place to watch the sunset.
The other advice or observation I would make is don't get married in Oia!
Holy shit, what a nightmare. You witness all the things that don't appear on their Instagram pictures!
There are lots of spots down alleys that give rise to the best pictures & every bastard wants pictures in these spots – even more so if you are the bride & groom.
But…
…nobody gives a flying fuck that you are getting married! You take no priority!
Queues form to get pics. Most people try and get in, take a few pics and get out to let the next person in.
Some twats, however, overstay their welcome.
All this time, brides & grooms are standing in the sun sweating like bastards waiting and looking very stressed!
A 3-piece suit, shirt & tie in 30+ degree heat with no shade is not worth the picture in my book.
Every pair looked very stressed and pissed off.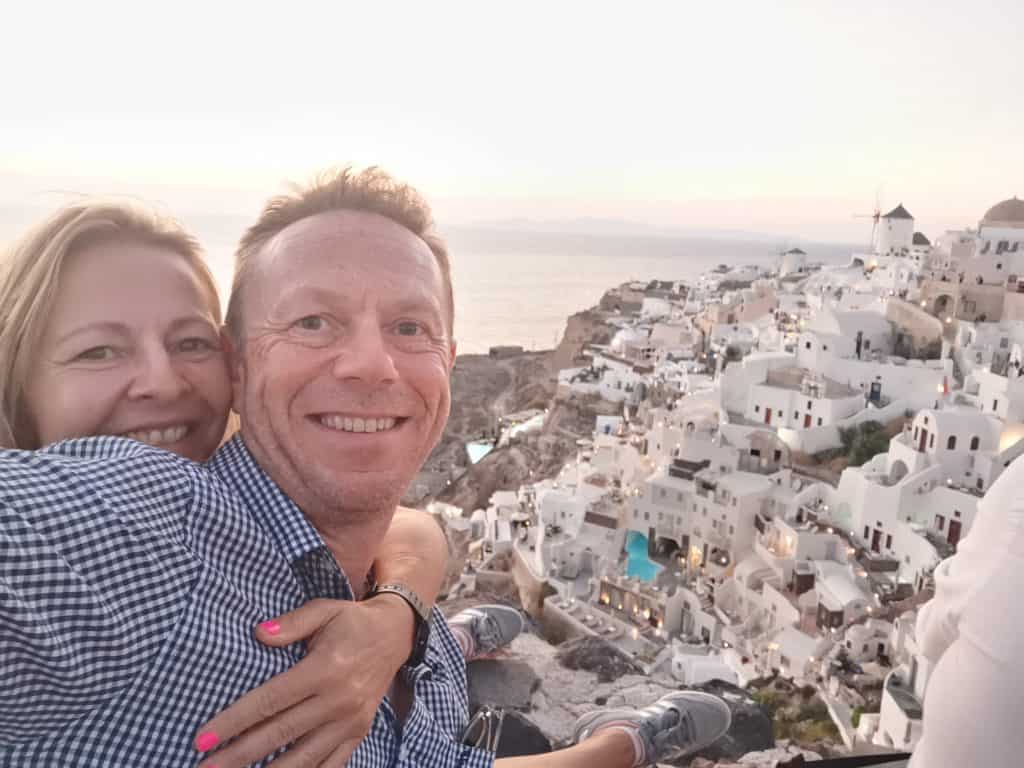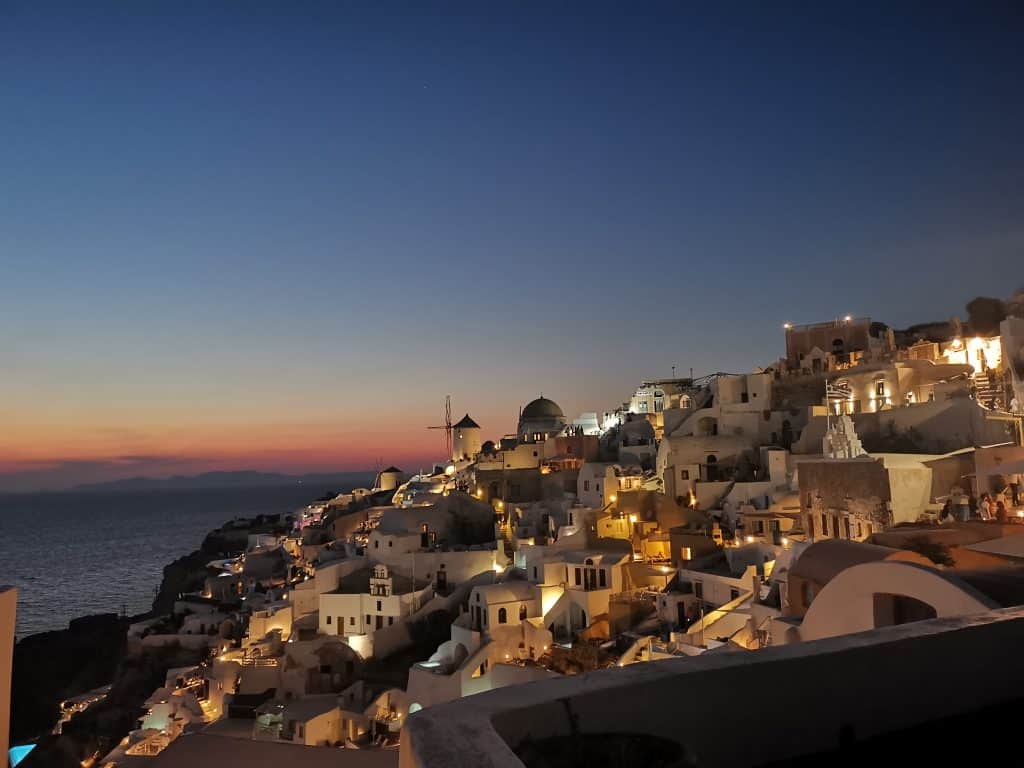 That evening we returned to Kamari & had a gyros in the fantastic Elias Grill.
The next day was more walking for wine & food.
1st stop, another wine-tasting visit – Canava Roussos. All good.
Dessert wine is becoming a favourite for sure.
Just up the road was a craft brewery – Santorini Brewing Company which produced 'Yellow Donkey', which was lovely and the sort of thing we would drink back home.
We tried to look inside quickly, but they had just started a tour.
Annoyingly, when we went past later after we had been for food, it had just shut!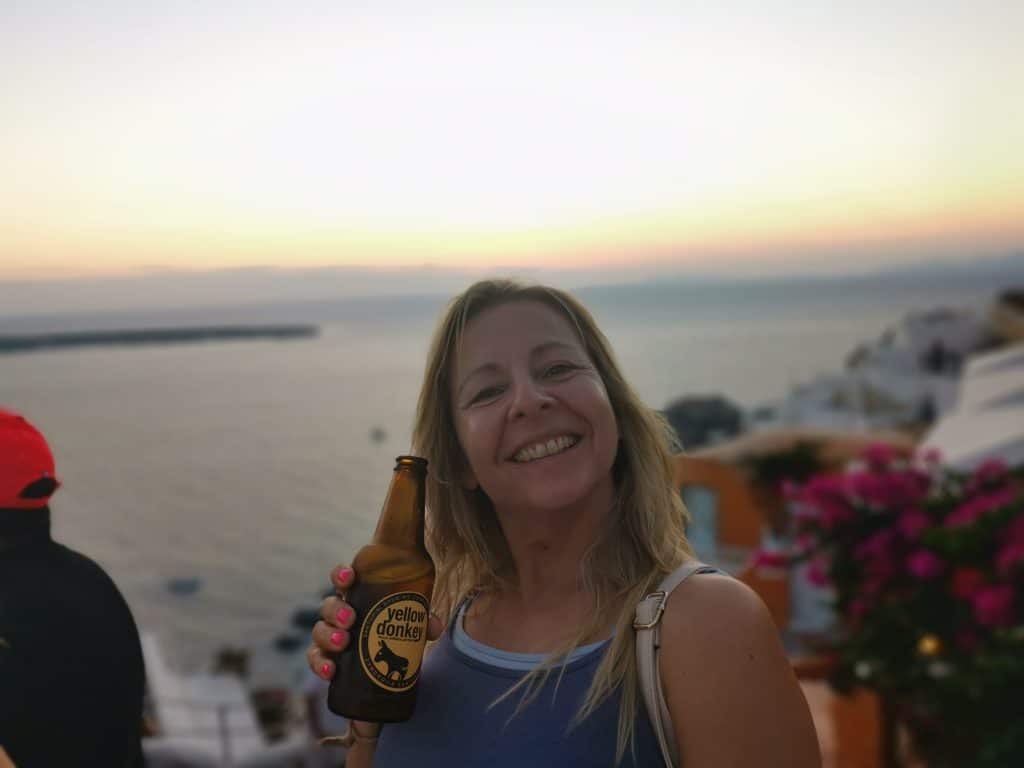 After the winery, we went off for lunch/dinner at Metaxi Mas. A reservation that Lise made weeks before as it gets excellent reviews and gets booked up.
I remember that it was a long bastard walk uphill with no shade. That it was hard to find and not very obvious. I also remember we had a lovely meal with a fantastic view.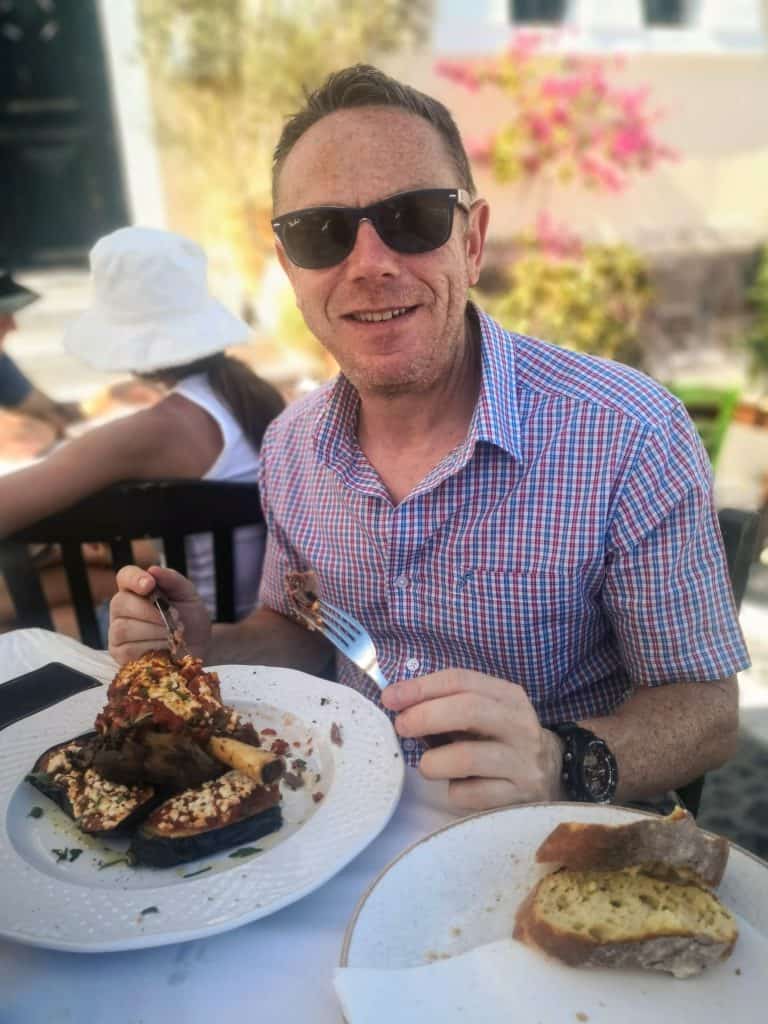 The next day was a light lunch of a shared pizza. Then out on a boat trip – a sunset cruise with BBQ dinner onboard.
We did the usual stuff and chugged along, going near the coast, looking at the volcanic rock, etc. This time there was no swimming.
We chatted to a couple from Birmingham, and the guy proposed when the boat turned to watch the sunset. We all got a glass of bubbly courtesy of him.
I took quite a few pics of it happening & sent them to them the next day & I was kindly rewarded with a bottle of Ouzo from them for my efforts.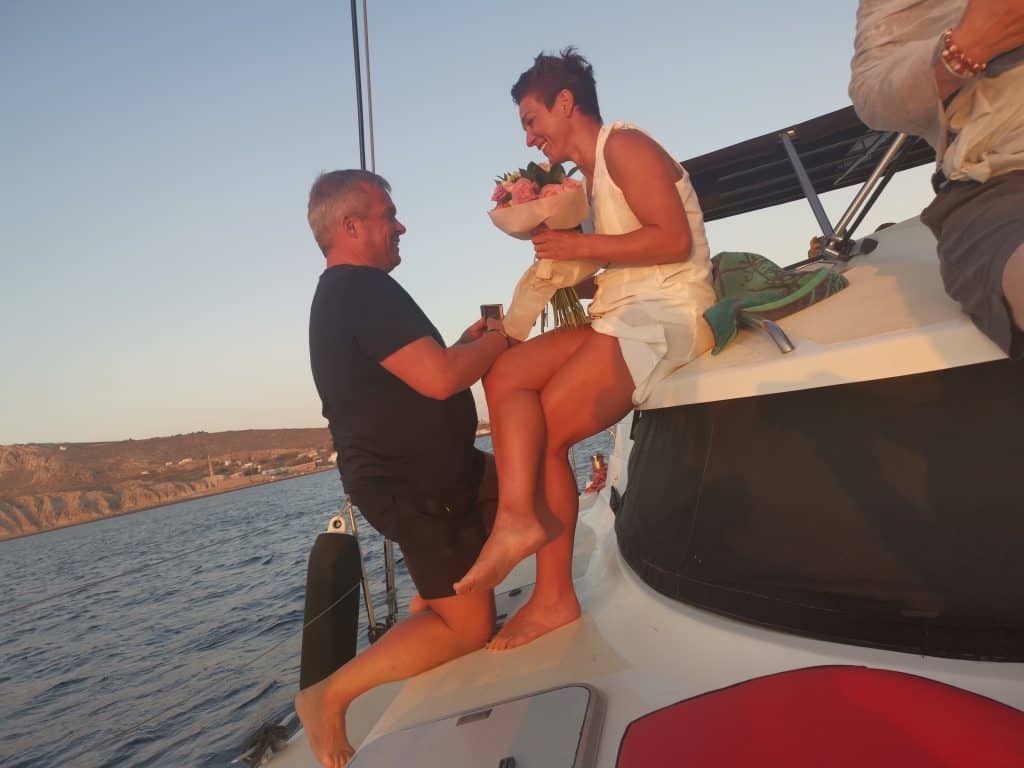 The next day was something Lisa had been talking about doing long before we arrived in Santorini. According to the various forums & 'What to do in Santorini' blogs, it was the #1 thing to do.
It was to walk from Thera to Oia. It is about 11Km.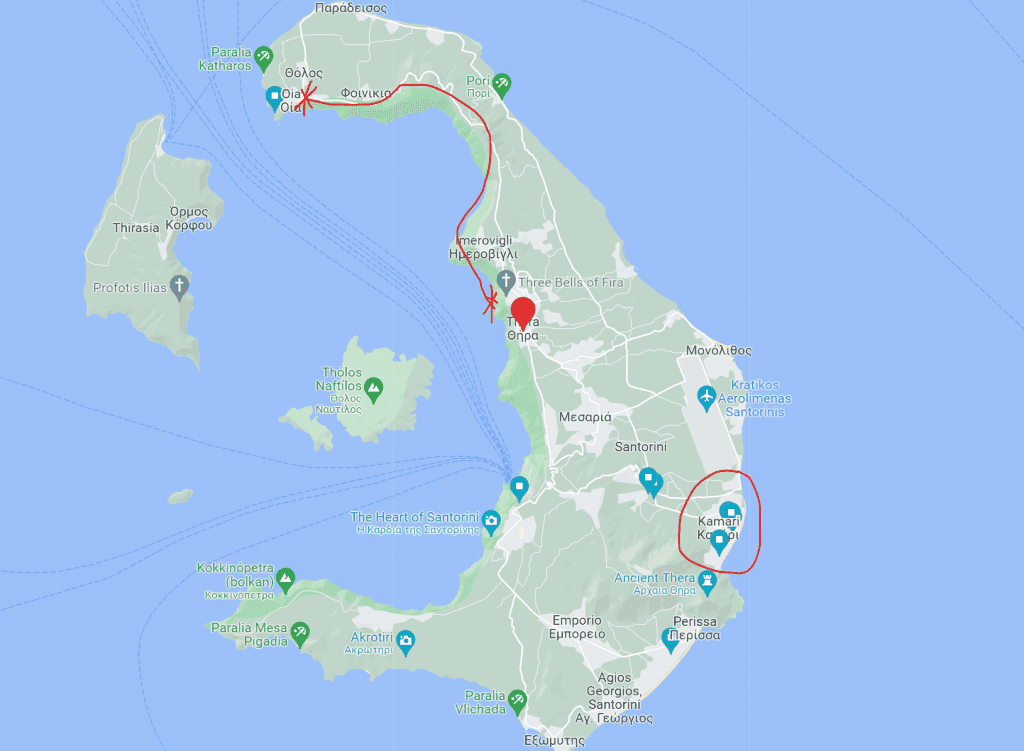 The theory was to do it early so you are not walking in the blazing sun & also, so you can watch the sunrise.
We got a cab at 6 am for the drive from Kamari to Thera. Some buses make this journey but not at this mad hour!
The basic instructions were to start at the Hotel Atlantis in Thera & keep walking, keeping the sea to your left.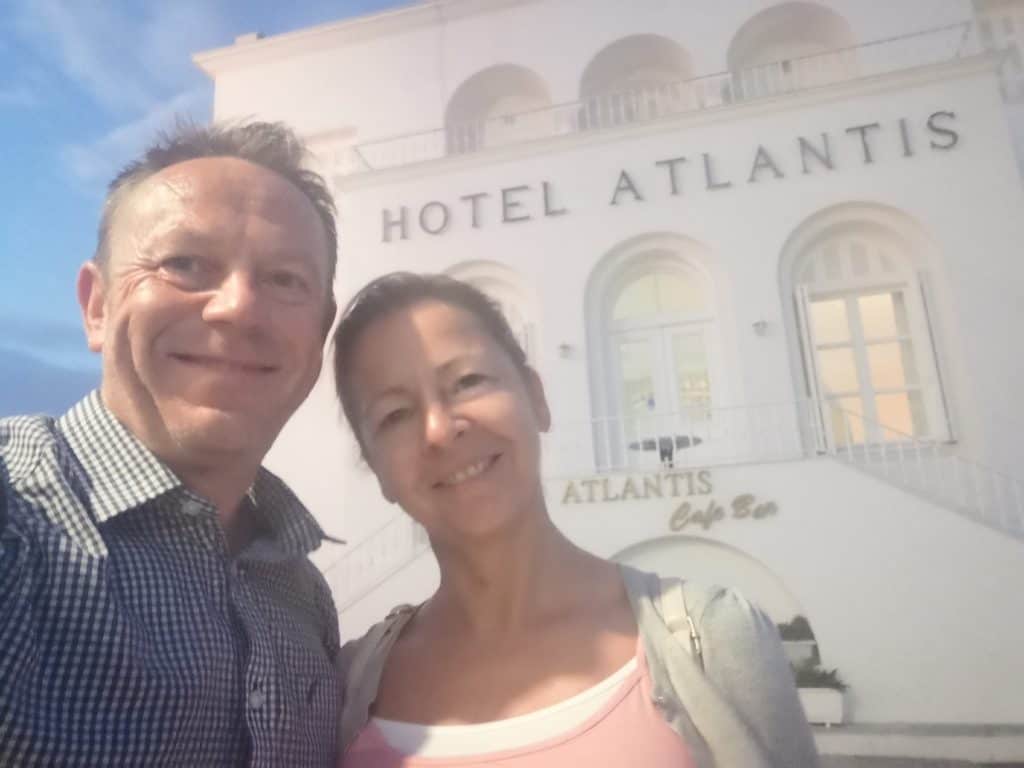 The walk was good. It wasn't that hard, despite what some people said on the forums.
We did go bastard early tho! In hindsight, we could have gone later as we were never in the full blaze of the sun.
Some of the scenery was pretty stunning.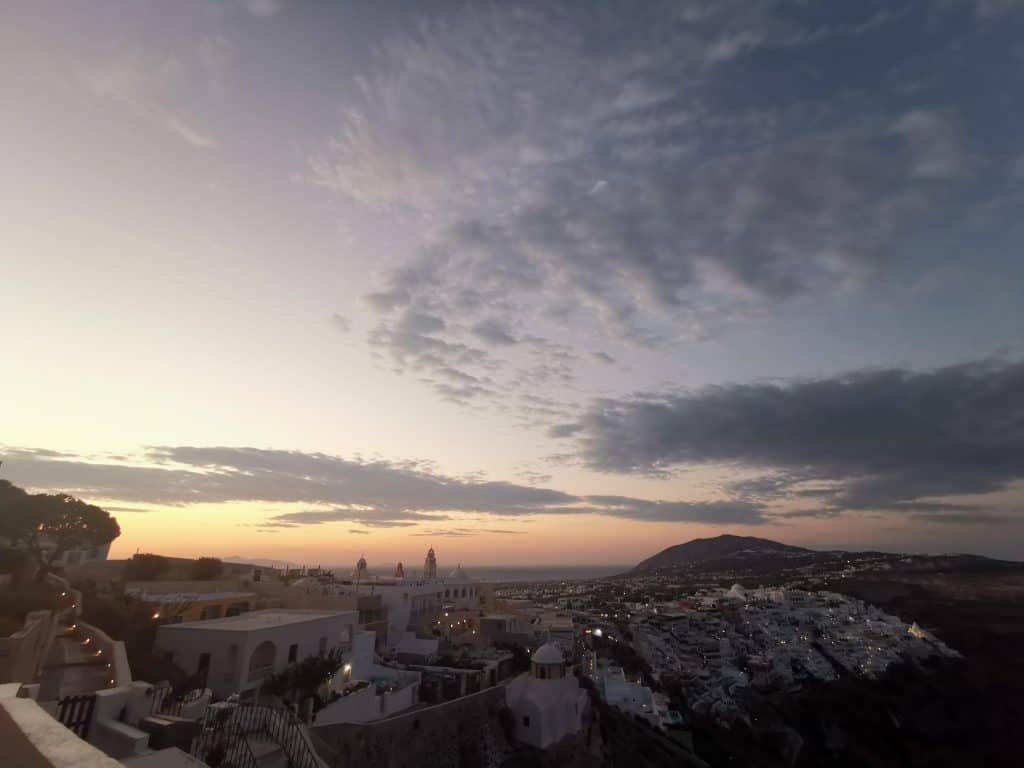 The hardest bit of the walk was trying to get out of Thera! It is similar to Oia in that there are loads of alleys, and you have no idea where they are going. Quite a few dead ends.
A couple of signposts did help give vague clues.
Once we were out, it was pretty simple and obvious where we were going.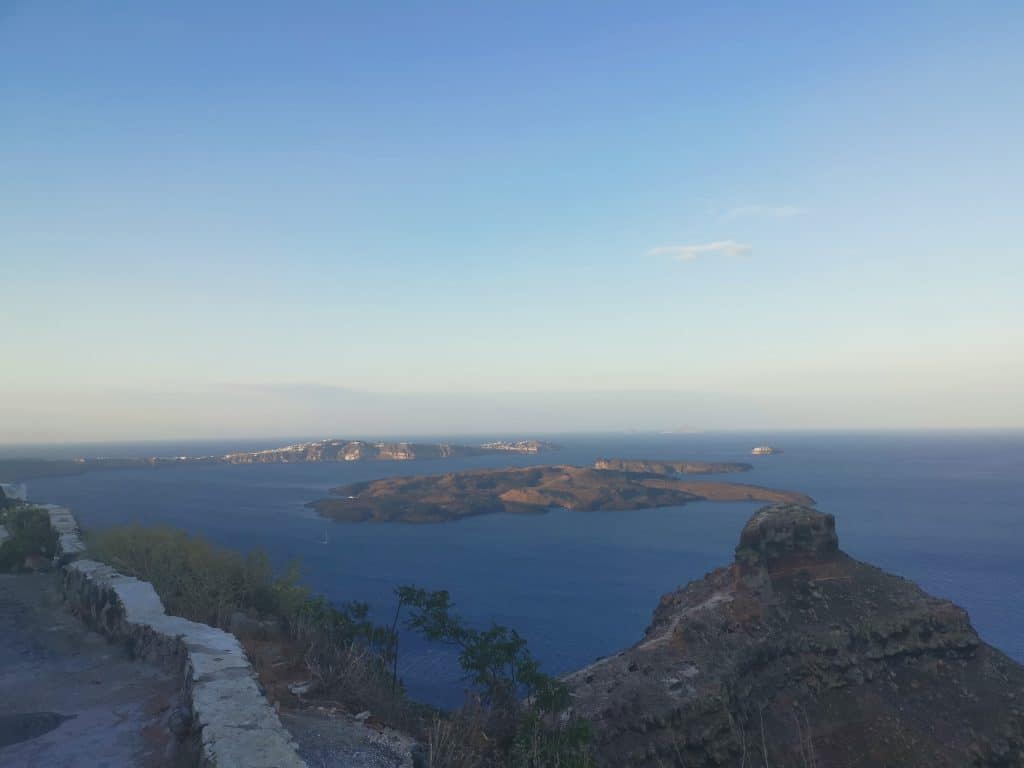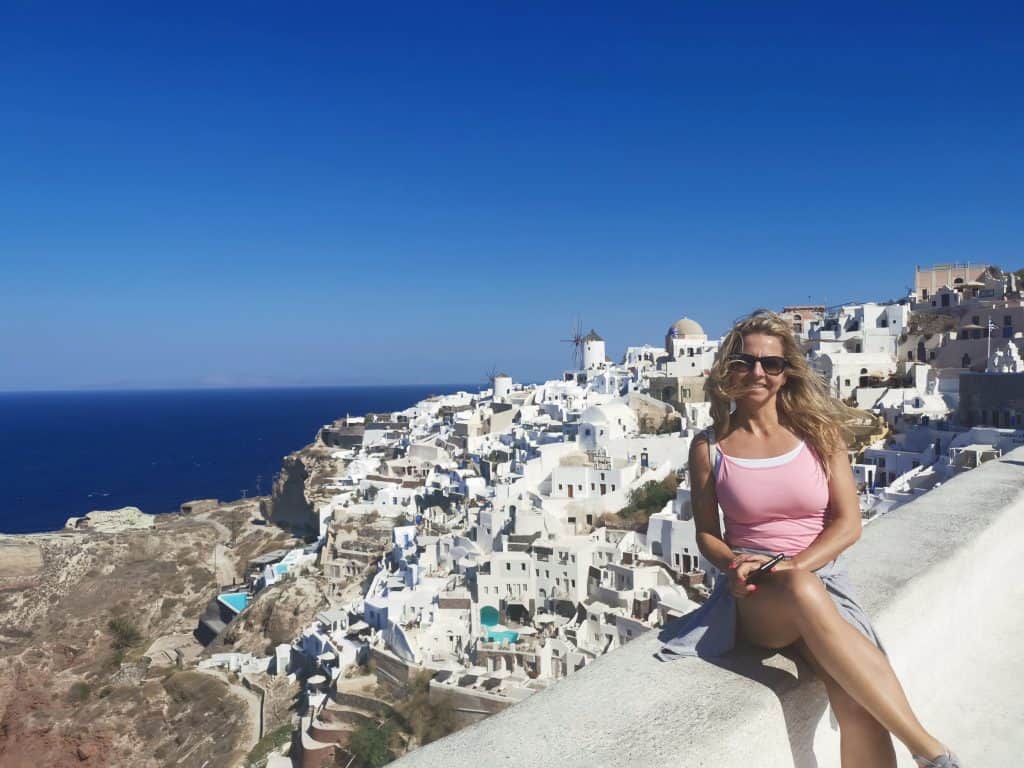 So, we arrived in Oia at about 10 am!
We found a shop & got a couple of cold beers. Our day's adventure had finished when most people were getting up!
After some obligatory wandering about, we headed for lunch.
Another place Lisa had booked – Dimitris Ammoudi Taverna.
This was a great restaurant. It was down a lot of steps & right on the seafront (no beach).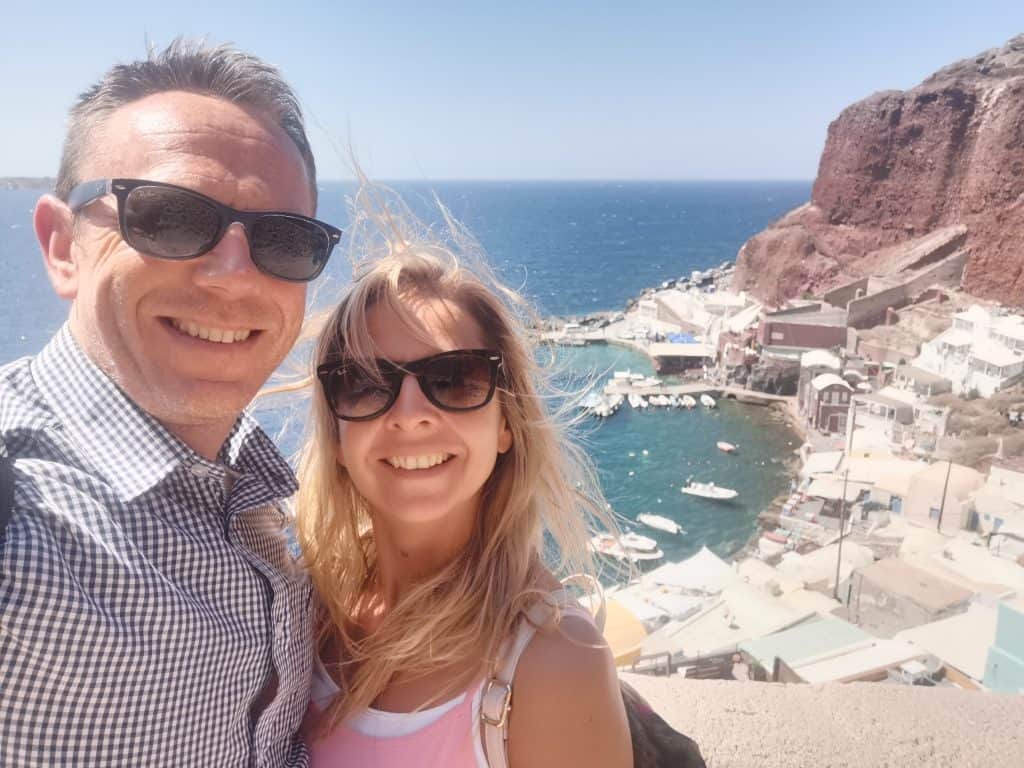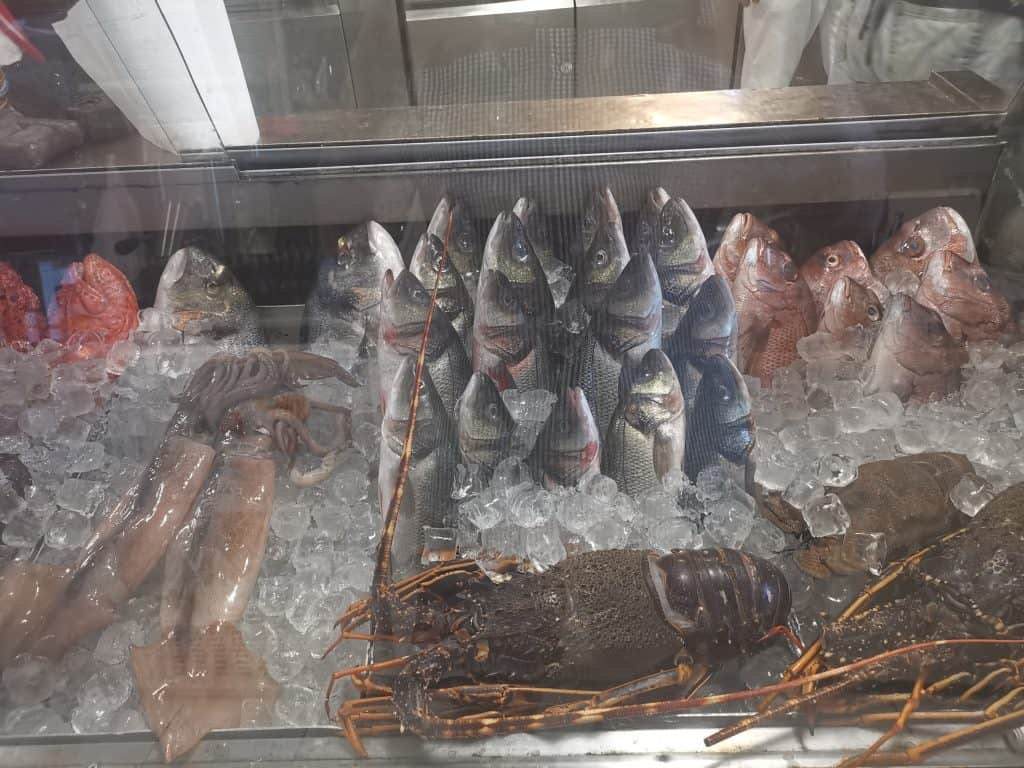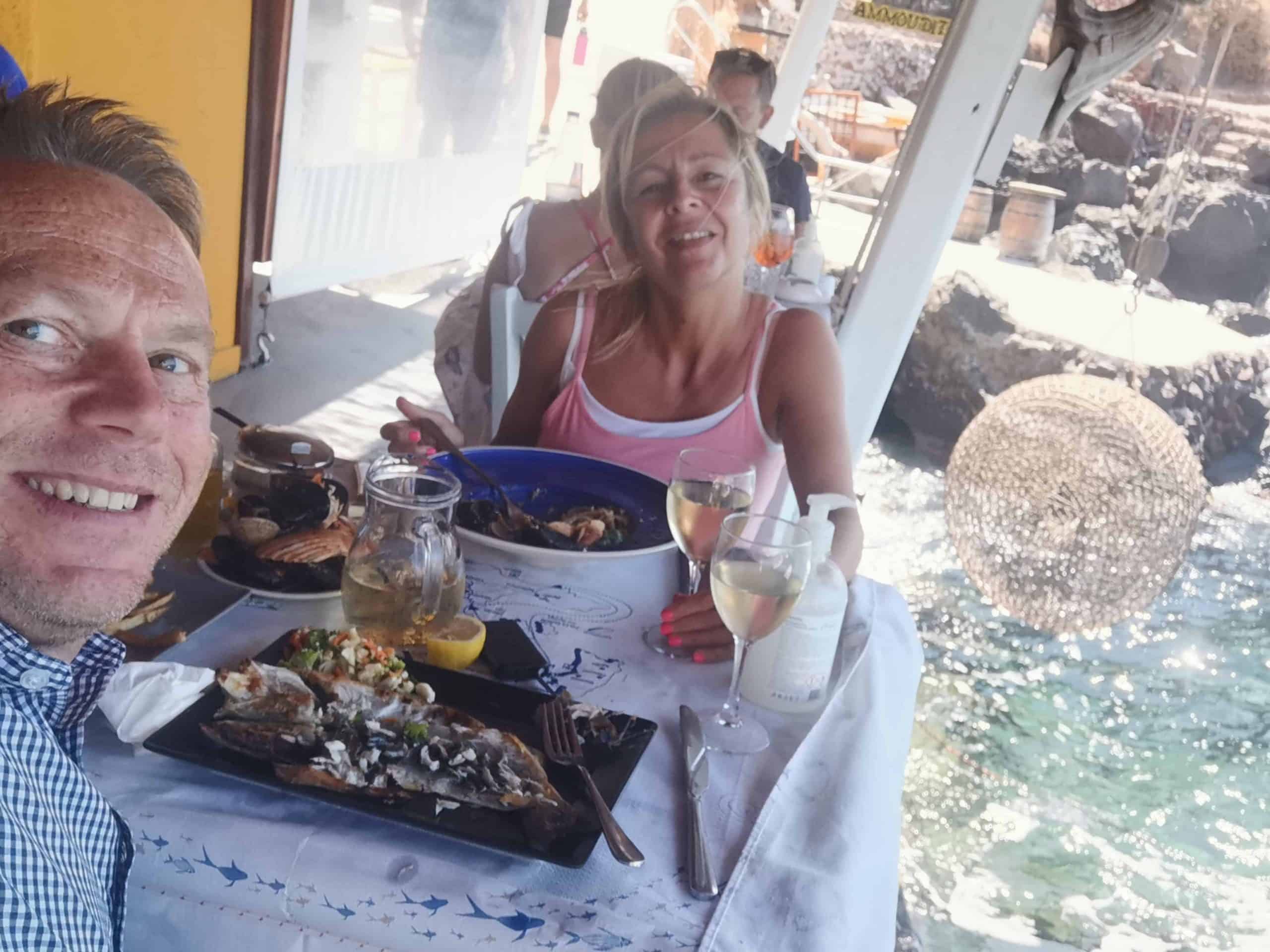 What a lovely meal. I chose my fish out of a cabinet which I have never done before.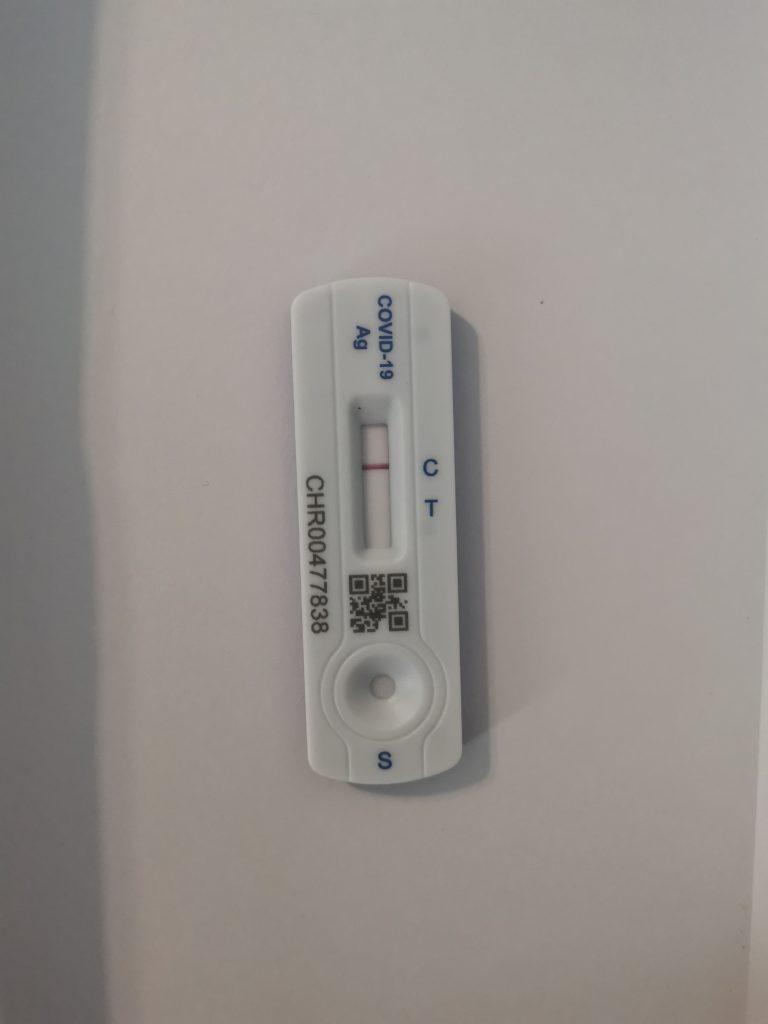 After this, we then got the bus back to Kamari.
The next day was our last. So, sunbathing on the beach and having a nice meal in the evening….oh yeah, and doing the Covid tests!
That was it.
Midday flight & then we were home.
A lovely week & we would recommend it.
It was made all the sweeter by getting it for a steal & getting to escape abroad with limited covid hoop jumping!