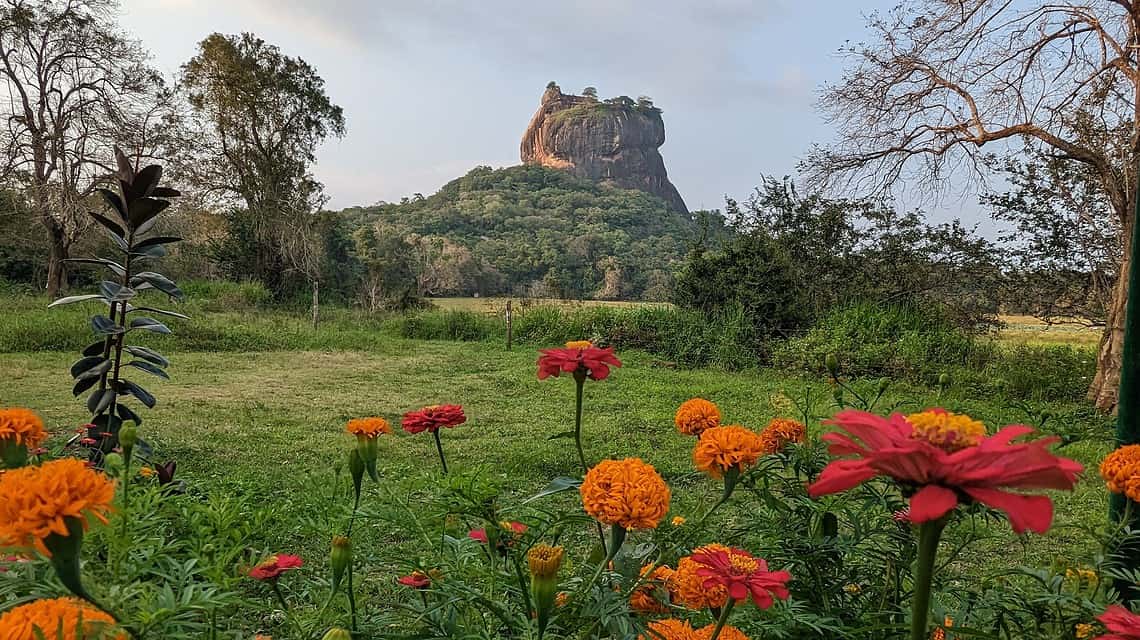 Our Fantastic Sri Lanka Private Tour – March 2023
For a while now, we had wanted to visit Sri Lanka.
However, due to political unrest in the recent past, our government advised against it.
But in March 2023, the situation had improved, and we finally booked our Sri Lanka trip – a private tour! This is the norm when travelling here.
Basically, you, a guide & his car.
We chose the company BH Lanka Tours and couldn't have been happier!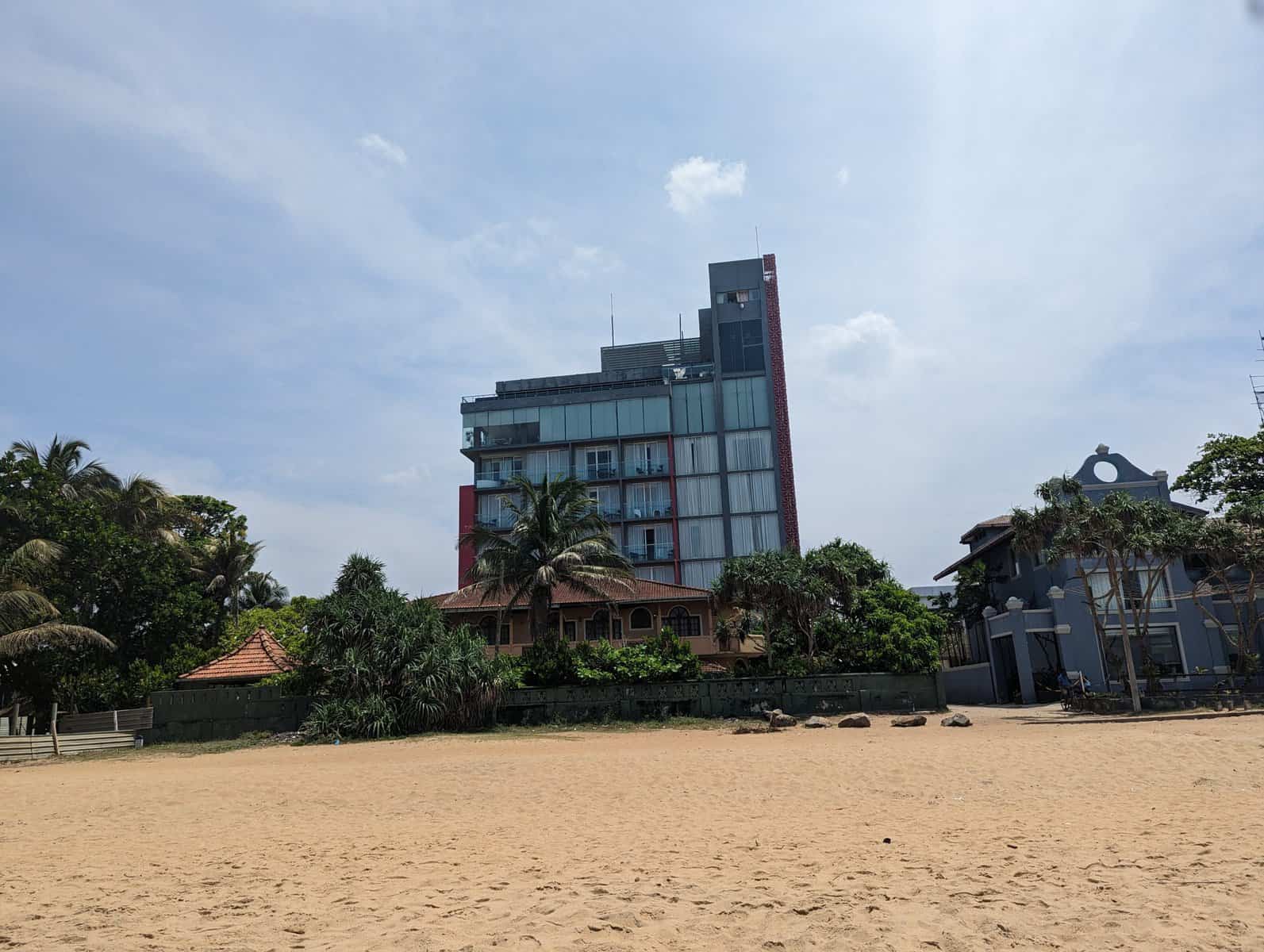 The start of the trip was our standard operating procedure – Train from Leagrave to Gatwick, stay overnight at Premier Inn and catch the flight the next morning after a spoon's breakfast with A Hazy Jane.
Upon arrival, someone was there to greet us, not our guide though, who would join us the following day.
Before leaving the airport, we withdrew currency and purchased cheap SIM cards for our phones, costing around £8 for 30 gigabytes, more than enough for our two-week stay.
We checked into a hotel right on the beach and immediately went for a walk to see the sea.
Later, we relaxed at the pool before going for a stroll and getting our first beer.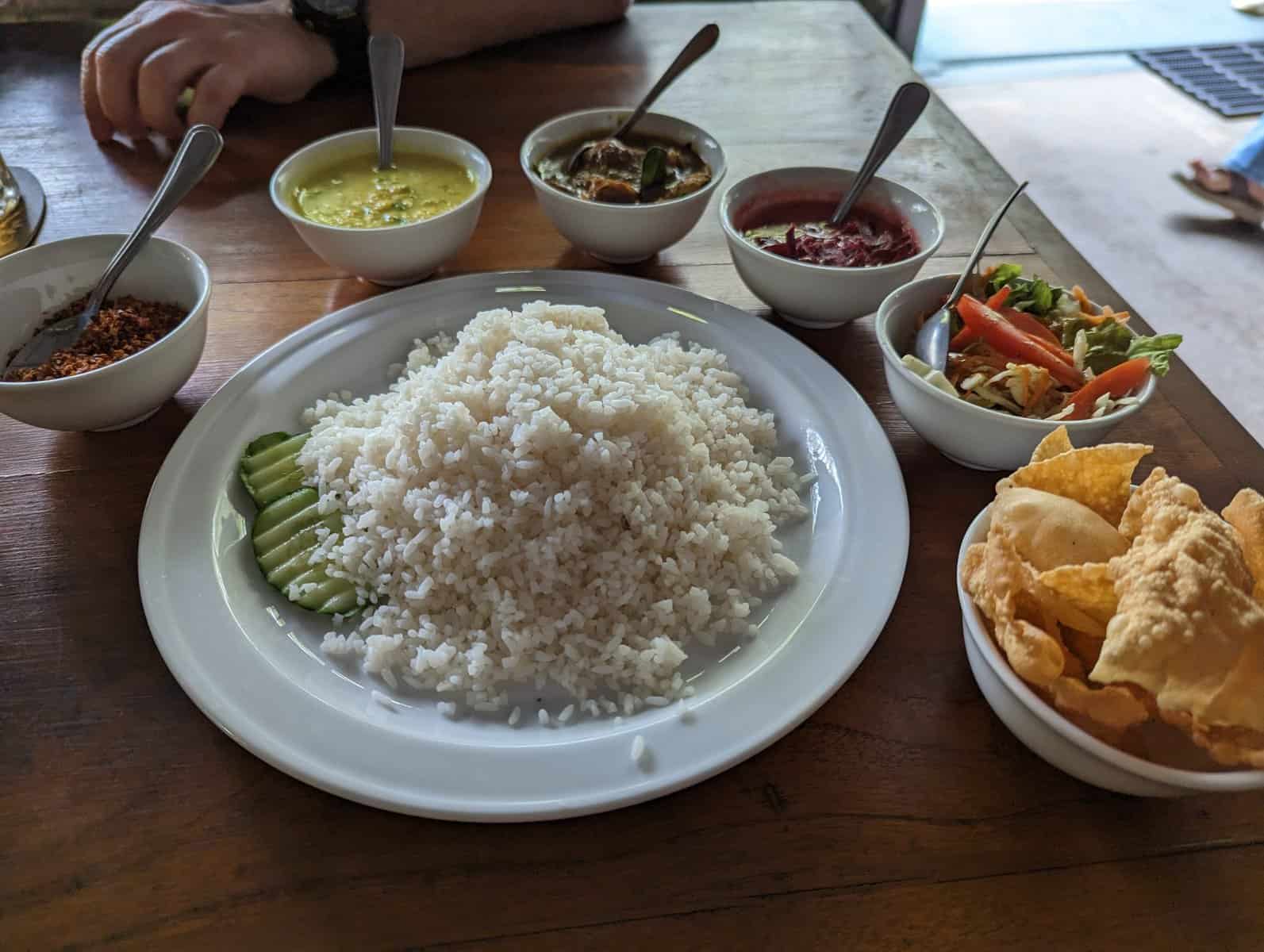 When we left, we just left the money to cover the beer as you would anywhere in Europe.
We were quickly chased down and called back, as this wasn't how it worked in Sri Lanka; there are always taxes to be added on, so you need to wait for your bill! Ooops!
A lesson learned.
We went for our first meal at a place Lisa had seen online. The weather was hot & it was a decent walk away!
We shared one standard Sri Lankan meal with rice, five dishes (including curry and dal), and a couple of beers.
Going back to the hotel, we thankfully took a tuk-tuk!
We spent the rest of the afternoon by the pool and had our meal at the hotel that evening.
So, what was the Sri Lanka cuisine like at the hotel? – No idea! unfortunately, none of it was Sri Lankan, and it was things like Hunter's BBQ chicken!
Our tour would start the next day.
Our Sri Lanka Tour Starts…Massive Elephants!!
In the morning, our guide, Budhika, picked us up, and we headed out in his Toyota Yaris.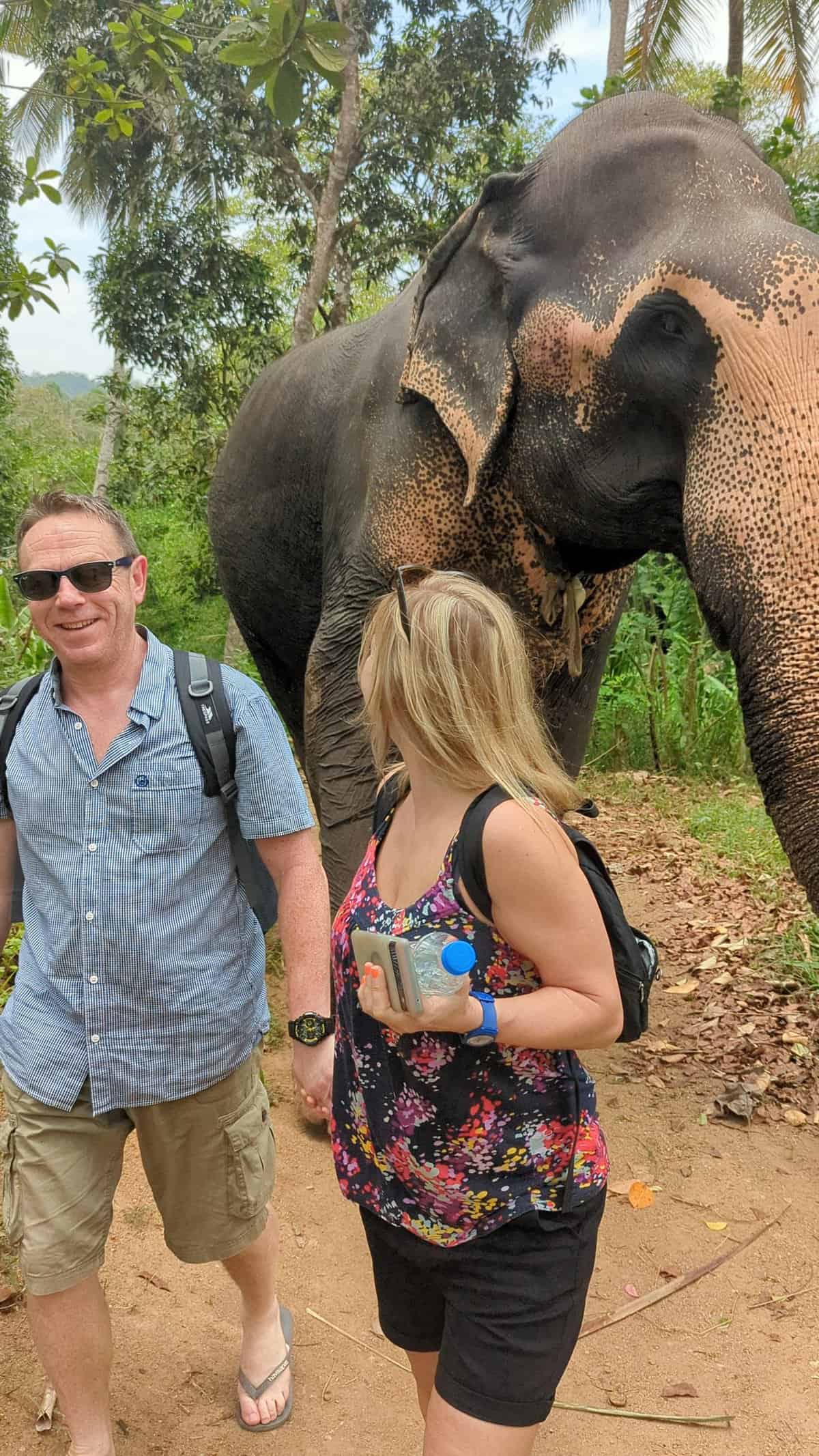 Our first destination was the Millennium Elephant Foundation.
There were two tour options for admission.
One allowed you to ride an elephant for about 50 meters, while the other involved walking with the elephants without riding them.
We chose the latter option ($10 extra), as we didn't want to ride the elephants; we thought this might be cruel but actually wasn't at all, but I'm definitely glad we decided to go walking with them.
The guide's name was 'Jax,' and he was excellent.
Our elephant was called Raja!
He was fucking massive and stunning!
To be honest, we thought the guide was going to be an absolute nightmare as he seemed to talk continually about everything!
We are definitely a let's get on with it couple, and we have no interest in faffing about.
We were wrong.
He took loads of photos and videos for us without being asked, and they turned out to be really special.
We had the chance to feed the elephants, which was a surreal experience, putting our hands into their mouths and seeing their gigantic tongues take the food.
After that, we had the experience of walking with our elephant.
Did I mention he was fucking massive!
Then went into the river to scrub him.
This is where the guide was shouting out whatever word it was in Sri Lankan that got them to suck up water with their trunk and then spray it over their backs, which inadvertently got Lisa wet, which obviously was hilarious.
Like a man, I stood behind her so she would take the brunt of the water. #chivalry
Jeep Safari…With More Elephants! (& A Tiny One)
After wrapping up at the elephant sanctuary, we embarked on a jeep safari.
Although we had reservations as to what it would be like, given we had been to Kenya on safari (the Holy Grail) it turned out to be pretty good.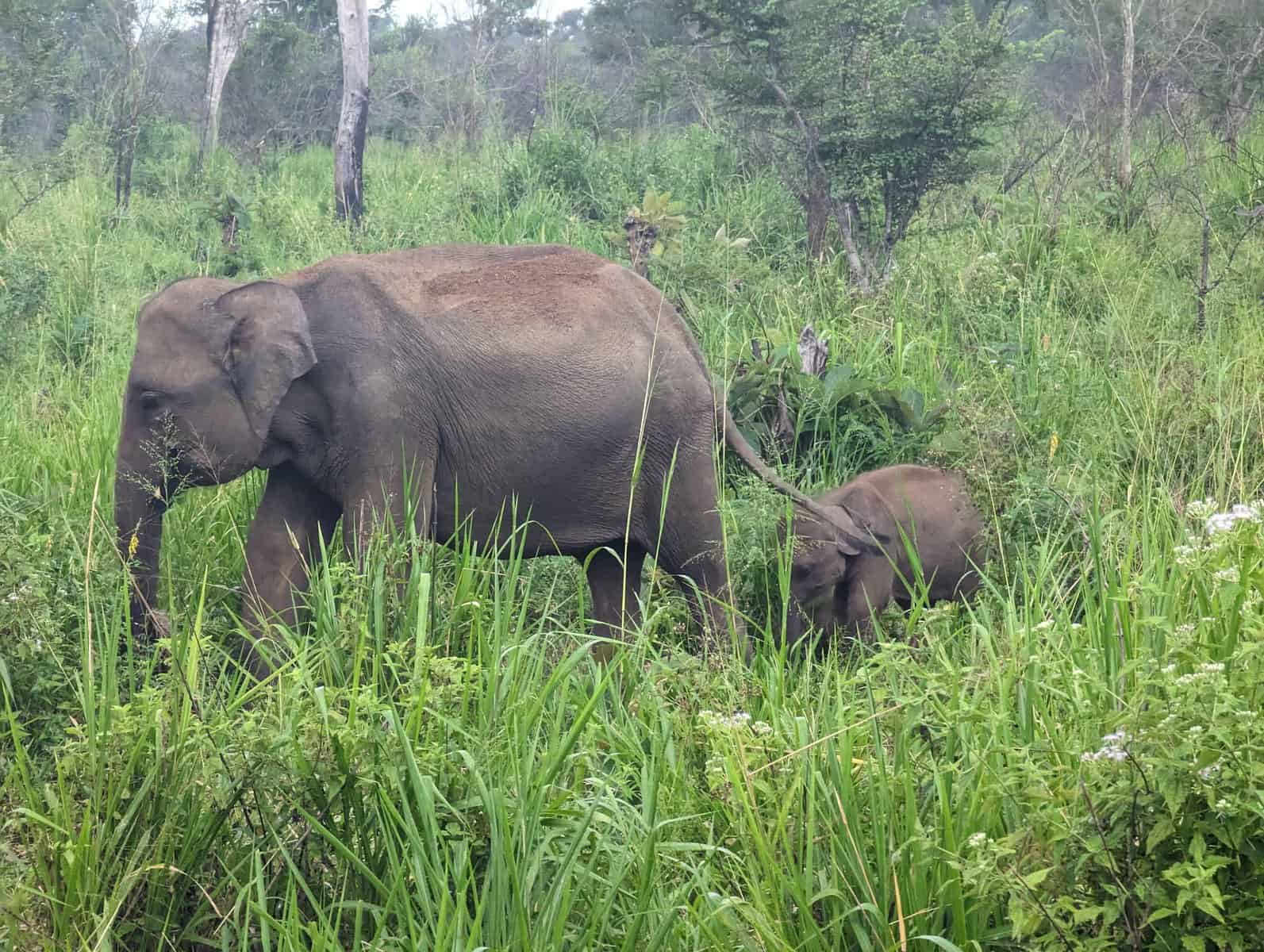 We had close encounters with various elephants, including an adorable baby elephant.
It had been a very good first day!
A Tale Of Two Rocks…
The following day was a bastard early start.
We were picked up at 5:00 a.m.
One of the main attractions in Sri Lanka is the Sigiriya Rock, which in the past was a magnificent palace perched atop a massive rock formation.
Opposite this rock was another massive rock, where you could theoretically climb up and look at the Sigiriya Rock – it was called Pidurangala.
So, off we went.
At first, it was an easy ascent with stairs; it was pitch black, but there was some lighting + lights from our phones… but then it became really difficult.
The harder it got, the more it didn't seem like there was an obvious route.
We had to navigate across rocks and then scale up another rock while another huge boulder loomed above us.
I have to admit I was seriously considering giving up because it seemed like a nightmare and not very safe! But thankfully, we pushed through and made it.
And the view from the top was pretty impressive.
The idea was to reach the summit for sunrise, but unfortunately, the clouds obscured our view (this was an underlying theme of our trip!!).
Nonetheless, the panoramic 360 view was impressive.
We spent quite some time up there taking pics (& trying not to think about getting back down!).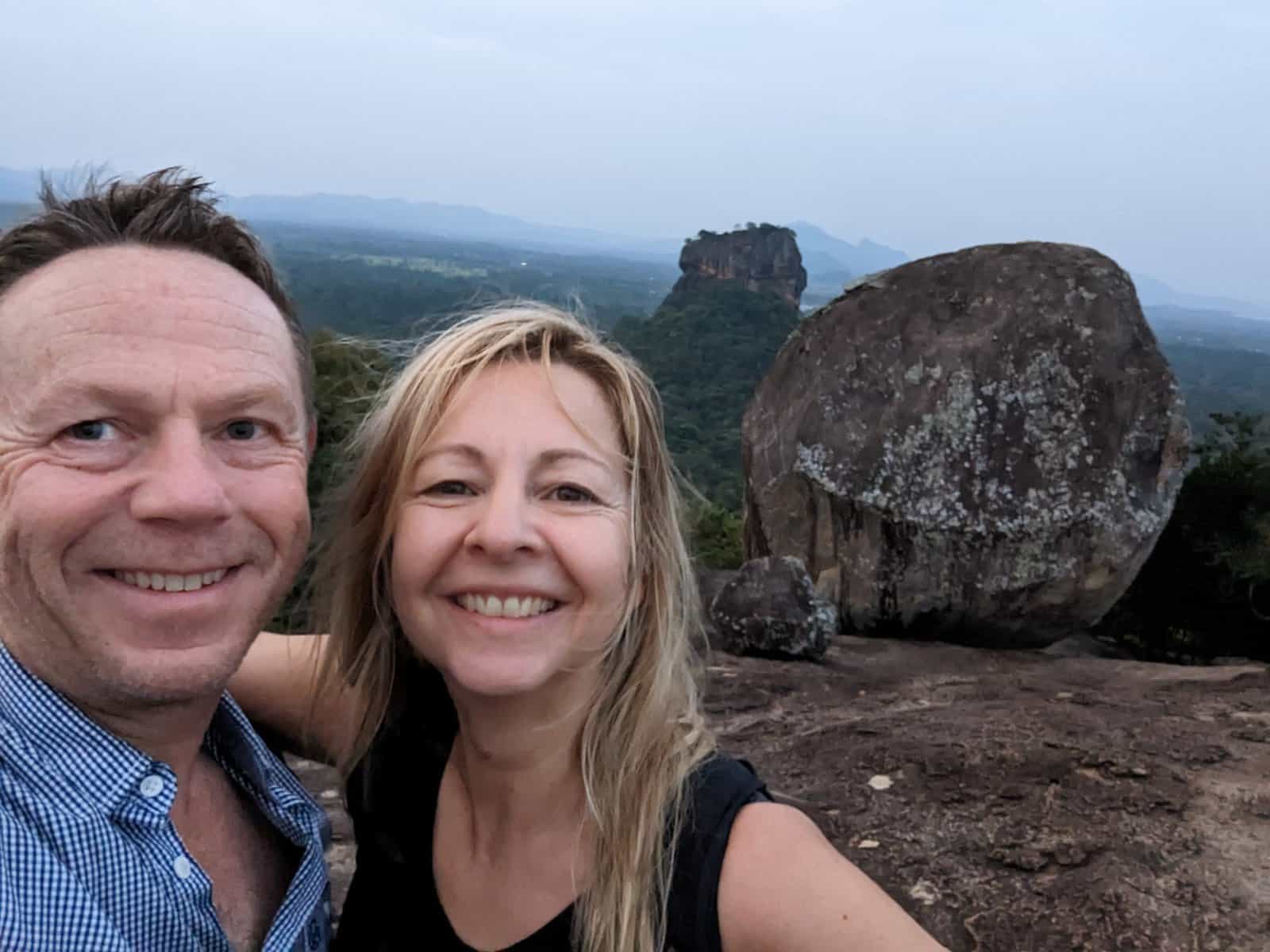 Luckily, a local showed us a slightly easier route to get back down. It still involved going under the massive rock, but not as treacherous.
By 6:30 AM, we were back at ground level.
We headed back to the hotel for a much-needed breakfast.
Next on our agenda was a visit to the World Heritage City of Polonnuwara.
We had a guide to show us around and bikes to explore the area.
The guide was really nice but quite intense and had a lot to say, but it was pretty interesting, to be fair.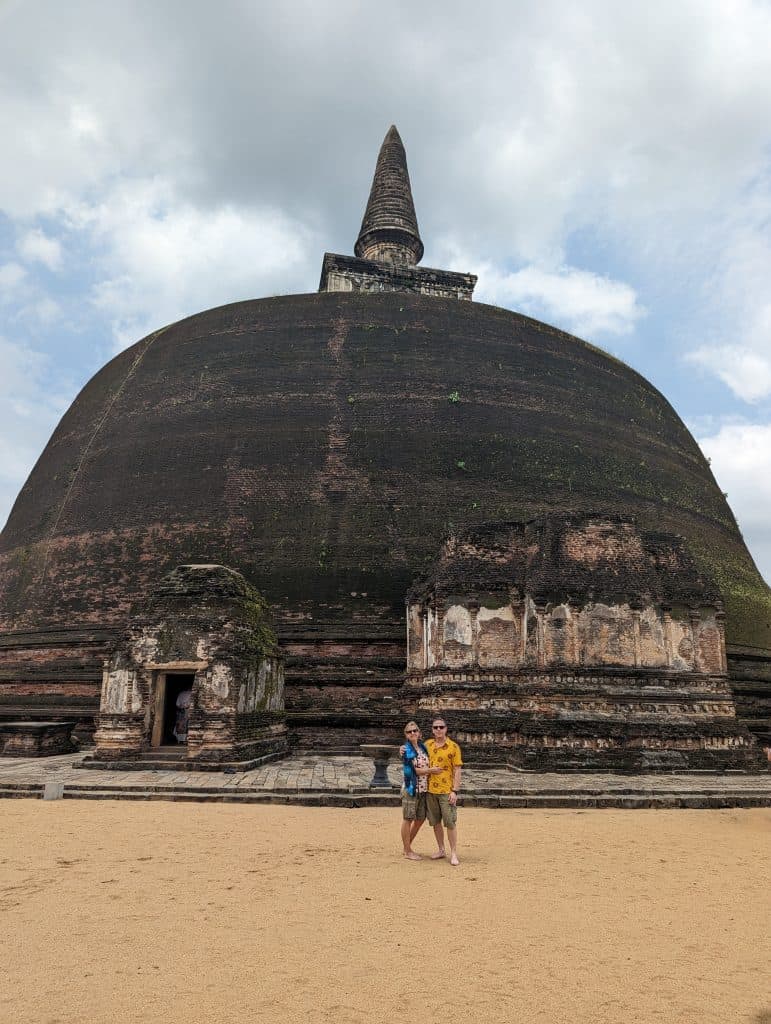 We were joined by two other people, which made the whole thing a bit less intense.
We saw countless temples and statues, including the iconic reclining Buddha.
A Boat, A Hat And An Unusual Gift…
Later, we embarked on a boat trip.
To reach the boat, we hopped on a cart pulled by an ox.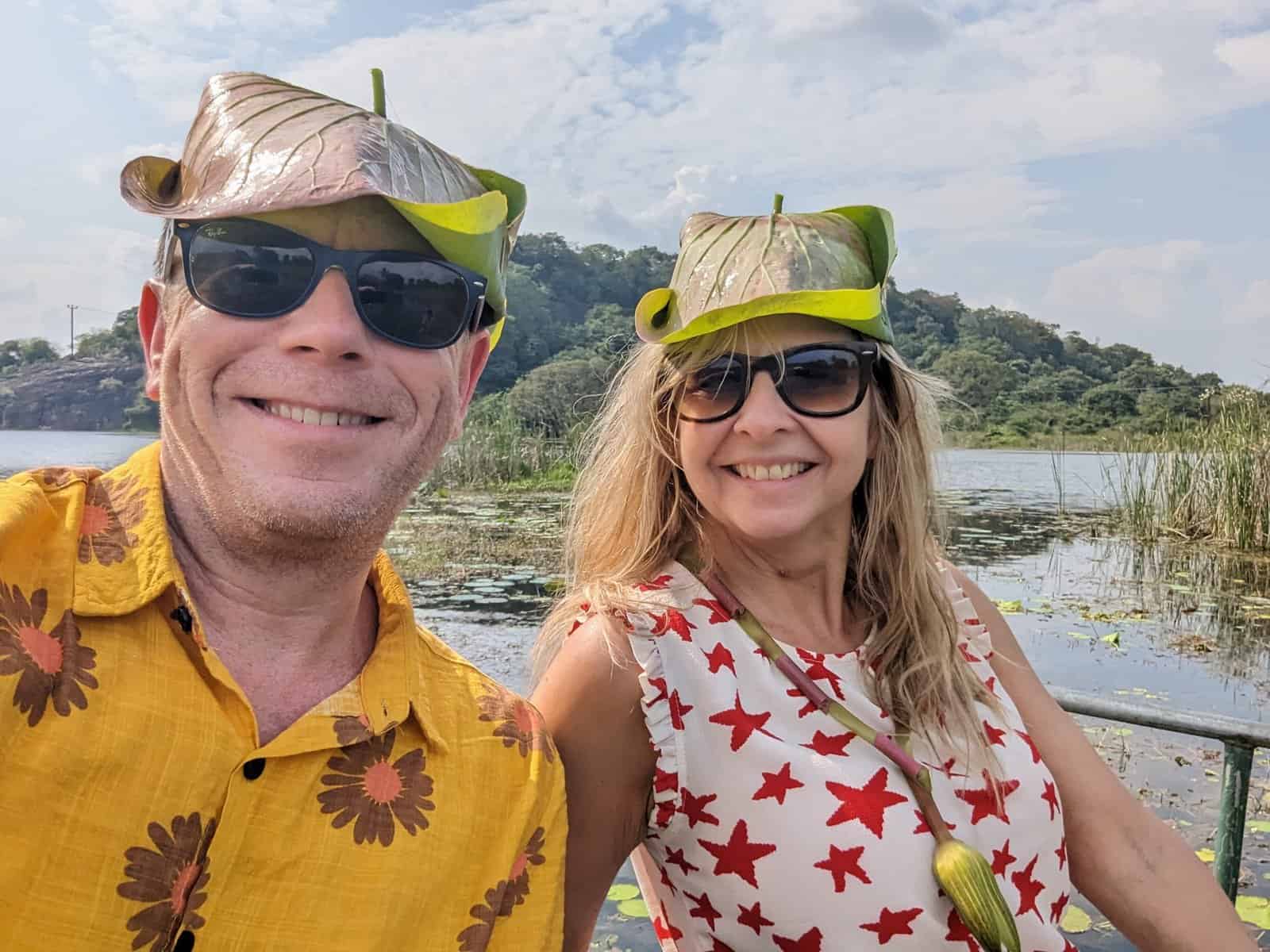 We sailed around a lake, and the boatman even crafted hats for us out of lily pads, making us look like a proper couple of twats!
Then, we met 2 farmers, a husband and wife, who demonstrated traditional cooking in their traditional house to supplement their income.
It was a lot of fun, and they were lovely.
When you leave, the idea is to give them a gift to say thanks for letting you in their home.
The reality is I think they would have liked money…unfortunately for them, they were given a big slab of Christmas cake that we had brought with us especially!! 🤣
After that, we headed back to the hotel and went for a drink down the road at a nearby spot, where you could look at the Sigiriya Rock, knowing we were going to tackle it the next day.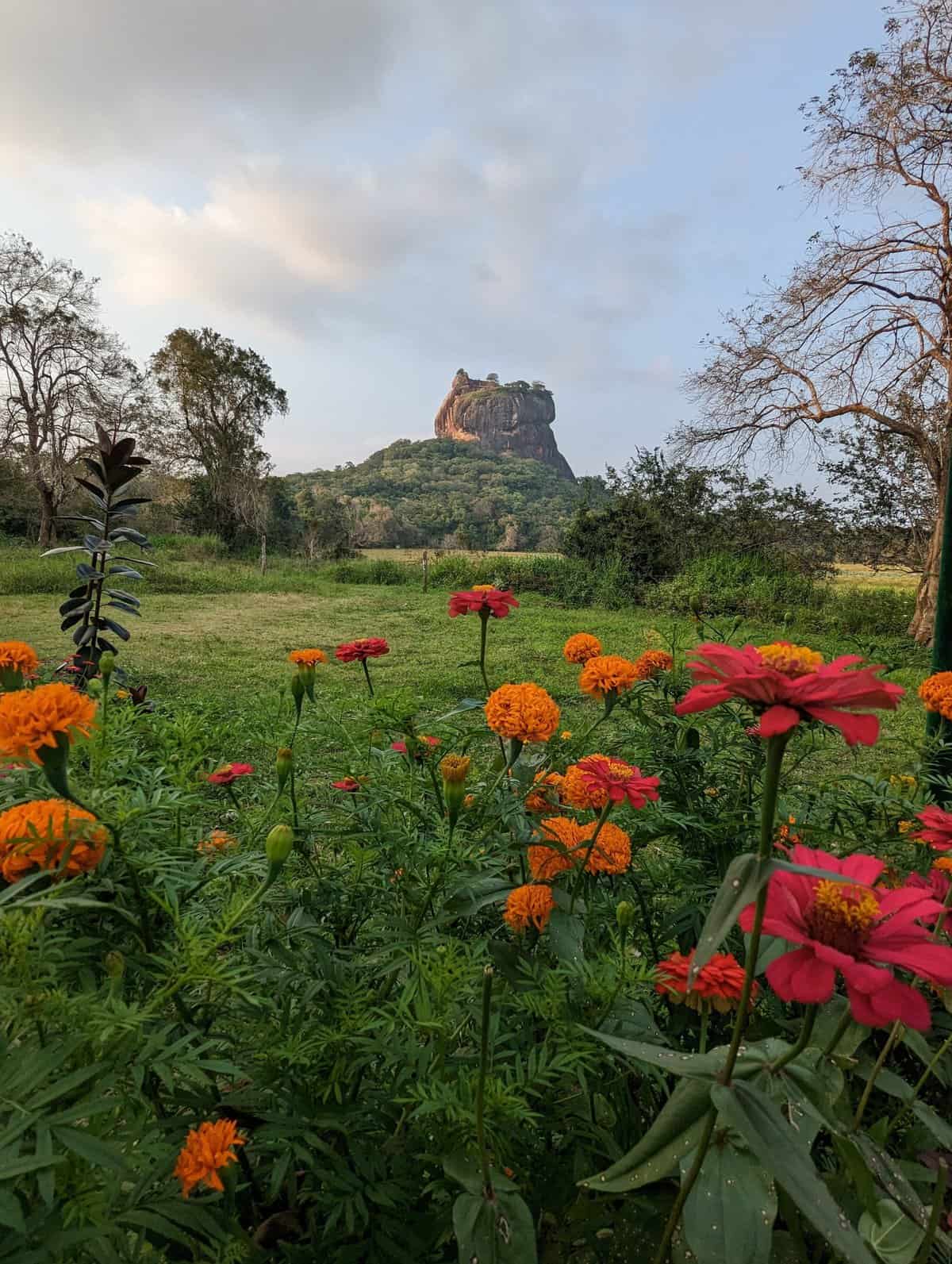 Sigiriya Rock…And Those Stairs!!
Sigiriya Rock was originally a palace built atop a massive rock.
The King who constructed it betrayed his own brother to secure the throne. Fearing revenge, he constructed this palace as a fortress.
The climb up to the palace was fairly easy, with well-built stone steps.
However, the last section was a bastard nightmare!
The stairs were open, metal, and stuck outwards and away from the rock!
I almost chickened out, but I decided to face my fear of heights head-on.
A 'kind' stranger gave me a helping hand and encouraged me to keep going.
As we reached the top, he wanted me to tip him, so I gave him some money, and the cheeky twat said that my tip was a bit light!!!
So I ended up having to give him some more as I literally couldn't take the shame!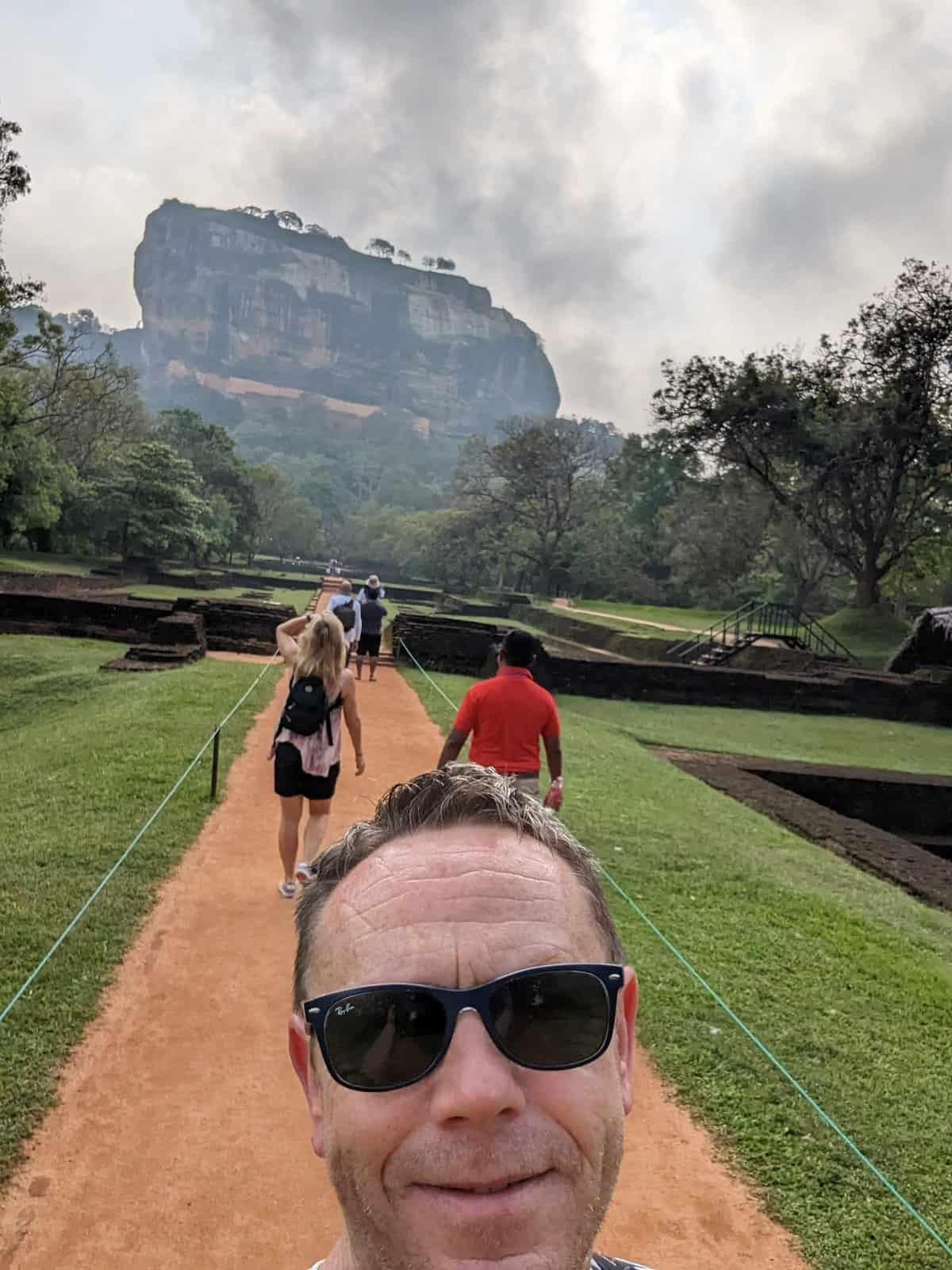 The view from the top was impressive.
The top had lots of outlines of where the buildings were in the past.
We also saw the rock we had climbed the previous day.
Sadly, the cloudy weather denied us the pictures we were hoping for.
Eventually, the time came to descend.
Oh shit!
As we had walked around the top I was always acutely aware that there was no other way down than the way I went up!!
I hurried down those stairs, gripping tightly and keeping my eyes glued to each step.
I was immensely relieved once I reached the bottom.
Caves, Snakes, Orange Coconut…& An Indian Festival…
Our next destination was the Dambulla Royal Cave Temple, a site filled with countless Buddha statues in various poses.
From standing to reclining, the temple was adorned with paintings on every surface – walls, ceilings, and floors.
The temple itself was built within a cave, which was pretty impressive.
We also witnessed a snake trying to steal some bird's eggs whilst the parent birds tried desperately to guard the nest.
It was quite traumatic to watch!
After our visit, we had the opportunity to try an orange coconut (not a euphemism!!), which was nice.
We came across a grand Indian festival on our way to our night's accommodation.
Intrigued, Budhika parked up and went to take a look at the festivities. It was very impressive!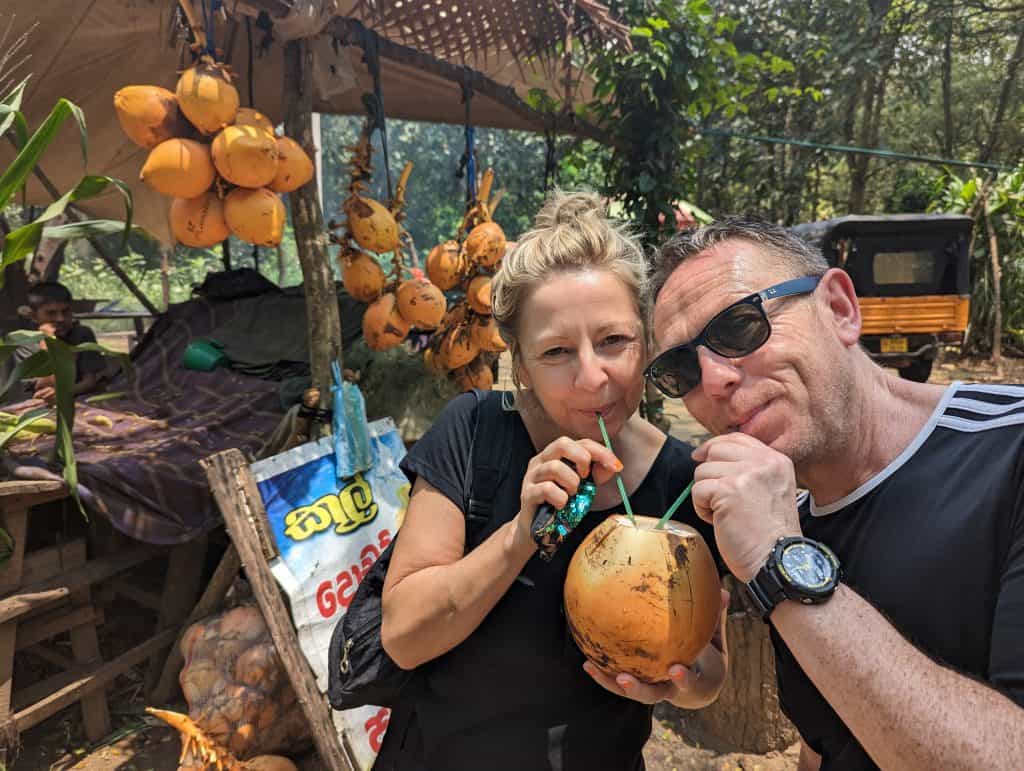 Topaz, Sapphires…And Flowers
Eventually, we continued our journey to Kandy, our new destination & hotel.
One of our favourite hotels on this trip was the one in Kandy – Hotel Topaz.
Not only did we have a fantastic view, but it was also really windy there, making it really atmospheric as we were quite high up & the windows rattled.
This is where we started having curries for breakfast.
The next day, our first stop today was a World War II graveyard, which was very well-maintained.
After that, we did our jewellery stop, which initially we were massively sceptical and really not looking forward to – Tiesh by Lakmini.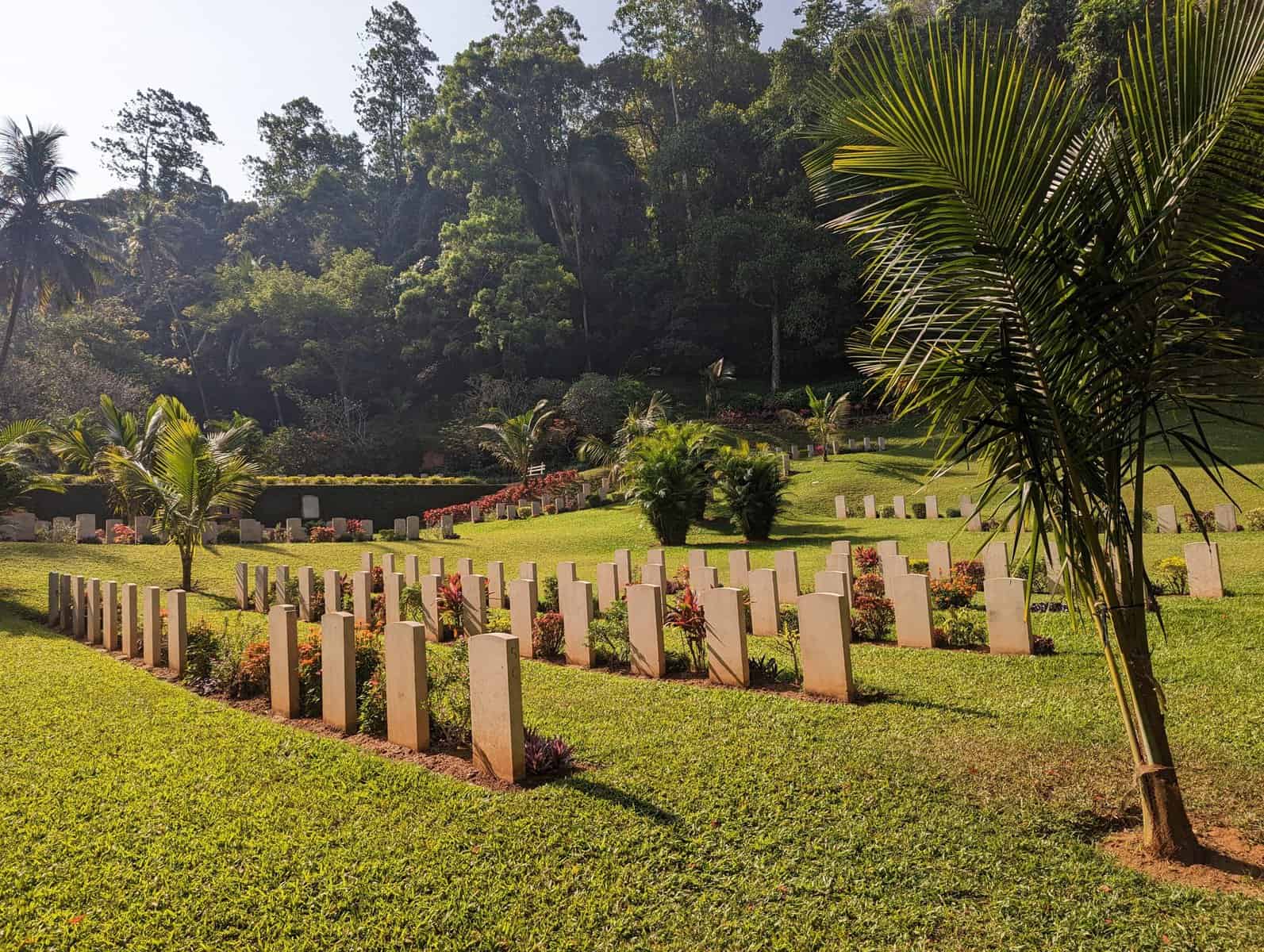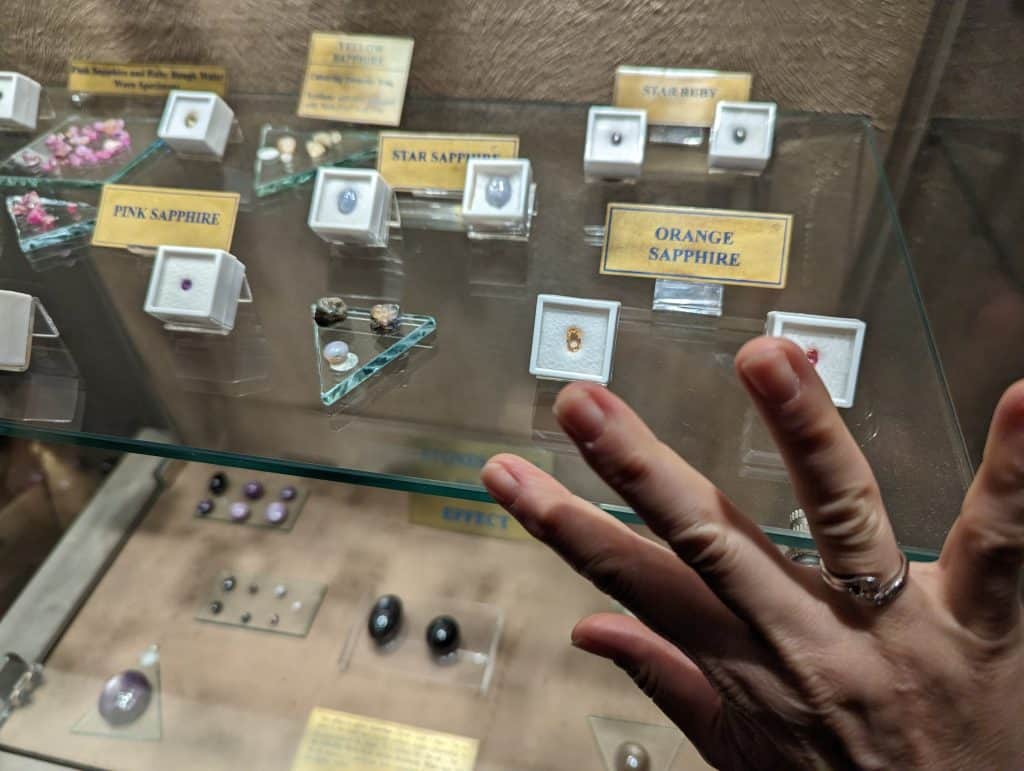 The short video he watched was utterly awful and did not help our scepticism.
We were guided around their museum and learned about the different types of gems, including the surprising orange sapphires.
This was actually really interesting and a real game-changer in the experience.
This eventually led to me buying a silver ring with an orange sapphire for Lisa.
I became intrigued by a stone called Ekanite purely because it sounded like something out of a science fiction movie.
Leaving the jewellery store, we proceeded to the Peradeniya Botanical Gardens.
We were left here for a couple of hours to explore.
The first thing we found was a dead turtle in the lake surrounded by its babies!! Ahh, good old Mother Nature!
Then we wandered and wandered and unfortunately discovered the best part of the gardens just 15 minutes before leaving.
We returned to the jewellery shop to pick up Lisa's resized ring and continued our journey to a massive Buddha statue.
Before climbing up the statue, we received a blessing and were gifted a small string bracelet after he kept repeating what sounded like "a massive eye, a massive eye, a massive eye".
Kandy, The Tourist Show & Buddha's Tooth…
Our next stop was the tourist show in Kandy, which turned out to be better than we anticipated.
It was no 'Game of Thrones', but less shit than we were expecting!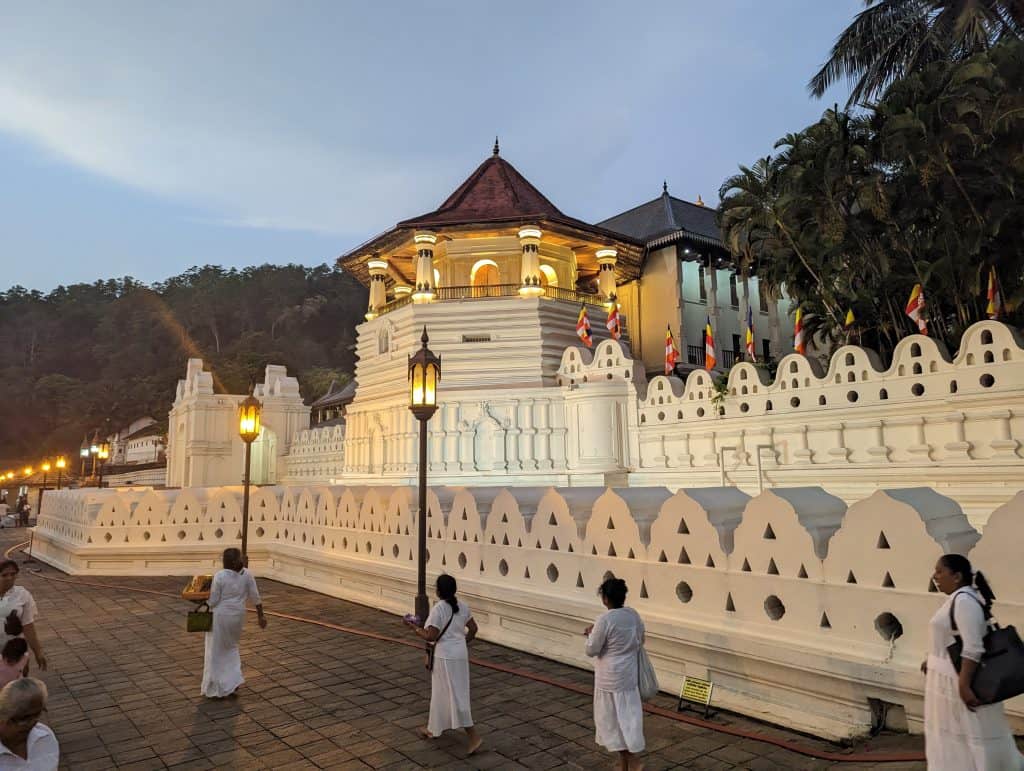 Following that, we visited the Temple of the Tooth (Sri Dalada Maligawa), where we observed hundreds of people attempting to catch a glimpse of Buddha's tooth through a small hole.
This is also where we discovered that Buddhism has its own flag (that we now own a couple of).
Finally, we made our way back to Hotel Topaz.
Sri Lanka And Craft Beer…
As a side note, it is worth mentioning the booze situation in Sri Lanka.
In terms of beer, like a lot of the countries we go to, there is no craft beer scene! – It is basically lager! In Sri Lanka, it is Lion Beer.
One positive here is that Lion also makes their own stout, which comes in at 8.8%, so is effectively like an Imperial Stout, similar to the Export Guinness, and it is not bad! It is certainly not £12 a can!!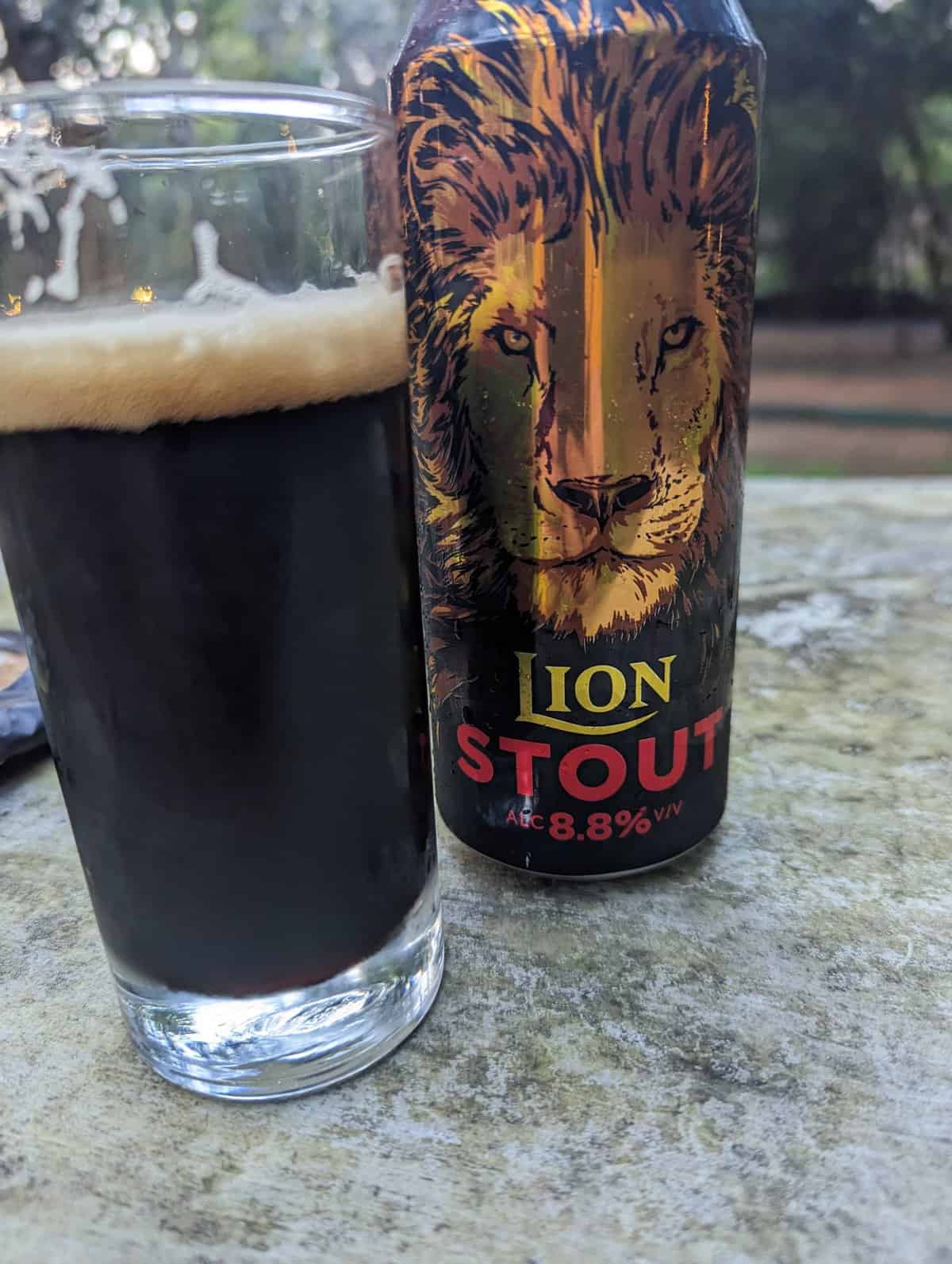 Buying booze in Sri Lanka is not a 'free-for-all' like a lot of countries. It can only be done in certain places:
Pubs – We only went to a couple on our trip. They reminded me of working men's clubs here in the UK. They were basically drinking dens, filled with blokes and not overly enticing!
Supermarkets – Again, they have to be a decent size, and they have a counter at the back of the shop that sells alcohol. Corner shops do not sell booze.
Alcohol Shops – Basically an off-licence that sold nothing else. But their off-licences had bars up, and you could not enter them. You just talked through a small hatch, which is where they passed you the beer!
Restaurants – There is no guarantee that they will. Quite a few of the local restaurants we ate in did not sell beer, but they did not mind you bringing your own (we always asked).
So, on quite a few occasions, we just bought a couple of cans and then went to a restaurant and drank them with our meal, making what was cheap eats already even cheaper!
Tea, Cake And Served By A Rock Legend…
The next day, we headed to Ramboda to visit the Damro Tea plantation.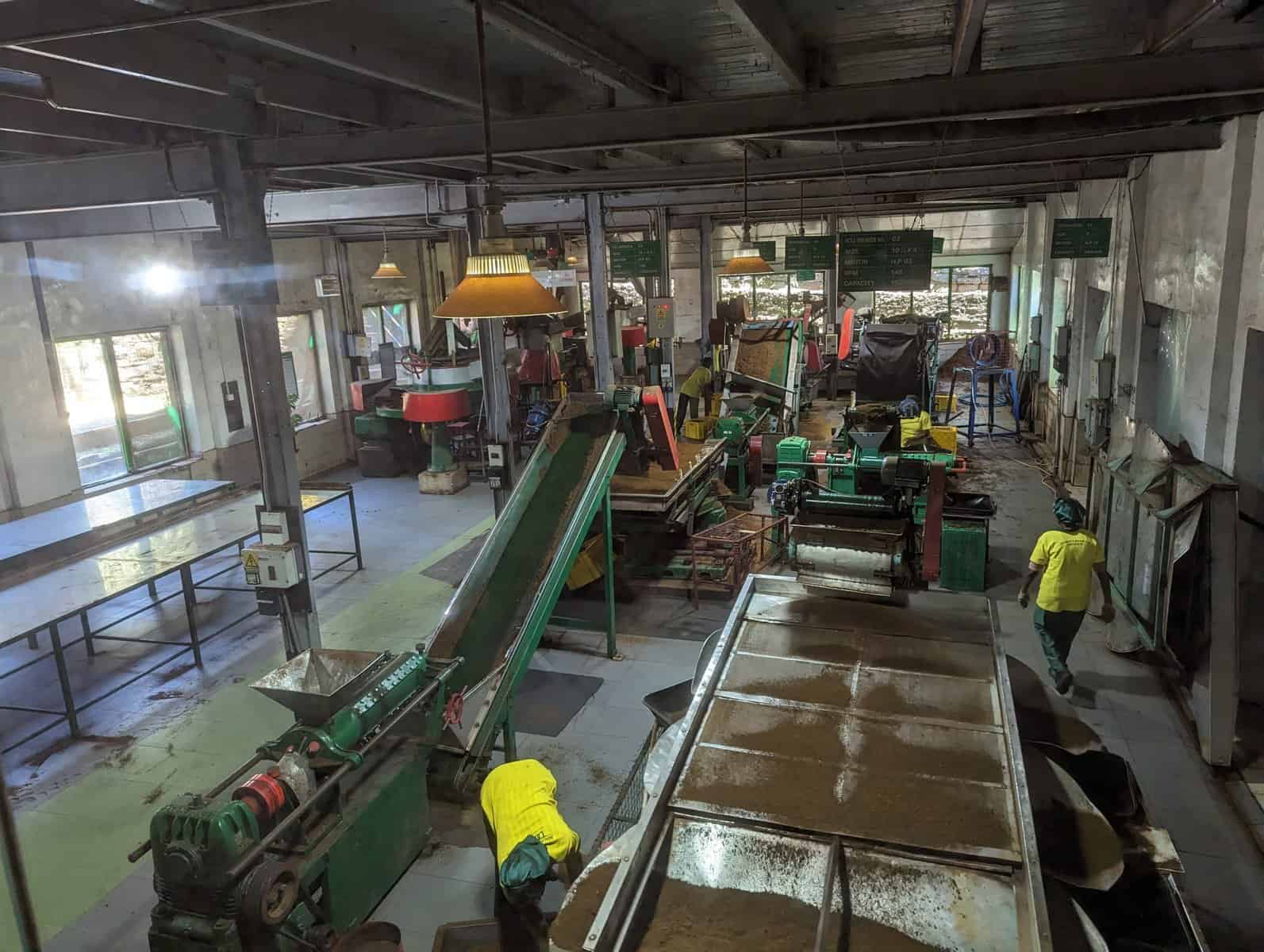 We had a knowledgeable guide who showed us the tea-making process at the factory.
Afterwards, we had a cup of plain tea in a room that seemed full of wasps!
Needless to say, I bought some strong tea which is sitting in a cupboard unused!
Next, we went to a viewpoint.
A nice idea, but alas, the viewpoint was surrounded by old shitty buildings, which unfortunately got in the way of all the pictures!
Our next stop was Nuwara Eliya, where we stayed at a charming guest house.
We visited the Grand Hotel Nuwara for afternoon tea, but instead of sitting inside with others, Lisa requested to have it on the lawn, which was so much better.
The afternoon tea was actually pretty good & nowhere near as expensive as we thought.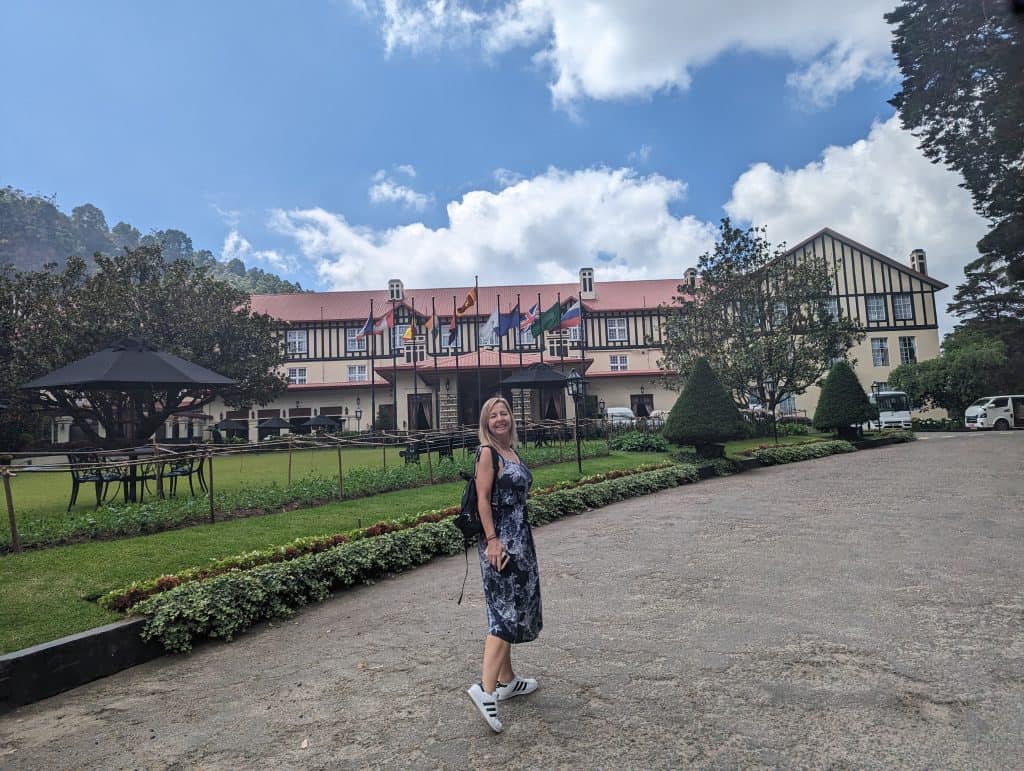 We explored the bus station, filled with colourful buses.
That evening, we had a meal in the hotel where the young guy who served us looked like 'Prince' and wore white gloves as you get at very posh restaurants…except his were woolly!!
It was quite off-putting.
I was made worse by the fact that we were the only ones eating & he just stood near us, white gloves ready & waiting to serve! Bless him.
The following morning, we had a huge breakfast with pancakes, fruit, eggs, sausages, and constant service from Prince in his woolly gloves!
The Ceylon Railway And Prime Seats…
Our next adventure was catching a train from Naya to Ella.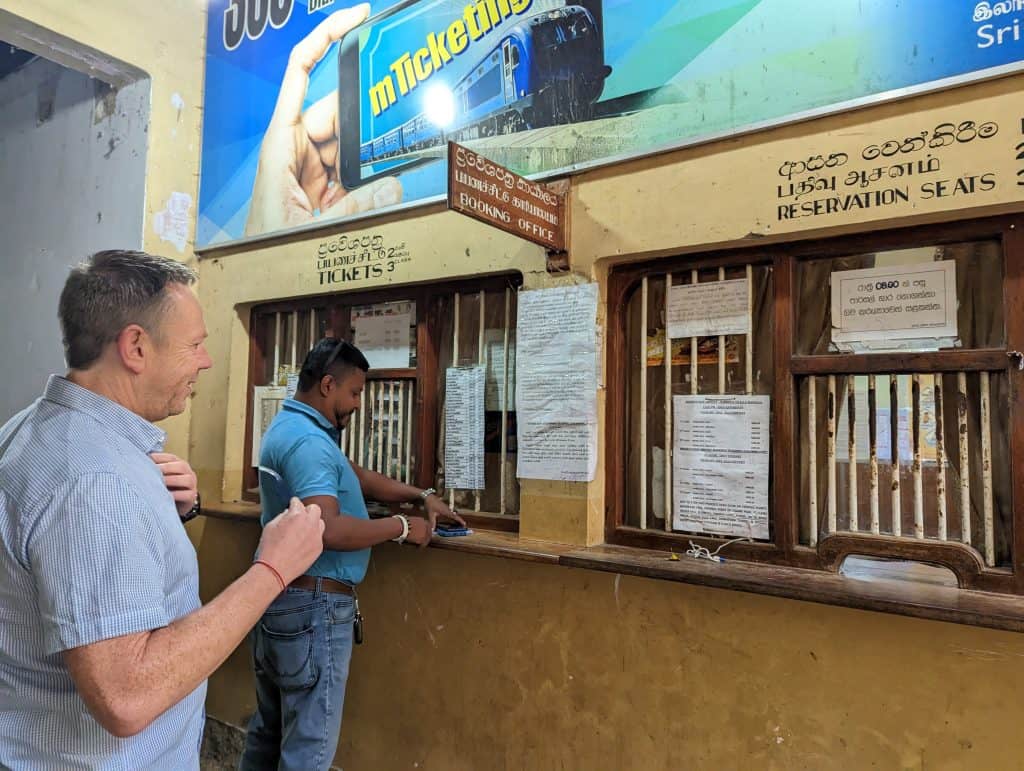 We were fortunate to have tickets for the rear window seats in the back carriage.
We enjoyed the picturesque views of forests and had the freedom to sit on the steps or lean out off the train, although it was a bit daunting and like 'Health & Safety' gone mad.
Lisa didn't really seem to give a shit and was happy sitting on the step & swing about in the doorway!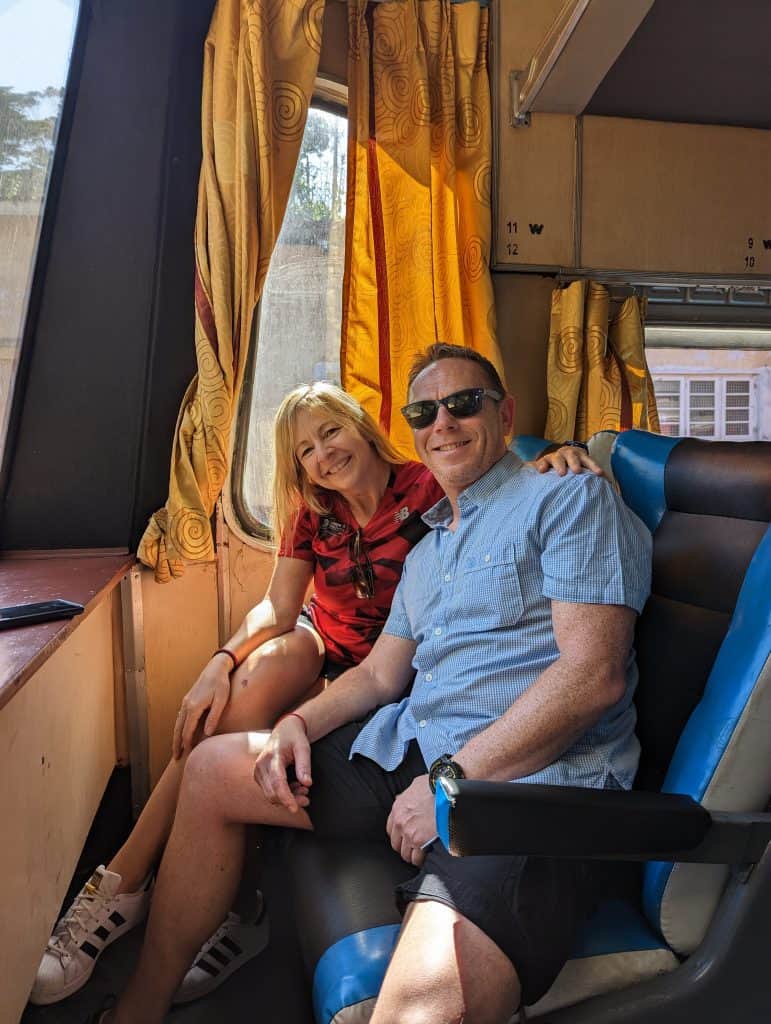 We had a delay of an hour due to having to wait for another train coming the other way.
I thought Thameslink were bad!!
We crossed the famous Nine Arch Bridge to see all the people waiting to watch the train.
Luckily, Lisa realised at the last minute that we were leaning out the wrong side of the train to see it, and we quickly switched sides!
The Tourist Train And A Death Wish…
We then arrived in Ella, where we had a beautiful view and had a quick beer before walking to where we saw all the people on the bridge so we could also witness a train going across it.
We witnessed a 'tourist train' which actually stopped on the bridge so that all the people could get off to take pictures.
This included a couple of absolute twats posing for Instagram photos while hanging off the train and then standing on the Bridges side!…where the drop is just ridiculous!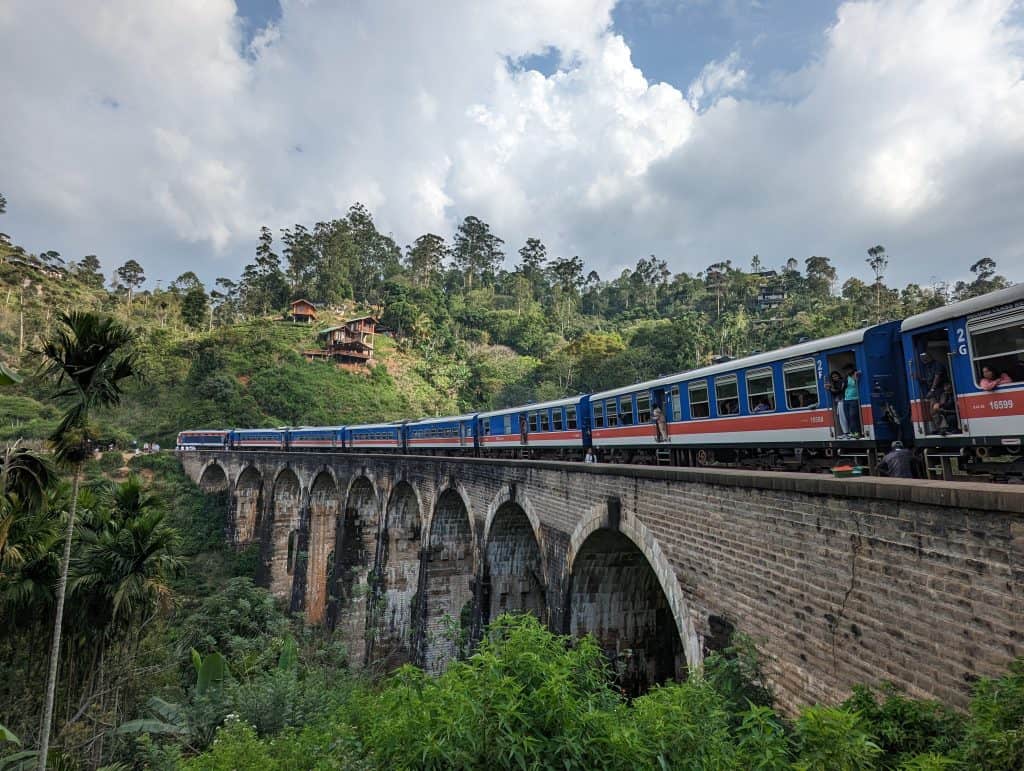 After seeing the train leave, we returned to our hotel.
In the evening, we wandered into town and stumbled upon an authentic restaurant where Lisa discovered Kottu, a delicious dish of meat, bread, egg, and onion.
This was one of the places we bought a couple of cans from the Booze shop & took them to the restaurant (BYOB). They were more than happy with this and gave us glasses.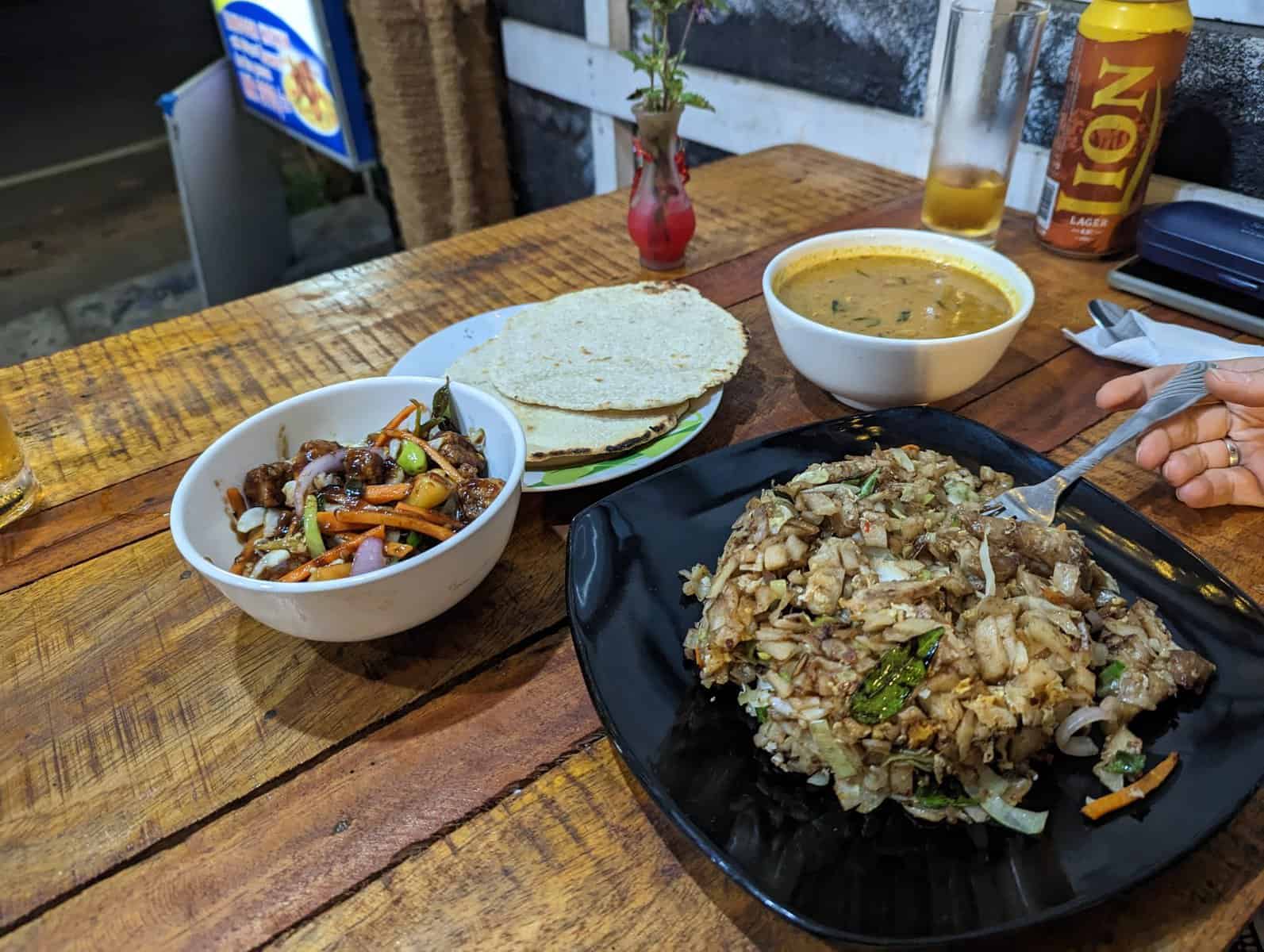 One Ella Of A View!!! (See what I did there!?)
To prepare for our early morning hike up Ella's Rock, we went to bed early.
In the morning, we were picked up at 4:45 AM!! by a guide in a tuk-tuk, and off we went to Ella's Rock.
Lots of people walk from miles out and go all the way to the top. Sometimes it takes four hours.
Luckily for us, the guide took us quite a way up, so the climb that we did was about an hour, which was pretty okay, quite steep at times.
Then we got to the top.
Unfortunately, like we already knew it was going to be, there was absolutely fuck all sunrise!
It was totally cloudy.
We sat, waited for it to go light, took some pictures, and then came back down again.
The main highlight was actually walking along train tracks in pitch black, except for the light from your phone.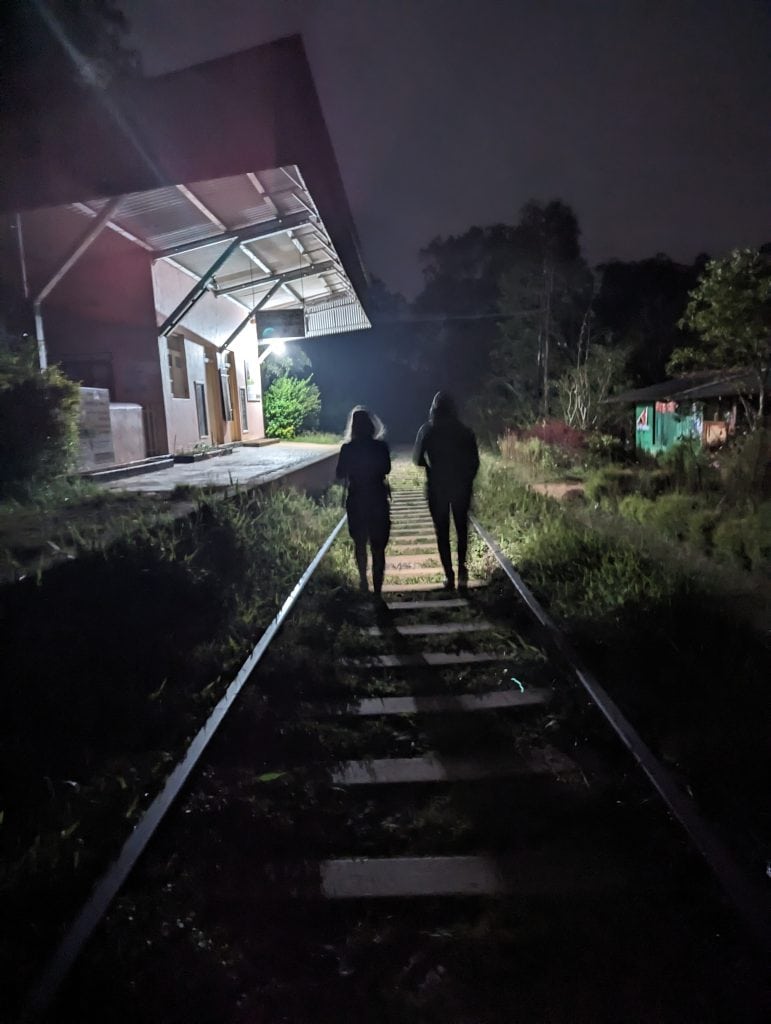 So we were back down about 7:30 AM, where we went into the hot tub and took a couple of beers with us & basically sat and relaxed whilst looking out at where we'd just been.
Then we had breakfast.
At this stage, we just wanted curry, so we had curry for breakfast, which was lovely.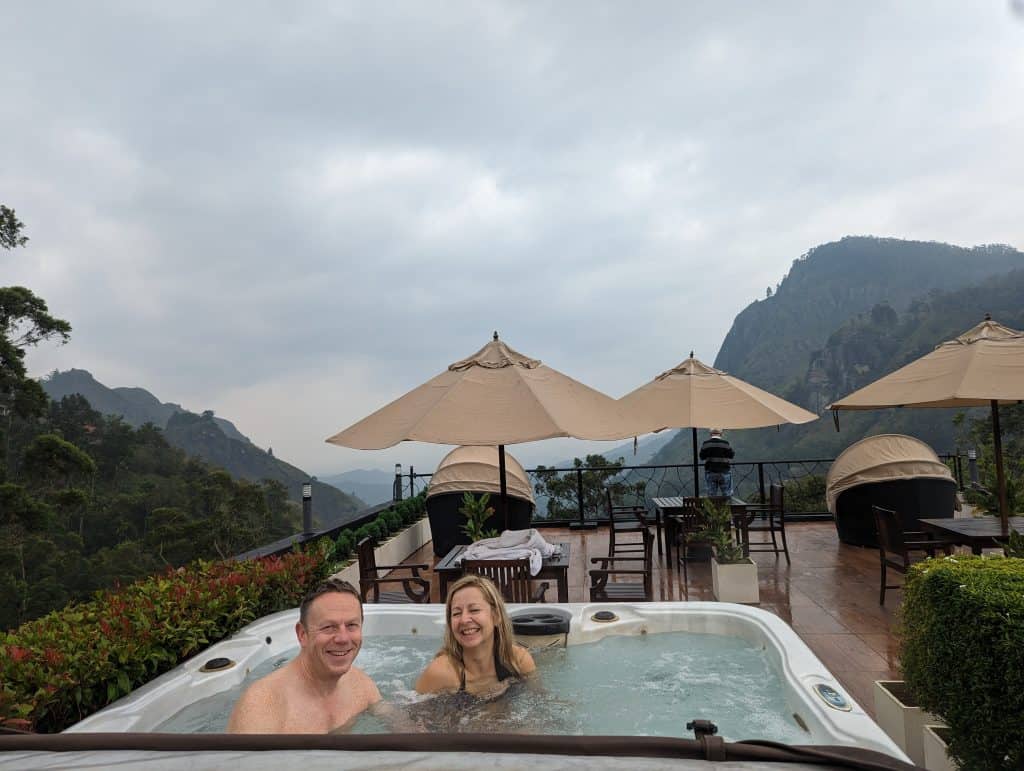 We were picked up and taken to a waterfall and then on to our next accommodation, which was basically in a safari park and only had four rooms.
A Leopard, Red Rock And A Shit Blowhole…
We then went on a safari, which, in the first ten minutes, basically saw the holy grail, which was a leopard that came out from a bush and walked straight across in front of us.
That was it, absolutely amazing.
The rest of the safari was pretty boring. Nothing was going to beat that.
Then we went back to the hotel where they set up our dinner outside, which we thought was mental as we expected we'd be absolutely covered in mosquitoes, etc.
As it was, it was absolutely gorgeous.
No mosquitoes and the food was really good. It was an absolute pleasure.
It turned out that the reason the food was so nice was because the chef at The Rock Wild Yala Hotel used to be the chef for the President or the Prime Minister!
Given that information, the next morning, we asked for and got a really nice curry for breakfast.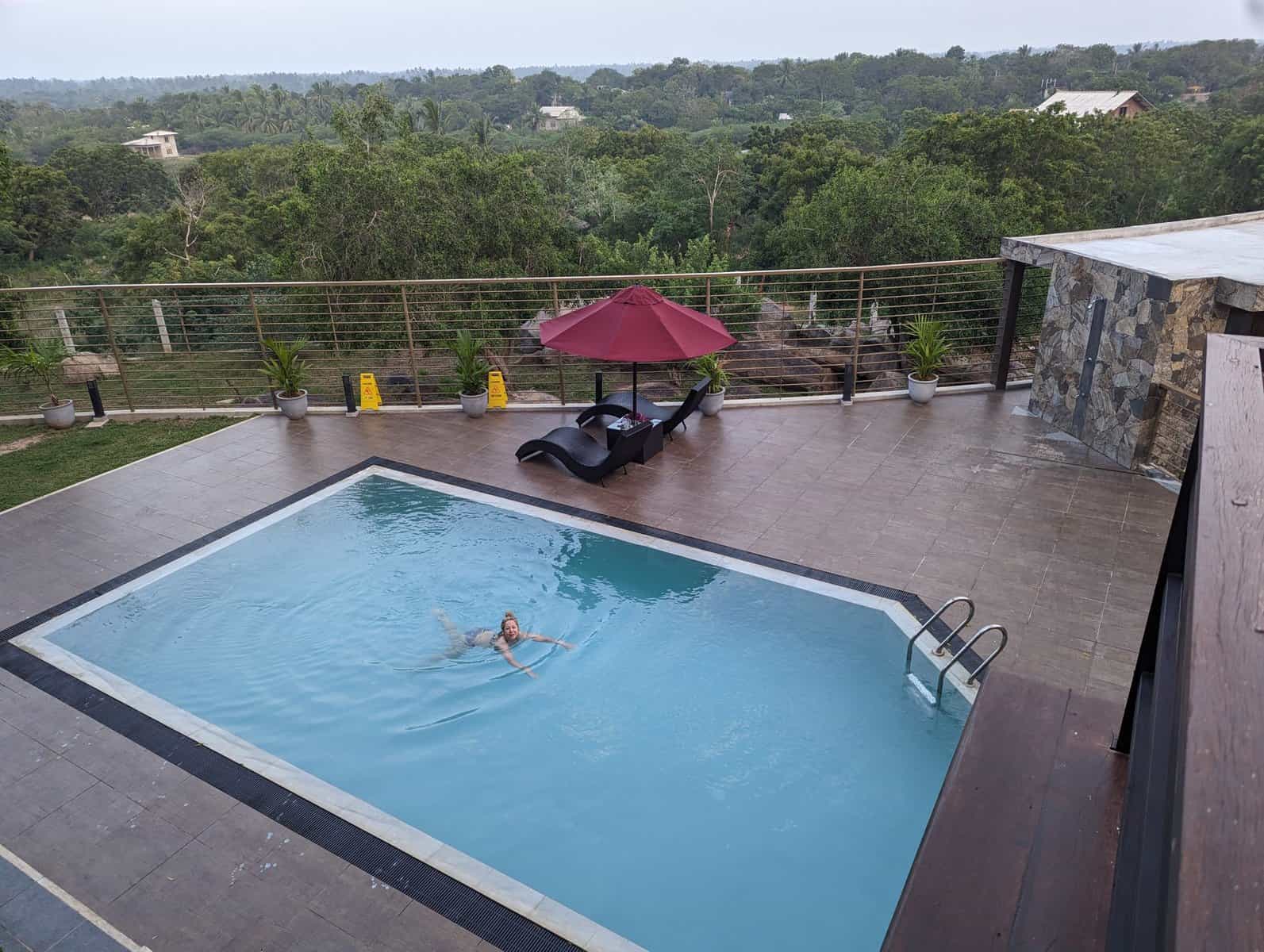 Then we went to a place called Usangadoa National Park, which is like a massive area of red rock.
It's a bit weird.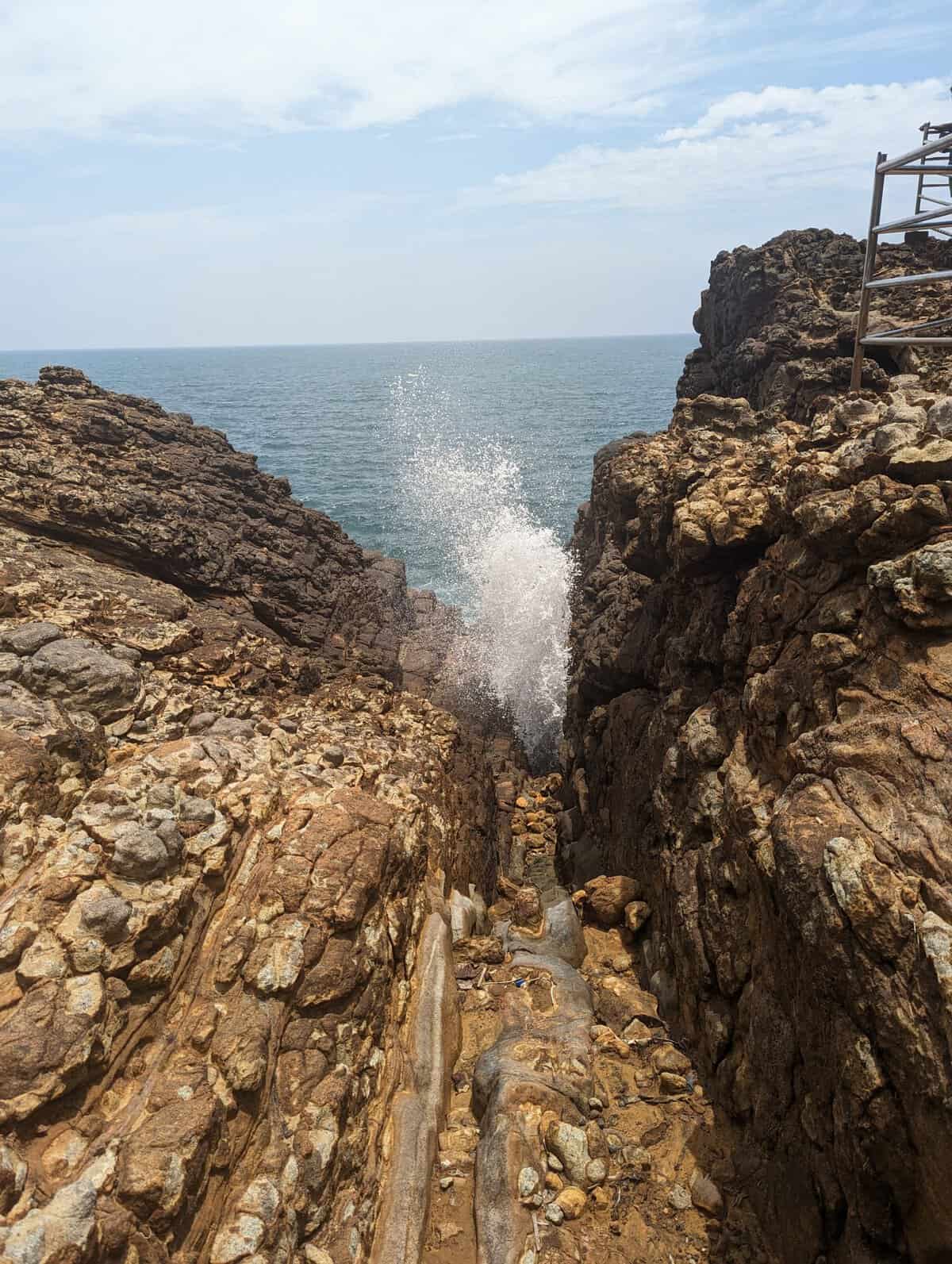 Then we went to see a blowhole which was shite as the sea was very calm.
Then, onto our accommodation – Dickwella Resort & Spa, which was on the coast for 2 days.
A Life Tickbox…
The next morning, we were picked up early and went on a trip, which was something I was really looking forward to.
Whale watching.
Well…
What an absolutely massive bag of wank that was!
Bless them, the crew were desperate for us to see a whale, but as with anything nature-based, you really are in the lap of the Gods & Lady Luck.
Both, unfortunately, had gone AWOL.
We went out for hours and basically saw fuck all.
We saw some dolphins.
We saw, in theory, a whale, but it was basically like an overweight dolphin, but it was miles away.
It was utter shite.
Some poor woman was throwing up within five minutes of us going out to sea and was just having an absolute nightmare.
Over 3 hours later, I went to go to the toilet about half an hour before we got back to shore, and the same woman was in the recovery position on the floor on the deck below with her husband sitting on a seat next to her with his head in his hands.
The worst four hours of their lives!!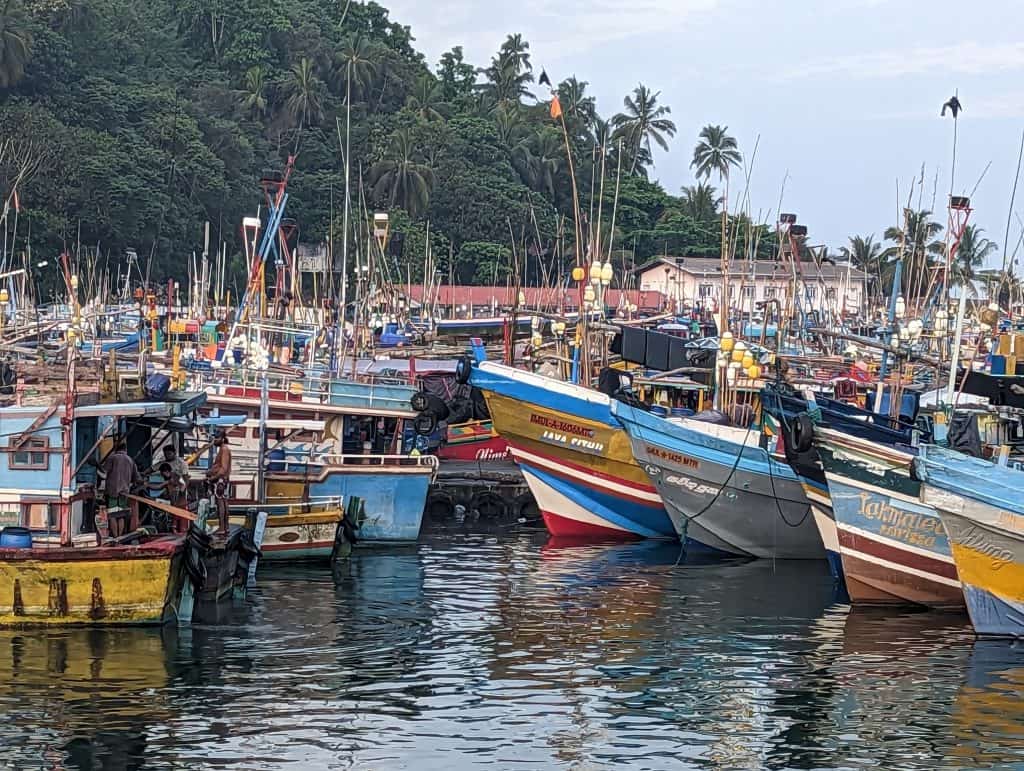 By the end of it, the crew were so desperate for us to see a whale they kept saying shall we just stay out for 15 minutes more.
Everyone, through gritted teeth, was saying okay.
This kept happening until, in the end, some bloke just stood up and said, "NO!!"
He said what everyone else was thinking, "Please get us the fuck out of here!"
You've tried your best, but this is like flogging a dead horse.
I've got so many videos of fuck all!
You are just filming in the vain hope that something is going to happen.
It didn't.
Anyway, we got back to the resort, went for a long walk along the beach and then found this little local place and had some fantastic (& very cheap) food! (BYOB – Bring Your Own Booze).
Back at the resort, we tried playing crazy golf on the worst crazy golf course ever!
It was SO shit!
It didn't stop us from trying, obviously!
It was totally overrun with ants, and it was impossible to play.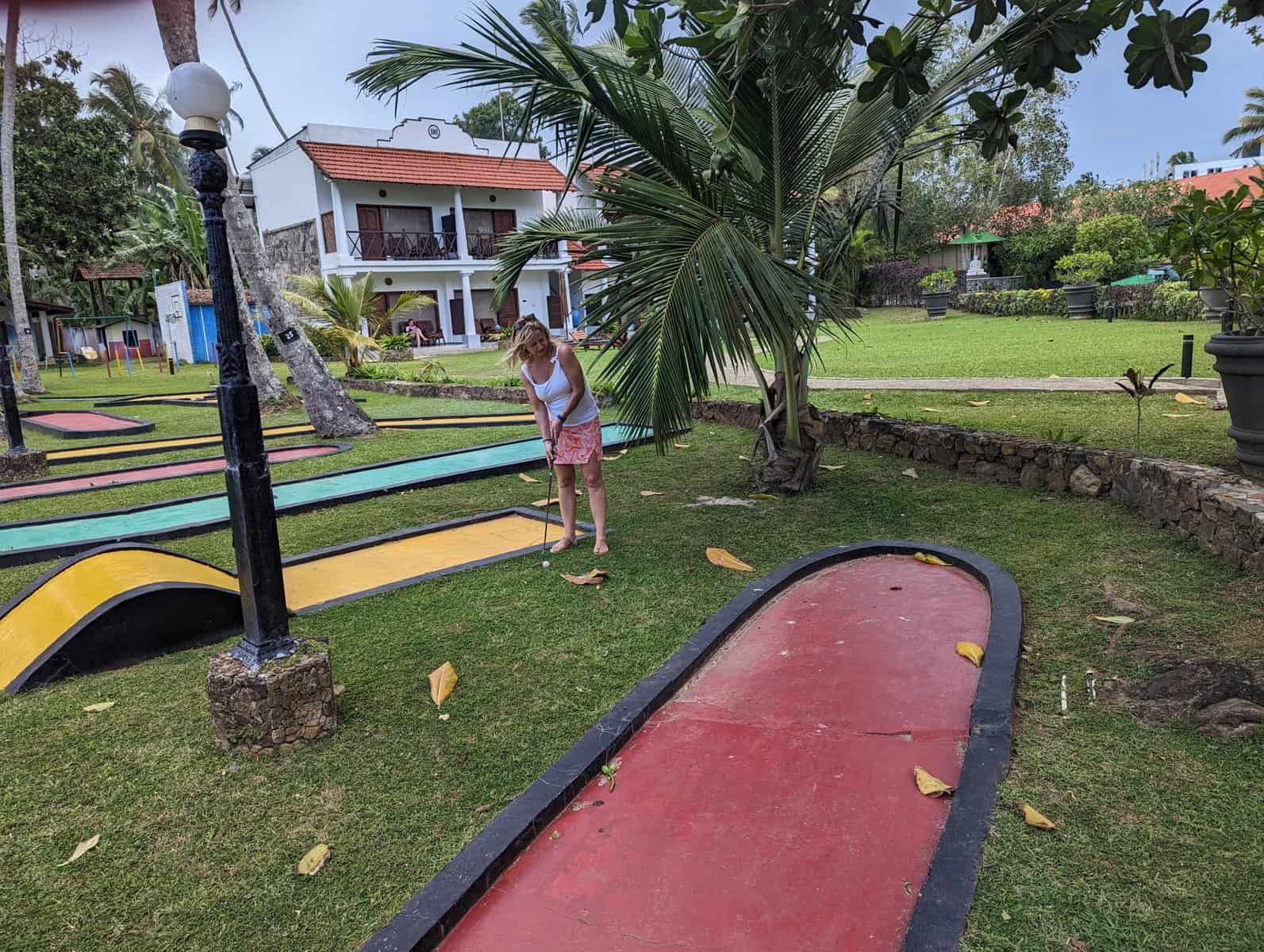 The next day, we went to Dondra Head, which was a big lighthouse at the southernmost point of Sri Lanka.
Then we went to Coconut Tree Hill, which is basically like a little outcrop surrounded by coconut trees and looks over across a bay. It's very pretty.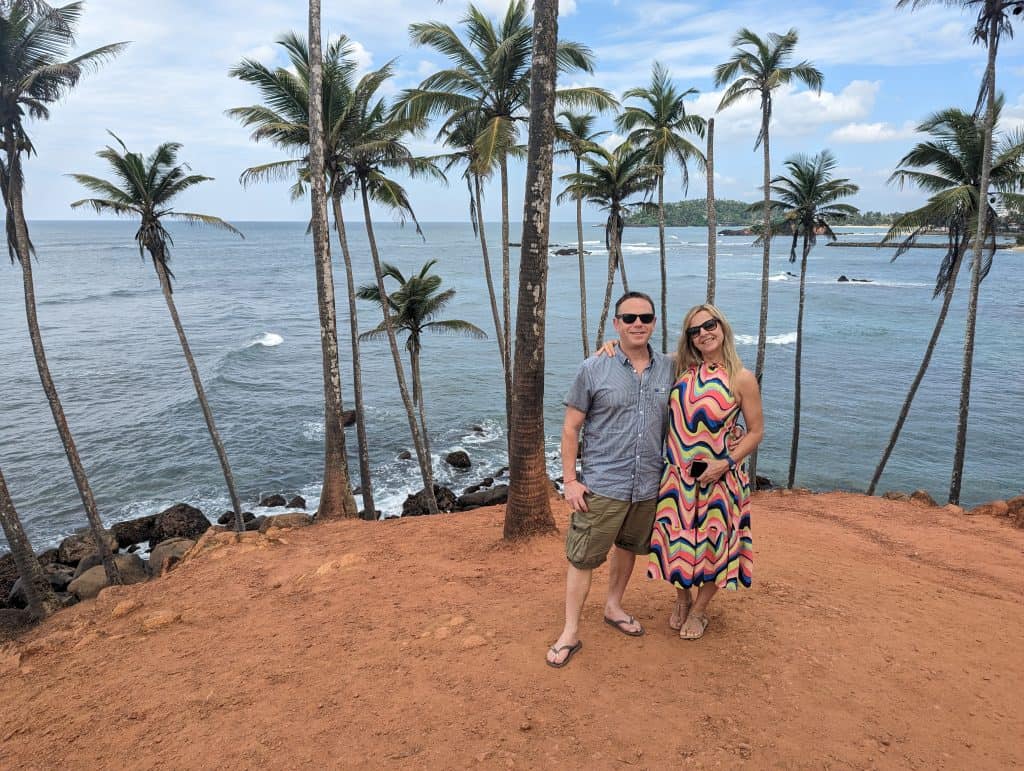 Then we went to Galle, which is a maritime fort and where the International Cricket Ground is.
We wandered about and bought our Ceylon Government Railway poster.
A Water Safari…
Then we went on basically a water safari.
We went through mangroves.
Some bloke did some stuff with cinnamon leaves and made a stupid hat that I put on.
Then we went to another place that was absolutely full of Buddhas, including some weird Buddha, which was basically all black and looked like he'd died of starvation, which I'd never seen before.
Then to a place that had those fish that nibble at the skin on your feet, but these were fucking massive. And when you dropped in pellets they went absolutely crazy, which is pretty funny, to be fair.
We also saw a really cute little puffer fish that squeaked.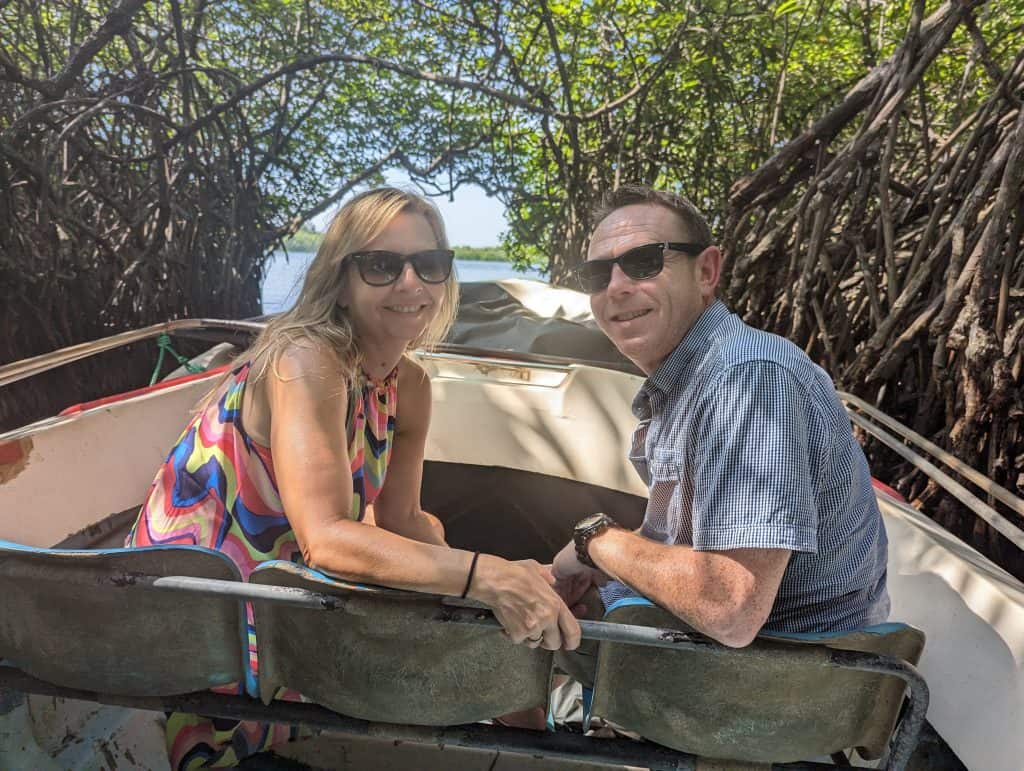 After leaving here, our next stop was a turtle sanctuary.
And then on to our last accommodation, where, for some reason, we got the honeymoon suite.
The place was absolutely full of Russians.
This wasn't that long after the Ukrainian-Russian war started, so it felt a bit bizarre.
The final day was pretty much a fill-in day to tick boxes and us up time before the flight.
We travelled to Colombo, where we went to see Independence Square.
We went to the Gangaramaya Temple, which is actually quite cool. It's stuffed with very colourful Buddhas.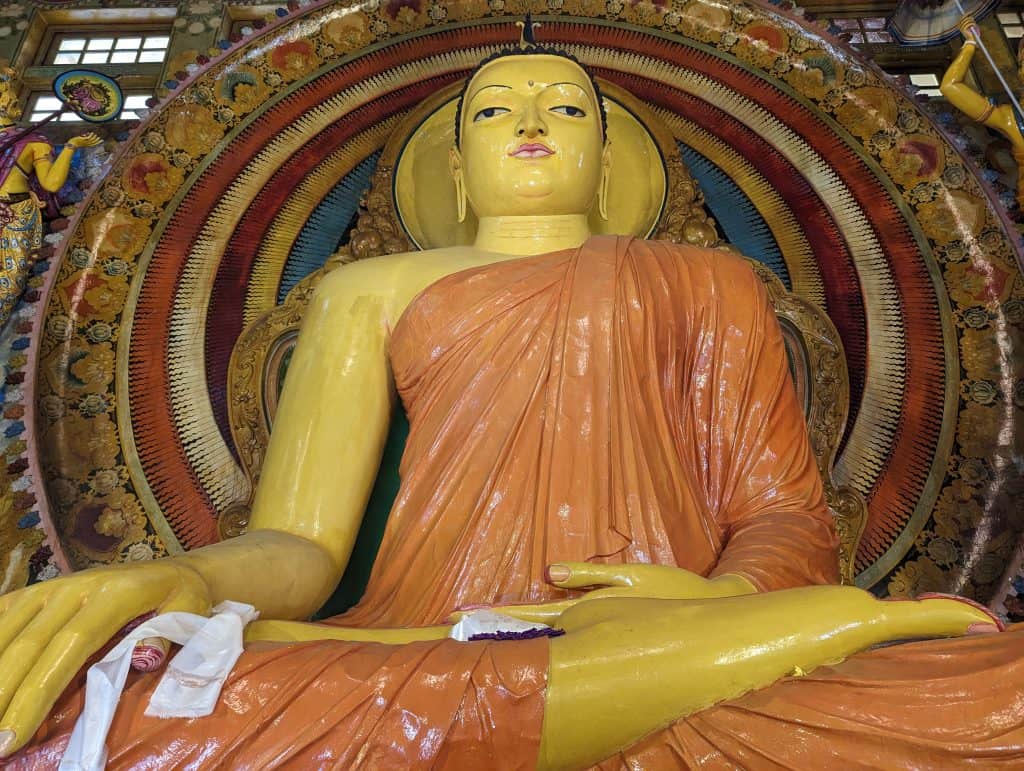 Then we were headed for something to eat, where we found a local place, and we had Lisa's favourite, Kottu, which we actually ordered massive amounts!
We sat and ate that, and then Buddika dropped us off at the airport.
And that was it.
That was our tour of Sri Lanka, which was superb.
Very well done. Thoroughly enjoyable. What a lovely country!