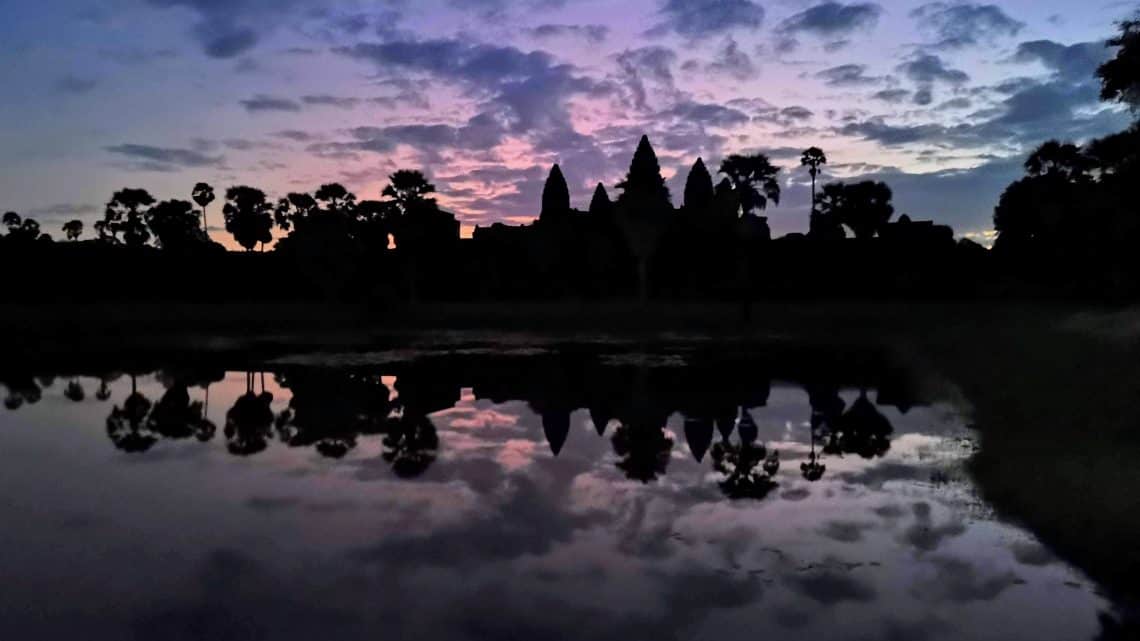 Cambodia #1- Siem Reap – Travel, Tours, Temples, Craft Beer & More Temples
The trip starts with a taxi to Heathrow. All good.
Disaster strikes when we find that terminal 2 does not ha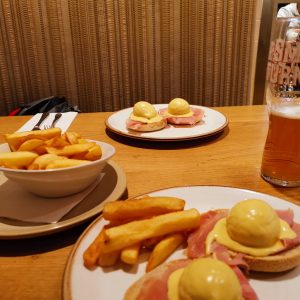 ve a Wetherspoons! – What the fuck!?
We have a routine!
Crisis averted when we discover London's Pride which had a few craft beers on tap & served eggs benedict.
We flew with Thai Airways for the 1st time.
Think we were both impressed with the food, booze allocation & entertainment.
Not the best but not bad.
Need any facts about Cambodia? I have a page here with various Cambodian information & travel details.
Bangkok – How Can They Get It So Wrong?
It was a 12-hour flight to Bangkok where we had to change to get the short flight to Siem Reap.
We have never been via Bangkok before & you would think that it would be pretty slick seeing as it must be one of the busiest airports in the World.
It wasn't.
It was shite!
Everyone had to go through security again & there were SO many flights & just a couple of X-ray machines. It took so long.
It was a real mess. Lots of really stressed & tired people.
We only had an hour to catch our connection & there were lots of people who had less.
We got through with about 10 minutes before our flight was, in theory, taking off.
We ran from one end of the airport to the other. The airport is massive!
We did make it & we did catch the flight but it was proper 'squeaky bum'.
Hello Cambodia! Very Pleased To Meet You
Anyway, we landed & we're one of the 1st ones off & into immigration.
We had already bought our Visa's online ($36) – Here is the official website – https://www.evisa.gov.kh
It was very easy & pulls in a lot of the information when you upload a picture of your passport – BUT –  check the details! it does misread some of it & some of our information needed to be changed 'manually' before submitting.
We flew through immigration – usual picture & fingerprint machine stuff.
Picked up our rucksacks & we were out!
The hotel had organised a Tuk Tuk for us & sure enough, he was outside waiting with our name on a bit of paper.
We arrived a the King Rock Boutique Hotel
Originally, we had booked somewhere else on Booking.com. We had done it a good few months before.
A month before the trip, Booking.com advised us that the hotel had cancelled our booking – WTF!? – we got onto the hotel via Facebook & they said they had fallen out with Booking.com.
They said we could keep the booking (dates & prices) as per previously agreed.
Phew! Crisis averted.
Until a week before we were leaving when we were looking at Google maps etc for various things & came across our hotel which was marked permanently closed!?
We tried to contact again via Facebook – the page had been deleted.
Eventually, Lisa got a reply from a variety of emails we sent, saying it was indeed shut & we need to make alternative arrangements.
They had no intention of telling us.
What utter arseholes!
Anyway, we ended up booking the King Rock Boutique hotel.
King Rock Boutique Hotel Take A Bow
What was great, was it was as cheap as the 'Arsehole Hotel' & because I am a 'Genius Level 2' on Booking.com (not sure how that happened) we get a room upgrade & as it was pretty last minute, we got given the honeymoon suite!
We did our usual thing after a long-haul flight, which is to try & get 4 or so hours kip in.
It just seems to give us a 2nd wind to take us through to the evening.
Hit The Ground Running – 1st Tour Within Hours Of Landing
4 hours later we were up & getting picked up in a minibus to go on a tour that Lisa has pre-booked a few weeks previous.
Sometimes this is a must otherwise, quite frankly, you just wouldn't be fucked & would just go back to sleep.
So off we went with Community First: Kompong Khleang Floating Village Tours – they were a bit more expensive than some of the other tours that did much the same, but they used some of their profits to help fund a couple of small schools within the floating villages.
The tour was really good.
We stopped a few times on the way to the floating villages; one was to try some sticky rice that was cooked (BBQ'ed) in bamboo.
Another stop was to try a selection of other Cambodian 'sweets' including some little doughnut type of things made from condensed milk which were quite frankly gorgeous!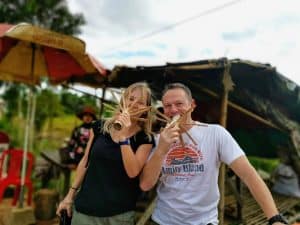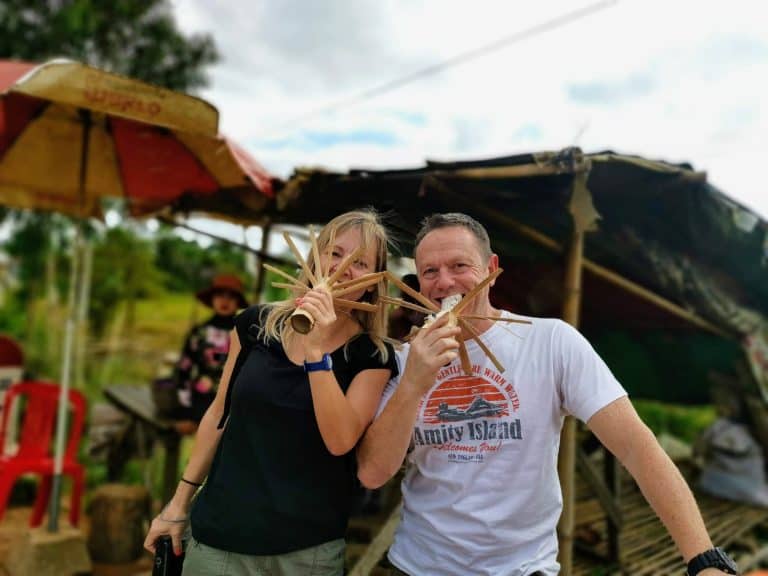 Next stop was the Floating Village.
We got on a boat & off we went.
It really is crazy how these structures survive & remain standing. They only use bamboo basically to support everything.
No concrete, steel or any 'modern' construction materials.
Just bamboo & wood.
The tour finished by visiting one of the 'Schools' which was just a big room with a few benches & a chalkboard.
We did also meet a load of the small children from the village, they all ran up to us enthusiastically.
Especially one little boy you noticed that Lisa had boobs & that the most natural thing he should do should be to reach up and grab them – whereupon quite a few of the kids thought they would also have a bit of 'Lisa Tit Action'!
Mental.
It was over quickly & was very innocent in nature.
Lisa was a tad startled, embarrassed, gob-smacked & a bit in shock.
Then back onto the boat for a sunset cruise back to where the minibus was parked.
We got dropped off back in Siem Reap & went for something to eat in what turned out to be one of our favourite restaurants – The Christa
This i
s where we also discovered Lok Lak – it is a beef dish which is a bit spicy & in Siem Reap is served with a fried egg. Served with sticky rice.
No Rest For The Wicked! – Or The Jet-Lagged
Off to bed as we needed to be up at 4 AM the next morning to be picked up at 4.30 AM by our Tuk Tuk driver & guide Viti.
This was certainly a 'hit the ground running' beginning to our trip!
Off we went, the 1st stop was to get our 'Angkor Pass' – the ticket office opens at 5 AM and you can get 1, 3 or 7-day pass ($37 – $62 – $72).
We got a 3-day pass as we were going to be spending 2 full days looking at the temples.
A Temple, Some Other Temples And A
Few More Temples For Good Measure
First up, the money-shot – Angkor Wat at sunrise.
Viti dropped us off & it was still dark, we followed the people all streaming in to finally find ourselves at the pond in front of the temple, we weren't on the front row but the 2nd which was actually fine for photos.
There we waited as more & more people turned up.
Then the sun started to appear as did the temple. It was pretty impressive & very photogenic with the water & its reflection.
A lot of pics were taken!
It was stunning & the pictures looked great.
What you don't however see are the crowds taking the pictures which this little video outlines:
And that was it, we were off!
Temples, temples & more temples! They were all pretty impressive, to say the least.
They were all built around the 11th or 12th Century & I still can't really get my head around how they were actually built.
They were massive & the size of the rocks used to build them just blows my mind as to how they were even moved let alone lifted up on top of each other to create these massive structures.
Coupled with the fact that a lot of them were built using what was felt to be a 'special' rock from surrounding mountains etc, so they were cut miles away & then floated down a river to get to where the temple was being built.
WTF! Just mental.
Day 1's Temples included:
Angkor Wat     Angkor Thom     Terrace Of The Elephants     Terrace Of The Leper King
Baphuon     Phimeanakas     Thommanon     Ta Prohm     Chau Say Tevoda
Ta Prohm was also known as 'Tomb Raider' temple as it appeared in the film  – 2001 with Angelina Jolie.
Here is a selection of our pics from the day – we took hundreds!
That was the day done in terms of temples & we headed back to Siem Reap for something to eat & ready for returning later that afternoon/evening to watch a sunset from a temple.
Sunset Over Some Trees
We went to Pre Rup that evening & took a few beers to watch the sun go down.
To be fair, it was a bit shit.
We were just sat on a temple watching a sunset over trees.
In fairness, nothing will ever eclipse the sunset we enjoyed in Bagan in Myanmar as we were on a temple watching the sunset over dozens of other temples, it was spectacular.
So we sat, watched it, had a beer & then got back in the Tuk Tuk to Siem Reap.
That evening we went to another place Lisa had on her list – Wild this place was known for spring rolls (https://www.wild-siemreap.com/)
It was quite busy when we got there but we got offered the 'Tree House' – how cool was this, it was up a ladder & we had our own little platform.
The food & drinks were pulled up in a 'dumb waiter'.
This was our starter & then we went to another of Lisa's picks – Cousin Garden Restaurant. A small family-run restaurant that had loads of good reviews.
The food was good BUT we were pestered relentlessly by these little flying midge things!
The bastards were everywhere & marred the meal if I am being honest. They just dropped out of nowhere onto the table, into the food, into our drinks.
Anyway, that was the end of Day #1 in & around the temples.
Day No 2 – Temples, More Temples & A Breakdown
Day #2 was going to be similar.
This was a later start (8 AM) & this was around the lesser-known & visited temples (the outer circuit).
This I think turned out to be our favourite day of 'temple cruising' – it was not that busy (not that Day 1 was actually busy once you had done the Angkor Wat sunrise), the temples are such massive places that people soon spread out.
On this outer circuit, there were even fewer people visiting the area & the last 2 temples of the day I think we actually had them to ourselves.
Just amazing.
We also decided to go to 2 temples that were even further out which cost a bit extra ($10). This was when Viti's Tuk Tuk decided to breakdown!
I reckon we waited about for 30 mins or so whilst he tried to cool his bike down.
It did cool down eventually & we did set off again…but the remainder of the day had this slight edge of trepidation of will it or won't it happen again.
Temples visited on this day included:
Banteay Kdei       Srah Srang     Eastern Mebon     East Baray
One of the highlights was what looked like a massive lake. It wasn't, it was the Royal Baths.
It was a man-made pool. It was enormous!
Another favourite was via a long boardwalk across a lake that was full of lily pads, it was very picturesque (the 'temple' at the end, less so) but the walk to it was beautiful.
This day was great, they were all impressive.
So, all templed out we called it a day & went back to Siem Reap & got dropped off at Tevy's Place, a fantastic little casual cheap-eats restaurant that sold great food & cheap beer.
Cambodian Rum & Pub Street
That evening we went to George's, it is a restaurant, but what we were more interested in, was what it also was a rum distillery.
We went for the 'Spank Paddle' of Rum's – a shot of each (12 of them) between us.
They also gave us other ones that they were creating whilst we were doing those, so we had quite a few!
The best one was called 'Electric Daisy' and we were told to keep that to last.
They gave us another one of those so we had one each, you drank the shot then ate the head off of a daisy.
Your mouth goes mental! Really tingly. Really bizarre.
We left there and headed for our 1st real look around 'Pub Street' which was the lively part of town.
There was a lot of Neon!
To be fair, we don't really gravitate to these sorts of areas anymore. We tend to avoid the loud tourist bits.
We ended up going into a bar to get a cocktail each – they were on special (Happy Hour) & were utter shit!
We didn't stick around for long.
We left there & went to our newfound favourite restaurant again – Christa
It was then back to the hotel and bed!
Shit Sleep & An Unintentional Early Start
The next day we could look forward to a lie-in after being 'on it' since we landed.
This obviously didn't really happen as we slept a bit shit, to say the least, & our sleep pattern was totally fucked!
We had a pretty early breakfast & then off went out to try and find the local 'Crazy Golf' course.
One thing that can be said for it was that it wasn't bastard local!
Crazy Golf & A Crazy Early Beer
After walking nearly 3 miles, most of which was staring into the sun with no cover & sweating like a twat, we found it!
It was 8.45 AM and I had a beer. It was lovely! I was dripping with sweat & the beer was cold.
There was nobody there whatsoever apart from us – Angkor Wat Putt
It was a great place; the owner was very friendly & it only cost $5 a round and $1 a beer.
When it was all done they also sorted a tuk-tuk for us back into town for $1 each; a good job really because I had no intention of walking back!
Morning Craft Beer Tour Of Siem Reap
We got the tuk-tuk to drop us off at a craft beer pub that we had ear-marked to find/try – The Local Brew Pub
Thankfully, it was indeed a proper craft beer pub – it had 8 beers on including 3 that are our kind of tipple – Hazy, Citra & Mango IPA ($3 of 400 ml).
The slightly scary thing about this was the fact that when we sat down to have our 1st Hazy drink, it was in fact 10.30 AM.
We finished that & tried a Mango IPA.
We left about 11.30 AM.
We wandered some more to try and find what was supposed to be another craft beer pub – Siem Reap Brewpub
This definitely wasn't a case of saving the best to last.
It was very poor in terms of what we were looking for & a far cry from where we had just come from! It is more what I would call 'traditional' in terms of flavours – dark ales, honey beer & wheat beers.
Lunchtime called for food to soak up the booze.
Christa was nearby and if it ain't broke!
A More Civilised Evening With Posh Nosh & A Circus
The evening gave rise to tick 2 boxes that Lisa had researched.
We had dinner at Haven
It is a nice restaurant that helps train local youngsters in the career of catering. From learning how to cook to waiting on tables etc.
It was really nice. Highlights were Lisa's main course which was a fish & mango salad, she loved it.
The lowlight was the desert, it sounded nice, something like 'Coconut Milk Rice Dumplings' – it was not good.
We left here & got a tuk-tuk to go to Phare – Cambodian Circus
It was a good evening ($18 each) – it was more like acrobatic & dance storytelling – this show was called 'White Gold' which referred to how valuable rice was years ago.
Back to the hotel for some shit sleep & ready for the next step of Cambodia; an internal flight, taxi, ferry & boat to the island of Koh Rong Sanloem.