Nepal Day #10 – Kathmandu & Nagarkot
Well, this was a long but very good day.
After breakfast, we were met by our guide for another tour of a different part of Kathmandu – Bhaktapur
What a pleasure this was. His English was excellent & he was very interesting.
We saw many temples and historic buildings. This area was famous for having impressive carvings and especially in metal – we saw lots of very intricate carvings (some of which we were not even allowed to take pictures of).
I also found the smallest door yet – #smalldoorworldtour
After lunch, we went to a shop that specialised in 'Singing Bowls' & had a demonstration which was quite cool.
The cringy bit was where we each stood up & he did some 'vibration healing' on us! – I managed to keep a straight face – Lisa less so.
He filled it up with water & ran a little 'mallet' around it & the water went mental (through vibrations) was fascinating.
If money & bag space was no option we would have happily bought the 'Full Moon' singing bowl they had, it was beautiful.
We also went to another 'shop' that did pottery & had a pottery wheel where a guy was making various things – we had a real laugh here.
He let us both have a go at making stuff & Lisa's effort was superb! – Ghost
[videopress AdIAtX2a]
It was only when we looked at the pictures later on that day that we discovered that a picture was taken where I was clearly very well endowed in an area I hadn't been using sunscreen on!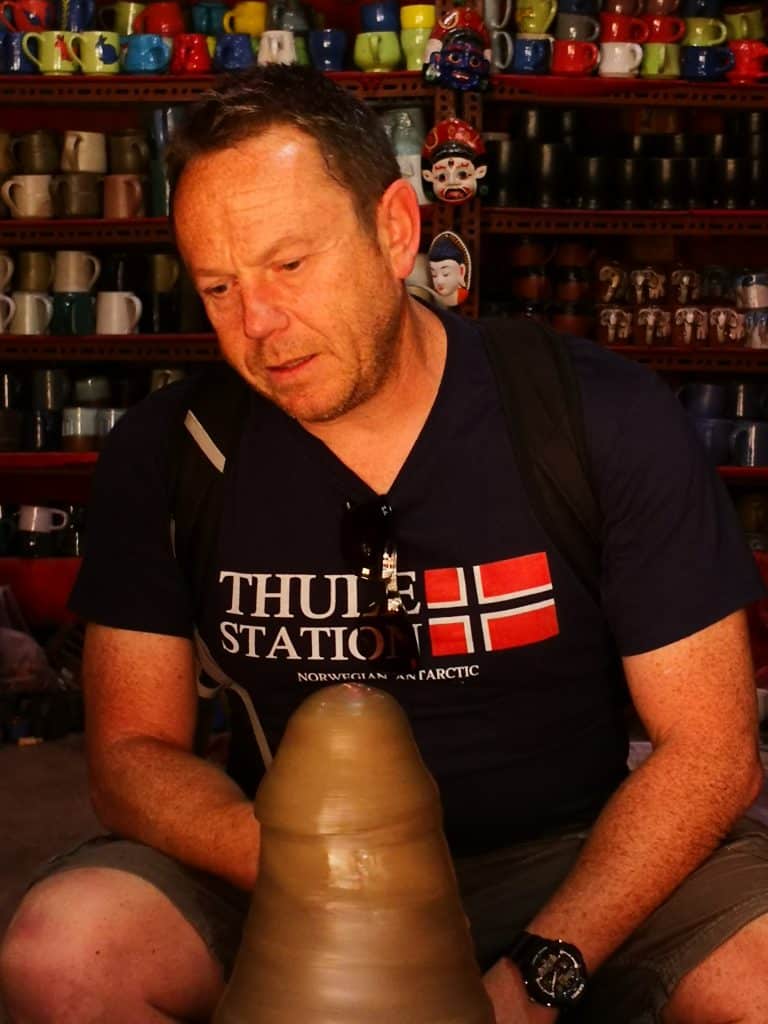 The tour continued and we saw a lot more.
The tour ended & we bid our goodbye's, he had been an excellent guide.
Next Stop – Nagarkot!
He got dropped off at a 'bus stop' to get a coach home whilst we remained in the car for our final destination to Nagarkot
This was about an hours drive, pretty much uphill through little lanes to get to a destination & a hotel well renowned for sunsets & moreover, sunrises over the Himalayas.
We had added this bit onto our trip especially.
Our hotel was right at the very end of this mountain trail – we thought for quite some time that the driver had no idea where he was going. He did.
This guy also became the highest tipped person of the entire tour. We liked & appreciated him.
Plus, every now again it is nice to give someone more than they are expecting.
He dropped us off at the hotel for about 30 minutes & then arranged to pick us up again & take us to the place that everybody congregated to see the sunset (which couldn't be seen from the hotel unlike the sunrise).
Off we went.
What an amazing place to see a sunset. Not.
In a strange way, the fact that it was so shit actually made it quite cool.
It wasn't just us 'mug' western tourists there. There were coaches of locals also.
It was so 'muggy' that we didn't really see much of a sunset & it was over a shitty building with pylons in view.
The photo's make it look far more 'atmospheric' than it was!
Walking back some local just walked off the little path by 2 steps, squatted & had a big piss.
That summed it up really.
Back to the hotel for food & drinks & ready to get up about 5.30am to watch the sunrise over the Himalayas from this place we had visited especially.