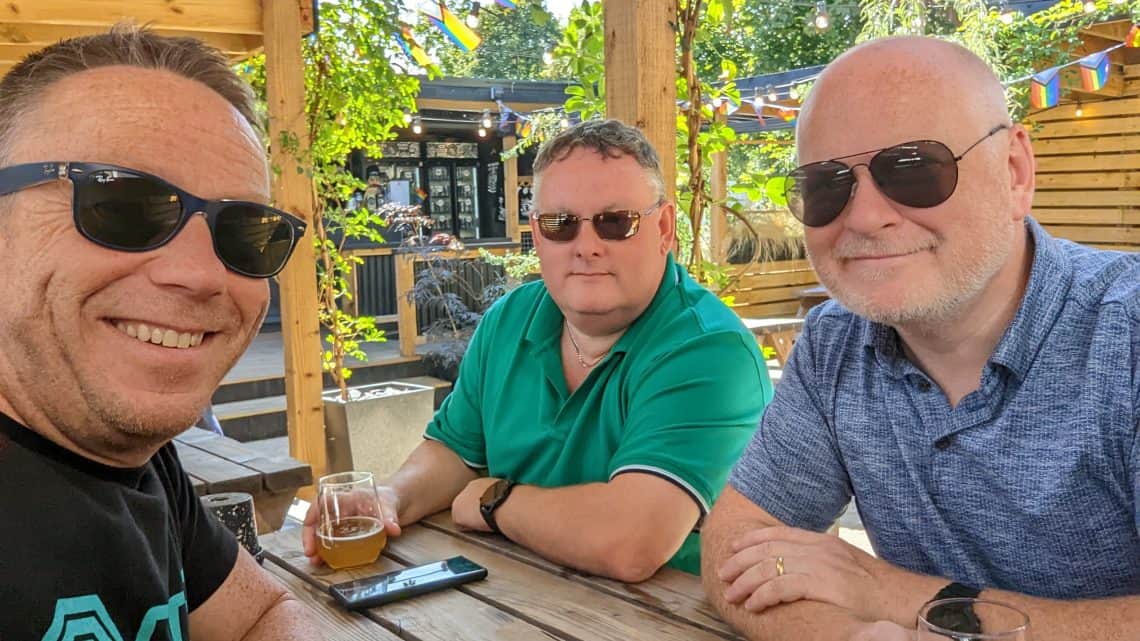 Nottingham Craft Beer Weekend – Breweries, Pubs, Pints & Kegs
A cracking couple of days were spent in Nottingham to enjoy the city's craft beer scene.
Below is a map of most Nottingham craft beer establishments we were aware of at the time.
We didn't visit them all, so feel free to fill in the gaps of the ones we didn't, especially those we missed completely.
Table of Contents
Our First Look At Nottingham UK In Terms Of Craft Beer
This is my first post based on a craft beer weekend, so bear with me.
The usual suspects were in attendance, myself, Danny & Mark.
The aim is to arrive in Brewdog at midday on Friday.
We have done this in all the places we have been.
It is a safe starting place where you know what you will get.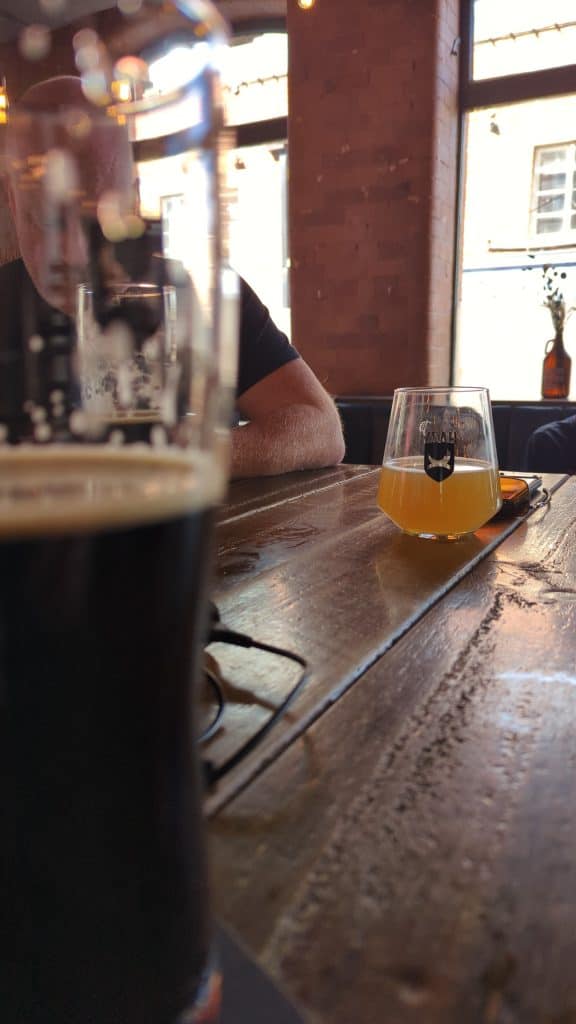 It usually gives us a good 3 or so pints of catching up, talking bollocks and having a laugh before heading to the hotel to dump bags.
On this occasion, Jet Black Heart was the chosen tipple for Dan & me, Mark with the Peach Hazy Jane (which to me just smells & tastes of flowers!).
I had forgotten how good Jet Black is.
The current 4.7% offering is basically like smooth Guinness mixed with Baileys. Lush & potentially dangerous.
One gripe with Brewdog over the last few months is they invariably never scan my Brewdog App with my discount, which gives me money off for the 'Shares' I bought like a mug quite a few years ago.
The staff always look at the app, nod, and usually knock 10% off…I get 25% off! (weekday, before 5 pm).
That discount adds up when you are paying over £7 a pint!
As always, Brewdog at lunchtime on a Friday is dead.
We always book a table but never need to. They are all always free.
Apart from us in Brewdog, there was just one other bloke, on his own, that went for a piss every 15 mins like clockwork!
The Nottingham Beer & Brewery Weekend Has Started! – Pub #2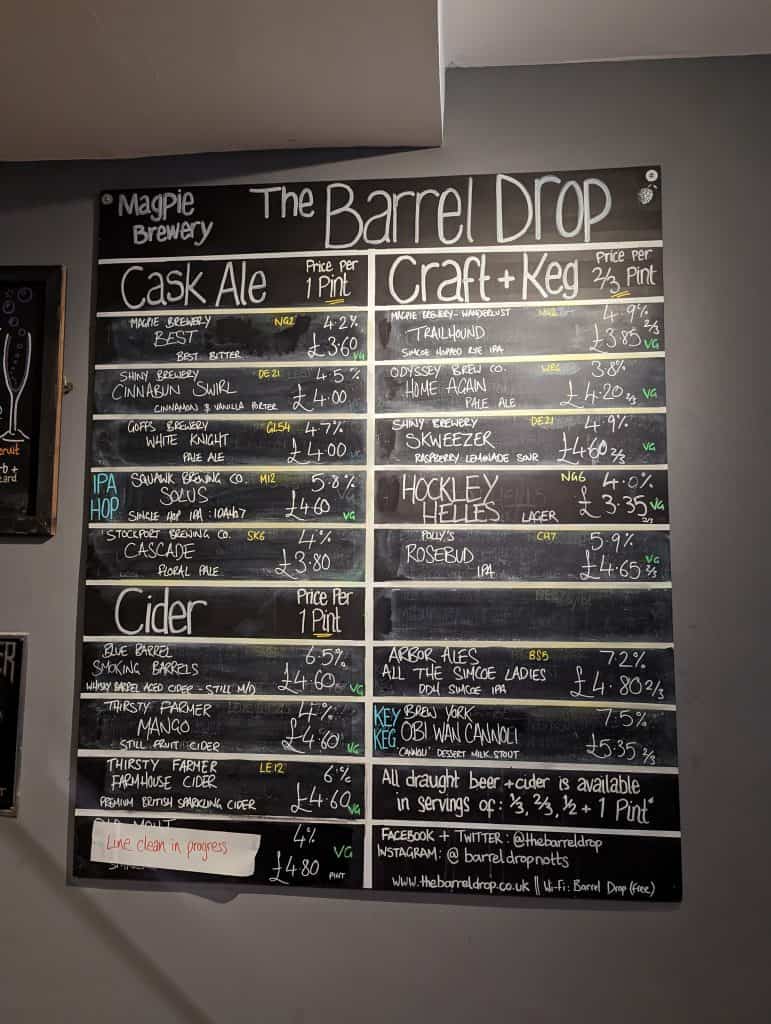 Next stop, check-in at the Premier Inn & then back to the pursuit of beer!
Well, in reality, it was a cheeky 'Bic Mac' on the go & then beer.
We were heading to Neonraptor, but Dan mentioned another bar/pub he had seen, so we set about finding that.
The one thing I can tell you about Nottingham and craft beer is that many places are down tiny joke alleys between buildings that you miss entirely.
This happened quite a few times & this was one of those occasions.
We eventually found The Barrel Drop – and we were glad we did! A small cosy bar.
On the board was one of our Holy Grail names – Polly's – good old Rosebud (5.9%)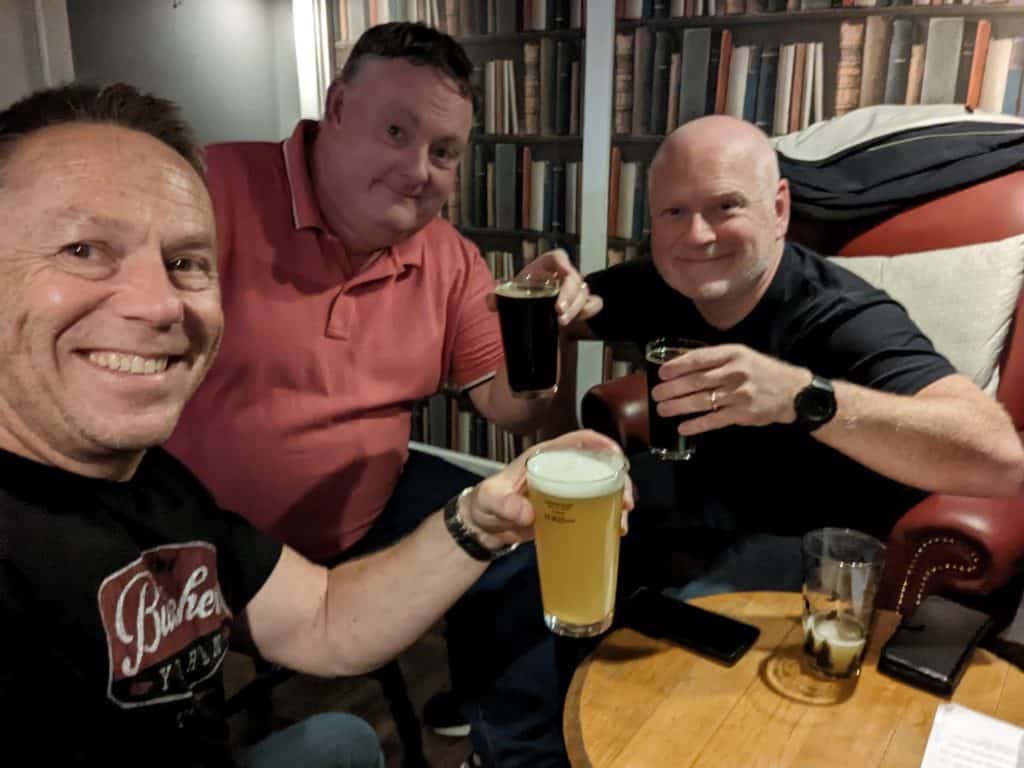 Further down the list was an instant favourite with my beer companions who are not shy in the world of Star War – Brew York's – Obe Wan Cannoli – a 7.5% desert milk stout.
We stayed here for an hour or so & sampled both—a great little find.
A Nottingham Craft Beer Big Hitter Next…
Next stop – NeonRaptor – untappd
Here we sat for about 3 hours enjoying their beers.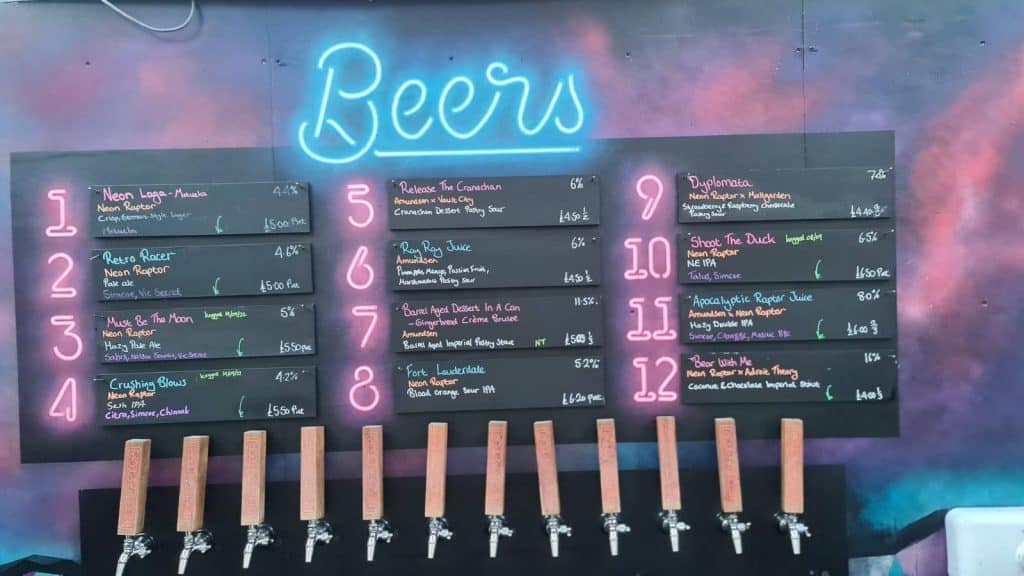 Must Be The Moon & Shoot The Duck, as I recall, were the winners, although the 8% Hazy Double IPA & the 16% stout were not overlooked!!
We really liked it here.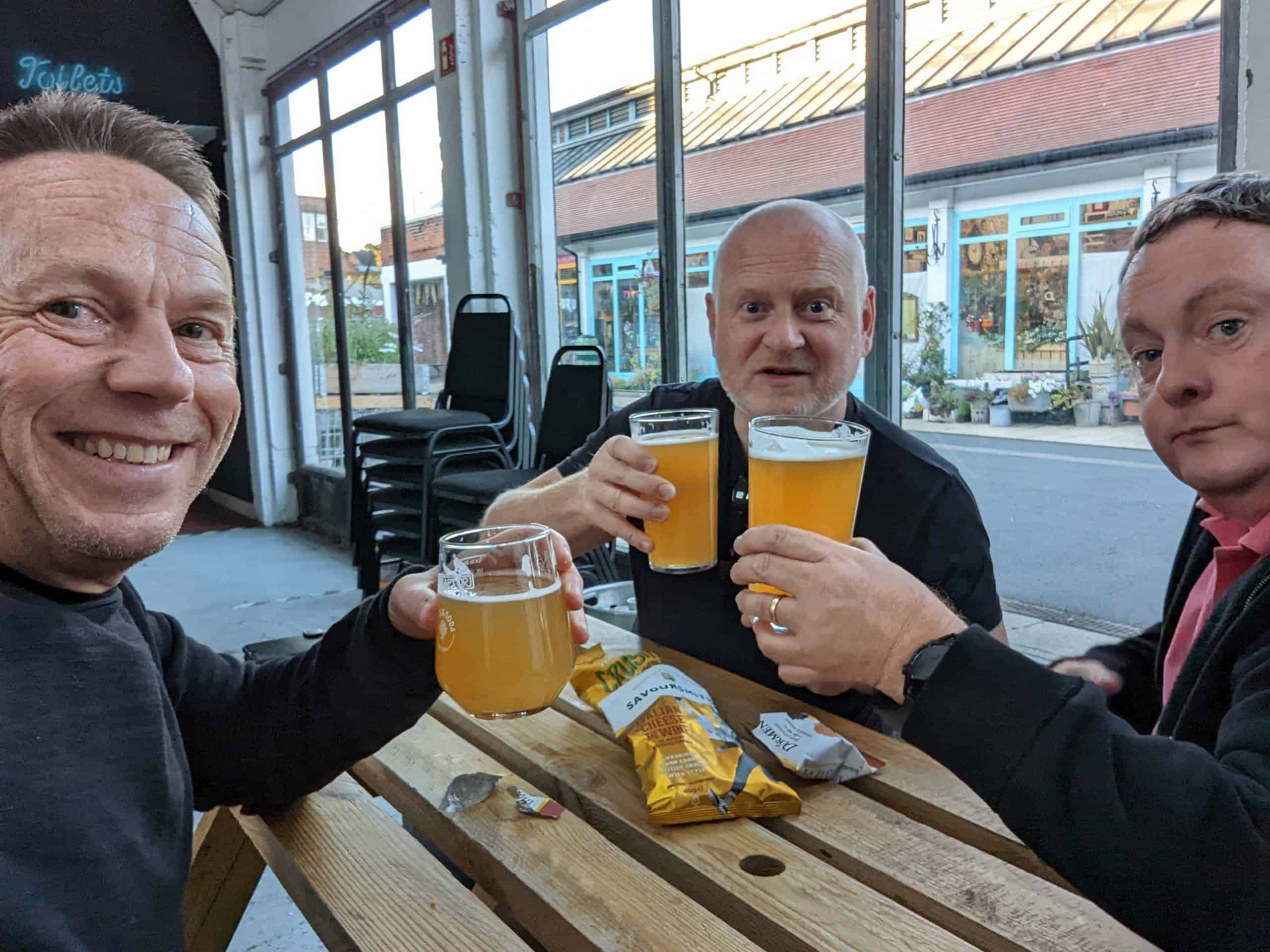 They also had a wide selection of bar snacks, most of which we had never tried – we have now.
The 'pig fat with hair', AKA Pork Scratchings, they had were some of the best I have ever eaten (how sad is that sentence!).
The staff were amiable and more than happy to dish out samples – mainly requested by me, much to the piss-taking amusement of Dan & Mark.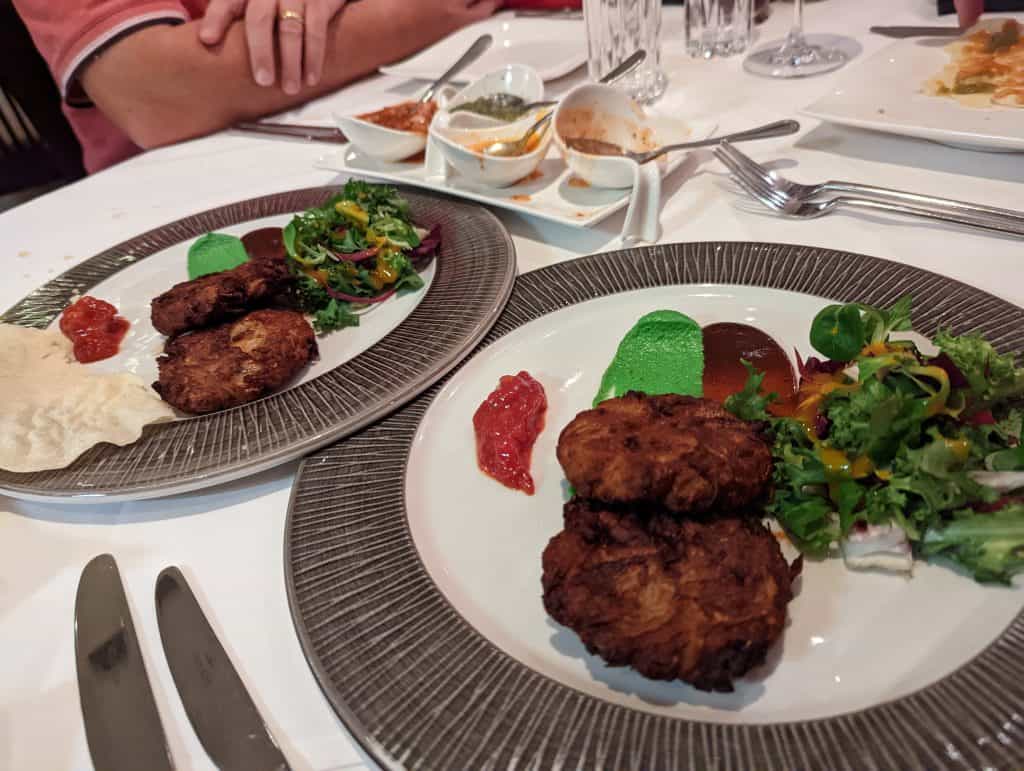 At 9 pm, I think we were feeling the day's enjoyment & headed to a curry house one of the girls behind the bar recommended – MemSaab
It now seems apparent that the girl behind the bar was the daughter of a Lord or some business tycoon!
It was the most expensive 'standard' Curry I have ever had!
It was lovely…but not £40 each, lovely! (with very little drink!).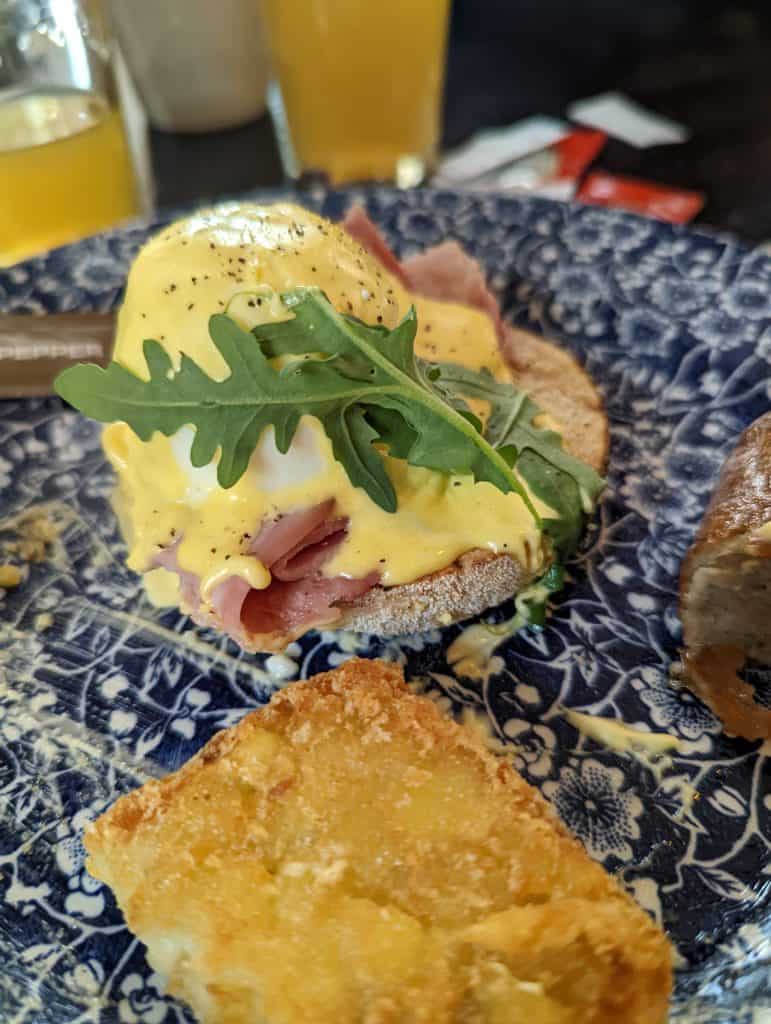 After the obligatory ice cream (Dan's treat), it was time for bed!
10 am, and we meet for the obligatory Hazy Spoooooooooons breakfast! – Basically, we all get brekkie & I order a big bottle of Hazy Jane for the table…which effectively is for me #thesettler
There are quite a few spoons in Nottingham, and luckily Dan & Mark had visited one of them on arrival on Friday, reporting that it was a bit shit!
So we went to another one which was newer & much nicer – The Roebuck Inn
Throughout breakfast, I could not see properly! I could not get my eyes to focus for toffee! – for once, not beer related!
It transpired that I had put my lens in the wrong eyes that morning like a twat after changing them that morning. Phew! Panic over! Who fancies a drink?
Meeting at 10 am and having a leisurely brekkie usually mean we are left time-wasting/wandering for when midday arrives, and the drinking can resume.
Not today!
An Early Strong IPA Keg Beer in A Well Stocked Pub!
Dan found this craft pub – The Kean's Head – untapped.
What a cracking pub this is!
The only real winner on the tap board that day was a 7% number – Beer Hut Brewing – A Galaxy Full of Citra
Not ideal for an 11.30 am start! But fuck it, we were in.
Only halves though. We are not savages!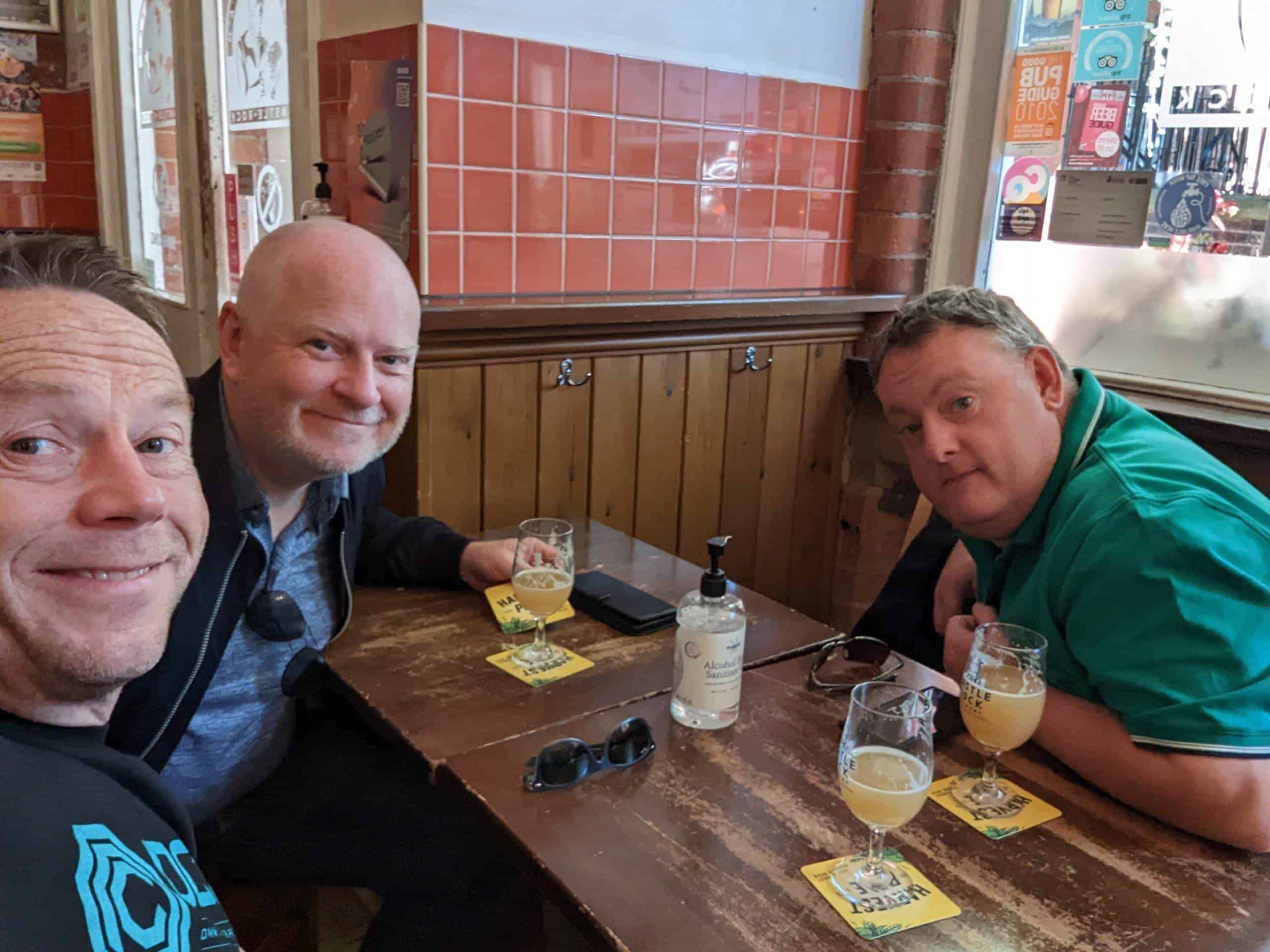 The guy who runs the pub was very friendly and helpful and gave us a few recommendations for places we should visit.
Next stop, The Junkyard Bottle Shop & Pour House. The 2 ladies running this place were very knowledgeable & we had 15 taps to choose from. One drink here sat in the little courtyard that was a sun trap.
Then, outside of our comfort zone, we laughed directly into the face of danger & decided to ride the Nottingham Tram!
It was actually a piece of piss & dropped us off directly outside of our next stop – Black Iris Brewery
Nottingham Brewery Highlight – Lots Of Craft Beer To Be Had!
This was probably the best bit of the weekend. It is a cracking little place.
We tried most of the beers we fancied on tap & even started trying the stuff they had in cans.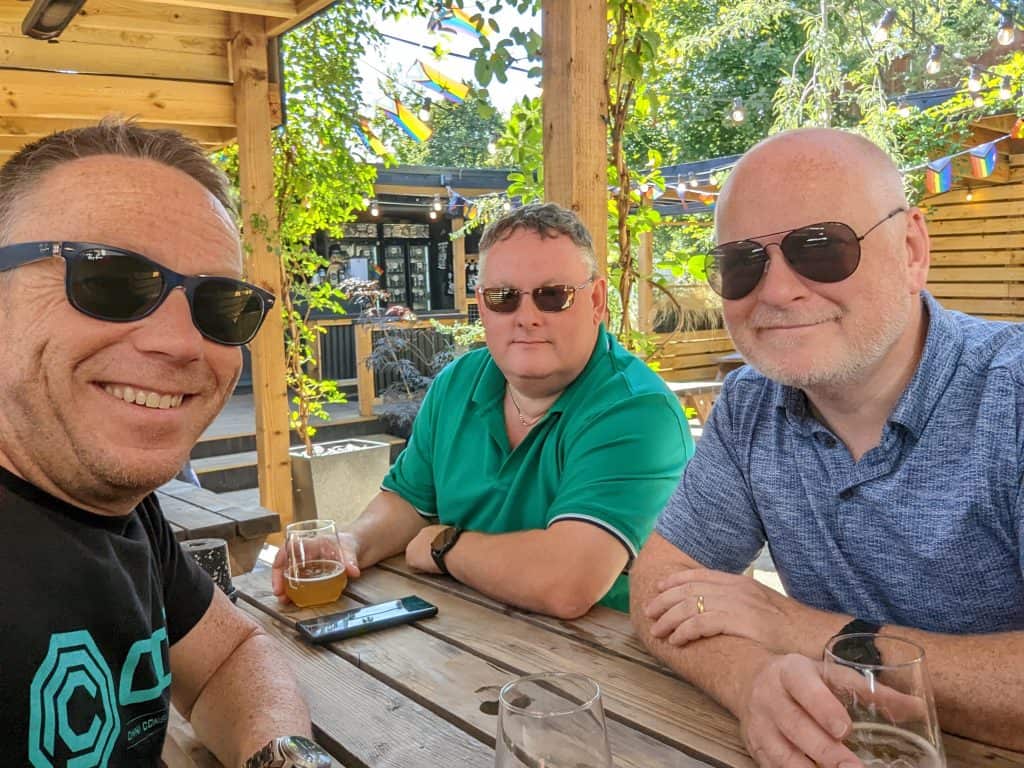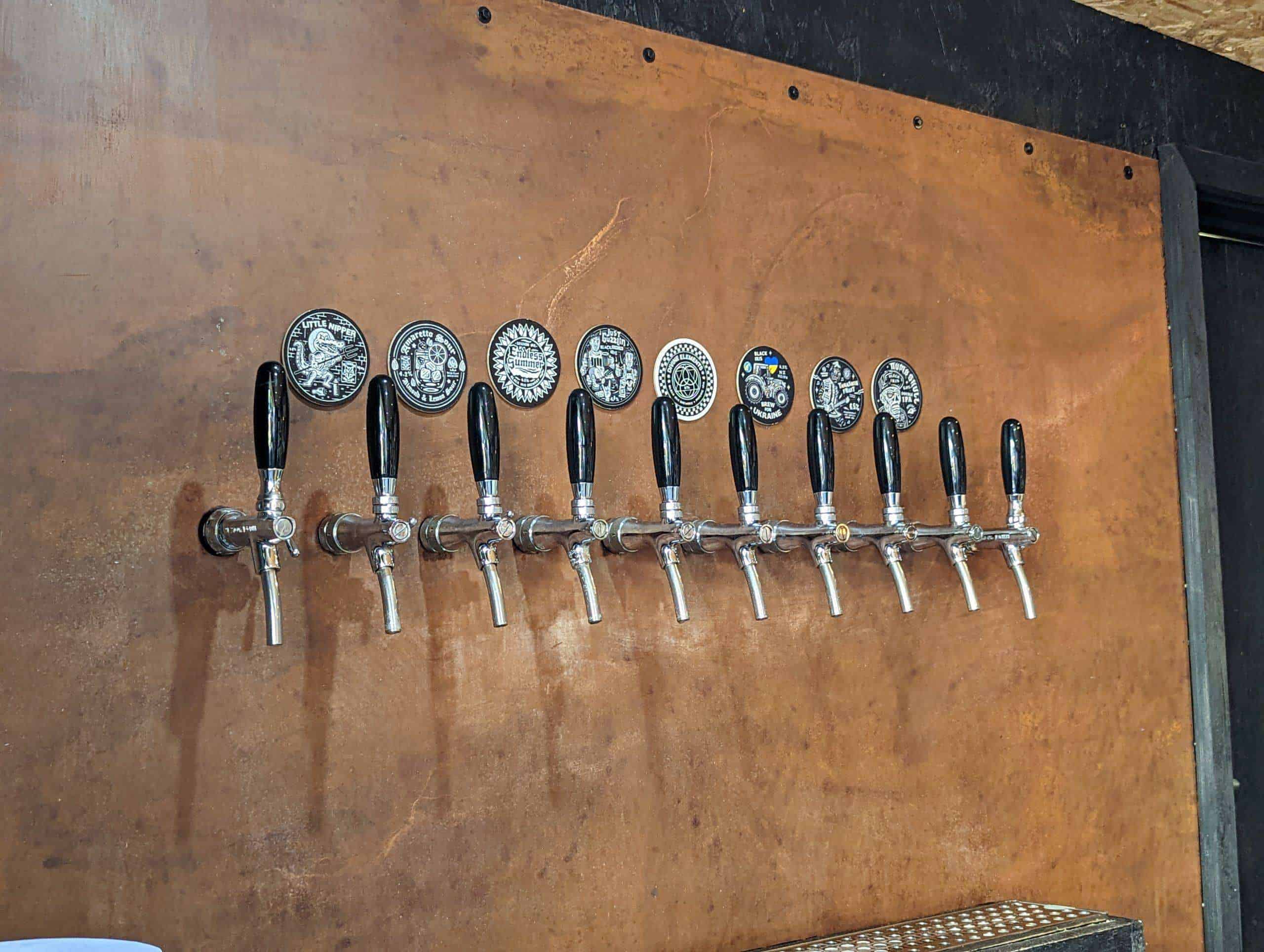 They seemed very good at stouts and had just canned 3 different 10% ones for their 10th anniversary.
They also did online ordering with free delivery over £40…so whilst we sat there drinking, I ordered a case for Lisa, 1 of each of all their strong stouts, including the anniversary ones. #whatafuckingcatchiam
What is superb about this place is that next door is a food place that does burgers – holy shit, they were good!! & exactly what was needed on a belly full of beer.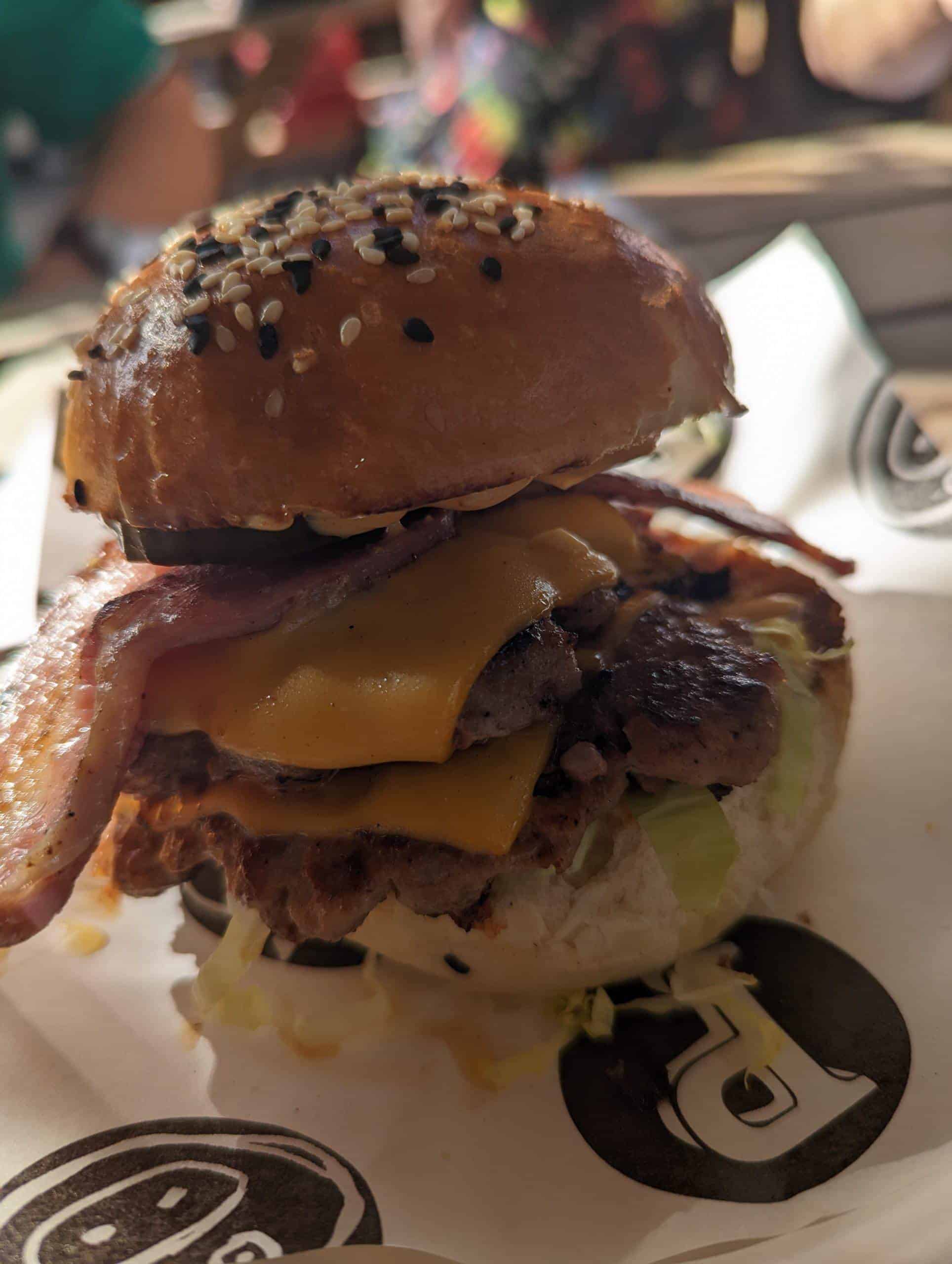 Dan & I both had a 'Pig Mac' & Mark the V8 Burger…
Mark's burger included 'Bone Marrow Butter' as part of it.
One of the things I have discovered in my life is that:
Bone Marrow (any format) = Horrific Wind
This discovery still remains very true.
Just awful.
Once we were done in Black Iris, we went next door to The Lion At Basford, also noted as a craft beer pub.
This was a big pub with a massive garden. They had a few things on, including Beavertown stuff, Northern Monk & Wilde Child. 7 taps in total.
Back onto the Tram and back into town.
As we walked through town, I bought an M&S suit for a funeral that I was going to on Monday (the same day as the Queen's funeral) as I had discovered that craft beer makes your existing suit trousers 'shrink'!
You can't beat a pissed-up purchase!
Next stop – The Tap House Notts.
The idea of this is excellent.
You get a card that allows you to pour your beer from a massive array of taps & at the end; you pay for exactly what you pour.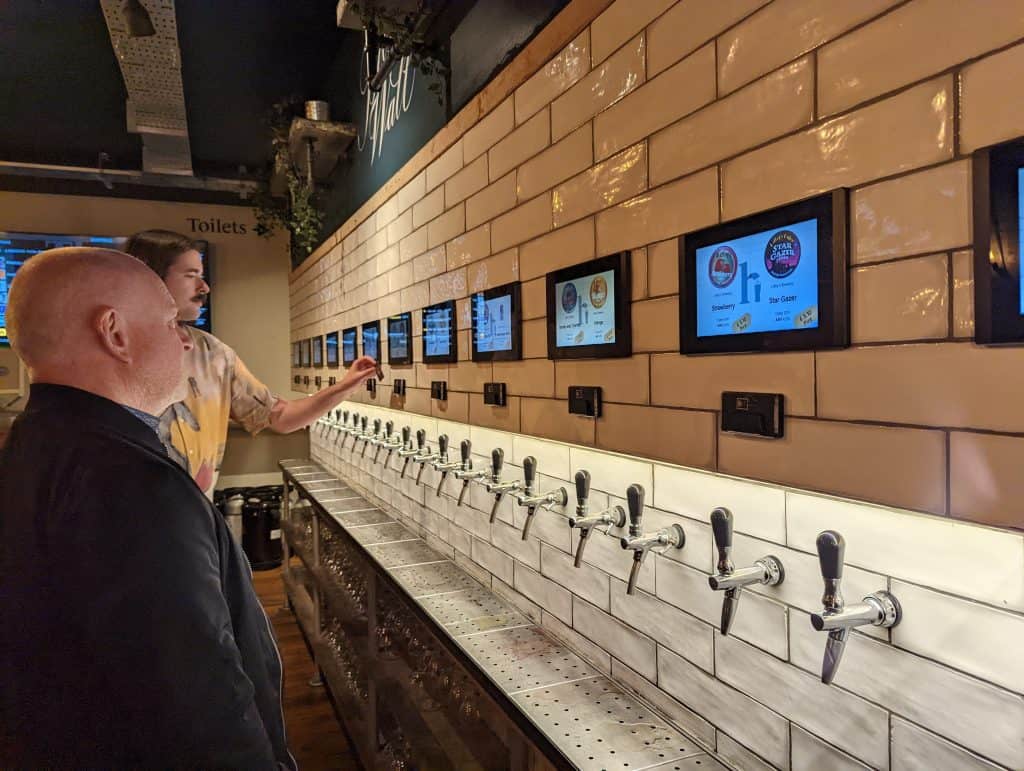 On this occasion, for us, it was a bit shit.
There wasn't anything we fancied, and it didn't help that there was some 'Oktoberfest' thing going on in the bar, so there were more lagers than anything else.
Craft Brewing – Brewery #2 – Not Too Many Beers!
The next stop was another brewery in Nottingham – Liquid Light Brewing Company
It was a bit of a trek to get there.
Actually, it wasn't.
It was a 15-minute walk but remember; it seemed to take ages and was located in some industrial estate (& it was getting late, and we had been on it from mid-morning!).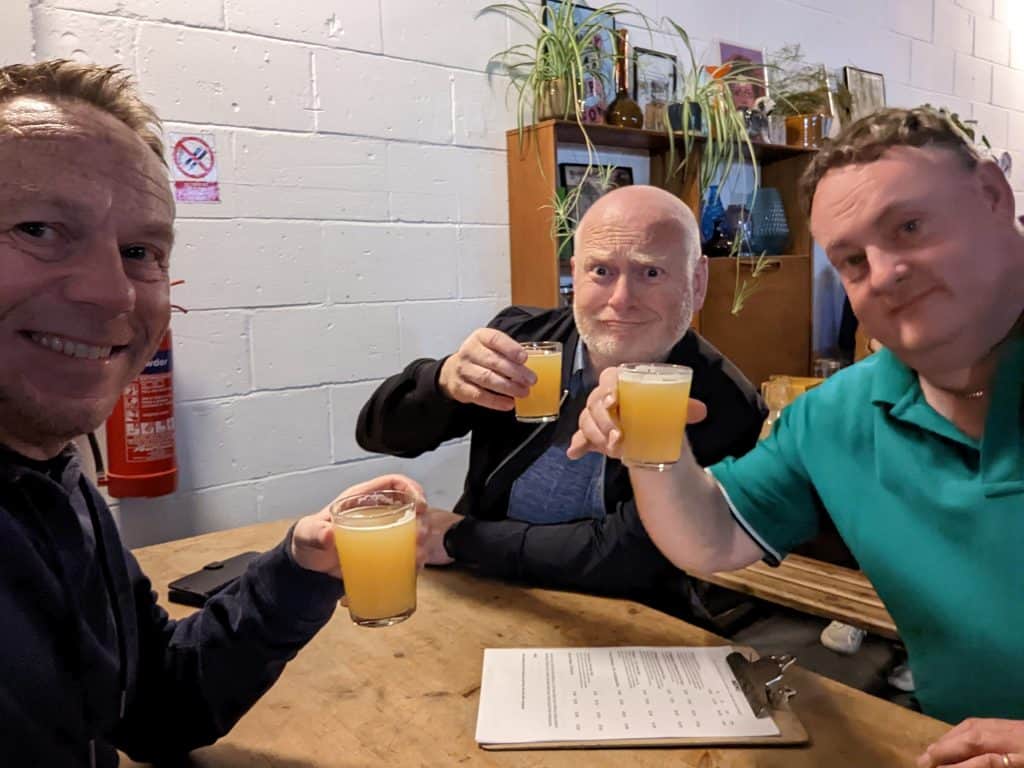 There was not much choice here despite it being a brewery.
One choice per type of beer.
Somehow we missed the 5.1% Pale ale on the sheet, so we plumped for the 9.3% DIPA.
We only had thirds.
A couple of them as we were too bastard lazy to move.
And it was nice.
We left and wandered to the only place where we could finish our weekend – Neon Raptor.
A couple of halves later & it was kicking out time, and the food search began.
At this stage, Dan especially was basically consumed by the desire for Dim Sum! He had found a place that, in theory, was open & mentally ordered about £120 worth in his head from the menu. So we walked there, it was basically the other side of the city centre, a good half-hour walk.
So we walked.
And walked.
The fucker was shut!
As in it had shut down & looked like it had been for some time. Bastard!
So back into the city centre where pizzas & kebabs were ordered and taken back to the rooms.
The following morning was a Spoons & then home.
Nottingham and craft beer was a big tick for us!
Where next?…
---
Want More Craft Beer Stuff?