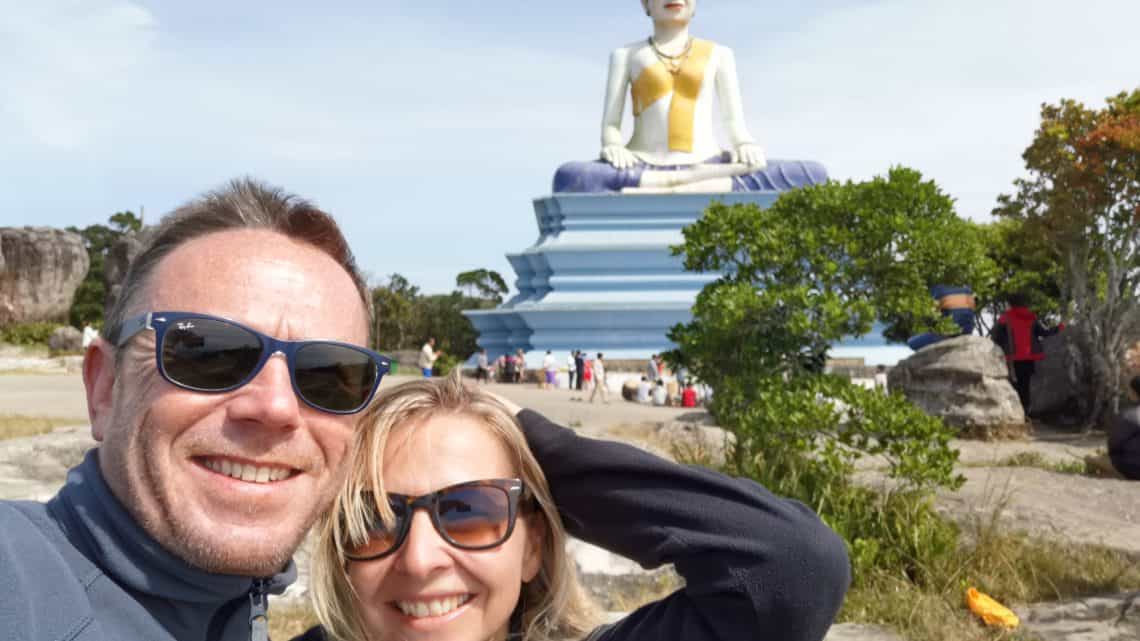 Cambodia #3 – Kampot Pepper, No Crabs & Bokor National Park By Scooter
After 3.5 hours drive in the taxi, we get dropped off at our hotel in Kampot – Mea Culpa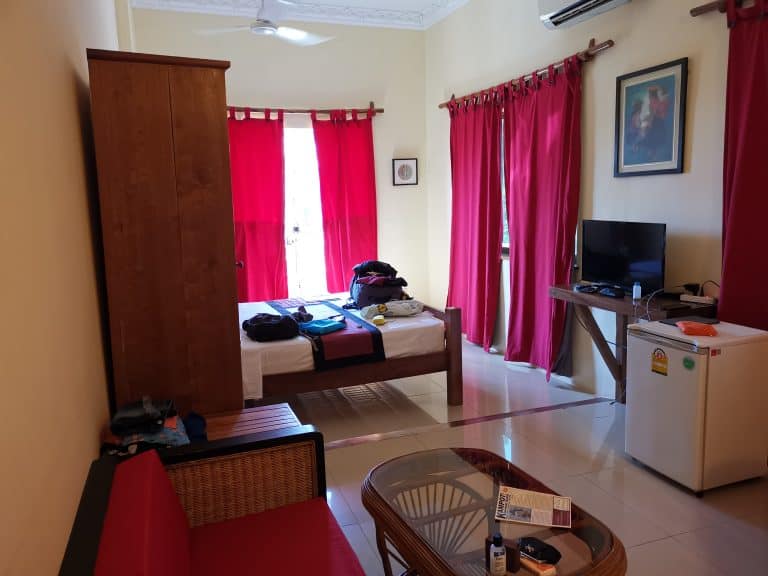 This little 2-star hotel turned out to be one of our favourites – the owner/manager Ben was such a lovely guy & very accommodating, he lived there with his Cambodian wife & children.
It was very cheap in price but not in facilities or character.
A really peaceful & chilled place.
Mea Culpa & Wonderful Ben!
Ben sorted us out with all manner of stuff whilst we were there – tuk-tuk tours, moped for the day, onward taxi etc.
Once in, we went out for a wander.
This was a very French-influenced town like a lot in Cambodia, the architecture here especially was very French in style & very pleasing to the eye if not slightly run-down.
One of the first stops we made was for lunch & to a burger place that Lisa had read about – Burgershack Kampot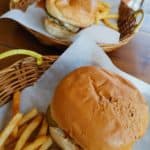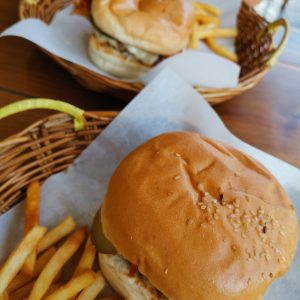 Quite frankly they were gorgeous. Caked in melted cheese. Dirty!
We also saw the roundabout which was 'famous' in Kampot, the Durian Fruit Roundabout
Quite a random thing. Just a massive model of a Durian fruit in the middle of a roundabout.
If you know nothing about durian fruit then have a quick read about it here – they stink! So much so that most hotels ban them from being taken into them. Quite bizarre.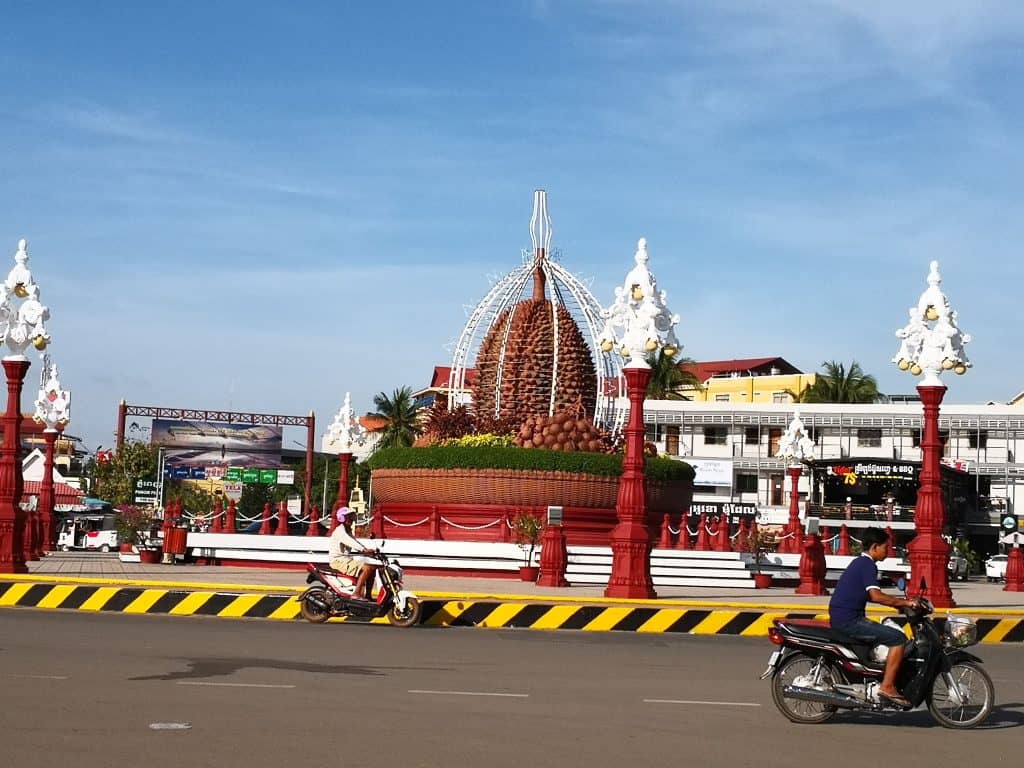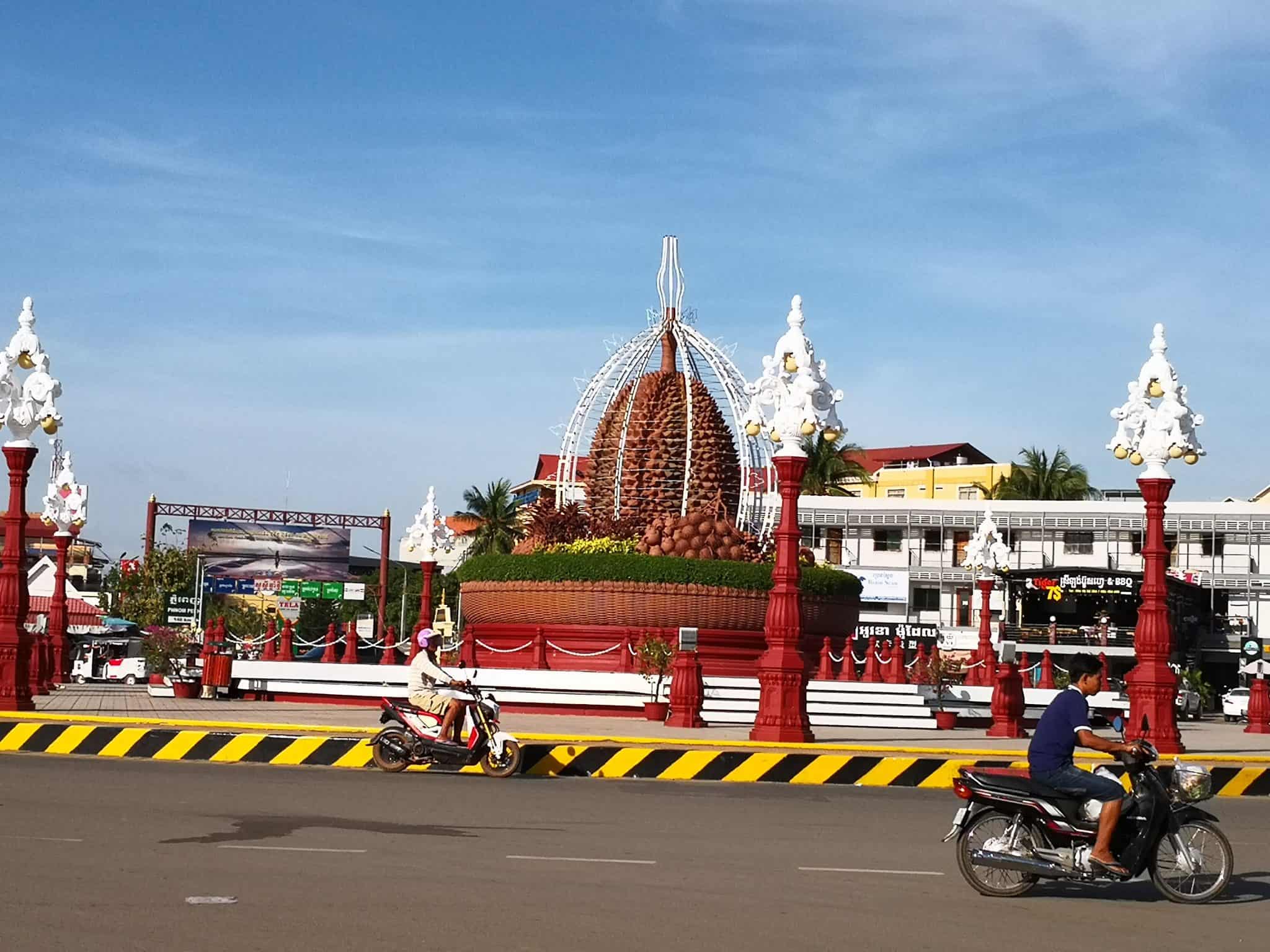 More wandering & a quick drink at 'Lisa Kampot' bar/restaurant.
Kampot – Sunset Cruise & Fireflies!
The early evening activity was the sunset cruise.
There were quite a few boats moored along the river doing the cruises. They were all pretty much the same price ($5 as I recall) & including a 'free' beer.
We picked one, got a beer & went upstairs.
The bizarre thing was that none of the boats even moved until the sunset had happened!
We just sat there.
When we did finally go we went down the river (like a procession of really bright neon), we went under a few bridges.
One of which was so low that it would have easily taken your head off if you weren't careful & didn't almost lay on the floor!
This short video hopefully shows you – see how close the blokes head is as he just assumes there will be loads of clearance!
At one end of the cruise was the opportunity to see some fireflies.
I had never seen them before.
And to this day I still haven't really.
We moored up, all the lights were turned out & we all stared into a group of big trees.
Fuck all!
A best, 2 of the tiniest specks of what might have been light may have been visible.
What a load of bollocks.
We cruised back to where we started. At least the whole experience didn't take very long!
Supper time & we sought out – Ecran Noodles. Excellent reviewed cheap eat.
Then to bed!
Tuk-Tuk To Kampot Pepper Region
We were off on a day out with a tuk-tuk driver the next day (organised by Ben) to explore the Kampot pepper region & also go to see the crab market.
We had breakfast & some seriously strong coffee! Was superb!
Our tuk-tuk arrived & we were off by 8.30 am – heading to the Kampot Pepper farms.
Christ alive it was windy!
We were shown how they use a lot of the area around Kampot as salt farms.
What a back-breaking & long-winded way of getting salt – very impressive in terms of organisation but also very susceptible to weather changes.
We ended up visiting Bo Tree Pepper Farm (which we had already popped into their shop in Kampot) – what a chilled out little place this was.
The girl who gave us a tour was a volunteer & had been there for a few months. They helped with the tours & chores and in return, they were given free food & accommodation.
Apart from all the information we gained about Kampot pepper, the big take for us was something that the girl explained & is actually quite shocking.
Chilling Fact About The Cambodian Population
Learning the best ways to grow Kampot pepper had taken quite some time with a lot of trial & error in recent years – the reason being is that there was nobody left alive that really knew how to do it – most had been killed by the Khmer Rouge between 1975 & 1979 (they had wiped out 1/3 of their own population in 4 years!).
Knowledge of those such things had been eradicated in the killing fields.
She also said something else that we hadn't really noticed/ picked up on until she put it into our heads – There are very few old people in Cambodia!
From then on, we did indeed notice the sheer lack of old/older people.
Really quite chilling when you think about it.
As we were finishing our 'tour' we bumped into the 2 French girls who had also ended up there – #greatminds
We purchased our little box of black Kampot pepper & were off.
Kep – Home Of The Crab……My Arse!
Next stop was the crab market – Kep
This was a bit of an anti-climax if I am honest.
I was expecting exactly that. A thriving market with wall to wall crabs.
It wasn't.
It was a big market that seemed to sell mainly dried shrimp & sold BBQ'ed food to locals.
We looked about for a while & then went for something to eat – we chose a place called 'Magic Crab'.
One thing it wasn't was magic!
You are supposed to have a crab dish with Kampot pepper.
Lisa had the crab & I just didn't fancy it so had it with meat.
You certainly got Kampot pepper! – just loads & loads of green peppers on stalks completely dominated the meal.
I thought it was a bit shit.
Lisa enjoyed hers.
Next stop was to a village which had a Pagoda & some caves – Sorsia
Pagoda, Caves & Monkey Business
This was hilarious.
We walked up a decent set of steps & found the Pagoda. It was very colourful. We took a few pics.
Then we decided that it was time to go up the other sets of steps to go to the caves.
We had no idea what to expect.
Were they large or small?
Were they safe or a bit daunting/dangerous?
We still have no idea.
Didn't get anywhere near!
We walked up about 4 of the steps that led to the caves & the monkeys on the steps went fucking mental!
Baring teeth, hissing, you name it.
We, in turn, shat ourselves & ran!
Fuck that!
After that, we headed back to Kampot.
That evening we wandered around the corner from the hotel to find the Lotus Pond which was actually very pretty  – all the Lillies seemed to be dead which was a shame as I imagine it would have been stunning when everything is in bloom.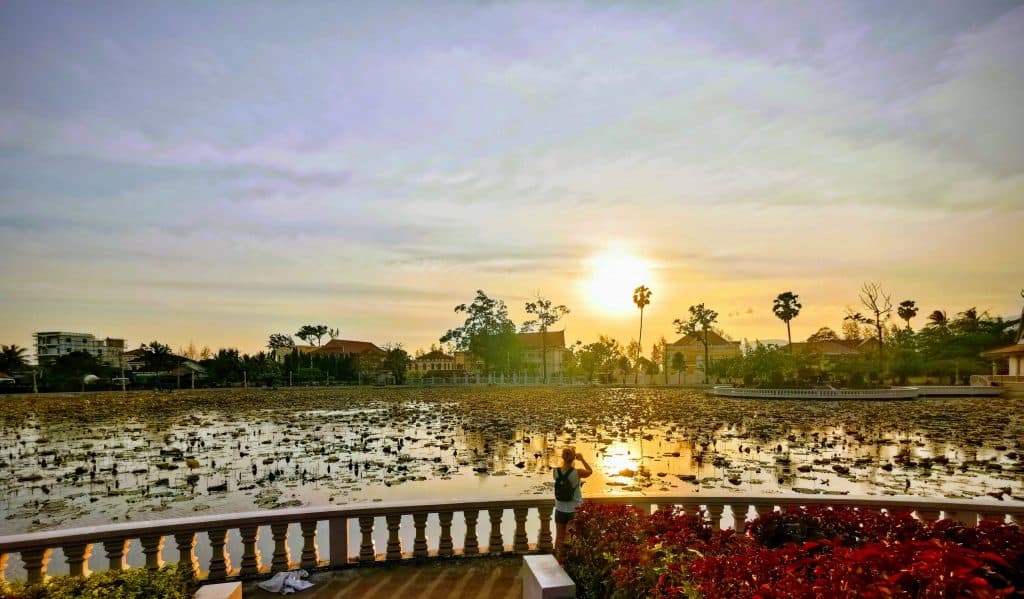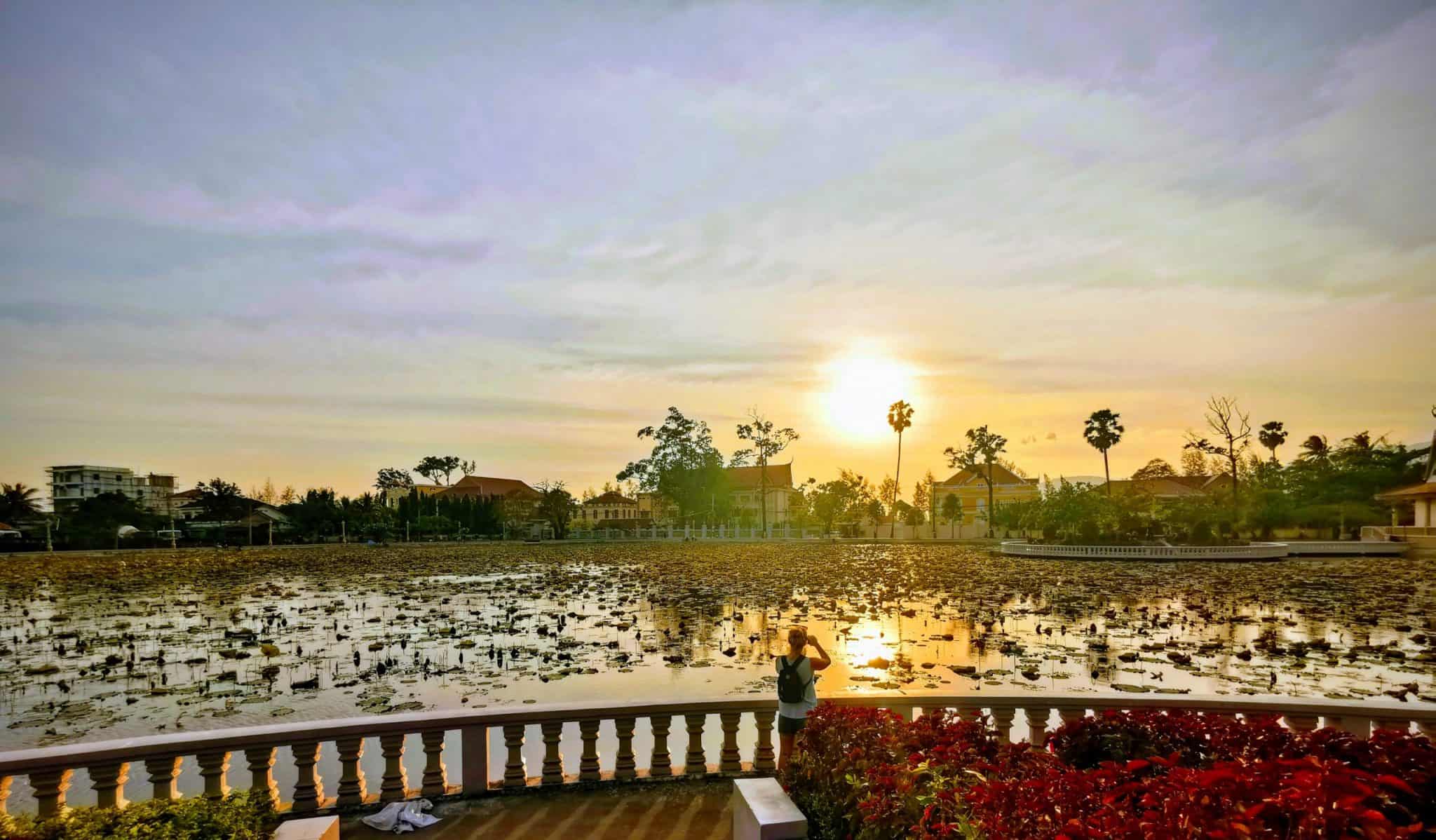 The evening went the same as the previous – we had a few beers sat on top of one of the moored boats on the river to watch the sunset.
Then out for dinner in a superb little tapas restaurant – Baraca
One of the things they did were some 'out there' gin & tonics which were gorgeous.
The next day was probably our favourite day for the whole trip.
Bokor National Park – A Scooter Based Day Out
We got up & had breakfast.
Whilst eating Ben had sorted out a scooter for the day – $5!! WTF – all we had to do was add petrol ($3, of which I barely used half for the day!).
We were off to visit Bokor National Park
What an awesome place this was & was ideal for a scooter – despite a lot of Cambodia's roads being shit, the road around the national park was excellent!
We spent the whole day whizzing about going to all the bit you are supposed to & it really was a joy.
Oh yeah, it was windy again!
There were various bits to the park including lots of abandoned buildings which seemed to have rusted.
There were a few pagodas including one on a cliff edge.
A large church.
What was an old deserted hotel at the top of the park – this has now been refurbished & is actually a hotel (a shame as the pics we have seen before this happened looked excellent & very eerie).
A massive Buddha-like monument – Yeay Mao Monument
The last stop was a waterfall – well it would have been one if there had actually been water in it but it is the dry season & there was pretty much nothing there but a load of rocks.
When we were done we made our way back to the hotel & to drop the bike off.
What a top day!
Our last night in Kampot & we went for a few cocktails in a little bar & then for a 'posh' meal (for us), to a Lisa tick-box restaurant – Atelier Kampot to be fair, it was lovely.
That was it.
Kampot was done & I have to say we loved it here & would happily return.
The next day was a shared taxi with the French girls to Phnom Phen & the final leg of our Cambodian journey!
___________________________
Further Reading:
Cambodia #2 – Koh Rong Samloem Island – Sun, Wind & Food
Cambodia #1 – Siem Reap – Travel, Temples, Tours, Craft Beer & Temples