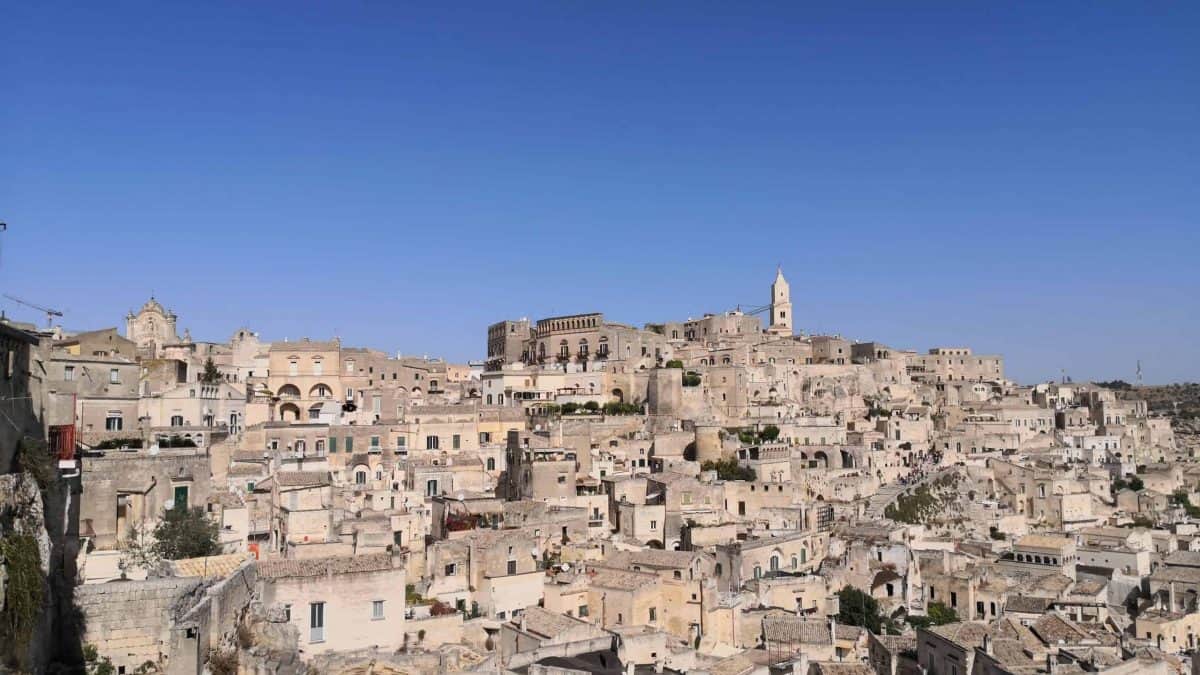 Puglia, Italy – Pasta, Pizza, Wine, Sourdough Bread & More Wine
Another trip booked with 'Untravelled Paths' & another success.
This time a 4 night trip to the Puglia region of Italy – The Dolce Vita Puglia Experience
We flew from Luton to Bari with Wizz Air.
It was very cheap, about £70 each return.
It would have been even cheaper had Wizz not done their 'Roulette Wanker Seat' routine! Where unless you pay to pick your seats; unlike any other airline who will allocate you seats together – Wizz makes a point of making sure you are as far away from your travelling partner as possible!
So underhand. So out of order.
It is a 4-hour+ flight so is nice to be sat together.
The upshot, about a 1/3rd of the flight's cost, was paying to sit together!
The saving grace is that overall, it is still cheap for the distance (& the convenience for us from Luton).
We did the lounge at Luton. The basic reason being that I had a credit left on my 'Priority Pass' membership which I wanted to use up before it expired.
1st Stop – Matera
The flight was good & when we arrived we were met by our guide Marius. We were the only 2 on our flight & found out there were just 2 more coming & they were on the later Stanstead flight that night.
Off we went to our 1st stop – Matera – It is a city carved into the mountainside. The original dwellings here were effectively caves.
It was quite an impressive place & we saw it first at night all lit up.
Our accommodation was – Residence San Giovanni Vecchio
We had a wander about & up to the main square, then back down to get some food in a little pizza place –
Trattoria Braceria Bellavista di Fedele Manicone
It was a nice little place, the food wasn't amazing but it was fresh & the wine was cheap! – it was also served in a carafe with wicker around it & with small glasses.
Standard 'funny faces' picture was required. Lisa is getting much better at them!
Lost In Translation
Whilst wandering around we found a bakery (Gran Caffe) that Lisa had seen whilst researching – it was stuffed with loads of dirty cakes!
We ended up asking a bloke behind the counter what was the best – he pointed out what sort of looked like doughnuts but with a bit of custard creeping out of them.
We ordered 2.
Wow! They were gorgeous.
So we then tried to find out what they were called.
One thing I need to say here, which was one of the reasons Italy grew on us, was the fact that most people don't speak English, just Italian.
I love this. (we Brits are generally shit at languages so for once we didn't have to feel guilty for this).
This then lends itself to a lot of gesturing & the use of Google Translate!
It is also how we arrived at what we called these – Titty Titty Lemon Cakes!
We 'spoke' to a woman & she tried to explain in Italian whilst gesturing to her chest & laughing & saying Limon a lot.
Cue immature photos:
Anyway, enough fun for day one & back to the apartment & bed.
The next day we went across the road for breakfast & finally met our other 2 'travellers' – Kamal & Friddy.
Marius met us & gave us the 'What to do' rundown in Matera on a map.
We then went almost next door to a shop that had a model of the town so it could be explained further – it is very much a 3D type of place with lots of levels & alleys to explore.
We did a lot of walking, the place was impressive & the weather glorious (it's October!).
One of the places you are supposed to go is Casa Grotta which was a look at the 'caves houses' presented to you of how they were lived in.
Quite frankly, it was shite!
Throughout Matera, there are various sculptures of Salvadore Dali's art. Can't remember if there was a reason for this.
We also came across some a temporary art exhibition whilst we were there – some female sculptures sat in various places & some 'turkeys' which were individually designed & painted…..but, to be honest, they just looked like big cocks!

Cookery Class At A Retreat
We all met up late afternoon to go to our cookery class. About a 30-minute drive & we arrived at some grounds.
From what we understood it was like a retreat. It was in the middle of nowhere & looked very nice.
We made pasta dough from Semolina flour & then went onto make a variety of different shaped/types of pasta.
We also made 2 other dishes, one was made from nearly stale sourdough bread (soaked in water) rubbed with garlic & layered with tomatoes. The other was very similar but mixed with egg and herbs to make balls that were to be fried.
It was quite a laugh doing it with a few breaks so we could get a bit of wine in.
Then we got to eat all of our own stuff. It was pretty good actually & very simple.
We got back to Matera, went for a quick nightcap & then bed.
Next day, we had breakfast & checked out – we were off to Alberobello
Bread & Focaccia To Die For
On the way though we were going to visit a traditional bakery that still uses a stone oven & only cooks sourdough bread. The place was called DiGesu'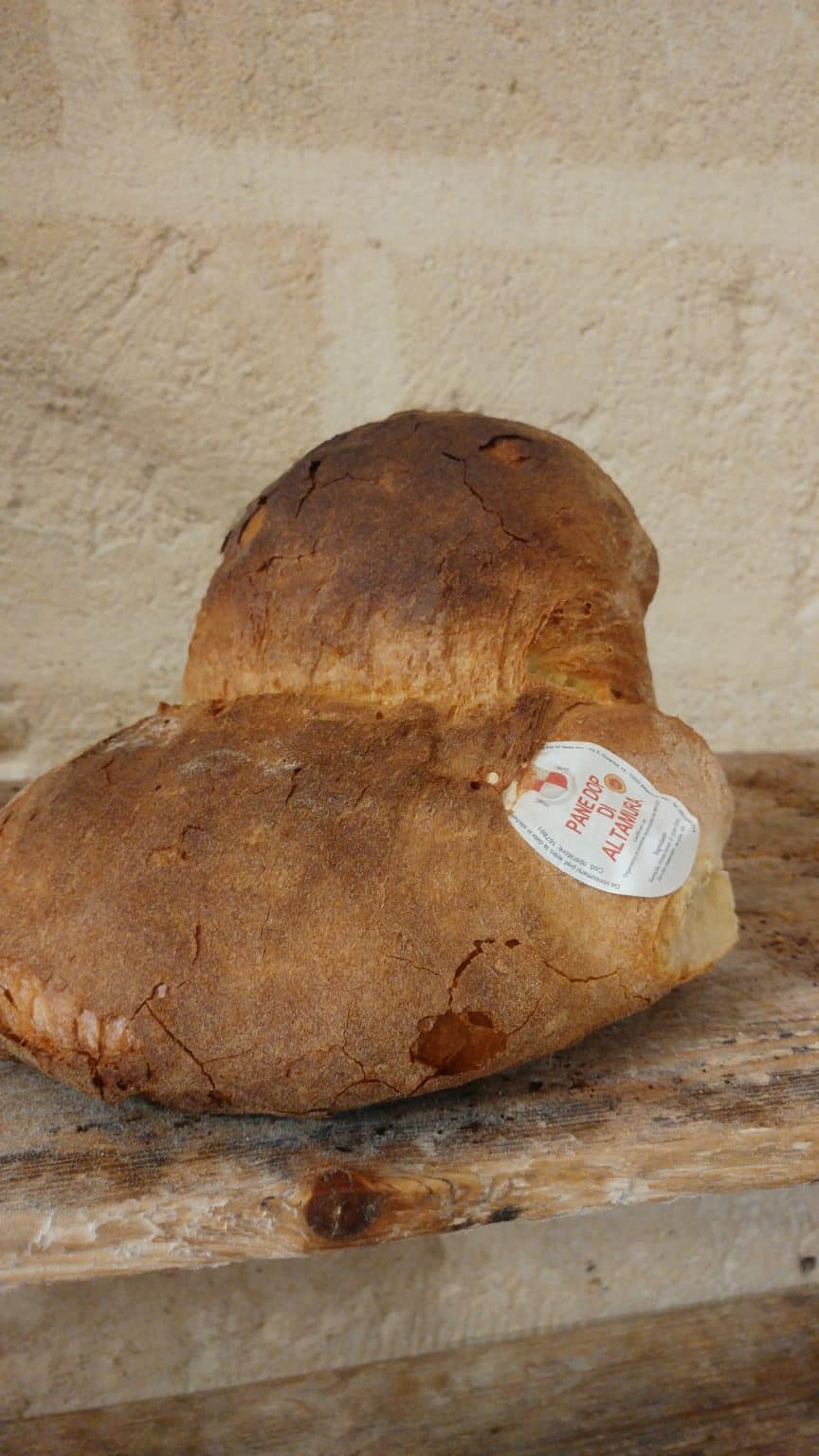 Wow!, both Lisa & I could have died here. The bread looked & tasted amazing.
We got to try the various types of bread washed down with a small glass of red (well I did, it was 10.30 am but they wouldn't have put it out if they hadn't wanted us to have it).
The whole thing was very interesting.
A sort of byproduct from this style of baking is the focaccia bread.
They make the focaccia dough & put it in various spots in the oven to test the temperature.
Quite frankly it is one of the best-tasting things I have ever had! So much so that it was what we bought from the bakery to have later for our lunch.
So we left there & were on our way to Alberobello.
Early Proof Of Tax Dodging
This place is very famous for the type of houses they have – they are called Trulli's.
They are round in construction & were originally built without mortar/cement.
It is said that part of this style of housing came about as a tax dodge.
Landowners at the time were taxed by how many building they had; so the landowners would get their workers to build these house for them to live in.
When/if they got news of someone coming to check their 'wealth' the landowner would instruct his workers to take apart the houses thus avoiding tax.
So we got to stay in one for the night. This was right in the heart of the area where these were best preserved (& funnily enough where the tourists came). They were lovely.
So off we went for a wander.
The Wine Tour – A Tale Of 2 Servers
Early afternoon we met up again to be taken to a local vineyard for a tour & wine tasting – Yay!!!
The winery was called I Pastini.
It was really nice here, a family-run place in lovely surroundings.
A young lady did the tour around the various buildings & part of the vineyard. It was actually quite interesting and didn't go on too long which gets a massive tick!
They plant rose bushes at the end of each row of vines here. They do this as if there are pests/bugs etc, they will attack the roses first. This is like having a warning system for their grape crop & so if it happens, they can do something about it.
Simple but effective. I found stuff like this quite interesting.
Some wine tours we have been on are beyond dull.
And let us face it, nobody gives that much of a shit about how it all came about etc – we are there to taste & drink the wine!
The wine tasting was good – we got a selection of nibbles to go with it.
As I recall we tried 4 or 5 wines.
What I do remember very well (which is where the problem lied) is that 2 people were doing the wine pouring for the tasting.
The side we were on was a woman who had clearly challenged herself to pour so little in the glass that it would have evaporated by the time you went to taste it!
It literally was the smallest amount of wine that could allow you to taste it.
On the other side of the room was the young lady who did the tour & she was making up for our loss with her pours, she wasn't pissing about!
Kamal & Friddy were on her side & after about 3 they were not finishing theirs & pouring some away ready for the next one. I can't even get my head around this, but we would have loved that problem!
The result – they ordered a case of wine to be shipped back to the UK & we bought a bottle to take away with us.
You would have thought that most people that own a vineyard & do these type of tours must have realised that if you get people a bit pissed they will get their wallets out.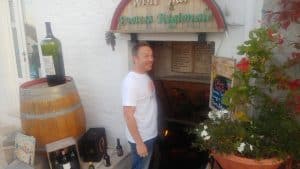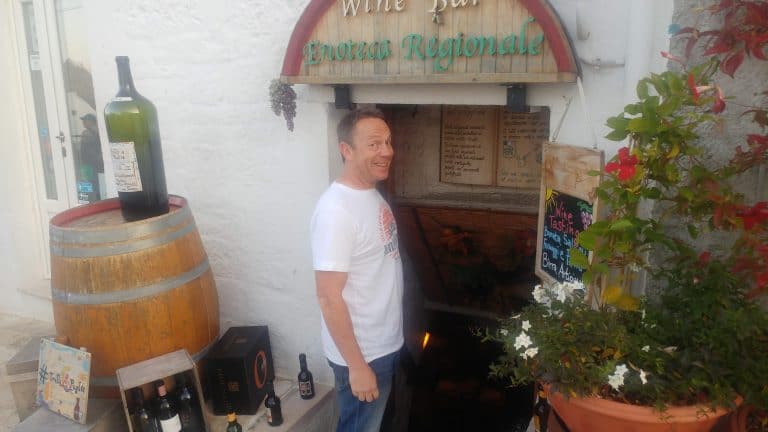 We would have.
There is no question we would have also bought a case, they were pretty reasonable. Alas, we were sober & therefore could easily rationalise & avoid spontaneous purchases!
We left there, wallet intact, back to Alberobello.
We did a bit more wandering & picture taking; then went to a wine bar to try & rectify the wrong from earlier.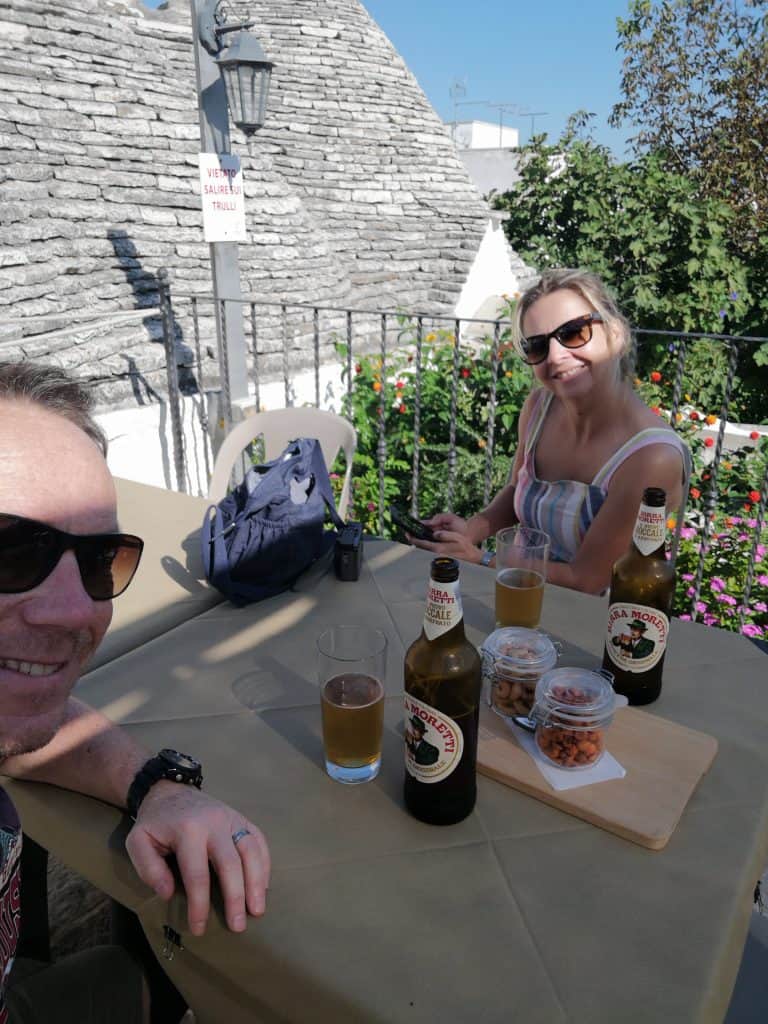 That evening we went to a nice little restaurant, the food was pretty good but I am not naming it. The service speed was a joke & getting the bill at the end was like pulling teeth. Such a shame really,
Next day was time to move again.
We had until lunchtime to wander around the bits we had missed & sneak in a cheeky beer before leaving.
The next destination was our final one in Bari.
On the way, we stopped for lunch at a little town called Locorotondo. We were told to have a little explore before settling down to eat which we did.
Was a very pretty little town with lots of rabbit warren type of streets.
We wandered around for what seemed like ages looking for somewhere to eat. We googled various places but nothing seemed quite right & most were in these narrow streets which were in the shade.
A Perfect 90 Minutes With Wine, Meat & Cheeses
We finally, just before we lost the will to live, decided to sit at an outside restaurant that we had passed about three times  – Controra
Quite frankly, this turned out to be one of the highlights from our trip. We sat there for about an hour & a half and was just perfect.
We had a great view, were sat under a shade (it was proper hot that day) & ordered a bottle of the white wine that was from the vineyard we went to the day before. We also ordered a plate of meats, cheeses & bread. It was all superb.
It turned out, through broken English & lots of gesturing, that the woman who owned the restaurant/bar was the sister of the woman at the vineyard who was tight with the tastings (who turned out to be the owner's mother!).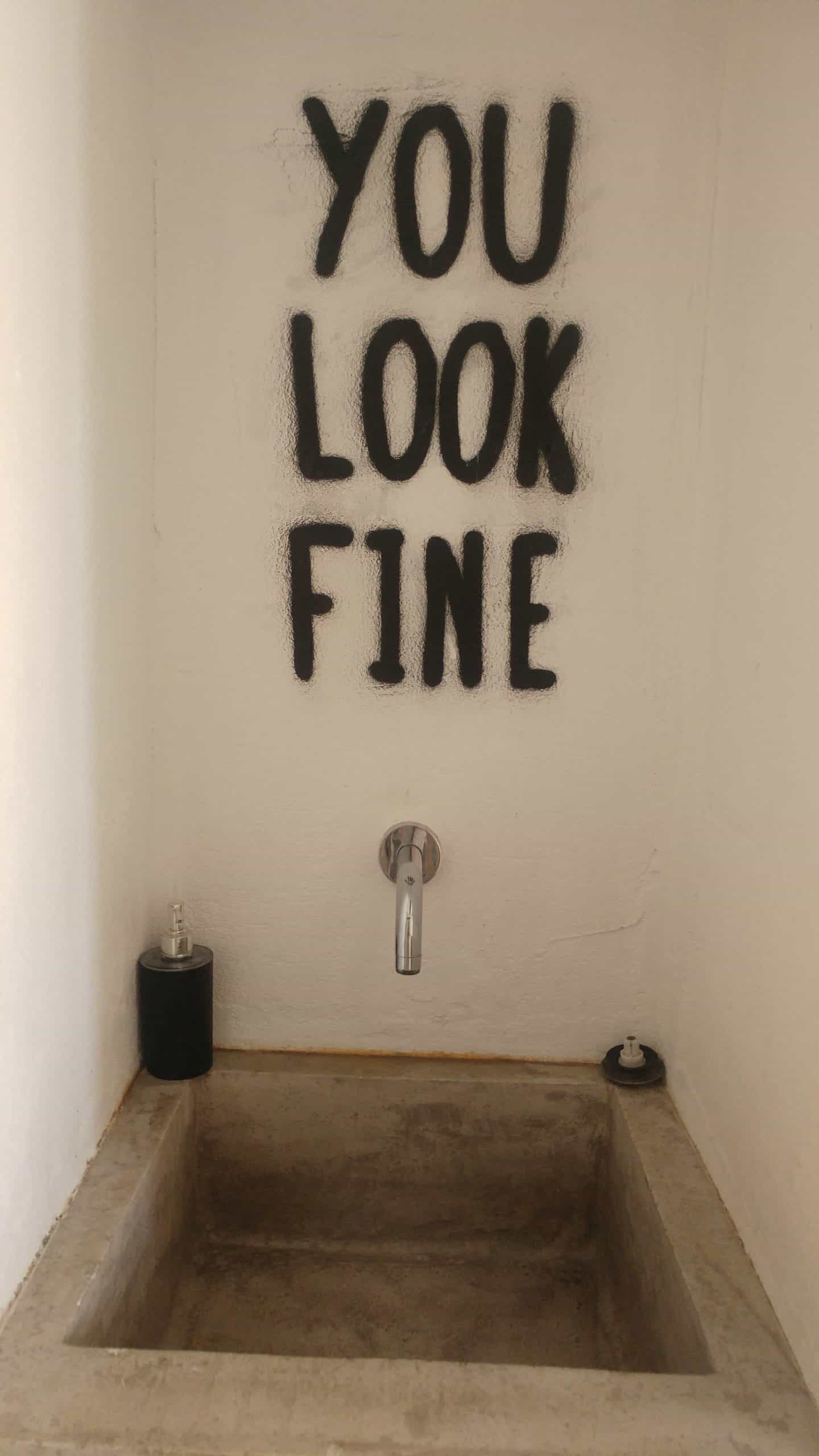 The toilets in this place were a bit quirky. My favourite part was the fact that above the sink there was no mirror on the wall, there was just writing saying 'You Look Fine' which quite frankly is genius.
We left here to go to our next stop.
If we didn't have to go, we would have happily ordered another bottle of wine, more food & sat here for hours.
Enroute to Bari was another stop, this time to visit an Olive farm – Masseria Brancati
We had the standard tour of the old buildings with old 'machinery' AKA massive stones that crushed shit, no big shakes in terms of new stuff.
What was interesting that we didn't know, was the fact that olive oil used to be called 'Liquid Gold'. It was the modern-day equivalent of oil i.e. it was used for all sorts of things and thus made it very valuable.
So much so, that they would hide & disguise where the olives were stored and processed to avoid being robbed.
The olive groves here were massive. All the trees were 5 meters apart from each other which was the distance required to make sure each tree got all the light & water it needed without imposing on each other.
The slightly mind-blowing thing of it all is that all the trees were saw were at least 1,000 years old, quite a few were 2,000 years old & there was one that they had dated at 3,000 years old – so if Jesus did exist, this tree existed well before he did.
….and they are all still producing Olives!
Also, each individual tree is a National Heritage Site – they are all tagged & are monitored by satellite.
What the fuck!
The Buzz Of Bari
We left there and headed to our final destination – Bari. (** – Sidenote story – read at end)
We arrived & went to our B&B – Antipico.
Bari, we were told, was a lively local town.
There are tourists here, no question, but the locals outnumbered by far.
We liked it here and it grew on us very quickly.
We had a quick wander about and got a drink in this really cool little bar – La Ciclatera. It was a small place that had alcoves & stuff everywhere!
Then back to get showered & changed ready for dinner.
When we went out in the early evening, we got to see what Marius has said about it being lively.
The place was buzzing with people everywhere. It was a Saturday night, yes, but not like you would think.
The big difference was that it was everyone. There were families, groups of young people, groups of older, groups surrounding by kids.
Everyone was out.
People were sat everywhere & anywhere and there was a lot of noise being created by what seemed like the whole community coming out to play.
We had decided to try a place to eat called MareViglie lo Sprofondo
We really liked it here, it was pretty busy but the service was excellent. Again, the lack of English speaking made the asking/choosing more fun.
This was very apparent from our starter order – we thought we had chosen a 'premium' platter to share – we pictured it being hams, salami's, cheese, olives and the like – lovely!
What came out?
3 big portions of raw cold fish! – Salmon, Tuna & Swordfish.
A far cry from what we wanted but actually really nice.
The main course was better but somehow I ordered a pizza which effectively had chips on it & a bit of ham!
Lisa fared better with 'mouse ears' pasta.
Despite this, it was a really nice meal & a nice bottle of white.
Afterwards, we wandered about for a bit; the streets were still full of people & this still included kids of all ages. We went back to our little bar again for a couple of G&T nightcaps.
The next morning we heading for our breakfast. Not quite the same as we had experienced in the 2 other places.
It was a short walk to a cafe where we were eligible for a free coffee & a croissant.
This was supposed to be the 'Bari' way……well, quite frankly, we preferred the other way!
Bari On Bikes
We then met up with Marius, Friddy & Kamal. This was going to be a tour around Bari on bikes.
Friddy & Kamal decided they didn't want to do it. They were going to get a train & visit another town nearby. We said our goodbyes as we wouldn't see them again.
A shame really as the cycle tour was really good – Velo Service
We saw a lot of places that we had already seen….but this time with some information explaining what on earth things actually were & with some history behind it.
Including Basilica San Nicola which was St Nicholas's church – he was the patron saint of sailors, prostitutes & children; which sorts of works if you think about it.
One of the stops has a bittersweet taste to it.
We stopped at basically a woman's house in a square. she had a little kitchen set up outside.
We were going here to learn how to make pasta again as we did when we were in Matera.
This woman was quite a character, she spoke no English & just shouted for most of the time.
She shouted to her neighbours, to people walking past she knew…but most of the time she shouted at her husband.
Marius & the girl from the cycle tour gave us a running commentary.
She was laying into her husband big time.
Really slagging him off, saying how lazy he was & utterly useless arsehole! (he looked a lot like the character of Manuel in Fawlty Towers).
We sat there in the sun, with a beer & made pasta.
She cooked various things & we tried them.
We really enjoyed it here, so much that we said to Marius about coming back for lunch, which he arranged.
We did our last bit of wandering & then headed back for food.
We had asked Marius to join us which he did before he had to leave for his flight.
Anyway, we had some lunch, it was like tapas really, a few small plates, nothing mind-blowing.
When we left and asked for the bill, they wanted 50 euros!
Holy shit! How much?!
We did the British thing and paid immediately asking no questions.
Then followed it up with a whole lot of bitching in private.
It did put a bit of a dampener on our last lunch to be honest, but such is life.
Since then I have looked at the Google reviews & a lot of people complain about the 'Quantity to Cost' ratio, so it wasn't just us she stiffed which is nice to know.
Anyway, off we went & found a little bar to get a bottle of white wine & while away an hour or so until we were ready to head to the airport & home.
One thing we loved about Bari airport was that they had wine vending machines! And they were cheap.
So we bought a bottle of red (9 Euros as I recall) from the machine (very slick including scanning your passport to confirm your age) & sat in a pretty empty airport sipping on wine & waiting for our plane.
Another great trip with Untravelled Paths to a lovely part of Italy.
___________________________________________________________________
** – Sidenote Story:
When we 1st arrived in Bari, a friend of mine, Simon (Hells Bells Hols Bols) rang me. I text back to say I was away in Italy & would ring when I got back to the UK.
A variety of texts were then exchanged where it turned out that not only was he also in Italy, he was also in Alberobello! & further to this, he & his wife Rosemary had bought a Trulli! He was actually there having work done!
Gutted!
Had he rung the day before we could have all met up for a beer & seen their new holiday home (which they will be renting out when finished) – you can find it on Instagram – https://instagram.com/trullo_genista
______________________________________________________________
Further Reading:
Another Untravelled Path's trip was a week in Montenegro, the 1st day can be found here – https://travelwanker.world/montenegro-day-1-spoons-craft-beer-sea-bream/
If craft beer is your thing, check out our 'London Craft Beer Map' – https://travelwanker.world/london-craft-beer-guide-best-pubs-map/
What makes me tick? – The 'About Me' section explaines my 'Nobody Gets Out Alive' philosophy